Elliot and Justin's DIY Jet
It seemed like a good idea at the time.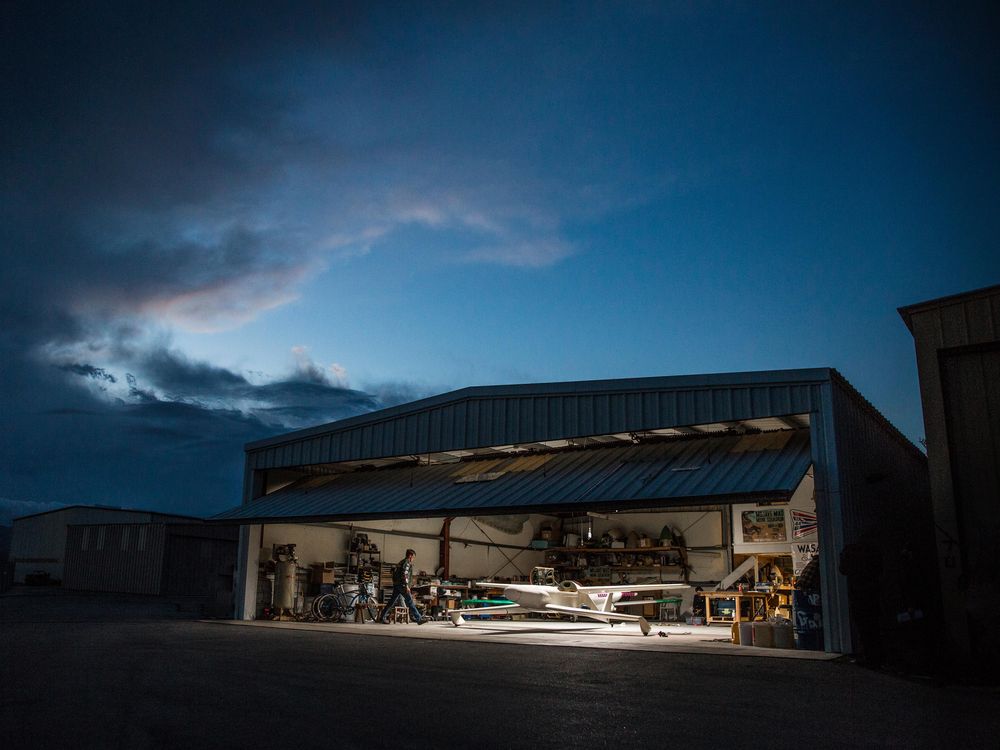 At first, Elliot Seguin thought he'd been decapitated. He knew that his brain would briefly keep on ticking after being severed from his body. My last 10 seconds, he said to himself, looking through the hole his tiny turbine-powered airplane had just punched through a trailer.
Skeletons of scrapped 747s cast shadows all around him. He'd taken off from Mojave Air and Space Port, situated in a featureless Southern California plain, miles of nothing extending in every direction. Somehow he'd still managed to crash into Mojave's aircraft cemetery­. Not as bad as hitting one of the populated airport buildings, obviously, but still impressive.
Gradually he became conscious of a voice, belonging to Justin Gillen, his airplane-building partner and a Scaled Composites engineer, screaming over his ruined headset. "Tower, I need to get to the boneyard right now!" Gillen yelled, over and over.
Seguin, knowing Gillen couldn't hear or see him, stood up in the wreckage like Bruce Willis in a Die Hard sequel. He had a black eye. He needed a CT scan. But he was alive, and he watched Gillen drive over the dusty road toward their destroyed aircraft: a tiny, tandem-wing airplane to which they'd added two jet engines. TWERP, they called it. Had called it. There wasn't much left.
Seguin, 34, and Gillen, 37, are two of the most adventurous of a subset of Mojave aerospace designers who build and fly their own airplanes in their free time. And when there are no boards or bosses to answer to, they have the liberty of (within federal government limits) using a different metric for "risk."
"Sure, it is safer to sit at my house," Seguin says, pulling back the tarp to show me TWERP's wreckage, which looks like a bunch of ripped-up packing material. "But I will never be like my heroes if I sit at my house."
TWERP—for Twin Engine Research Project—ended in pieces. But it began with Seguin and Gillen coveting their neighbor's goods.
CATCH UP-22
Seguin started Wasabi Air Racing with his girlfriend (now wife), Jennifer Whaley, in 2007. Gillen joined them in the enterprise soon after. At the time, the three of them all worked for Scaled Composites; Gillen and Whaley still do. Seguin is now an experimental test pilot for Mooney International. Wasabi was just "the hobby of a few aviation dorks who use the company to get more experience designing, building, and testing cool airplanes," Seguin says.
They began modestly: In the 2008 Reno Air Races, Seguin flew a Cassutt he'd bought from a Bay Area museum and repaired. He hung in through the Formula One Silver race, finishing eighth. He knew he didn't have a real shot at winning in that airplane; he just wanted to get some testing and racing experience.
And tinkering experience: The following year, Seguin and Gillen modified the Cassutt with a tighter cowling, increasing its top speed by 17 mph. Seguin finished in fourth place in the Formula One Bronze race.
After that, Seguin and Gillen focused on designing their own airplane. Their creation, the Wasabi Siren—a white bullet powered by the Formula One category's requisite Continental O-200 engine—first flew in 2012. Two years later, on July 28, 2014, Seguin set a world record in the Siren when it became the fastest piston-powered aircraft in its weight class to fly from Mojave to Oshkosh, Wisconsin, clocking a speed of 163.31 mph. "The cool thing for me was to set a record that effectively drew a line between the two Meccas for experimental aircraft: Mojave and Oshkosh," Seguin wrote in an email.
By 2013, he was ready to return to Reno. Flying the Siren, he finished in eighth place in the Formula One Gold Race. But he improved in each of the following two years, taking fourth place in 2014 and then third place in 2015, with a time of 6:33.844.
For a long time, Gillen and Seguin had been content to help each other with their own projects. Eventually they started getting offers from other pilots who wanted them to test their aircraft.
One of their first clients needed help with turbo controllers on a Continental TSIO-550 race engine. After the two worked on it, the aircraft, a Lancair Legacy, set four world records in three days at the 2015 Mojave Experimental Fly-in: two for Time to Climb to 3,000 Meters (2:03 and 1:59) and two for Speed Over a 3-Kilometer Course (391 and 388 mph).
Now Seguin owns a hangar at the Mojave airport (he also rents three others). The space is littered with project patches, fuselage molds, and empty energy-drink cans.
Mojave is full of caves like this one: While it's home to big-name customers like Scaled Composites and Virgin Galactic, its many smaller hangars belong to enthusiasts and employees who fly in their spare time. For some, it's just a hobby for blowing off steam. Others want to bolster their résumés so they get noticed at work, standing out among the hundreds of other ambitious engineers and pilots.
Seguin and Gillen are in that second category. One day they spotted an opportunity in the hangar right next door: Hanging like a museum display was a Rutan Quickie Q1 homebuilt—a featherweight taildragger designed by Scaled Composites founder Burt Rutan—that had been abandoned by its original owner before it ever flew. Seguin and Gillen's neighbor had rescued it from the airport dumpster, then held onto it for a decade, always intending to do something with it.
Of the many oddball Rutan designs, the Quickie is one of the oddest. It has tandem wings, with the main gear located at the tips of the main wing. It has the profile of a wasp and the aura of a spaceship.
But this modification had never flown. Its controls weren't installed, nor were the electrical systems. The brakes needed to be tweaked.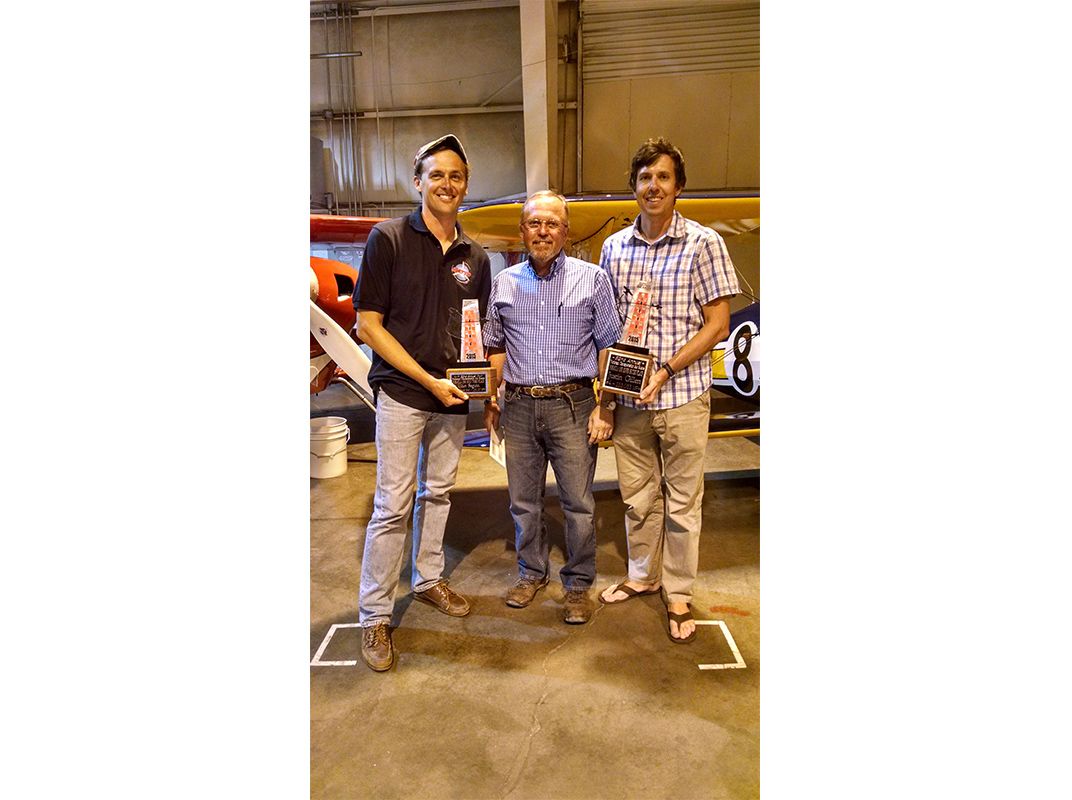 Scheming, Seguin and Gillen asked Quickie's owner if they could finish it for him. They'd bring it up to spec and even do the tests necessary to secure its airworthiness certificate.
The owner agreed, encouraging the pair to "do something cool with it," Seguin recalls.
They pitched the owner several ideas, but he chose the one Seguin and Gillen had hoped he would go for: They would turn his wasp of an airplane into a jet.
Out went the 18-horsepower engine from a motor home generator. In its place they installed two PBS TJ-40s, each rated at 85 pounds of thrust.
Call it an upgrade.
My Hobby, My Business
Seguin described Wasabi's main business as "contract flight test." In his words, they "trade engineering and fabrication resources for exotic flight test experience." Sometimes this means finding homebuilts that other people have left unfinished and completing the jobs, perhaps with a modification or two, then certifying the airplanes so the owners can jump straight to Sunday joyrides.
In the case of the Quickie, they made short work of replacing its old 80-pound engine with 16 pounds of turbines, a modification that would demand 28 more gallons of fuel per hour. Replacing one heavy engine with two lightweight ones unbalanced the airplane, so more modifications were called for to make it stable. "The obvious solution is to put the new engines where the old one was," says Seguin. But then the hot exhaust, traveling the whole length of the airplane, would bake the fuselage.
Instead, they moved the engines to the back and added two additional fuel tanks—one in the new nose and one under the rear wing spar—and let gas flow between them. Then they built a new nose using a mold they had created from 50 pounds of foam purchased at a hardware store, and filled it with ballast to re-balance their airplane.
As they worked, they posted pictures and videos online. Their YouTube plays hit the tens of thousands in a day. And watching progress on #projectTWERP, people began to get excited: "You actually plan to fly that thing?!?!? This has quickly turned into my favorite Instagram acct," said one commenter.
Some of their Mojave peers disapprove of their habit of inviting the public to peek behind the curtain. Gillen himself used to feel this way, he says: Social media is for braggarts. One sponsor told Seguin the posts made him look like a fraud. If he were really doing such great work, he'd just do it and stay quiet.
But Seguin's view is that the general public isn't living and breathing aviation the way his peers do. Isn't a little showing off warranted, he asks, if it helps get a new group of people interested in flight? He also says that posting their work in public forums invites feedback that he and his cohorts can use to do their jobs better—a sort of informal peer review.
Gillen has come around to that opinion. Sharing is fun. "And if you're a couple dudes who want to generate excitement about whatever, it's not going to happen without exposure," he says.
Certified and Certifiable
With engines and fuel tanks installed and aligned, Seguin and Gillen worked with the Federal Aviation Administration to get an airworthiness certificate for their airplane as an experimental craft. Because it didn't fit neatly into the turbojet category, they knew the bureaucratic wheels might require some greasing: They visited the FAA's Flight Standards District Office in Van Nuys—about a 60-mile drive from Seguin's home in Chino­—in person to talk officials through their unconventional project.
Finally, certificate in hand, they began dreaming of the future: setting a record on the three-kilometer (1.9-mile) closed course, flying higher than 6,000 meters, going longer than 250 miles. But like all things that go up, TWERP had to be tested on the ground first.
And there, a problem immediately flew up at them: When the engines ran at low power, they sometimes died. The engines sucked a lot of battery power at the start, they found, so when the airplane idled on the runway, the system voltage dipped, and the engines shut off. It was an easy fix: They just agreed that right after every spool-up, they would run the engines at a minimum of 40 percent power for two minutes to charge the battery.
"I think we both knew that we hadn't licked the engine failure problem all the way," says Gillen, "but we had rationalized it by saying that the worst place for the engine to fail is on the takeoff run." In that scenario, Mojave's 12,000-foot runway gave them plenty of room to land safely after liftoff.
They moved on to taxi testing, with Seguin and Gillen taking turns gunning the airplane up and down the runway. TWERP was shifty in its ground handling, but in exactly the same quirky ways all Quickies were—not in ways that pointed fingers at their engines.
It was time to fly.
On May 13, 2016, the first two flights went off without any hitches, shutdowns, or spinouts. Fire poured from the engines' nozzles, and the airplane went up and came down. It was a little scary, this unproven machine, but they trusted their build; they trusted their tests; they trusted themselves. They wouldn't have gone up if they thought something would go wrong.
Resting up from the two initial flights, Seguin and Gillen sat in the Voyager restaurant at Mojave with a Red Bull film crew, there to shoot Seguin and Gillen for a TV special. The walls were adorned with maps of famous flight paths and portraits of aviation heroes, and the team could watch all manner of aircraft taxi by while they ate their pancakes. They talked, as one does, about the weather.
The desert winds were up, and forecast to stay that way. But as they ate, the air calmed.
"Man, it would be great to get one more flight off," Seguin said. In his memory, the team agreed it was a good idea. Or maybe he means that no one actively objected; Gillen remembers it differently. "I long ago decided that Elliot makes his own decisions on go or no-go, and I would do the same for myself," he says. "I thought, 'Well, I wouldn't do that, but it's not me.' "
Seguin and Gillen now go back and forth about the decision. Was it simply "Kodak courage"—going forward with a feat you shouldn't just because the Red Bull cameras were there? Or was it an informed decision that just happened to turn out poorly?
Third Time's the Harm
For the third flight, Seguin taxied hard down the runway, just as before. And TWERP lifted up, just as before. But as soon as Seguin was at altitude, the winds reappeared. "The weird thing was they didn't come right up," he recalls. "They were kind of gasping through the area."
He pulled the engine power to idle and started descent. The ground approached, the Joshua trees and cars on Highway 58 appearing larger underneath him. But five feet from touchdown, a gust blew up from the right. Suddenly, the airplane rolled 45 degrees. He couldn't land like that.
He pushed the engines to full power, intending to ascend and come back around. But just as the turbines' thrust pressed him into his seat and the nose lifted, he heard the silence no pilot ever wants to hear: an engine, gone.
The airplane was still tilted from the gust, and tilted into the now-dead engine. The nose was slicing to the left. And as soon as he could see over it, Seguin realized it was pointing right toward the hard, heavy, jagged 747s of the boneyard.
Although the Wasabi protocols—which accounted for an engine out—dictated that the pilot shut the second engine off and land straight ahead, his airplane was so skewed that there was no "straight ahead." Seguin kept the right engine on and willed the airplane to climb. But he knew that the more power he gave, the less control he would have, and the less power he gave, the sooner he was going down—right into the side of a leftover Lufthansa.
He frantically tried different power levels, different controls. It was no use. "I'm looking at where I'm going to go, and it's the worst place," he says.
He dove TWERP between two 747s. The small volume of air between the metallic hulks and his wingtips whizzed. But he'd avoided them only to find himself staring at the side of a Convair.
Increasing the power and pulling away, he soon found two more 747s in his view. He couldn't go over; he couldn't go between. It was game over.
And then he saw the trailer.
He didn't know what was inside, but he figured—perhaps foolishly—it had to be softer than an airliner.
He pushed the nose down, pulled the throttle to idle, and closed his eyes.
Aftermath
"There are so many stories [TWERP] never got to tell," he says now, mourning the strange airplane's premature demise. He and Gillen hadn't learned all they could from the experiment. In its final report on the accident, the National Transportation Safety Board noted that "[t]he purpose of the accident flight was to begin exploring the crosswind handling characteristics and capabilities of the airplane" and that "[t]here was insufficient evidence to determine the reason(s) for the loss of engine power, and none of the three most likely causes (fuel flow interruption, air flow interruption, or flameout due to rapid and large throttle input) could be definitively ruled out."
In his Pilot/Operator Accident Report to the NTSB, Seguin had recounted: "Left and right canard sheared at fuselage. Right wing sheared at fuselage. Both engines sheared at fuselage. Canopy destroyed…." That doesn't capture the effect it had on him: Along with a black eye and a dent in his helmet, the crash gave him an existential crisis. For a long time afterward, he panicked on every flight he made.
"It took 40 or 50 landings [for the panic to abate] and it took half that to figure out what it was," he says. "It was 'Oh, you're about to die.' "
Though it's been a year since the crash, Seguin says it doesn't seem to have hurt their business. Some at Mojave say they knew all along that modifying the airplane was ill-advised. But that doesn't mean they're right. Sometimes a gust just comes, an engine just fails, and you just find yourself headed into a field filled with airliners.
That's what bothers Seguin most. "There's a recognition that there's a limit to what I can control," he says. "And the other side of that limit is really scary."
But he's come around to this: He's glad he smelled what he calls "the breath of the dragon." It's changed him. And he knows that in the face of a monster, he won't freeze up: He'll work the problem, always. Even if it means choosing between crashing into an empty 747 or crashing into a trailer.
Soon, he and Gillen plan to put those same turbines on another small airplane—maybe a Cessna—and take a new fire-breather into the skies.