Disney Takes to the Air
A chat with the director of Planes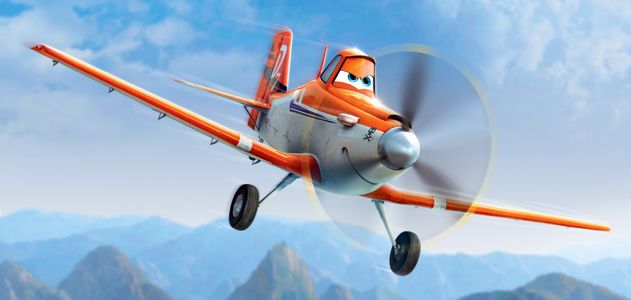 Opening in theaters in August, Disney's Planes is an animated feature about a crop duster named Dusty who dreams of competing as an air racer. Director Klay Hall, twice nominated for an Emmy® for the animated television series "King of the Hill," calls himself "a lifelong aviation enthusiast." In the course of researching for the film, Hall attended the National Championship Air Races at Reno for several years to understand the heart and personalities of air racing. He spoke with Air & Space Editor Linda Shiner.
What was it about air racing that made you believe an animated movie could be made about it?
Hall: I know racing's been done, but racing's never been done in the air, and certainly not in animation, so that's what got me out to Reno, to really get out there and talk to the Steven Hintons and several of the other racers and get out there in the pits with those guys and hear those planes start up. You know, John Lasseter [chief creative officer of Walt Disney Animation Studios] believes you should gain as much research material as you possibly can. You need to get out there and walk the walk and talk the talk with these guys.
But your star doesn't look much like a raceplane. He looks like an Air Tractor.
Yeah. There are three different types, actually. Air Tractor is one of the three.
I knew I always wanted to tell a classic underdog story, and we sort of ended up picking the crop duster, sort of this humble beginning, and we wanted our character to be someone who needed to step out of his comfort zone to be able to see what he could possibly achieve. So it was embracing those two universal ideas of classic underdog story and you're built or you're made for something, but you can possibly do more.
Another of your characters is among the most beloved aircraft in the world: the F4U Corsair. Was that one of your favorites to draw when you were a kid?
I think it was the first one that I could draw actually, fairly well, to tell you the truth. It's that gull wing shape; it's a beautiful airplane. It also lends a touch of history. I knew that I wanted to bring in the Jolly Rogers [VF-17, "the fighting 17, the U.S. Navy squadron with more aces (15) than any other unit in the Pacific]. In our world, we plane-ify everything, so it's the Jolly Wrenches. We have a piston and crossed wrenches instead of the skull and crossbones.
I knew that that squadron started with F4U Corsairs in World War II. Today they fly F-18s, and that's another part of our story, so it worked out really well to bring in that Corsair.
Your dad was a naval aviator. What airplane did he fly?
He flew the F9F Cougar, but navy aviation and just aviation in general, I was raised on it, and I was drawing airplanes from being just the littlest of kids.
Val Kilmer is the voice of one of the F/A-18s. Did his role as "Iceman" in Top Gun recommend him for the role in your movie?
I have yet to meet an individual that does not love Top Gun, and I'm one of the biggest fans. When I knew that we were going to have a couple of F-18s in the movie, the most current aircraft the Navy flies, I wanted to reach out, and so [producer Traci Balthazor-Flynn] wanted to get those guys if we possibly could. Tom [Cruise] was filming Mission Impossible 4, so he was busy, but we were able to get the other two coolest guys in the film, and that's Goose, Anthony Edwards, and Ice Man.
Tell us about the character of the British de Havilland Comet. You've chosen British actor John Cleese to play that part.
First of all, that's a great airplane—a great looking, iconic, early racer. I thought about the origin of that airplane and I wanted to get somebody who could play this sort of acerbic approach, but also really funny, kind of old school RAF. John fit the bill, and he was very enthusiastic to do it and has just been an absolute blast to work with.
You certainly did your race history homework, because you've got a Gee Bee in the story.
As you know, that was a tremendously successful plane that Jimmy Doolittle flew, and we love that airplane. Everyone knows the barrel-chested Gee Bee. It made a fine appearance in The Rocketeer, which is really a cool moment in that film. Then there's a back story that Jeff Howard, our writer, found. This Mexican racer [Francisco Sarabia] flew the Gee Bee to the Washington area. So we knew that we wanted to also have a Mexican character, because I love that whole area of the world and its warmth and its people.
And there's a blimp?
[Radio sportscaster] Colin Cowherd plays the blimp. I'm another big fan of sports radio. I listen to ESPN all the time, and I hear him do play-by-plays and calls. He also works with Brent Musburger, so it was a perfect way to team those guys up once again and actually pull them into our world.
What else about the aviation community is in this movie? What spirit of the film comes from that community?
That really goes to John Lasseter's philosophy about not only respecting truth and materials, but doing as much research as you possibly can. We interviewed all types of pilots, from fighter pilots and balloon pilots and race pilots to commercial pilots and crop dusting pilots and helicopter pilots. We got a lot of great stories, and also just the idiosyncrasies about the different types of aircraft. Then we also brought in a flight specialist on the movie, and one of the guys on our team—Jason McKinley, who created "Dogfights" [a TV series using computer-generated imagery to show historic air-to-air combat]—was able to help oversee our artistic teams, as far as flight dynamics go. So we would take a character like Dusty, who's a combination of an Air Tractor and a few other planes, and plug in his correct speed [and altitude]. The set had to embrace the type of aircraft, the inertia of his turns and how long his turns take to fill that space in a realistic way. That was probably one of the biggest challenges—really embracing flight dynamics and correct flying. Because, you know, we are dealing with characters that have eyes and talk, so they have to overcome that by making it look as close to real and as cool as possible. And I think we actually really achieved that.
What else goes into making an animation like this the best film that you can make?
Producer Traci Balthazor answers: Our art director, Ryan Carlson, really helped set the tone. He provided and set up the color theory for the whole movie, which showed the range of emotion. He helped "plane-ify the world," as we like to call it, so you'll notice in the backgrounds in the cloud shapes, you'll see propellers and tails and wings and things like that as you look at the film. Subconsciously, you're being drawn into the world of planes.
Lay on top of that the sound. We recorded actual engines that would play to the look and feel of the characters and the type of planes they were, and the voice casting. It all went into making it feel authentic.