Didi & Sigi's Excellent Collection
How do you align your brand with energy, superiority, and effervescence? Build the best private airplane collection in Europe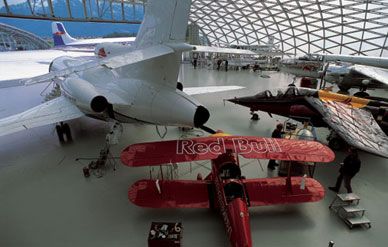 Dietrich Mateschitz, the creator of the energy drink Red Bull, has money. Lots of it. His decision to spend some of it restoring and operating a collection of airplanes involved a 58-year-old named Siegfried "Sigi" Angerer, an 18,000-hour pilot who claims he is the one who taught a nervous Mateschitz to fly.
"The first plane I took Didi for a ride in was a Piper Cub," says Sigi. "He was a bit afraid of flying at the time. He couldn't understand how a plane made from cotton [and steel tubes] could fly. He got used to it."
Another version of the story says that Mateschitz was not afraid of flying. He already had his pilot's license when he met Angerer and had coined his company's slogan, "Red Bull gives you wings." But Mateschitz had learned to fly from a crummy flight instructor, so he relearned at "Sigi fighter pilot school," in the words of Gerd Strobl, quality manager of the Flying Bulls, Red Bull's aviation-focused subsidiary.
This much is uncontested: The first meeting between Angerer and Mateschitz was propitious. In 1990, Angerer was flying a Vought F4U Corsair at an airshow in Innsbruck, Austria. He'd bought the airplane in Texas a year or so prior, using up all his savings from his day job as a corporate pilot, and now was struggling to make enough money to maintain the old airplane.
"Didi saw me fly," says Angerer, "and when I folded the wings down he said, 'Red Bull gives you wings-that airplane fits perfectly with [our slogan]!' "
Mateschitz asked to sponsor the aircraft, and Angerer gladly plastered the Red Bull logo on the Corsair's fuselage. Within a few years, Angerer came to work for Red Bull. The friendship between the men is the foundation of the Flying Bulls.

"I came to Salzburg six years ago," Angerer says. "[Mateschitz and I] found out we're from the same area, we drive the same car, we have the same interests." Whatever aircraft Sigi wants, he buys. Whatever airplane catches Mateschitz's eye, he discusses with Sigi before buying. It's a unique partnership between two very different men.
Mateschitz, 62, is handsome, tan, tall, and stylishly dressed. Angerer is a rumpled old guy in a flightsuit. Together, they have established a stunning home base high in the Austrian Alps that serves as Flying Bulls' headquarters. Their centerpiece is a building known simply as Hangar-7, which looks like a beautiful, shiny egg, sliced in half, on an angle...sort of. The history of this enterprise begins in Innsbruck, 85 miles from Salzburg, in 1997.
"We had a dream to buy a B-25," Angerer says. He prefers airplanes from the United States because he claims German craft "aren't so interesting, and there aren't many left.
"We went to the U.S. and found [the B-25] in terrible shape in Kansas City. It looked like a fish carcass...but the structure was very sound." Angerer flew it until he got used to the old airplane, adding: "We had to add 20 liters of oil per hour on one engine."
A two-and-a-half-year overhaul followed. Once the airplane was fully restored, Angerer flew it from Texas to Innsbruck, a flight lasting 27 grueling hours.
"It was very nice," he says sardonically. "We flew at 5,000 feet...[in] very bad weather, rain, storms. The waves were like houses."
The Red Bull ground crew hangared the new acquisition in Innsbruck, and Angerer spent the next several years based there while flying airshows for Red Bull. When hangar space opened up in Salzburg, where Mateschitz was living at the time, the two men jumped at the opportunity for more room for their aircraft.
On August 22, 2003, the elliptical glass Hangar-7 opened its doors to the public. The floors were buffed to a shine, the aircraft were displayed in all their glory, and a ritzy on-premises restaurant called Ikarus held a grand opening.
As the Flying Bulls collection and staff grew, so did their need for yet another space dedicated solely to their airplanes. Ground was broken for Hangar-8 in May 2002, and in December 2003, the last piece of curved and pressure-treated glass was dropped into its frame. Now there was a place for maintenance (Hangar-8) and a place for exhibits and fancy parties (Hangar-7).
The separation between the glamorous and rather leggy staff of Hangar-7 and the maintenance team in Hangar-8 is rigid. Socializing between the two is actively discouraged. Hangar-7 falls under the purview of Red Bull, which is a separate entity from the Flying Bulls. The world-renowned restaurant, Ikarus, with its list of star international chefs who do guest stints; the chic lounge, Carpe Diem, where guests sip exotic tea and bask in the view of the airplanes and the Alps; the Mayday bar, with its moody lighting and thumping music; and the Threesixty bar, with its transparent floor overlooking the hangar-all are part of an image Mateschitz cultivates for his brand.
Last summer the hangar featured the work of consumers from around the world who had been invited to create sculptures out of Red Bull cans. Admission to the Red Bull museum in Hangar-7, which features a rotating exhibit of aircraft and art, is free.
Hangar-8, on the other hand, is the boisterous sibling, and is closed to the public. Jokes fly, props spin, and guests arrive piloting their own warbirds. And, of course, everyone is pounding Red Bull like it's water. Coolers filled with the stuff are all over the place.
Today, the Flying Bulls' ever-growing collection comprises a North American T-28B Trojan, a North American B-25J Mitchell, a Cessna C208 Amphibian Caravan, a Vought F4U-4 Corsair, five Fairchild-Dornier Alpha Jets, a Pilatus Turbo Porter PC-6/B2-H4, and a Pitts S2B.
There are also a couple of helicopters (including a decommissioned Bell AH-1Z Cobra), race pilot Lefty Gardner's old Lockheed P-38 Lightning-currently being refurbished in Texas-and a Fairchild PT-19 and Boeing Stearman being refurbished in Hangar-8.
But the Douglas DC-6B is the centerpiece of the collection, not so much because of its size as because of the effort it took to get it into the near-perfect condition it's in today. The airplane has an interesting provenance: It was the second to last one off the production line in 1958, and it was delivered-along with its sister aircraft, the last DC-6 ever produced-to the national Yugoslavian airline, JAT.
Head of state Marshal Josip Tito had other plans, however, and converted them both into luxurious private transports for his own use. In 1975, Tito sold the DC-6s to the Zambian air force, which stored them at a remote airport for about 12 years, then used them to fly sightseers over west Africa until 1999.
In March 2000, Angerer read in an airline magazine that the aircraft were for sale, and he and Harald Reiter, the Flying Bulls' general manager, set out to buy one. They chose the penultimate one off the production line, and on July 7, 2000, they ferried their new DC-6 home, a trip that took them 26 hours.
"We didn't have a hangar yet, so we started to disassemble the airplane outside in the field, in the grass," says Thomas Muigg, now Flying Bulls' maintenance and technical manager as well as the DC-6's flight engineer. In 2000 he was hired to head up the restoration. The maintenance team ended up replacing 78 percent of the aircraft's structure. The airframe had only 6,000 hours, but was plagued with corrosion. In addition, as team members started to take apart the inner walls of the aircraft, they discovered hundreds of African wasps' nests. The entire restoration took about 30 men four years.
A few months prior to the DC-6 project's completion, a Flying Bulls crew was sent to Alaska to check out Northern Air Cargo, the operator of the world's largest DC-6 fleet and home to a huge training and simulator facility.
"Word trickled down to me about the restoration they'd done on the aircraft and the fact that a green crew was going to fly the airplane on its certification flight," says Doug Lee, a DC-6 pilot of 52 years, then with Northern Air Cargo. "I told them they needed someone with experience to fly the plane, and I offered to do the certification flights for them." Angerer agreed, inviting Lee to Salzburg to helm the DC-6 as chief pilot and to make the certification flights. Lee is now a permanent fixture at Flying Bulls.
Nearly every aircraft in the collection has its own interesting history-and maintenance peculiarities. A specialist is assigned to each airplane. On aircraft like the B-25 and the DC-6, one flight hour equals about 50 maintenance hours. Although parts can be found relatively easily and cheaply, it's hard to predict what condition they'll be in when they arrive. Recent parts purchased from the military are usually in pretty good shape, but often parts require intensive and time-consuming labor to get them in working order.
The facilities at Hangar-8 are approved by the European Aviation Safety Agency (the equivalent of the U.S. Federal Aviation Administration).
"With the DC-6 project, we learned we had to do everything in-house," says Muigg. "We couldn't rely on other maintenance facilities. No one [we talked to about restoration] wanted to take the risk of restoring an old airplane."
There's also a complex hierarchy involved in keeping so many pilots current on so many different airplanes. "Every airplane has one pilot assigned to take care of it," Angerer explains. "They fly that aircraft mostly, but they are also current in at least two kinds of airplanes. The rule is, you can fly your airplane once every two weeks without asking."
Angerer maintains a grueling work schedule. "This company started with just a few planes, [so I did] lots of flying, not much work," he says. "Now, with 22 planes, [I do] a little less flying and much more work."
Of the more than 70 types of aircraft Angerer has flown in his career, he has several favorites: He especially likes his Piper Cub, in which he taught Mateschitz how to fly. "For fun, it's the Alpha Jet," he adds. "For serious flying, the [Falcon] 900."
Angerer was single-handedly responsible for getting the Flying Bulls its Alpha Jet fleet. Recalling his first attempts to purchase the aircraft, he says: "It was a dream of mine, but the German military didn't sell to private people."
The Alpha Jet was designed by Dassault and Dornier in the 1970s as a dual-purpose trainer and light attack jet. In the early '90s, the German Luftwaffe decided to retire its Alpha Jets. Before they were auctioned off, their wing spars were cut so the military jets couldn't be used privately. Angerer purchased two anyway, and those are used for exhibit and replacement parts. In 2001, an opportunity arose for Flying Bulls to acquire two Alpha Jets (this time in flight-ready condition) directly from their manufacturer.
The Flying Bulls restored the Alpha Jets, making them the first of their type to be demilitarized and licensed for civilian use. They were put into operation flying around Europe. A couple of years later, the Flying Bulls bought their third Alpha Jet.
The hangar is a busy place, but also noticeably, and almost shockingly, clean. In the engine shop, each tool is lined up perfectly in size order, beneath an engine there's a drip pan without a drop of oil in it, and the engine itself (which is supposedly in need of an overhaul) is as clean as a mirror. "It's an Austrian thing," says Gerd Strobl. "We're sort of anal."
"Operating old planes-you have to have a certain sensitivity for them," says Muigg. "The older aircraft need tender loving care. Scheduled maintenance is only ten percent of your work. Ninety percent is just constant care.... You have to keep an eye on everything. You can't assume you can only go by the manufacturer's inspection schedule."
Muigg is a perfectionist-in a video of the DC-6 restoration, he goes over every inch of the aircraft's
stripped interior with a flashlight and a dentist's mirror. He's Austrian.
Later, the DC-6 is prepped for a flight. As the crew revs up the engines, each Pratt & Whitney R-2800 coughing, sputtering, and then roaring to life, Muigg does a complete walk-around of the aircraft. He stops periodically to shout something up to the copilot, or to indicate to one of the maintenance team that something needs checking. In one particularly terrifying moment, Muigg directs a crew member behind one of the enormous props to monitor a potential oil leak. The man climbs a ladder placed directly beneath the cowling, the blades spinning inches from his head. He gives the thumbs-up first to Lee and then to Muigg, climbs down nonchalantly, and folds up his ladder. We're cleared for takeoff.
It takes three people-pilot, copilot, and flight engineer-to operate a DC-6. Strobl, in his personal writings on the aircraft, notes, "To bring the landing gear up or down, you are pushing or pulling a big red lever. Sometimes with both hands, if you haven't been to the [gym recently].... We are talking about serious aviation machinery here."
As Captain Doug Lee swoops between the Alps and tips the polished wings to offer a better look, passengers in the spacious cabin take in a rare close-up view of Austria from about 5,000 feet above valley level.
The Flying Bulls aircraft collection shuttles from airshow to airshow around the globe. The Red Bull aerobatic team-which at times accompanies the Flying Bulls and other times flies exhibitions on its own-has performed the world over, from Nellis Air Force Base in Nevada to its home turf in Austria. The larger aircraft, like the DC-6, are parked row upon shiny row in static display for the visitors.
At this year's AirPower 2005, Austria's largest airshow, 250,000 people came to watch the Flying Bulls fly and display their hardware. There are also Red Bull-branded aircraft on the Red Bull Air Racing World Series circuit. These particular pilots fly their aerobatic aircraft through a terrifying slalom course, zipping between enormous plastic pylons at dizzying speeds (see "Red Bull's Rodeo," Apr./May 2005).
A large part of the genius of Red Bull lies in its marketing. The flashy flying and the gorgeous airplanes are evidence of Mateschitz keeping tight control on how his brand is presented to the world at large. He markets the energy drink directly to participants and hangers-on at extreme sports events, airshows featuring his aerobatic racing team, and the ultra-luxe Formula 1 auto racing circuit. For the moment, Mateschitz refuses to send the Flying Bulls team to France for any airshow demonstrations because France hasn't yet authorized the beverage's sale. The French are wary of the high caffeine level (80 milligrams per can-less than the amount in a cup of coffee), as well as the as-yet unquantified effects of the other two primary ingredients, taurine (an amino acid) and glucuronolactone (a carbohydrate).
France's position aside, it doesn't look like the Flying Bulls will be grounded anytime soon. There are just too many exciting aircraft types out there waiting to be adopted by Mateschitz and dressed in Red Bull's brilliant colors-like the de Havilland DH-110 Sea Vixen emblazoned with the familiar logo that recently overflew an airshow crowd in Austria. The only question remaining is, Where will they all fit? Hangar-9, anyone?