Did this Pilot Survive?
An old photo raises a nagging question.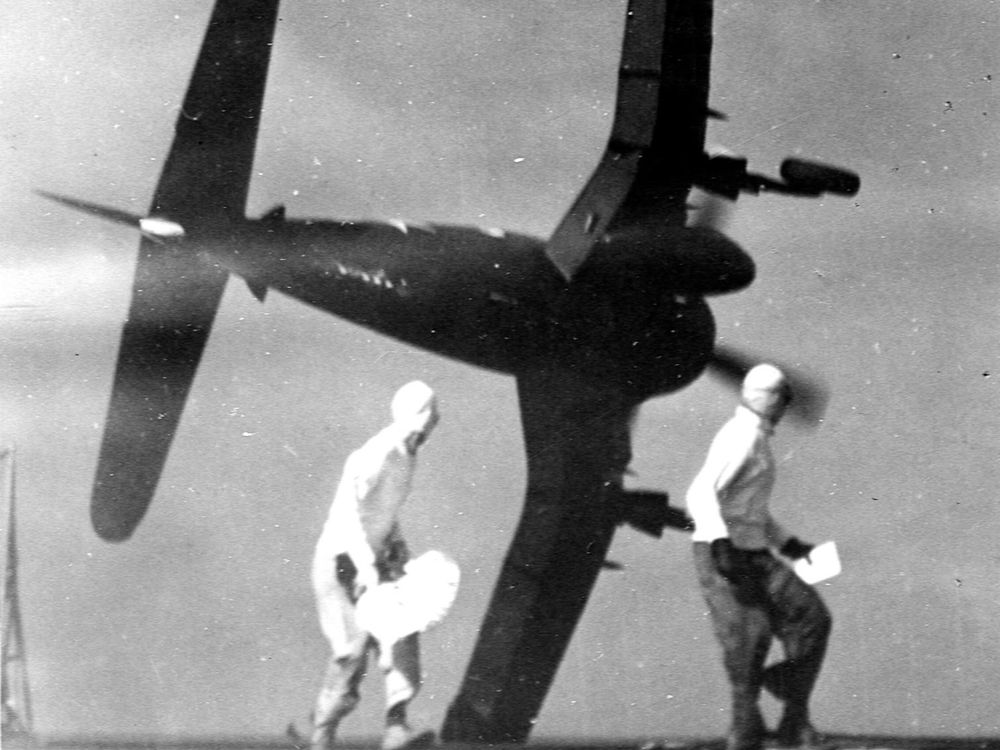 While researching imagery for a feature article on Corsairs, Air & Space staffers located a dramatic photo of a doomed F4U-4 Corsair skidding toward the water during a failed carrier landing. A caption for the image, which ran in the November 1978 issue of Naval Aviation News, relates most of the facts: The airplane was assigned to Marine Fighter Squadron 322, the vessel was the USS Sicily, and the date of the accident was October 14, 1949. What the caption didn't say is whether the pilot made it out alive.
I wanted to know if this aviator's worst day was his last day.
I first searched aviationarchaeology.com, a website maintained by Craig Fuller, founder of Aviation Archaeological Investigation & Research. AAIR researches and documents military aviation crash sites in the western United States, and in support of that mission has acquired thousands of microfiche reels of military accident reports and aircraft records and posted them on the website. Although the site exists primarily to sell copies of military crash reports, AAIR is a great resource to find data on where and when an aircraft met its end. I decided to take a peek at what happened that October aboard the Sicily.
To my surprise, more than one VMF-322 Corsair ran into trouble that day. There were five crashes and accidents aboard the Sicily in 24 hours. Importantly, the data listed every pilot and each Navy bureau number—the military serial number for each aircraft. But I still didn't know which of the five aircraft, and which unfortunate pilot, was captured in the photo, since the number isn't visible.
Punching the aircraft numbers into Google, along with some other pertinent words like "Corsair" and "USS Sicily," I struck paydirt when I found an inventory that included that same image at a university library in Texas. Buried in the collection of material from a former Naval Aviation News editor was that particular Corsair's aircraft number: 81100. Now, cross-referencing the number with the information on the AAIR site, I had my pilot.
His name was George H. Albers.
The easiest (and happiest) part was proving Albers wasn't lost along with 81100. I just had to find some mention of him, alive and well, after that 1949 crash. Another quick Google search revealed that in 1967, now Marine Lieutenant Colonel George H. Albers was serving as the commander of Marine Air Base Squadron 15 in Vietnam. He had indeed survived his plunge 18 years earlier.
Turning to the website findagrave.com, I discovered that Albers had served in the Marine Corps before his crash—during World War II—as well as after, in Korea and in Vietnam. During his long career as an aviator he was awarded the Distinguished Flying Cross, Air Medal, and six Oak Leaf Clusters. Albers passed away in California in 1993 at the age of 72, living more than four decades beyond his brush with death on the USS Sicily.
Next project: To find the details of his rescue.