A Dessert Only a POW Could Love
In a cook-off between aviators and astronauts, who would win?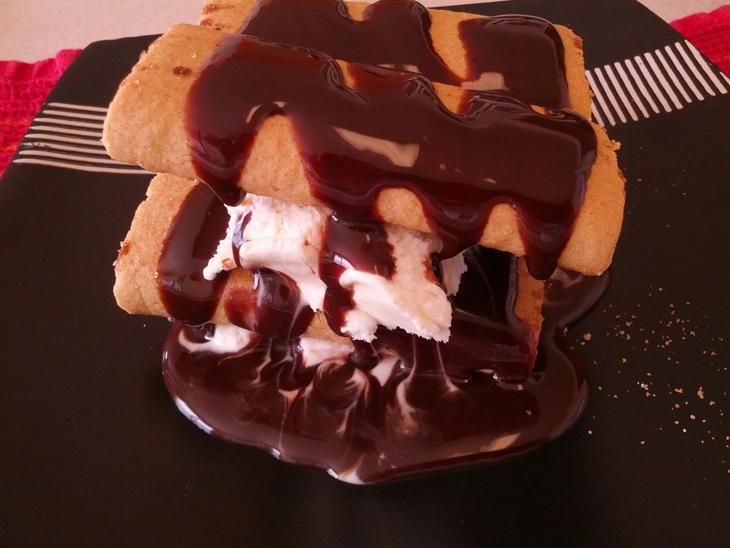 When you're a POW in a German prison camp, surviving on frozen rutabagas and rotten horse meat, the mind veers toward excess. At least that was the experience of Colonel Royal Frey, a P-38 pilot who spent 15 months as a prisoner of war after bailing out of his burning aircraft over Germany. As Frey recalled in the Famous Personalities of Flight Cookbook by Mary Henderson (Smithsonian Institution Press, 1981), in November 1944, the Germans stopped giving prisoners Red Cross packages, putting the POWs entirely on German-supplied rations. "This diet was estimated at 700 to 800 calories a day," he recalled, "and as we gradually lost weight and our hunger grew, our thoughts turned more and more to food and less and less to liberation and girls." One of the most consoling desserts thought up was called "Army Air Forces POW's Delight," and consisted of layers of vanilla ice cream topped with Fig Newtons and drenched with chocolate syrup (see above). After liberation Frey made the concoction several times, pronouncing it "delicious." After tasting the surreal fantasies of POWs, we decided to continue on and make a few more items from this curious cookbook.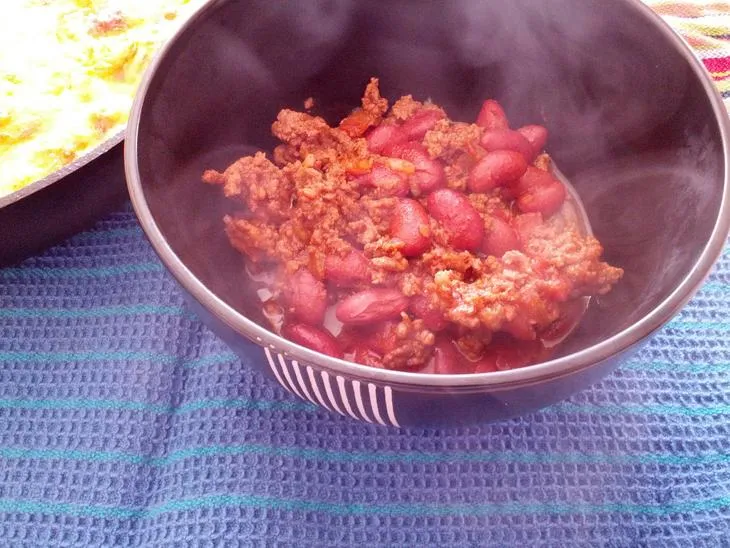 As Apollo astronaut Mike Collins writes in the book's foreward, he was skeptical that the author could pull together a cookbook of famous aerospace personalities. "I thought to myself, 'She'll never do it; those people didn't have their minds on cooking then, nor do they now.' How wrong I was! How many must have come home from a long day at the wind tunnel or flight line, and submerged their frustrations in a stew pot, or celebrated their triumphs with a special dinner." Indeed! While the book doesn't include the recipe for Collins' favorite meal—dehydrated cream of chicken soup sucked from a flattened tube while orbiting over the green isle of Formosa—there are plenty of other recipes that provide a glimpse into the personalities of flight.
Deke Slayton is best known as one of the original Mercury Seven astronauts, a World War II pilot, and a test pilot who flew the F-105. But it turns out that the man was also a pretty good cook. His chili (recipes below) is a hearty mix of beans and ground round steak, heavy on the tomatoes and chili powder. We made Apollo astronaut Charlie Duke's Lunar Bread to accompany Slayton's chili: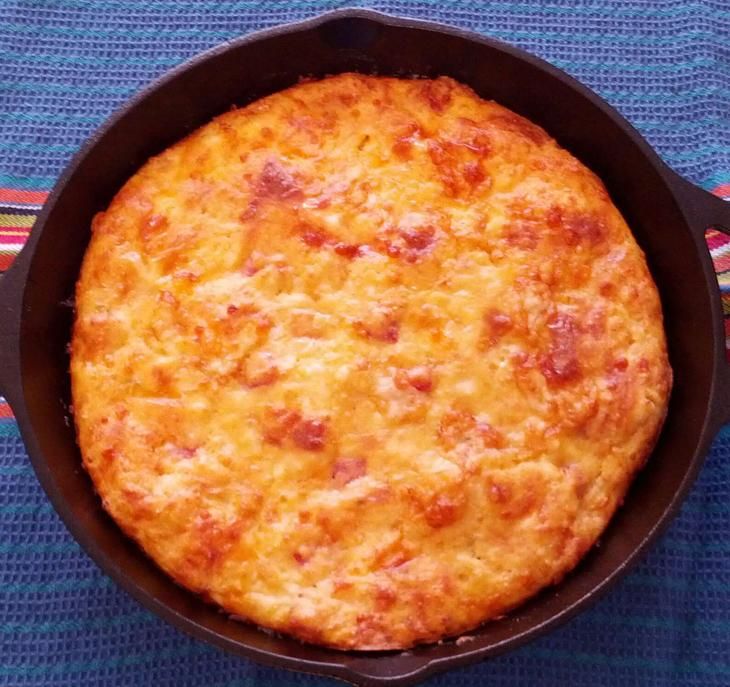 We have a minor quibble with Apollo astronaut Charles Duke's Lunar Bread. Yes, the bread has a solid and rocky "lunar" surface seemingly covered with impact craters. But it's too yellow! Perhaps swapping white corn meal for yellow would help. Otherwise, the dense, flavorful bread went perfectly with Slayton's chili.
But what about breakfast? Isn't that the most important meal of the day?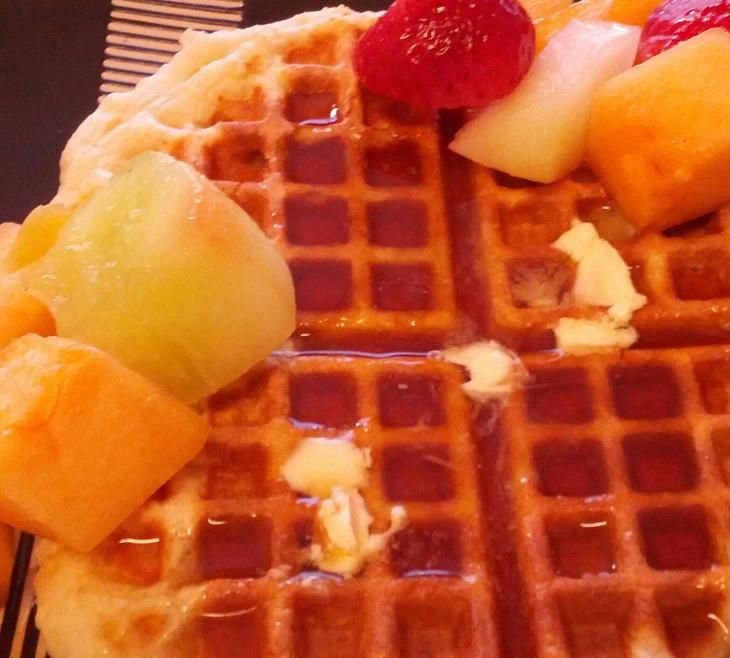 We have our doubts that Amelia Earhart came up with this recipe. The famous aviator subsisted on tomato juice sipped through a straw during her solo trans-Atlantic flight; these leaden waffles would have only slowed her down.
The Recipes
Deke Slayton's Chili
2 cups chopped onions
½ cup chopped celery
½ cup chopped green pepper
4 tablespoons vegetable oil
2 pounds round steak, ground
4 tablespoons chili powder
5 tablespoons cold water
4 cups canned tomatoes
2 cups tomato sauce
1 ½ teaspoons salt
½ teaspoon black pepper
4 teaspoons sugar
4 cloves garlic, minced
2 bay leaves
8 cups red beans, washed and soaked
Sauté the onions, celery, and green pepper in vegetable oil in a large skillet. Add meat and brown. Mix chili powder with water, and add to meat mixture. Stir in rest of the ingredients except the red beans. Cook covered for 1 hour, then uncover and cook ½ hour. Add beans, cover, and simmer another 2 hours.
Charles M. Duke's Lunar Bread
¾ cup cornmeal
½ cup self-rising flour
1 cup diced ham
12 ounces Monterey Pepper Jack cheese, diced
12 ounces cottage cheese
6 eggs, beaten
Blend all ingredients together thoroughly. Place in a greased cast-iron skillet and bake at 350 degrees for 1 hour.
Amelia Earhart's Sour Cream Waffles
2 cups sifted flour
1 teaspoon baking soda
½ teaspoon salt
1 tablespoon sugar
2 eggs, separated
2 cups sour cream
Sift together flour, soda, salt, and sugar. Mix together well. Beat egg yolks until light. Combine with sour cream. Add to dry ingredients, beating until smooth. Beat egg whites until stiff; gently fold into batter. Bake on waffle iron.
The Famous Personalities of Flight Cookbook is out of print, but used copies can be found on Amazon and other used book sites.