Delivery by Drone
Around the world, quadcopters are turning into mail carriers.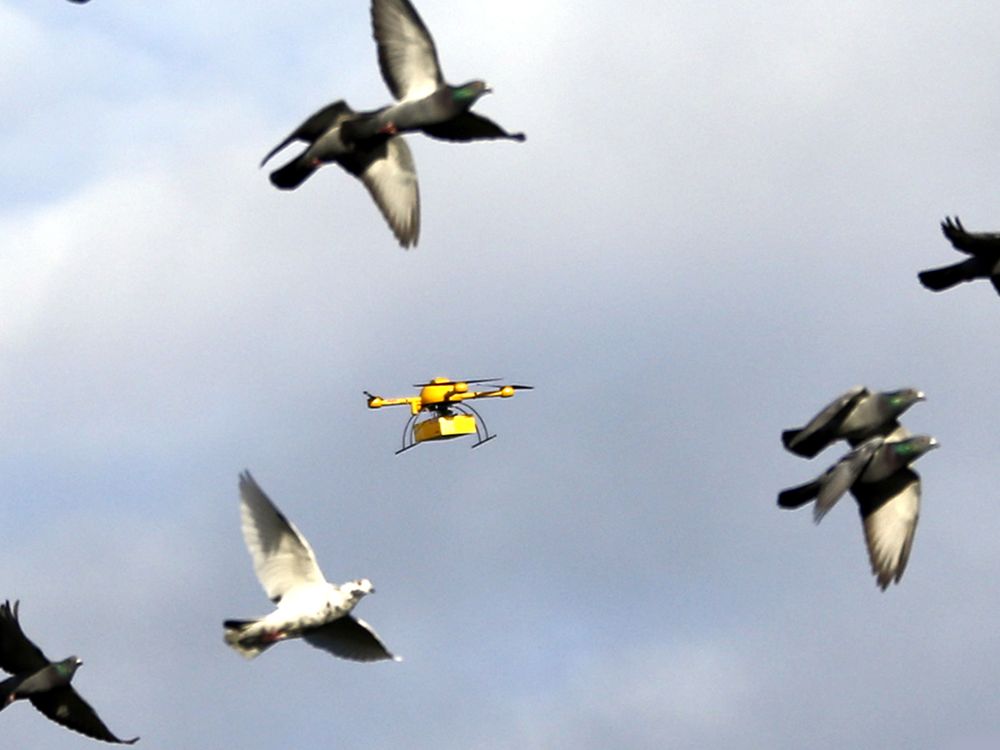 Drones have been in the delivery business since they were invented, delivering data, imagery, and, more recently, ordnance. But two years ago on "60 Minutes," when Jeff Bezos showed a warehouse full of drones stamped with the Amazon arrow and announced half-hour commercial delivery by as early as 2017, the possibilities for cargo drones seemed to instantly expand.
What didn't expand was airspace. Under today's Federal Aviation Administration regulations, operators may apply for a Section 333 Exemption, which allows them "to perform commercial operations in low-risk, controlled environments." Significantly, the rules bar operators "from allowing any object to be dropped from" a drone.
So how plausible are delivery drones, really? Flying packages in an urban area is fraught with challenges: Go too high and the drone could interfere with an airliner's airspace; too low and it has to navigate around buildings and trees—not to mention people who would like to snag a drone in addition to its package.
The hazards haven't stopped dozens of companies from running trials—or staging publicity stunts. You decide which of the following is which.
Would You Like That on the Rocks?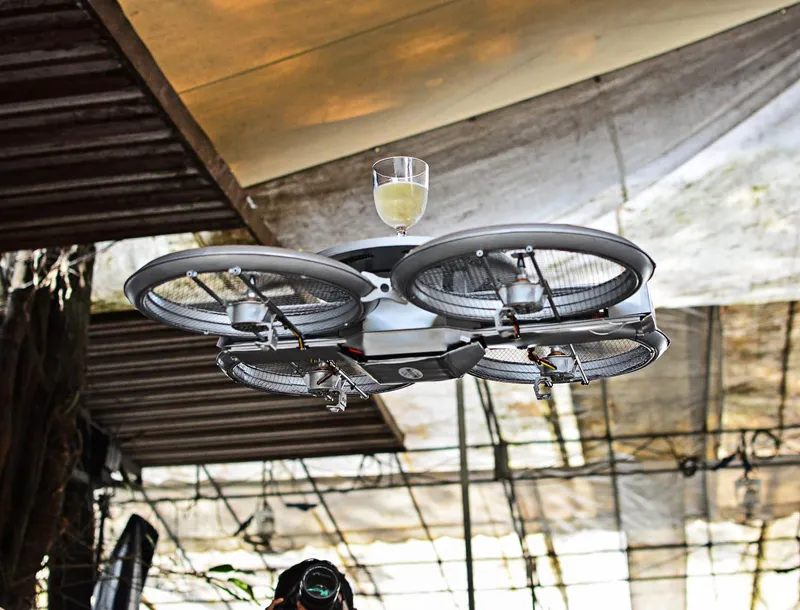 Timbré, a Singapore-based restaurant chain, hopes to expand its workforce to include drone waiters by the end of this year. The chain, in partnership with Infinium Robotics, conducted trials in February.
Drones (unimaginatively named "Infinium-Serve") will transport food and drink from the kitchen to the dining room, where human waiters will deliver them to patrons. The drones are equipped with sonar sensors and stereo-vision cameras, says Junyang Woon, chief executive of Infinium Robotics. (Woon declined to give specifics about the positioning technologies needed to enable the drones to work without slamming into people, explaining that the company was in the middle of filing patents.) Eight drones, at a cost of $20,000 to $60,000 each, will be used in each of Timbré's five restaurants. The technology took more than five years to develop, says Woon, and is used with a multi-rotor platform also designed by Infinium.
Sound like a gimmick? Both Infinium and Timbré have mentioned that the impetus of the project was Singapore's labor shortage. The nation's residents shun food-and-beverage service, notes a 2012 report by the Asia-Europe Foundation. Many of the positions are filled by foreign workers, who make up 40 percent of Singapore's workforce. But in the past two years, "we have encountered a severe manpower crunch due to the tightening of foreign worker policies," Edward Chia, Timbré's managing director, told the BBC in February.
As an incentive to compensate with drones, businesses that automate jobs also receive government subsidies—up to 70 percent of technology costs.
Woon doesn't think customers will mind the change. "When was the last time you actually talked to the person delivering the food?" he said to CNBC in February. "Most people continue to talk, to carry on the conversation. Most people don't say 'Thank you.'"
Meds Mail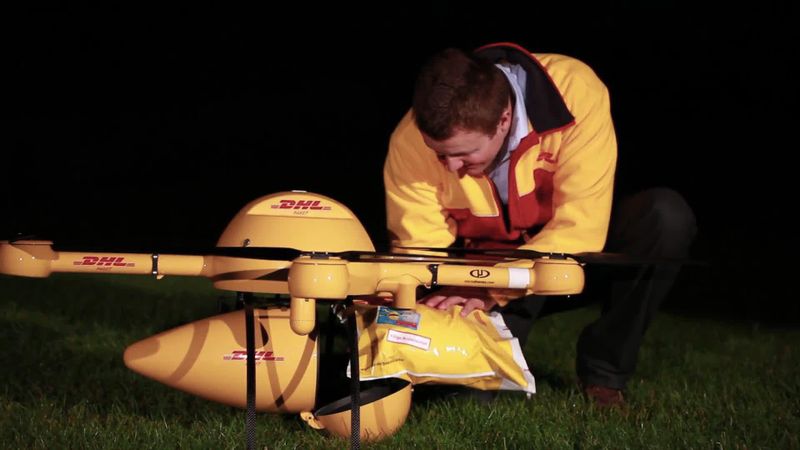 Just seven miles from the mainland, the 11-mile-long German sandbar island Juist can be reached only by airplane or ferry, making it a good candidate for a drone delivery trial. From late 2013 through 2014, DHL tested its "parcelcopter" and the feasibility of delivering medicines to the island's 2,000 residents when the ferry wasn't able to run—at night and during foggy conditions.
DHL partnered with Microdrones and the Institute of Flight System Dynamics at RWTH Aachen University, according to a company press release. (DHL declined an interview, saying it was still evaluating test flight data.)
The islanders' blog enthusiastically covered the trials: "She gets more attention than the Venetian wedding of George Clooney, the pregnant Kate from England, or the always lean and pregnant Heidi Klum—'our' drone."
Described in the blog as a cross between a UFO and a Hummel tank (because of the noise), the drone took approximately 20 minutes to travel from the pier at Norddeich to Juist. The flight was completely automated, notes a DHL press release, but was constantly monitored by a mobile ground station in Norddeich in case of malfunction or emergency. The md4-1000 drone can travel at 31 mph, remain in the air for up to 90 minutes, and carry a little over two pounds. The drone flies to a landing area on Juist, where a courier removes the package and delivers it to the island's pharmacy.
While the blog's author wistfully hoped for a daily fast food delivery ("a paper bag with a big yellow 'M' is almost an emergency"), she recognized the potential of the drone: "It really is a matter of saving lives."
"At the moment we have no specific plans for using parcelcopters in normal delivery operations," says DHL.
Yodela Yheehoo! Here's Your Package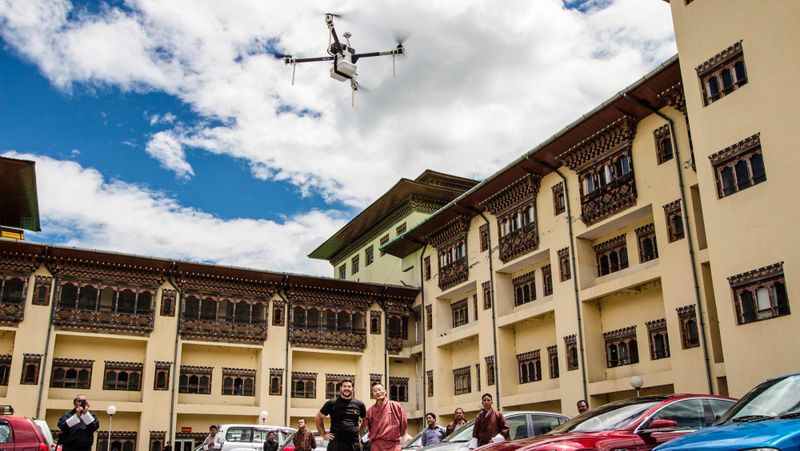 The Silicon Valley-based company Matternet has conducted trials in Haiti, the Dominican Republic, Papua New Guinea, and Bhutan for delivering humanitarian aid. "Imagine Mother Teresa meets 'The Jetsons' " is how company co-founder Paola Santana described the trials at a meeting of the Association for Unmanned Vehicle Systems International last July.
Most recently, Matternet has partnered with Swiss Post and Swiss WorldCargo; the trio will test small package delivery this summer in Switzerland, using multiple Matternet ONE drones. The drones can carry a two-pound package up to 12 miles on a single battery charge. Matternet has ambitious goals, which company co-founder Andreas Raptopoulos outlined in a 2013 TED talk: The company will provide customers with the vehicles themselves (about $5,000 each) and wants to set up automated ground systems, as well as design an operating system that would manage the entire network.
Amazon's Future
The FAA granted the Internet retail giant an experimental airworthiness certificate last April, which allows Amazon to test during daylight hours, within line of sight of the operator, and below 400 feet; before that, Amazon tested drones indoors in Seattle and outdoors in Canada, the United Kingdom, and Israel. In December 2013, company CEO Jeff Bezos told "60 Minutes" that he hoped to have autonomous drones deliver packages within a 10-mile radius of each Amazon warehouse.
Tea Bags by the Billions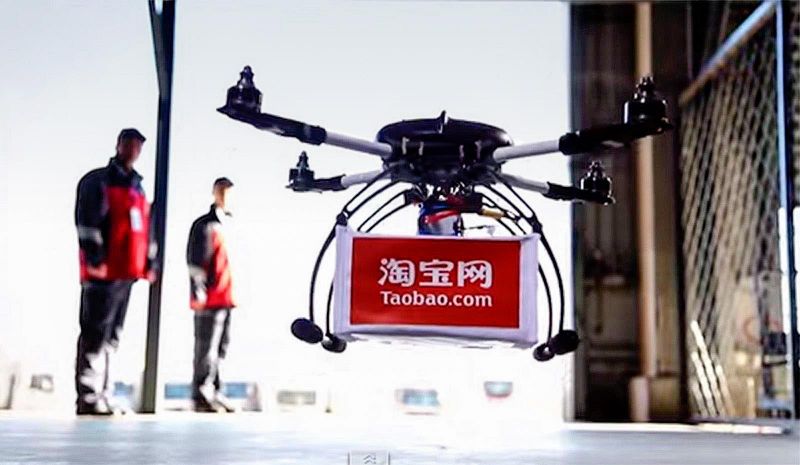 For three days in February, China's largest Internet marketplace—think eBay on steroids—used drones in an effort "to bring unique and innovative shopping experiences" to its customers.
The Alibaba Group delivered boxes of ginger tea to 450 shoppers in Beijing, Shanghai, and Guangzhou, each of whom paid roughly $8 for the experience. The company isn't sharing much information, but apparently the remote-controlled drones were flown to certain buildings, and human couriers unloaded the tea and delivered it to consumers.
It's not the first drone delivery in China; in 2013, InCake bakery in Shanghai used remote-controlled drones to make five deliveries of its pricey $325 confections. "The cakes are intended for couples celebrating special moments," said the Shanghai Daily. The bakery's claim that a drone delivery is more environmentally friendly seemed a bit absurd, as a drone operator followed each quadcopter in a car.
File Under "Not Sanctioned"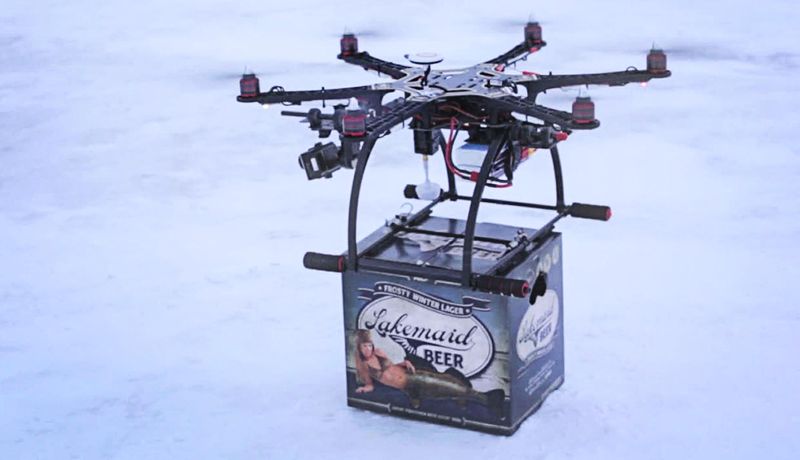 Drone deliveries make perfect PR stunts. Among the more famous: Wisconsin's Lakemaid beer delivery to ice fishermen; pizza deliveries in India, Russia, and New York; soda to construction workers in Singapore; cakes (designed by "British cake master Mr. Vincent") in China; and champagne sent within a resort in northern California.
Flirtey and Zookal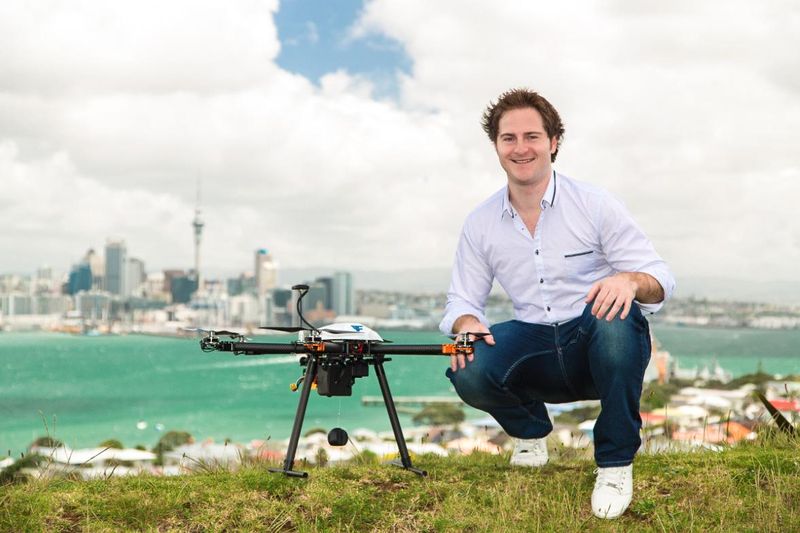 Flirtey, a small Australian startup, has sent drones to take textbooks to students at the University of Sydney. Partnering with textbook rental company Zookal, Flirtey conducted more than 100 test flights on the University of Sydney campus last year.
Using GPS coordinates sent from a smartphone app, the Flirtey drone hovered over the target site and lowered a textbook by cable to a waiting student. (A human pilot verified that the delivery location was safe; the customer then sent a command from his smartphone to lower the package.)
Launched in Sydney in 2013, Flirtey is now based at the University of Nevada at Reno. In March, the company completed trials in New Zealand, delivering emergency medical supplies by drone in partnership with LandSAR, a volunteer organization that provides land search-and-rescue services to the New Zealand public and police.
In an FAA-sanctioned trial, Flirtey, in collaboration with NASA and Virginia Tech, was scheduled to deliver medications via drone to a free medical clinic in western Virginia on July 17.
Oil Pan, Pronto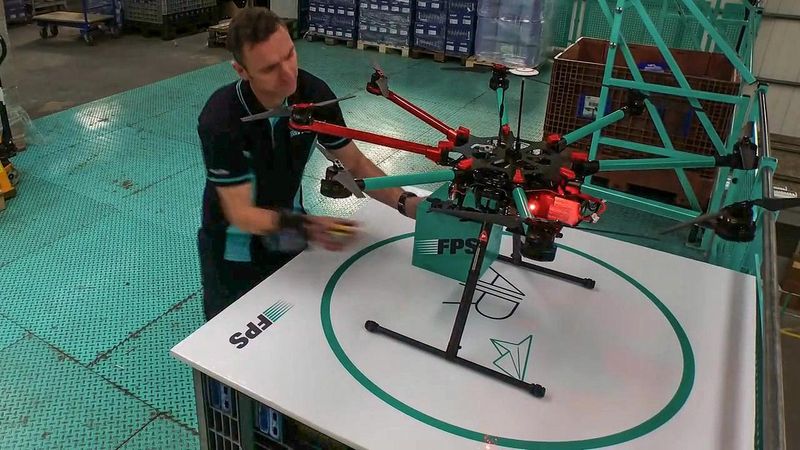 FPS, an auto parts retailer and distributor with more than 120 dealerships in the U.K., made the first commercial delivery in the United Kingdom by drone on March 13, 2015.
FPS asked Droneflight to help make a concept video using two drones: a DJI s1000 to depict the delivery, and a DJI Inspire to film the event.
"The idea wasn't to actually make a legal delivery with a product inside," says Andrew Griffiths, managing director of Droneflight. "The idea was to just illustrate the concept rather than actually do it for real. But while we were working on the storyboard and planning the video, we noticed that one of the FPS customers—Brakeline—was about 70 meters [229 feet] away from their building.
"So we looked at all of the stuff Brakeline had ordered for something that was the appropriate size and weight, and did fly it over," says Griffiths. "It was all within a safe area, and all within a visual line of sight, but it was a real delivery with a real product. Brakeline had no idea it would be delivered by drone."
The DJI s1000 is typically used for photography, and isn't something FPS would likely use as a delivery drone in the future. A lightweight box had to be fitted to the drone, which limited the size of the product that could be carried.
The film shows the drone taking off within FPS's warehouse and flying over bucolic fields toward its destination. The film takes some artistic license, admits Griffiths. For instance, it doesn't show that the metal shelving in the warehouse interfered with the drone's compass. "Anything you see in the film isn't necessarily what happened," says Griffiths. "The drone looks like it's flying over fields in the middle of nowhere, and obviously it was flying over fields in the middle of nowhere, but not in a single flight."