How a Pair of Teenagers Sneaked in to Meet Neil Armstrong During His 1969 World Tour
Some people don't take no for an answer.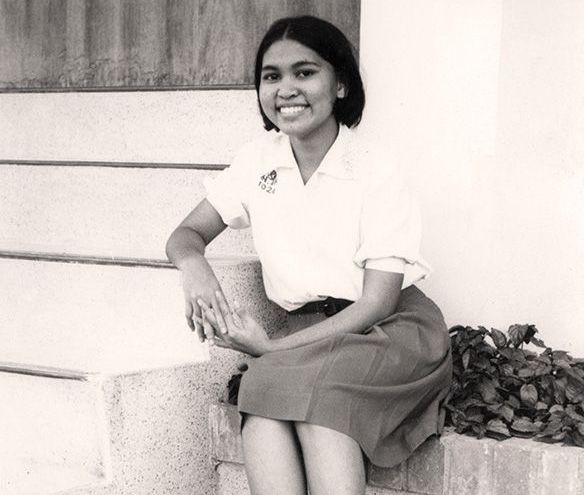 At exactly 3:17 Bangkok time, on the morning of July 21, 1969, Apollo 11 astronauts Neil Armstrong and Buzz Aldrin touched down on the surface of the moon. It was Monday in Thailand, half a day later than it was for American viewers. Roughly a million people in the southeast Asian nation watched a few hours later as Armstrong climbed down the ladder onto the lunar surface, the government having arranged for television coverage that drew visitors from neighboring countries that didn't carry the broadcast live.
Seventeen-year-old Luxana "Luxie" Nil-Ubol and 16-year-old Euthana "Euth" Mukdasanit were among the viewers. Oddly, they can't recall where they were exactly, but most likely it was in class at their high school, the Secondary Demonstration School of Prasarnmit College of Education in Bangkok. Luxie's family didn't have a television in 1969, so she doesn't think she was at home. "It was a long time ago," says Euth, smiling and shaking his head as he strains to remember.
What they do remember, vividly, is meeting, on separate occasions that same year, the first person to step foot on the moon.
Half a century later, the old schoolmates are sitting side-by-side at Euthana's house in Bangkok talking to me by Skype. They haven't seen each other in 40 years. Nor had Luxana seen, until I sent it to her, the letter she wrote in 1970 that's included in James Hansen's forthcoming book, Dear Neil Armstrong, a sampling of the hundreds of thousands of letters Armstrong received after Apollo 11. I got the letter from the publisher, tracked down Luxana with a Google search, and now the three of us are chatting. I want to hear about the time they met Neil Armstrong.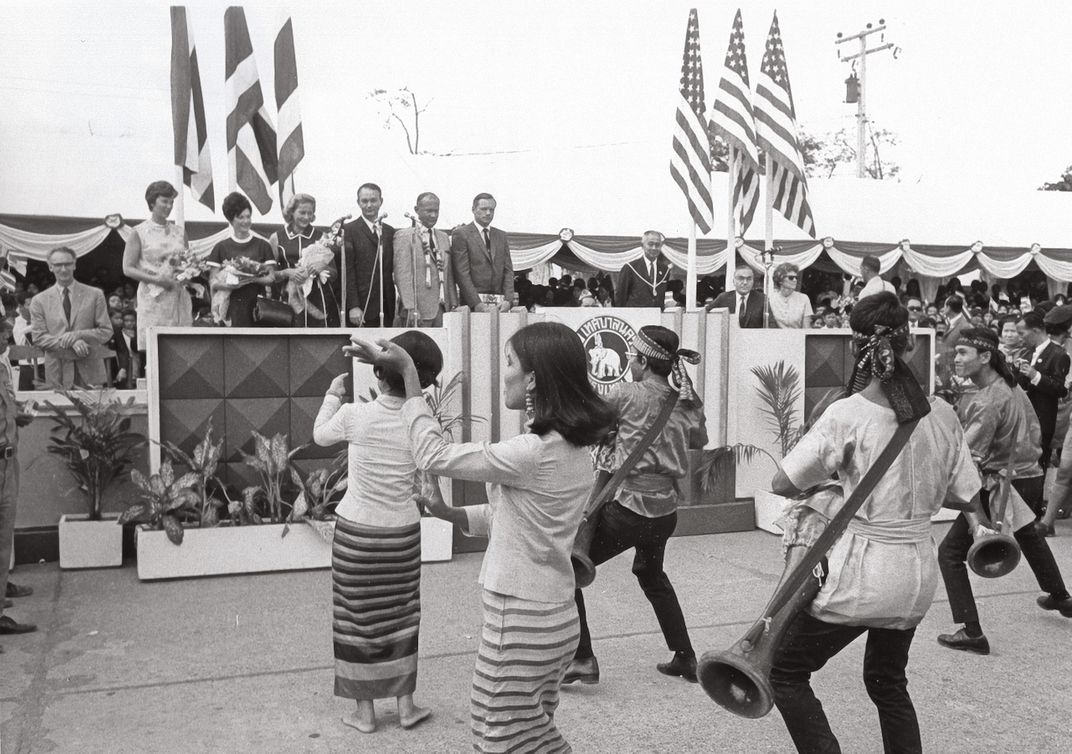 Three months after their return from the moon, the Apollo 11 crew—Armstrong, Aldrin, and Mike Collins—undertook a government-sponsored world tour, dubbed "Giant Steps," that hit 23 countries in 37 days, from Canada to the Congo. Traveling with the astronauts and their wives, an entourage of two dozen publicists and handlers kept them to an exhausting schedule—a blur of state dinners, parades, press conferences, and jostling crowds. The astronauts managed to smile their way through it all and shake hands with an estimated 50,000 people in six weeks. One thing they refused to do was spend the whole trip hobnobbing exclusively with Americans at U.S. embassy receptions. As Aldrin wrote later, "The three of us discussed this and informed both NASA and the State Department that we were going on the trip to demonstrate goodwill to all the people in the world and to stress that what we had done was for all mankind."
For much of the trip, Aldrin struggled with depression and anxiety, and by the time they reached India and Pakistan he was "wondering how I could endure the nightmare this trip was becoming." Arriving in Bangkok on October 28 was therefore "a welcome relief," he wrote. "The streets were lined with beautiful smiling children in blue and white school uniforms....We stopped the motorcade a number of times while the children ran forward to present us with flowers and balloons."
He, Collins, and Armstrong were made honorary citizens of Bangkok and given the keys to the city. At the government-owned Erawan Hotel where they were staying, a crowd of 200 people who'd been waiting in the lobby to see them became unruly after the astronauts were whisked out a back entrance instead, leading to some shoving by a security guard that caused a minor flap in the Thai press.
Euthana Mukdasanit and his friends didn't give up. They had skipped school to go down to the Erawan to see the moon men, and when they were told they couldn't go up to the third-floor rooms where the astronauts were staying, the boys climbed a fire escape. They waited for 20 minutes outside the third-floor elevator before the astronauts emerged from their rooms, on their way to lunch. Euth asked Armstrong for an interview. After sending Collins and Aldrin ahead, the astronaut sat with the boys for 10 minutes or so, politely answering their questions about the moon.
Two months later Luxana was just as bold in pursuing Armstrong when he returned to Bangkok to meet with U.S. Peace Corps volunteers and join Bob Hope's USO Christmas show. Turned away at the Erawan's front desk, Luxana and her friends went up to the fifth floor anyway and knocked on the astronaut's door. He agreed to a short interview that she later turned into an article for the school newspaper. When Armstrong got back to the States, he had a photo and mission patch sent to her, and it was her thank-you note, written on June 12, 1970, that appears in Hansen's collection of letters. ("Would you mind letting me be your son's pen friend, and do you still work on Apollo at NASA?" she wrote.)
Luxie passed her college entrance exams shortly after meeting the astronaut, and made a point to tell him in her letter. She's since had a long professional career working for a population studies institute at Mahidol University outside Bangkok, but still calls Armstrong "my hero." When the movie First Man came out last year, she took her adult son, a graphic designer, to see it.
THE APOLLO 11 astronauts embarked on their goodwill tour—in fact, had traveled to the moon—partly to present to people around the world an "embodiment of the American way of life," in the words of one embassy staffer in Bangkok. They mostly succeeded, though perhaps not in the way cold warrior John F. Kennedy might have anticipated when he set out to win the Space Race, or how Richard Nixon might have imagined when he dispatched three astronauts to a list of countries carefully chosen for their geopolitical significance. In the case of two Thai teenagers, the impact was less political, less about waving the American flag than about making a personal connection. And that's the part of the story I like best.
After high school, Euth and Luxie both went on to Thammasat University, she to study political science, he to pursue journalism and mass communications. It was a time of student uprisings, including protests of America's military presence in Thailand, and both were involved in the demonstrations.
Euthana got into writing and directing movies, and in 1976, one of his first films, Tongpan, was banned by the government for its socialist themes. Since then, he has made films that are socially conscious and gritty, about heroin addiction and Thailand's Muslim minority. He's also made blockbuster romances. Today Euthana Mukdasanit is one of the country's most honored filmmakers, and last year he was named an official National Artist of Thailand.
Reflecting on Armstrong 50 years later, he speaks passionately about the astronaut's effect on him. Euth, who went on to meet movie stars and kings, could tell, even at 16, that Armstrong "was smart—as a guy, not just as an astronaut. I still thank him for a little moment that inspired me forever. It inspired me that you can do the impossible dream. You have a wish, and you have a will, and you do it. In every film, I still have that inspiration from him. From your imagination, you can make it come true."
Euthana has moved his office several times over the years, and each time he does, he hangs the same picture on the wall—not Orson Welles or Fellini or Kurosawa, or anyone else you might expect from an internationally acclaimed film director. It's his signed photo of an American astronaut. "To Euth, With Best Wishes. Neil Armstrong, Apollo 11."