This Record-Setting Pilot Flew 1,826 Days in a Row
Airshow star David Martin always wondered what it would be like to fly every day.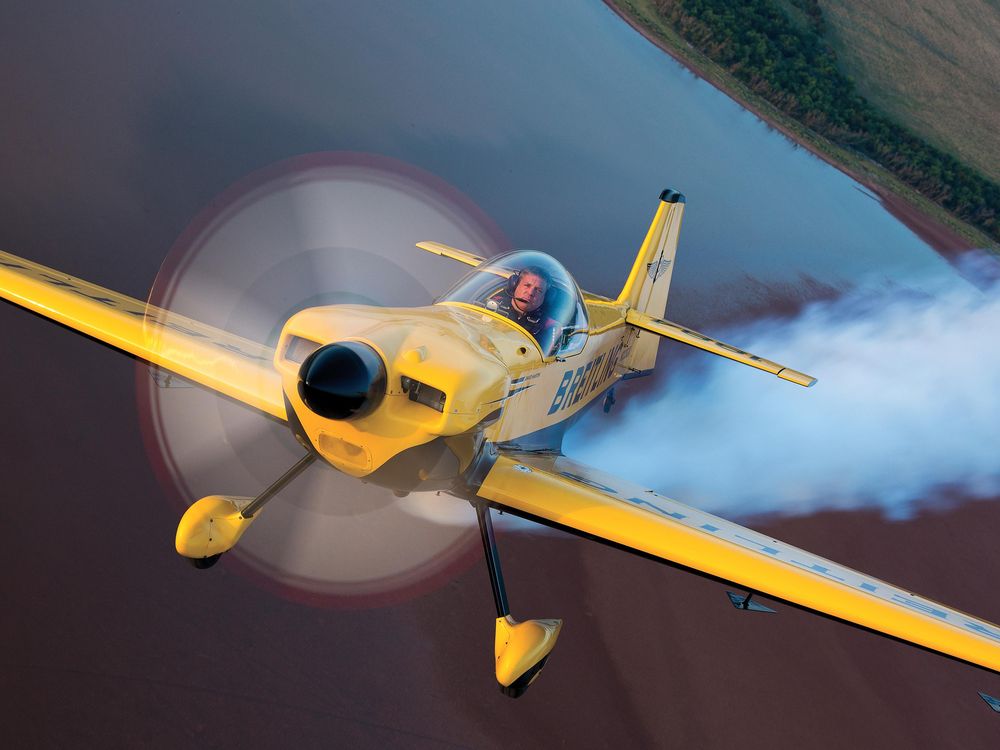 David Martin has always loved to fly. From the time he got his pilot's license, at 17, he knew that flying for him was more than a casual pastime. He loved it so much that, even as a teenager, he started thinking about what it would be like to fly every day—for a whole year. In 2014, he decided to find out. He flew every day that year, and the next year, and the next.
"I didn't plan to fly as many days as I did," Martin says. "I kind of relate it to a runner who starts out and just keeps running. It seems like all of a sudden, it was two years. After that, I honestly, seriously was going to stop at 1,000 days. I thought, That's a good number. The day that was going be the 1,000th day, I went to get a physical and my doctor said, 'Why would you stop? Why don't you just keep going?' So I decided, Okay. I'll keep going."
On December 31, 2018, Martin flew his last consecutive daily flight—on day 1,826. He had flown every day for five straight years.
Martin says there were a number of circumstances that made flying all those days in a row possible. First, he lives in the middle of Texas, where there is almost always one-mile visibility—the Federal Aviation Administration minimum under Visual Flight Rules (in daytime, uncontrolled airspace). "In five years, there was never a day that was fogged in all day long," says Martin. "I live on a lake, and the airport is right beside the lake. All you have to do is get high enough to fly around over the lake, and come back and land."
Second, he has a lot of airplanes—seven, plus a few others under restoration that are in pieces. "I probably flew my Piper Cub the most because it's easy to push out, and it's my favorite airplane," he says. "If I was down to one airplane, that would have to be it. I just like puttering around in it." Currently, he performs in a Beech Baron, flying an engine-out performance similar to the routine made famous by Bob Hoover in a Rockwell Shrike Commander. Traveling to airshows and performing filled a number of the summer days in his total time aloft.
During the late winter and spring, though, having a variety of aircraft to choose from was especially important. It gets pretty windy in his hometown of Possum Kingdom Lake, Texas. "The winds here can blow 40 or 50 miles per hour all day long," he says. That's when he climbed into the cockpit of one of his aerobatic airplanes—a French CAP 232 or a two-seat German Extra 300. "The aerobatic aircraft were actually better in the wind," says Martin, who was the 2001 U.S. Aerobatic Champion. "They have so much control authority that they can handle a lot of wind taking off and landing."
Martin says he hopes that somebody tries to break his record, but he admits it won't be easy. He and his wife Martha were able to go on only a few vacations—twice to Maine—but those trips almost ruined his streak. He recalls, "One day it was foggy, and I thought, This is it." The weather cleared, and he got to fly. He passed up a ride on a friend's private jet to the National Air and Space Museum's Steven F. Udvar-Hazy Center in Virginia because he knew that without his own airplanes, he wouldn't be able to fly once he got there.
One of his most memorable flights over the five years was a slow (65 mph) cruise in an original 1917 OX-5-powered Curtiss Jenny, which belongs to the Call Field Aviation Museum in Wichita Falls, Texas. He had flown it several times, and in 2014, he took it on its last flight. Although most pilots complain about the Jenny's sluggishness, Martin thinks "it was an amazing airplane for its time. It's heavy on the controls and doesn't climb very well, but it flies like a normal airplane." (An irrepressibly positive outlook also helps in the chase for a record.) At the other extreme from the Jenny, his Bücher Jungmeister biplane treated him to memorable flights every time he flew it.
Martin's only fear when he started his quest was that he might get tired of flying. "I've had professional pilot friends who did get tired of flying and quit, and I was thinking, I don't want to wear myself out to where I don't want to go flying any more. It didn't happen at all," he says. "In fact, since I've stopped, I still haven't gone more than three days without flying. I think I just like flying."