The Crash That Doomed Henry Ford's Flying Car
The death of pilot Harry Brooks 90 years ago ended dreams of an "air Flivver."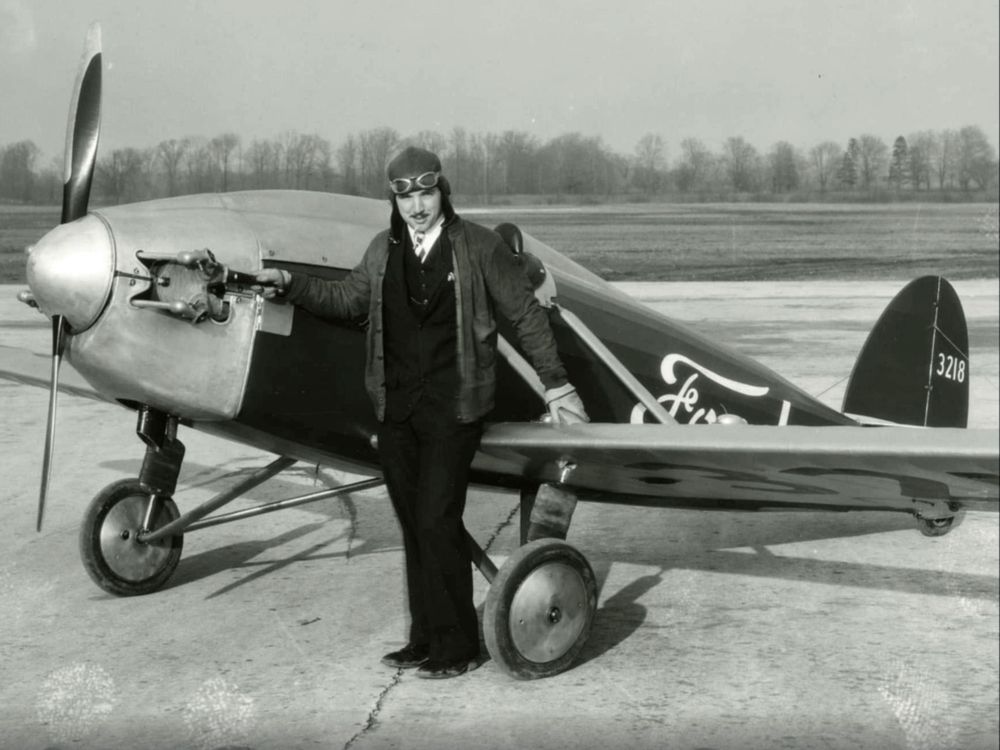 Long before Elon Musk, there was Henry Ford. Never satisfied to revolutionize just one industry, he typically worked on several at once. Over the course of his career, beside mass-producing Model Ts, Ford dabbled in shipbuilding, home construction, rubber planting in Brazil, radio broadcasting, soybean farming, and, for a brief period in the 1920s and early 1930s, aviation.
In 1925, Ford introduced the all-metal Tri-Motor, which he then used to run a scheduled passenger service from Detroit to Chicago. A year later, on his 63rd birthday, Henry unveiled an even more ambitious project: the Ford "Flivver," a flying car for the masses that was supposed to do for airplanes what the Model T had done for autos. Within two years, though, his dream of affordable aviation had ended, due to the fatal crash—on February 25, 1928—of the Flivver and its only test pilot, 25-year-old Harry J. Brooks.
Herman Moekle, a Ford company accountant, recalled years later in an oral history interview: "I always had the idea that Mr. Ford felt very badly about [Brooks' death], and that was the thing that clinched his getting out of the airplane business. Mr. Ford didn't want to develop anything that could so readily be the cause of a loss of life."
Brooks had met Henry Ford through another one of the tycoon's many interests—old-time American music. Brooks' father Joseph played fiddle in a dance band, and mentioned to Ford his son's passion for aviation. "Ford was interested and told the father to send his son to see him," according to an Associated Press story written after Harry Brooks' death. The young pilot was hired on the spot, according to the story, which went on to say, "Mr. Ford's paternal interest in the flyer has been commented on much since in flying circles."
Ford wasn't the only one to recognize Harry Brooks' talent. William Stout, whose airplane manufacturing company Ford had bought to produce what would become the Tri-Motor, recalled the young aviator as "a natural flier." Brooks "would do things with an airplane that the old pilots couldn't do," Stout told an interviewer. "He was just a kid that had practically never flown before. Part of it was nerve or rather lack of nerve. He just had no fear."
Harold Hicks, Ford's chief airplane engineer in the late 1920s, remembered Brooks as "a very levelheaded fellow but also daring." While the Flivver was being developed, the pilot would routinely fly it to work from his home in the Detroit suburbs, where he lived with his parents. Once, according to Hicks, he got fined for landing in the middle of Woodward Avenue. Another Ford employee, J.L. McCloud, recalled golf outings where Brooks would land on the course, taxi up to the first hole, and tee off.
Despite the stunts (which were probably meant to show off the Flivver's practicality for everyday use), Brooks was a serious enough pilot to earn the respect of Charles Lindbergh, who trusted the young pilot to fly his mother Evangeline to Mexico City in a Tri-Motor. Returning the admiration, Brooks let only one person beside himself pilot the Flivver: Lindbergh. And that was just once.
360-degree cockpit view of a replica Ford Flivver at the Experimental Aircraft Association's Pioneer Airport. Click and drag inside the image to look around. (EAA/Lyle Jansma)
For all its potential to revolutionize travel, the Flivver was never a priority at Ford. A small design team led by Otto Koppen worked on it separately from the company's other aircraft engineers, in a building shared with the Ford museum, another of Henry's pet projects. The fuselage of the single-seat "midget" was made of steel alloy, and the wings were wood covered with fabric. The first version had a three-cylinder engine, although Hicks later came up with an even lighter two-cylinder job made largely of magnesium.
By early 1928, the designers were on their third version of the Flivver, and Brooks, who by then was Ford's chief test pilot, was intent on breaking the distance record for light airplanes by making a non-stop flight from Detroit to Miami. On his first attempt in January, an apparently nervous Henry Ford reportedly shouted after the Flivver as it taxied away, "Don't mind the plane—we can build another. Watch yourself." Brooks was almost halfway to his destination when wing icing forced him down in North Carolina.
In late February he was ready to try again, and this time made it as far as Titusville, Florida, setting a new record for sustained flight of a small (under 40-horsepower) aircraft by flying 930 miles. After fixing a leaking gas line and replacing a broken propeller, he set off from Titusville in the late afternoon of February 25 for what should have been a short hop to Miami. Witnesses reported that the engine appeared to be working normally when he took off.
Worry set in, though, when Brooks didn't show up in Miami after several hours. The following day, seaplanes spotted the Flivver partially submerged in water half a mile off the Florida coast near Melbourne, where bystanders reported having seen a small airplane matching its description plunge into the water around dusk. Brooks' body was never recovered, although several weeks later a group of Boy Scouts found his wallet and bank book washed up on the beach.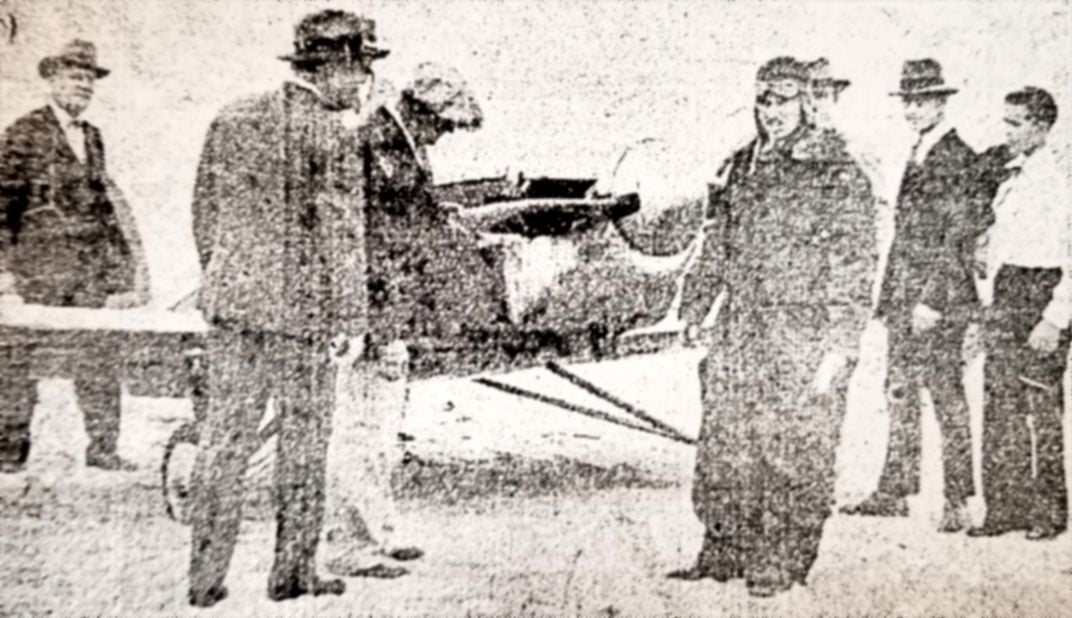 As for the cause of the crash, some thought originally that the Flivver's engine had cut out, but when they shipped the wreckage back to Detroit, the engineers found that the rudder wire had snapped, leaving Brooks with no directional control.
Henry Ford at first assured newspaper reporters that work on the Flivver would continue, and he kept his hand in aviation in the years that followed (the company built B-24s during World War II). But Ford never again made a serious push to build flying cars. Historians generally point to the Depression and a need to concentrate on his auto business as reasons for the "motor king's" retreat from aviation, while some of his contemporaries never thought he had the same passion for airplanes that his son Edsel did. It was hard to tell with Ford. Stout told an interviewer many years later, "Mr. Ford was two people. On one side he was a man who was very human, and on the other he was a mystic. There were sides to his own psychology that even he completely didn't understand."
And in the days after the Flivver crash, the inventor was racked with grief. Recalled Hicks, "After Brooks' death, late one night Henry Ford came through the laboratory on his way home. I stopped him and said, 'Mr. Ford, do you want anything more done on the development of this two-cylinder engine?' He said, 'Well, what's it good for?' I said, 'Well, it's good for a Flivver plane.' He said, 'What are they good for?' "