Concerto for Merlin and Double Wasp
John Altmann thinks airplane engines make beautiful music, and has sold thousands of CDs to prove it.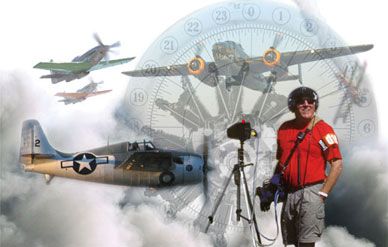 To hear the sound of a P-38 Lightning flying past, click here.
It's a clear morning in mid-September. Fifteen miles outside Reno, Nevada, John Altmann is in a van heading for the outskirts of Stead Airfield, a former Air Force base, now used by general aviation traffic and, once a year, by the association that stages the National Air Races.
Altmann has been making audio recordings of vintage aircraft engines for 25 years. What started as a hobby is now a business, AirCraft Records, which produces CDs featuring the sound of radial engines. (To hear a P-38 fly past, Howard Hughes biopic The Aviator, Discovery Channel's "Wings" series, and video games, and he has sold thousands of records and CDs.
Altmann sets up his digital recording equipment, a suite of electronics he has refined over the years. The hard disk recorder is the size of a cigar box. His custom microphone array looks like a piece of Darth Vader's helmet.
"I grew up in the flight path of Santa Rosa Naval Auxiliary Air Station," Altmann says. "My mom would take me out in the stroller near the runway and what I now know were P-38s would roar over.
"I became a recording engineer, and owned a music recording studio in San Francisco. In 1982, for my 40th birthday, I took a ride in a P-51. The pilot was Korean ace Bob Love—he had a beautifully restored two-seat Mustang in Livermore, California. The amazing sound of his Merlin 12-cylinder engine stayed with me. I thought, Why not make a record of that sound?"
Altmann says he used a complicated binaural dummy-head microphone and a reel-to-reel tape recorder jammed under the seat, which resulted in "a total disaster. I basically put a lot of rattling and wind noise on tape." He and Love made another flight with a smaller single-point stereo microphone and it worked beautifully. The first album, CheckFlight P-51, was released in 1983 and included a foldout poster of the Mustang's instrument panel. Today, vinyl copies are fetching $250 on eBay.
Love suggested that Altmann go to the Reno Air Races. "Toting around my microphones and tape recorder, I was pretty much of a freak, but I was adopted by the regulars because Bob Love introduced me to them," Altmann says. "Bob asked Ron Burda, an award-winning photographer for the San Jose Mercury News, 'to take this kid out to Pylon 6.' I had no inkling what was going to happen.
"All of a sudden, a pack of three P-51s came tearing through the skies flat-out, seemingly just above our heads, doing 400-plus miles per hour. My whole body was vibrating."
Since then, Altmann has captured the sounds of 20 years of air races, and has created audio documentaries on the P-38 Lightning, Messerschmitt Bf 109, Mitsubishi Zero, and Chance-Vought Corsair, and a CD set on World War I aircraft. A new project, on the U.S. Navy's Grumman "Cats" of World War II, is in the works.
(Reprinted from the "Soundings" department of the April/May 2007 issue of Air & Space.)