Combat on Canvas
Art and artifacts from the Marine front lines, now on display in Washington.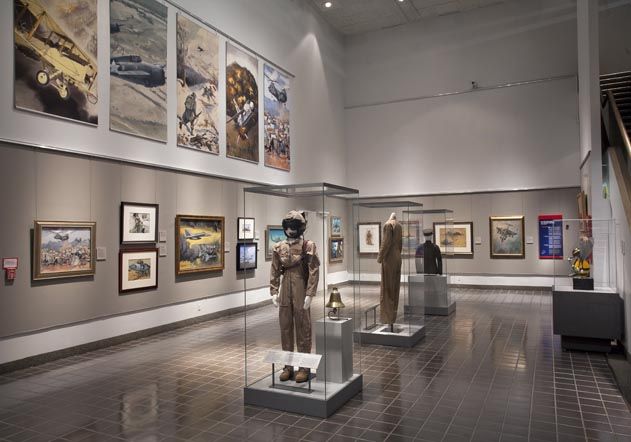 "Go to war, do art." Five words. That's what the U.S. Marine Corps has been telling its combat artists since World War II, says Lin Ezell, director of the National Museum of the Marine Corps in Quantico, Virginia. "We don't tell them what to paint," she continues, "what to create, or how to do it. We just give them the tools and the uniform, and the ability to care for themselves on the field of battle."

Ezell was at the National Air and Space Museum to help kick off a year-long exhibition titled "Fly Marines!," which celebrates the centennial of Marine Corps aviation. "If you came here today looking for pretty airplane pictures," said Ezell, "you're going to be hard-pressed to find but a couple of those. The show is a celebration not about the form of the aircraft itself, but the function of aircraft in war. And that always has to do with people."

The Marine Corps museum has some 8,000 works of combat art representing 350 artists. Ninety-one artworks and artifacts taken from both the National Museum of the Marine Corps and the National Air and Space Museum will be on display at NASM until January 6, 2013. See the gallery below for selections from the exhibition.
Recruitment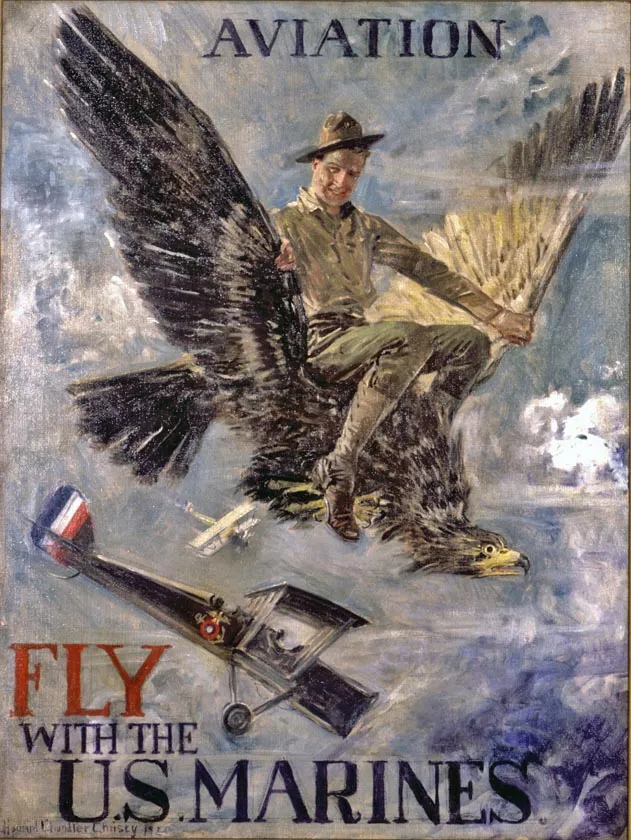 Marine First Lieutenant Alfred Cunningham reported to Annapolis, Maryland, for flight training on May 22, 1912—recognized today as the birth date of Marine Corps aviation. "It's interesting to note that when we've celebrated the centennial of Army aviation and the centennial of Naval aviation, the dates were based upon the dates that each service ordered its first airplane," said General Jack Dailey, director of the National Air and Space Museum, at the exhibition opening. "The Marine Corps didn't have any airplanes—that hasn't changed much, by the way—so we had to take the date that our first pilot reported for training."

This 1920 recruitment poster, illustrated by Howard Chandler Christy, "encouraged folks to look at Marine aviation and want to join and be a pilot," said Joan Thomas, art curator at the National Museum of the Marine Corps.

Christy began his career as a war artist following President Theodore Roosevelt's Rough Riders in Cuba. Although Christy preferred to depict pretty girls over men at war, notes the Smithsonian's American Art Archives, "his World War I poster, 'Gee!! I Wish I Were a Man' is second in popularity only to [James Montgomery] Flagg's 'I Want You!'"
Captain Evans' Loop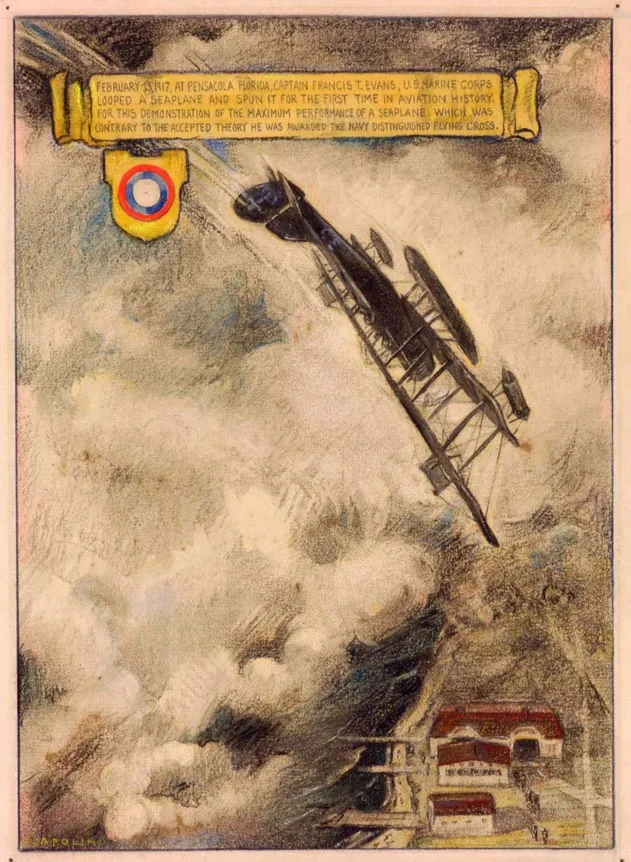 In the Naval Appropriations Act of August 1916, Congress provided $3.5 million for aircraft and equipment. The act also established a Naval Flying Corps of 150 officers and 350 enlisted men of the Navy and Marine Corps. By the end of 1916, 60 airplanes had been ordered, including 30 Curtiss N-9 seaplanes.

Early in 1917, notes Marine Corps Aviation, The Early Years, while flying one of the N-9s, Captain "Cocky" Evans "made a major contribution to American aviation safety. He did it largely by accident. He and other pilots at Pensacola had been arguing about whether one could loop a tractor-type seaplane. Evans and others insisted they could, while their opponents contended the heavy, fragile pontoons would make the maneuver impossible. On 13 February, at an altitude of about 3,500 feet above Pensacola on a routine flight, Evans decided to try to loop. His initial attempt failed, and his N-9 stalled and went into a spin. No American aviator up to this time had worked out a method for recovering from a spin, and several had died in crashes as a result of this gap in their knowledge. Evans, apparently without realizing he was in a spin, instinctively pushed his control wheel forward to gain speed and controlled the turning motion with his rudder. Recovering from the spin, he kept trying to loop, stalling, spinning, and recovering until he finally managed to loop. To make sure he had witnesses for his feat, he flew over the seaplane hangars and repeated the whole performance. Not until then did he realize that besides proving a seaplane could loop he had solved a major safety problem. The aviators at Pensacola at once incorporated his spin-recovery technique in their training, and Evans was sent on a tour of military airfields to teach other pilots his method."

Lieutenant Colonel John Capolino captured this historic event in his 1930 pastel titled "Loop of Seaplane, 1917."
Light Bomber Wheel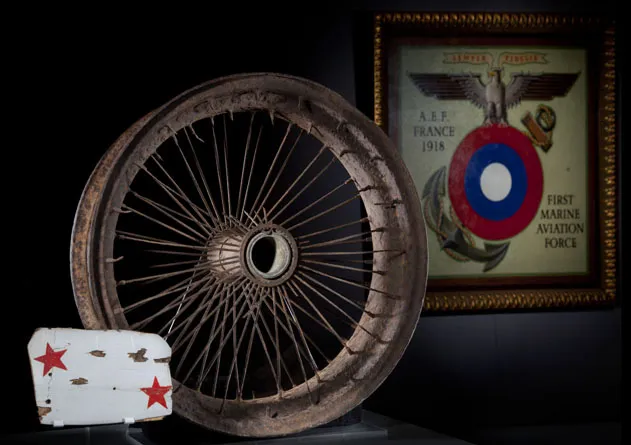 Both of these fragments—the wheel and the piece of fuselage—are from Marine Dayton-Wright DH-4 light bombers that operated in Nicaragua in the 1920s. (This series of Central American and Caribbean conflicts, running from 1898 to 1934, would come to be known as the Banana Wars.)

"The wheel is a relic from an aircraft that was forced down by engine trouble in the jungles of Nicaragua," said Marine Corps museum curator Ben Kristy. "The crew walked away from the accident, but were captured by rebel forces and killed. The second piece—the fuselage skin—is from another aircraft. And you can see the 'protective coating' the aircraft had—it's plywood. Very thin plywood." The aircraft returned safely to base after being struck 22 times by enemy fire.
Alex Raymond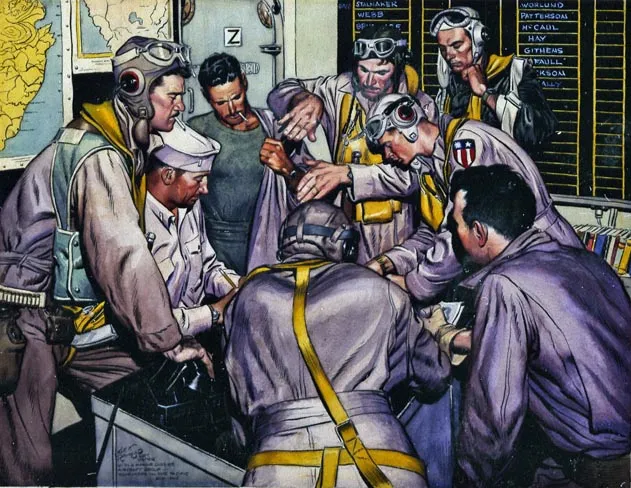 In this painting by Alex Raymond, better known as the illustrator of "Flash Gordon," the pilots of VMTB-143 gather in the ready room for a debriefing. According to notes in the scrapbook of Lieutenant Bob Cox (seated), this painting was based on a photograph Raymond took of the debriefing after the June 16, 1945 attack on Amami-Oshima Island. (See Raymond's sketch, here.)

In 1944, Raymond joined the Marine Corps as a captain, serving in public relations. His work on "Flash Gordon" was taken over by Austin Briggs. Raymond was made an honorary member of VMTB-143, even designing the squadron's patch.

Raymond left the service in 1946. Unable to return to his position at "Flash Gordon" (the newspaper pointed out he'd left voluntarily to enlist), Raymond started another comic strip titled "Rip Kirby," about an ex-Marine turned private detective.
For Lack of a Word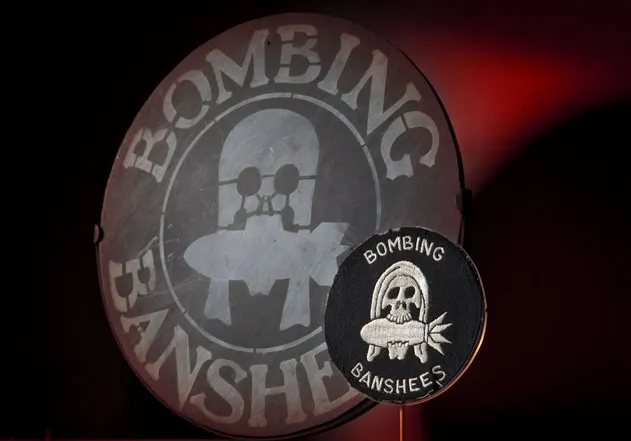 "The Marine Corps doesn't do a lot of nose art—we're not flashy like that," says Marine Corps museum curator Ben Kristy. "But we do have unique patches." While the museum has a fairly extensive collection of patches, it didn't have an example of original design artwork. Enter Douglas Fink, an industrial-artist-turned-dive-bomber-pilot in World War II.

When his commander announced a competition asking for a nickname and emblem for the new squadron, Fink, a Douglas SBD Dauntless pilot with VMSB-244, responded. (It didn't hurt that the prize would be a bottle of gin.)

Fink scrounged up some plywood, paged through the dictionary looking for words that went with "bombing," and decided "banshee" fit the bill. The resulting artwork, seen here, won first prize. Unfortunately, by the time the bottle made its way to Fink, all the gin was gone.
Bumblebees' Mascot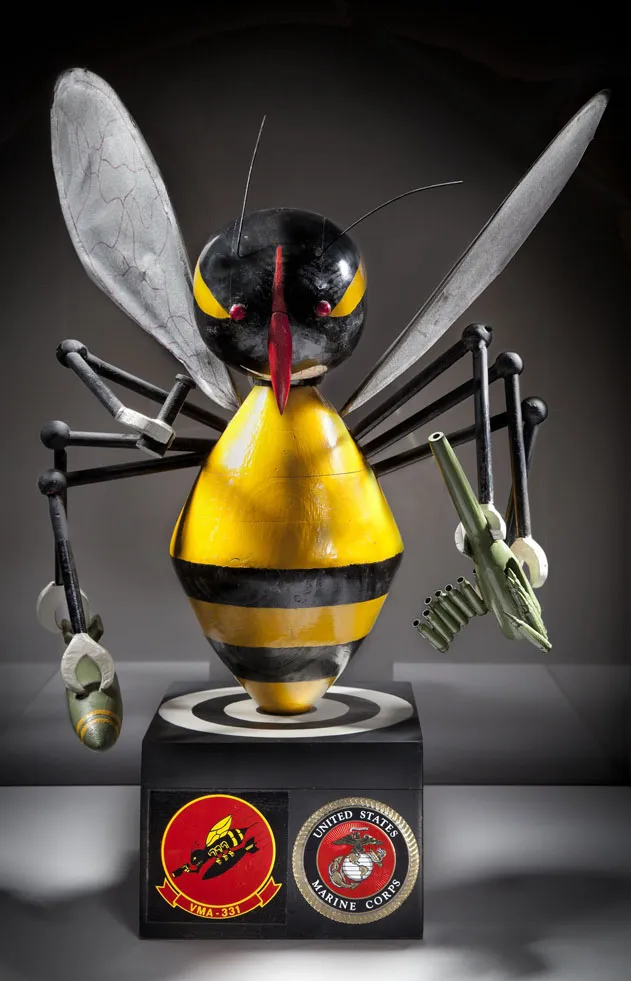 "Aviators are very proud of their squadrons," says Kristy, "and are also very proud of their bars and officers' clubs. This bee comes from VMA-331—the Bumblebees—a famed World War II squadron that was decommissioned after Desert Storm." When the unit officially turned in its unit colors, flags, and official records, they also turned in their bee. The sculpture, which graced the officers' club for years, is made from Tinkertoys, with wings of pantyhose. The base is a recipe card box. "We don't know who made it," said Kristy. "So, besides being a great example of Marine folk art, we're hoping that people will come through the exhibition and spot it, and tell us a little more of its history."
Universal 'Marine'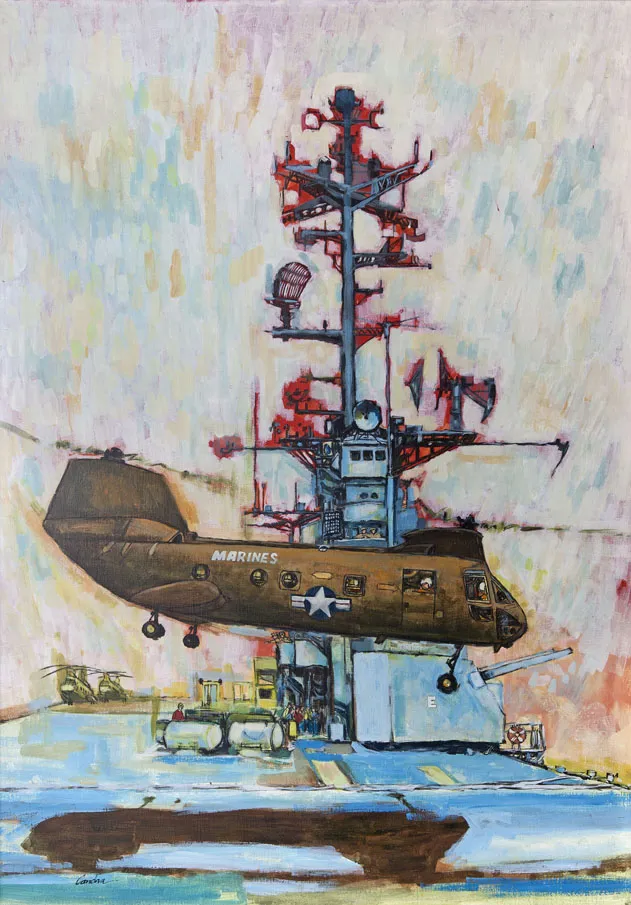 Artwork from the Vietnam War makes up the majority of the Marine Corps' art collection. While the art program during World War II was just as large, the Marine Corps was not set up to store materials; after the war, any art was returned to the home-of-record of the particular artist.

Colonel Edward M. Condra, III painted "Vertical Envelopment" (shown here) in 1968. "I was in Vietnam day in and day out for several years," Condra said at the exhibition opening. "I ate a lot of sand, I ate a lot of dirt; I could tell you a lot about nitty-gritty. I spent 28 years as a Marine. I trained to be an artist and I lost my way and came back to art 28 years later. I remember doing this painting. I could smell the exhaust fumes and [hear] the sounds of a ship that has a thousand people [on it]. Marines don't wear a lot of ribbons or awards, because all Marines are basically the same. So when you say 'Marine,' that's all you have to say. Everybody around the world knows what 'Marine' means. So I just put 'Marines' on the helicopter."
The Bell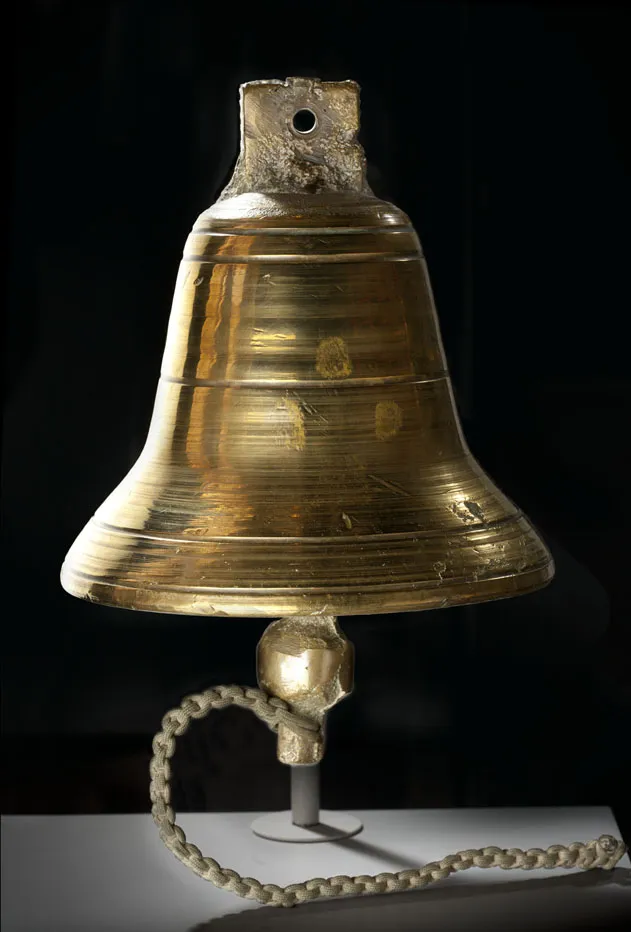 "This bell is a very simple token of the dedication and impact that Marine aviation has had in Iraq," says curator Ben Kristy. The bell came from an Iraqi airfield. The electrical system on the field was so spotty that if a call came in for a medical evacuation flight, you couldn't depend on it. So the base needed to have some way of informing crews to launch immediately. This bell's unique din could be heard all over the flightline. "When you heard that bell go off, it sent a shiver up everyone's spine," a Cobra pilot told Kristy. As squadrons deployed in and out of the airfield, the bell became part of the formal change-of-command ceremony. By the time the bell came home, it was associated with more than 9,000 medical evacuation flights.
Combat Zone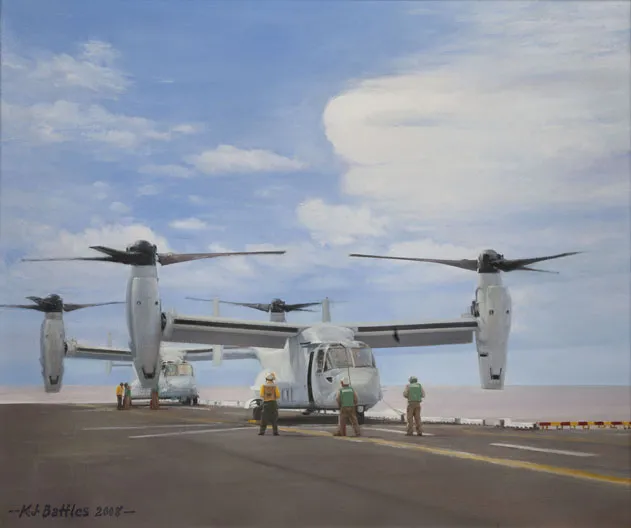 VMM-263 (also known as the "Thunder Chickens") was the first Marine squadron to deploy the Bell Boeing MV-22 Osprey tiltrotor aircraft in a combat zone. The squadron conducted flight operations and performed routine maintenance on board the USS Wasp in preparation for combat missions in Iraq in 2007. Shown here is "Osprey Flight Operations from USS Wasp" by Staff Sergeant Kristopher J. Battles, one of the current USMC combat artists.
Tools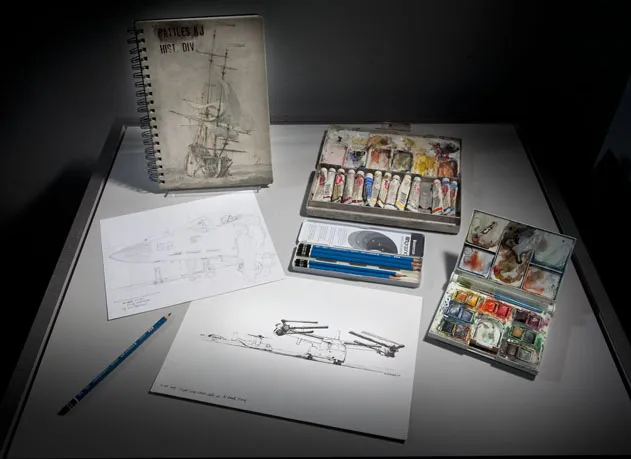 "When we go out," says Staff Sergeant Kristopher Battles, one of the Marine Corps' current combat artists, "we take with us not only our weapons, armor, helmet, food and water, but also our cameras, sketchbooks, and watercolors. If you're on patrol, you're walking in patrol order and you're basically trying to keep your eyes open, and you're also looking for images, believe it or not. You're noticing how the sun may glint off of something, or there's a good composition, while at the same time, of course, you're trying to spot someone who's not so friendly." Staff Sergeant Battles' art supplies, shown here, have traveled with him to Iraq and Afghanistan, and back to the National Museum of the Marine Corps, in Quantico, Virginia, where each combat artist has a studio.