Club Zvezda
When did cosmonauts get so hip?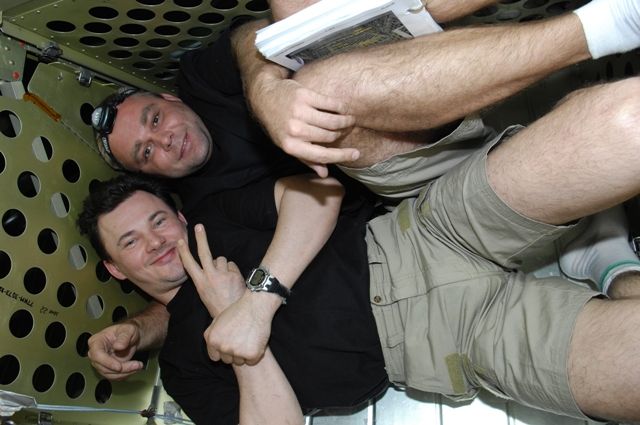 The current Russian residents of the International Space Station, Maksim Surayev and Roman Romanenko, are two of the loosest, laughing-est spacemen we've seen in a long time. Maybe it's because they
just spent ten days in orbit with a clown.
Whatever the reason, Surayev, 37, and Romanenko, 38 (who's a second-generation cosmonaut—his father Yuri flew on Soyuz 26 in 1977) seem to be having a great time on their rookie spaceflight.
Surayev started with the schtick even before he got to orbit,
periodically breaking into song on launch day
(the 70s pop song "Mammy Blue," for some reason). Taking a cue from the NASA astronauts who now Twitter and blog on every shuttle flight, Surayev is writing a blog on the Russia Today site
(an archived Google-translated version is here)
, a first for a cosmonaut (although his boss Sergei Krikalev
has a Facebook page
).
Romanenko, who's been playing bass guitar since he was young, spent half of his recent phone chat with two members of u2, Bono and The Edge (plus Bono's sons Eli and John), lobbying to appear with the band when they play Moscow. Judge for yourself (below) whether he talked his way onstage. I think yes.
How do you say "Rock On!" in Russian?