China's First Lady of Flight
In an era when Chinese women weren't allowed to drive cars, Lee Ya-Ching flew the globe.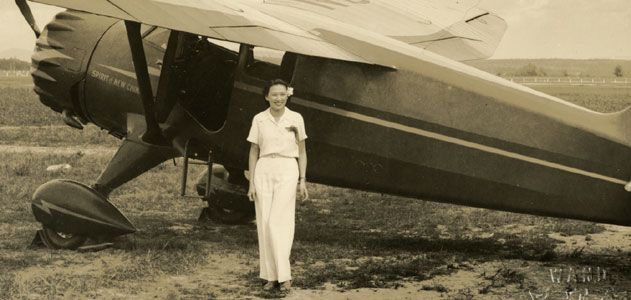 Flying 2,000 feet over San Francisco on a spring day in 1935, Lee Ya-Ching was enjoying her first aerobatic lesson in an open-cockpit trainer. As her instructor started a series of loops, wing-overs, and barrel rolls, Lee's safety belt suddenly detached—and she found herself sliding out of the airplane. She later recounted in a radio interview, "I was too stupefied to act for a few seconds. Then, in a flash, I remembered all I had been told and pulled the ripcord. I made a perfect three-point landing—right in the middle of San Francisco Bay. But I treaded water, grunting and blowing like a porpoise, until a friendly launch came along and I was lifted aboard."
Aviation wasn't the obvious career choice for the charismatic Lee, who as a teenager had been one of China's top silent film actresses. She starred in eight films, and fans bought anything bearing her image, from movie magazines to notepaper. Then, at age 16, she headed to England to continue her education.
It was watching an airshow in Paris that set Lee's life on a new course; she determined to become China's first female aviator. She told radio host Fred Reed in 1943, "When I was a tiny girl, I often listened to fairy tales at my grandmother's knee. One of them was told to me often, and it impressed me greatly. It was the legend of a kind lady who flew through the clouds, helping the poor and the unfortunate, and it impressed me very much. I was back in China in 1931 after schooling in Europe, and I saw how ruthlessly Japan started her pattern of aggression. Then and there, I decided to do my bit for China…and began studying the fascinating art of flying. I knew even then that someday I would be able to help my homeland with this knowledge of aviation."
More than any other figure—man or woman—Lee did exactly that, demonstrating her passion for flight throughout China at a time when her countrywomen weren't even allowed to drive cars. In the decade before World War II, if you had asked anyone in China to name just one pilot, the answer you probably would have gotten would have been Lee Ya-Ching.
She earned her pilot's license in 1933, in Geneva, after a memorable flight in a small, shaky airplane, possibly a Caudron. ("The pilot flew the trembling craft over the Alps and I had horrible visions of landing unceremoniously on Mont Blanc.") By early 1935 she had relocated to Oakland, California, for advanced training at the Boeing School of Aeronautics. There, Lee flew Stinson and Stearman trainers, and a Ford Tri-motor transport. Her unpublished autobiography, dictated at the tender age of 27 to ghostwriter Elsie McCormick Dunn (and now in the National Air and Space Museum archives), summarized the period: "She struggles with intricate subjects—meteorology, mechanics, navigation, etc; doffs silk gowns for greasy overalls; gets up at 6 a.m. instead of noon to attend classes." In a 1943 radio interview, Lee recalled: "The engine of a plane became as familiar to me as the palm of my hand. Yes, I got very greasy and dirty, and often I was disgusted at the drudgery connected with absorbing American aeronautic training. But now I am eternally grateful that I stuck to it and passed these courses. American aviation is rightly the envy of the world."
Lee returned to Shanghai in late 1935, U.S. private pilot's license in hand, eager to use her fame to promote civil aviation. But while the Shanghai Flying Club (part of the China Aviation League) embraced Lee, the Chinese government wasn't inclined to grant a license to a woman. After intense lobbying, Lee was finally evaluated by a member of the Chinese air force and given a government pilot's license—along with a special assignment. She flew 30,000 miles throughout China, evaluating airdromes and air routes in the interests of civil aviation. Once the task was complete, she helped organize China's first civilian flying school, serving as the school's sole female instructor. In honor of Chiang Kai-shek's 50th birthday celebration in 1937, she performed an aerobatic routine—the first ever by a Chinese woman in her own country—before 150,000 spectators.
Lee continued to score more aviation firsts. Patti Gully's book Sisters of Heaven notes that Lee planned to write a book on China's civil air routes, and embarked on a fact-finding tour in a Junkers Ju 52. After being approached by the Southwestern Aviation Corporation, a government-owned airline flying between China and Europe, Lee did a stint as a transport pilot. On July 7, 1937, the Sino-Japanese War broke out. Lee offered her services as a combat pilot. When refused, she asked permission to fly as a ferry pilot or a courier. Both suggestions were rejected. Lee was grounded for the duration of the war, when all civilian flying was prohibited.
Intensely disappointed, she established a Red Cross hospital, using her own money. Lee recounted in a radio interview, "When war broke out, I helped to established refugee camps and an emergency hospital for our wounded soldiers. The Japanese put a price on my head. I heard about it and managed to escape from Shanghai several days after the Japanese occupied that city. I came to know the full fury of the war that the Japanese had inflicted on my people when I traveled between Canton and Hong Kong along a railroad line that was continually bombed. In 1938 I decided I could best serve my country by helping to enlist the aid of Americans in our cause."
Lee had hoped that various American contacts—including wealthy socialites and film stars—would help her secure an airplane for a goodwill tour, which she would pilot herself. Putting up her own jewelry (worth more than $6,000) as collateral, Lee secured the loan of a Stinson SR-9B from the Beech Aircraft Company. In her aircraft, dubbed Spirit of New China, Lee began a goodwill tour, raising money for Chinese refugees. The tour was wildly successful. With help from relief organizations, socialites, and fellow aviators (including Louise Thaden) and film stars, the tour visited 40 cities in just three months.
In a 1939 letter, Lee described the overwhelming response to her Chicago arrival: "I had a wonderful reception both from the Chinese community and the American public. We had a big crowd of several thousand at the airport and I greeted them by broadcasting from the roof of a building. We had a parade of over one hundred cars with Chinese and American flags. The procession, headed by boy scouts and girl guides, extended for more than ten blocks."
Hollywood was smitten with the diminutive pilot, and Paramount convinced her to take a supporting role in Disputed Passage, starring Dorothy Lamour. (Lee was cast as the "Chinese Aviatrix.") Lee alternated between filming scenes and, on days she wasn't needed on the set, continuing her goodwill tour. In a note dashed off during this time, Lee wrote: "May 4th. Went to see the rushes, they were not bad. Everyone at Paramount is so nice to me." But the relentless pace was wearing, as her May 5 journal entry reveals: "I was preparing for bed when the phone rang, some Chinese want to see me, can't I have some peace? I thought I could get to bed early for once & there they are, never fail. What can I do but to please them. However they were very sweet."
From 1939 through the end of World War II, Lee raised funds throughout the United States, Canada, the Caribbean, and Central and South America. She flew a Beechcraft C17R on behalf of China Relief and an Aeronca Super Chief 65 LB for Relief Wings, and promoted the Red Cross in New Orleans with Chinese-American film actress Anna Mae Wong. Lee was so famous as a flier that she appeared on a bubble gum card and as the heroine in a True Aviation comic book story.
By war's end, a weary Lee was finally able to return to Shanghai. The conditions of the familiar city shocked her, and she fled to Hong Kong to stay with her father. There she tried to get involved with the aeronautical industry, but was rebuffed. Lee's eight years of nonstop flying seemed over.
In the mid-1960s Hong Kong experienced an economic downturn and Lee returned to the United States, settling in the San Francisco Bay area. She promptly obtained a student pilot certificate, passing her written and flying exams in 1966, at the age of 54.
In Sisters of Heaven, Patti Gully relates that in the 1970s, while touring the California countryside, Lee "spotted a crop duster sitting in a farmer's field and asked permission to take it aloft. She proceeded to put the old plane through its paces, performing a series of spins and complicated aerobatic maneuvers until its wires were screaming and its wings were shaking. And then, having taken the machine to the outer limits of its endurance, she calmly landed and politely thanked the astonished owners for their indulgence."
Next in our series on historical figures in Chinese aviation: Feng Ru, the Wright-inspired aircraft designer.