China Needs Pilots
A boom in Chinese air travel is sending hundreds of novices to flight school in Arizona.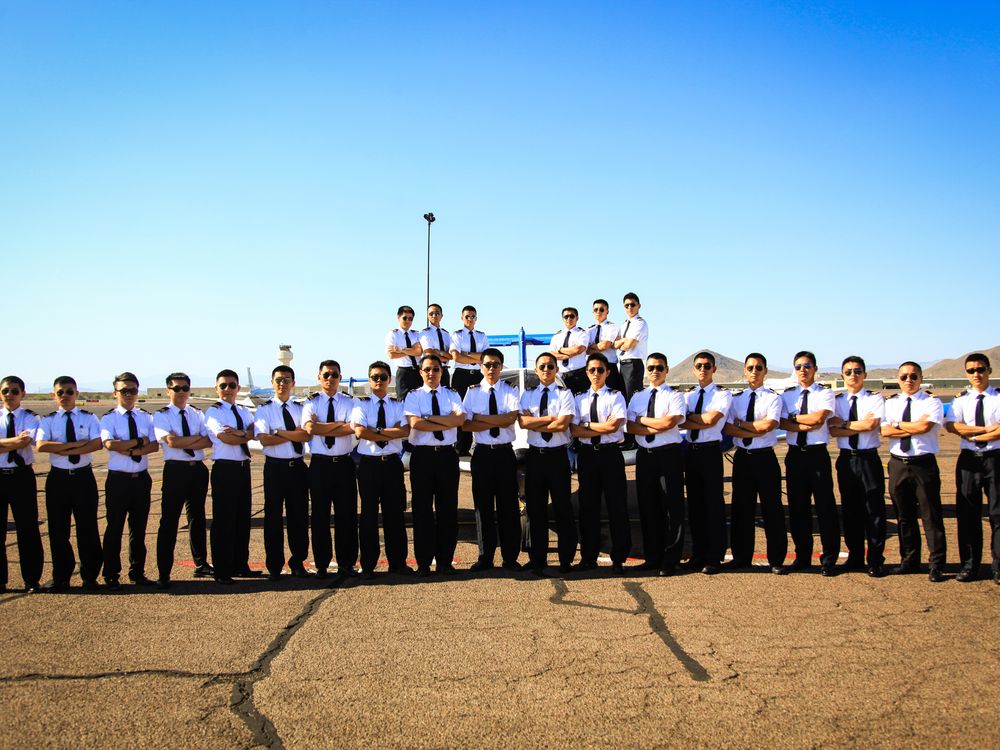 Just out of university in Fujian, China, Sheldon Yu faced an impossible choice. It was either a master's degree in Marxist philosophy or a career as a commercial airline pilot. Among the perks of the latter option: unlimited travel, social prestige, smartly tailored uniforms, lots of pretty women, and a lifelong contract with good salary.
So what did Yu choose? Marxist philosophy.
"I decided to study," he chuckles. "My parents wanted me to be a middle school teacher so I could remain near home and see them all the time."
But fate, and a thirst for flight, intervened. Twice in his undergraduate years, Yu applied for Chinese flight training; he'd even passed the Xiamen Airlines physical, one of the toughest in commercial aviation. Though his parents opposed the idea, Sheldon kept thinking of the airplanes he used to watch take off and land at Fujian Airport near his home when he was a boy.
"So here I am at 26, just graduating with a three-year master's degree," he continues, "and quite accidentally a Xiamen Airlines recruiter is interviewing candidates in the office next to mine. 'Hey,' I tell him, 'I've just finished my master's in Marxist philosophy. Could you give me an opportunity to fly?' The recruiter said 'Okay.' And step by step I ended up here today." He grins.
We're in a conference room at TransPac Aviation Academy near Scottsdale, Arizona, and on the wall behind him hang a Chinese good luck sign and a map of his country. Yu, whose formal Chinese name is Yu Zonghua (he prefers his adopted Western name for professional purposes), is regaling me and his fellow classmates, Troy Tao and Kinno Yang, with stories about the serendipities that brought him to this American flight academy, one with a distinct Chinese style. He sparkles in his crisp navy and white uniform, a pair of aviator sunglasses hanging from his shirt pocket.
Headquartered at Deer Valley Airport and Chandler Municipal Airport, which are about 45 minutes apart if traveling by car, TransPac is one of a few large, private U.S. flight schools specializing in the training of Asian pilots. In TransPac's case, the student body, approximately 400, is more than 80 percent Chinese, with about 45 Vietnamese and a few American and Colombian students in the remainder.
Yu, Tao, and Yang come from very different academic backgrounds, but all three are part of TransPac's 2015 class of ab initio—"zero to hero"—Chinese pilots earning their commercial ratings in less than 14 months. The three are among 360 Chinese candidates at TransPac who have been tapped to get this elite commercial education: from private and instrument ratings to multi-engine turbine, all the way up to a high-performance rating that readies them for specific jet training back in China. Each Chinese cadet's tuition and living package, at more than $100,000 each, is paid in full by his or her "home" airline. Because of the demands created by rapid expansion, regional Chinese airlines are too busy to train all their pilot candidates. Instead, the recruited cadet signs a contract for lifelong service, then takes the training in the United States.
"There's a huge market in China right now for aviation, especially general aviation," says David Hsu, the vice president of Pegasus International Resources Inc., a company that paves the way for relationships and contracts among the Civil Aviation Administration of China (CAAC), the Chinese commercial carriers, and U.S. flight academies. Before 2012, Hsu explains, the Chinese military controlled all airspace, and pilot training programs were extremely limited.
But now China is considering opening up airspace below 1,000 meters (about 3,300 feet) for general aviation, and the CAAC has recommended opening airspace as high as 3,000 meters. While the military has yet to approve these changes, and China's airline radar system isn't ready for them—Hsu says the expected boom in air traffic would require a massive upgrade—the CAAC's announcements have set off a pilot-training and equipment-buying frenzy.
Some 200 Chinese companies have applied for general aviation licenses, most for corporate or private flying. Commercial carriers are diving into the mix with new acquisitions and expanded training plans.
To meet rising demand, the country will support as many as 100 airlines in the next few decades, according to Chinese media. Yet Boeing recently estimated that within 20 years, China will have a shortfall of 77,400 commercial pilots. (The country's regional airlines are recruiting foreign pilots: Shenzhen Airlines recently advertised for a captain's position paying an annual salary of $212,000.) The country's 12 civilian aviation academies are operating at full capacity, and can turn out only 1,200 to 1,400 certified commercial pilots per year. Chinese airlines spend the equivalent of $162 million annually to send 80 percent of the student pilot candidates abroad: about 2,000 to the United States, the others to Europe and Australia. The big advantage of learning abroad is English language immersion. Aviation, even in China, is a business conducted in English.
TransPac promotes itself as a multicultural flight academy that teaches, as much as possible, "the Chinese way." Many of the school's requirements—which include 60-plus hours of aviation English, a six-week ground school in China prior to students getting the final go-ahead to train in Arizona, and a military approach to scheduling and discipline—have been shaped by interactions with the CAAC and Chinese airline clients. "Airline culture is more formal in Asia," Hsu says.But even students who have struggled with English or flying skills have been encouraged to stick it out. David Morse, Chief Instructor at TransPac, smiles when he recalls a student named Shi Kai, who went by Stanley. "He was from Chengdu, a rural kid from Sichuan province," Morse says. "He was really having trouble adjusting to English, but he wanted to do it and he'd come into everyone's office to practice and ask questions. Everyone fell in love with him." When he fell behind his class by several months, "he did everything in his power to catch up. Finally, at his graduation he got a standing ovation. He had struggled, but he put his head down and just went to work."
Mastering aviation English along with flight skills is a tall order. Nader Yassa, an American citizen who was born in Egypt but came to the United States at the age of two, is TransPac's CEO and CFO. He learned to fly in the Phoenix area. "I was always listening on the radio to these young men and women learning to speak English and to fly a plane at the same time," Yassa says. "I have always had the greatest respect for them."
In Yassa's view, Americans believe flying is an expression of freedom and adventure; individuals pay for that privilege. The Chinese see it less romantically: Being a pilot is a job, albeit a prestigious and well-paid—and subsidized—one.
Still, Yassa says some U.S. flight academies approach international students as though there is no difference in orientation. "We ask our clients, 'What are your requirements? What's the best way to train students coming from your country?' " he says.
Although the Asian recruits now generally come from math and engineering universities (there are still a few from the Chinese military, but not as many as before), the CAAC expects that about 10 percent of the candidates who make it to Arizona will fail or drop out. Most Chinese candidates have never flown an airplane before; a few, from rural backgrounds, never flew in one before they were selected for the TransPac training program.
But the school has managed to reduce attrition to less than three percent, Yassa says, and not by lowering check ride standards or curving exam scores. The low washout rate is due to a tough preflight vetting of international candidates, says Yassa—in the form of that six-week course students take in China, conducted in English by TransPac staff, before they leave for Arizona. (Vietnamese candidates complete a three-month program at Vietnam's Air Force Academy in Nha Trang.) "We're even able to vet for motivation," Yassa says. "That's the last piece of the puzzle. In a standard one-time screening, you can't tell who is really motivated. But if you sit with a student, you'll know after three weeks."
Candidates fly five days a week in TransPac's fleet of 58 aircraft, mostly Piper Archers and Piper Seminoles, and they're required by CAAC regulation to finish all their ratings in about 250 hours—plus the high-performance bridge program, a five- to seven-week polisher that students complete after earning their commercial aviation rating at TransPac. This is a CAAC-mandated program, a prep course for the advanced Boeing 737 or Airbus A320 that includes 129 hours of academic coursework, 10 hours in a full-motion simulator, and 10 hours in the air in a turbine aircraft. For the latter requirement, TransPac uses a Beechcraft King Air 90 eight-seater.
But long before they get there, the school drills students with safety protocol, see-and-avoid drills, and heavy red indicators on ramps to prevent propeller accidents. Checklists aren't enough, according to Brett Cavitt, TransPac's Senior Director of Advanced Training, who joined the school in 2008. Chinese students, he says, are amazing at memorization, "but memorizing isn't an indication of understanding," he says. "So we spend time on situational awareness—what's happening, probing deeper. It's almost a Socratic method of teaching. The students talk about scenarios and learn it's not all about a checklist."
Once they pass all their certifications, students return to China and take three tests. Two are in aviation English; one is the theoretical Air Transportation Pilots License (ATPL) exam. If the candidate passes, and most do, the regional airline will accept him or her as a pilot employee and provide additional training on the fleet's jets—either Airbus A320s or Boeing 737s. The pilot takes another 56 to 72 hours of simulation and practices 12 to 20 takeoffs and landings.
After passing a check ride, the candidate is bumped up to a position of third-tier "first officer" and placed in a cockpit jump seat behind a real captain and first officer. Chinese airlines require another 200 to 250 hours of jump-seat observation before a new pilot can sit in the right seat and fly the airplane. Several hundred more hours in this position are required before the candidate is finally promoted to first-tier first officer and gets to take off and land the airplane with passengers aboard.
Certified flight instructors working at TransPac also undergo stringent vetting before they're employed as teachers. They attend ground school to learn TransPac procedures, undergo simulation training, and have to perform the exact same stage checks—that is, verification by another CFI that you know all the things you're expected to know, in the form of a written or oral quiz plus a test flight—in the air that students would demonstrate at the end of the course. While many schools only employ freelance instructors and pay at an hourly rate, TransPac instructors get a full-time salary and benefits.
Morse says the washout rate for instructors is a little less than 20 percent, a figure he attributes to the academy's high standards and rigid approach to discipline. "It takes a special instructor to teach in this type of environment," he says.
It also takes a special student. Cadets Kinno Yang and Troy Tao both struggled with culture shock upon arriving in Arizona. "When I first came here I really wasn't adjusted to the school atmosphere," says Yang, a 23-year-old Nanjing native and junior at Nanjing University of Aeronautical and Astronomical Engineering. "I have no brothers or sisters; I'm one son, and my parents have big plans for me." Yang's father had wanted to be a pilot but he couldn't pass the physical. All hopes are on Yang, who will be flying with Sichuan Airlines when he graduates. You can imagine the pressure he's under.
So what stresses him out most? The flying? Exams?
"Oral English," Yang says. "Sometimes I have to use a dictionary for aviation terms because all the textbooks and instructions are in English." After completing the private pilot's exam, Yang says, he relaxed a bit, and that helped his English improve. His days aren't all stressful now. "The spirit of the school, the weather, the atmosphere, suits me," he says.
The school's atmosphere of military discipline does not mean Spartan living conditions. Students live near Deer Valley Airport in dormitory-style apartments, two students to a bedroom, two or three bedrooms in a spacious, fully furnished suite. They have TVs, air conditioning, and well-equipped kitchens and bathrooms. There's a gym, movie rooms, and outdoor pools. The school provides six buses for transport and even offers Chinese cooking classes for cadets who never learned to cook at home. In their spare time, buddies will pool their airline per diem and do grand shopping trips, and get together to cook in teams. On the weekends, they play basketball, go bowling or shopping, or swim and have barbecues.
Troy Tao, who has a master's degree from Xiamen University in nanotechnology and engineering, had no trouble with English or the Western lifestyle. But Phoenix's summer climate taxes him. "Sometimes the weather changes here are fierce and so is the turbulence we fly in," he says, noting that in the summer, it can get to 113 degrees Fahrenheit.
TransPac has had its own share of turbulence. Online, disgruntled instructors have posted that pay is low and that students share exam questions on social media, enabling others to cheat. The school has also experienced several accidents. In May 2013 an airplane with two TransPac instructors was struck 900 feet above ground by a Cessna rented by an independent instructor from a neighboring flight school. The TransPac teachers, the Cessna pilot, and his student all died.
In May of this year, the National Transportation Safety Board issued a finding that the probable cause of the crash was "the failure of the pilots in both aircraft to maintain adequate visual lookout in a known training area where multiple aircraft frequently operated."
A February 2014 Arizona Republic report documented a total of three fatal accidents involving TransPac students between 2010 and 2013, concluding that TransPac's accident rate, calculated per 100,000 flight hours, was substantially lower than the national average. Since the May 2013 accident, TransPac has installed ADS-B (Automatic Dependent Surveillance–Broadcast) on its entire fleet, equipment the Federal Aviation Administration will mandate for all aircraft by 2020.
For Tao, trust in his instructors and aircraft equipment was a big part of getting back into the cockpit after his frightening, early experience with turbulence. "The first time I flew over Phoenix at night with my instructor, I thought the lights were incredibly beautiful," he says. "I loved that."
Sheldon Yu, the Marxist philosopher, says that when he prepared for his first solo flight, he wasn't afraid at all. He's absorbed a "Just do it" attitude. "My impression is that American optimism is a talent," he says. "In China, people are goal-directed and worried about things like 'Tomorrow I'll buy a house.' But a lot of Americans aren't like that; they don't worry and think that way. The Americans seem happier."
Yu has learned to reconcile his ambition to fly with his need for philosophical inquiry. "I can now get on a plane and announce, 'Marx said my career choice of being a pilot was a great thing!' "
After all, a pilot's contribution to society is clear. Especially in 21st century China.
Arielle Emmett is a science journalist. She has reported from China, Hong Kong, Italy, and Indonesia.