Cessna's Golden Oldie
What flies into your mind when you hear the words "light aircraft"? We bet it's the 172.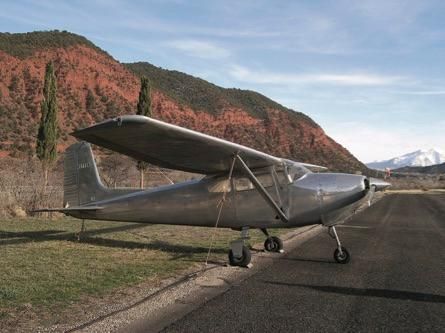 There's hardly a pilot flying today who hasn't logged at least a few hours in a Cessna 172 Skyhawk. It's the world's best-selling single-engine airplane, with more than 35,000 built since it began rolling off the Wichita, Kansas production line 50 years ago.
Basically a Cessna 170 (the company's original four-seat aircraft) with Land-O-Matic tricycle gear replacing the conventional tailwheel arrangement, the Skyhawk has changed little from its original simple, rugged, and reliable design. The 172 uses large Para-Lift flaps for better control at low speeds. The Skyhawk shifted to a swept-back vertical tail in 1960 and replaced the "fastback" fuselage with a rear window in 1962. Cessna also built 172s in France when it acquired an interest in Reims Aviation in 1960, stopped production entirely in 1986 due to the high cost of liability, and resumed production in Independence, Kansas, 10 years later, after the General Aviation Revitalization Act became law.
The last week of July, Joe Nelsen will fly his C-172, the first production model Skyhawk, to the Experimental Aircraft Association AirVenture in Wisconsin, where Cessna Aircraft, the Cessna Pilots Association, and thousands of airplane enthusiasts will make the annual pilgrimage to Oshkosh to celebrate 50 years of Skyhawks.
The Skyhawk Joins the Air Force
The U.S. Air Force began using an off-the-shelf Skyhawk in 1964, designating it the T-41 Mescalero and eventually ordering 855 of the aircraft in ever more powerful versions from models A through D, the latter with a 210-horsepower engine and a variable-pitch propeller. The Air Force and Naval academies used the T-41 to train cadets, while the U.S. Army used it for reconnaissance. Beginning in 1993 the U.S. military phased out the Mescalero in favor of more aerobatic aircraft, but the T-41 still flies with the military of 24 nations, from Angola to Turkey.
Staying Power
On December 4, 1958, Bob Timm and John Cook set out from Las Vegas' McCarran Field in a Skyhawk painted in the neon logo of the Hacienda Hotel to raise money for cancer research. The pair set an endurance record that still stands, staying aloft for 64 days, 22 hours, 19 minutes, and five seconds. The pilots flew in four-hour shifts and once a day descended to 20 feet above the desert highway to receive 95 gallons of fuel from a tanker or, occasionally, a classic Thunderbird. In 1959, the Hacienda Skyhawk landed in the Guinness Book of World Records, and now hangs above the baggage claim at what is now McCarran Airport.
1956 Cessna Skyhawk
Model 172

Length: 26 ft. 6 in.
Wingspan: 36 ft.
Height: 8 ft. 11 in.
Powerplant: Continental
O-300A
Horsepower at
2,400 rpm: 145
Propeller: Two-blade fixed pitch
Basic empty weight:
1,376 lbs.
Total usable fuel: 42 gal.
Rate of climb: 660 ft. per min.
Service ceiling: 15,500 ft.
Base price: $8,700
2006 Cessna Skyhawk
Model 172R

Length: 27 ft. 2 in.
Wingspan: 36 ft. 1 in.
Height: 8 ft. 11 in.
Powerplant: Textron
Lycoming IO-360-L2A
Horsepower at 2,400 rpm: 160
Propeller: Two-blade fixed pitch
Basic empty weight: 1,639 lbs.
Maximum speed (at sea level): 142 mph
Service ceiling: 13,500 ft.
Rate of climb: 720 ft./min.
Total usable fuel: 53 gal.
Base price with standard avionics and the front-seat inflatable restraint system: $172,500
Options include air conditioning ($21,950), special finishes, and upgrades, such as a flat-panel-display cockpit.