Delivering Air Cargo During a Pandemic Has Been No Small Feat
A former fighter pilot has what it takes to manage Amazon's growing aviation division.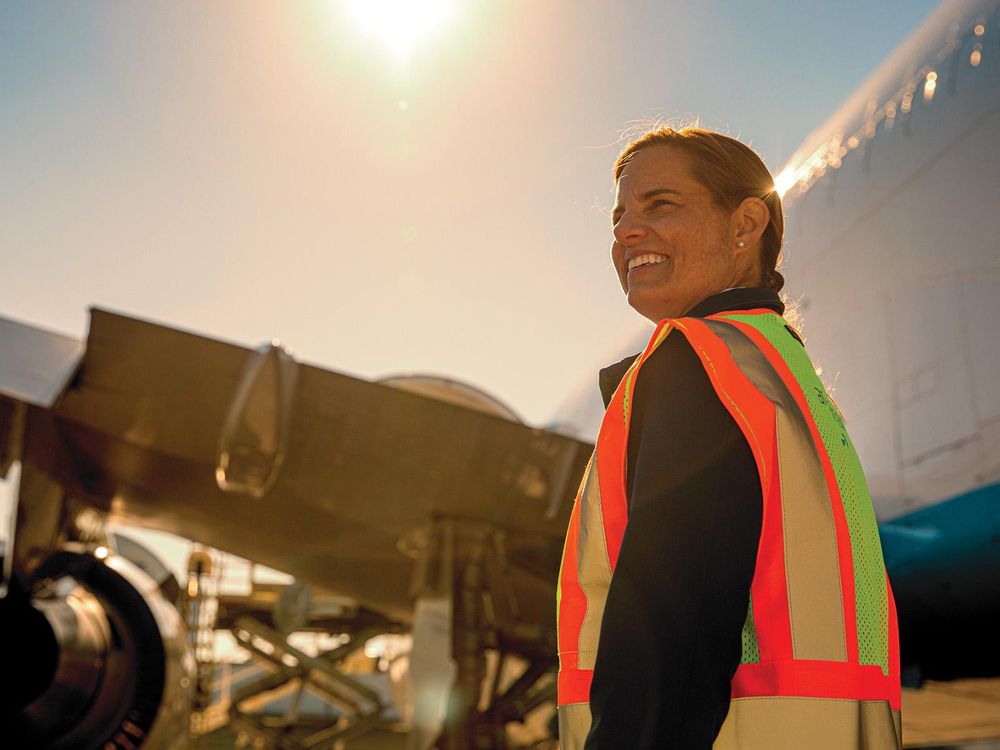 A graduate of the United States Naval Academy who flew 37 combat missions in support of Operation Iraqi Freedom, Sarah Rhoads is now the vice president of Amazon Global Air. In January, she spoke with Air & Space associate editor Diane Tedeschi on how she is guiding her company's air-haul network during a pandemic and how her Navy background made her a good fit for Amazon.
Air & Space: How large a part of Amazon is its air division?
Rhoads: The entire Amazon Global Air organization is more than 7,000 associates strong. Some of them are assigned to teams at our air hub and gateways out in the field across the U.S. and Europe. These teams process inbound and outbound shipments that are transported via our aircraft [a mix of 71 Boeing 737s and 767s]. I have some teams that are devoted to operational planning. Some manage maintenance and integrating the full end-to-end operations [within Amazon as a whole].
What is a typical work day like for you?
Thanks to modern technology, I have visibility on what is going on across our network from my fingertips on my laptop computer. We also have a network control center where we have people monitoring weather and flight operations 24/7. Like many organizations, COVID has changed our ways of doing business. I have teams that would typically work in a corporate environment in Seattle—they're now working from home. I still travel out to the field when I have the opportunity. It allows me to ensure the COVID-19 protocols we've put in place.
Before the pandemic, how often did you travel?
I would say 50 to 60 percent of the time, including international travel. I have a team in Europe. We just recently launched a hub at the Leipzig airport last October.
Has demand for Amazon delivery increased during the pandemic?
As you could imagine, Amazon has played a critical role in meeting demand as our customers have really figured out how to adapt—whether it be the work-from-home environment and situations where mobility is limited. We're customer-obsessed, as we like to put it, and we will do what it takes to ensure that our customers get what's needed.
What has been the biggest challenge in meeting the increased demand for e-commerce?
Well, luckily, we have a core infrastructure in place: our supply chain, our fulfillment centers, our transportation services (whether it be aircraft or line-haul), and then our final-mile delivery services. So that foundation was set. I would say that one of our biggest challenges was ensuring that we had continuity of operations while we kept our associates safe, especially in the early days of covid-19. The first thing we did was ensure that our associates had masks. We had disinfected cleaning in our buildings. We had to put these [safety] protocols in place.
Did you have to expand your fleet of aircraft due to the pandemic?
We've done a decent job planning for our growth requirements—kind of agnostic to the pandemic. Our plans were long-term anyway, and we had the capacity that we needed to handle customer requirements—even during covid-19.
Has Amazon Air been involved in the distribution of personal protective equipment (PPE)?
We facilitated some [charitable] overseas charters from Asia to the U.S. and Europe several times per week to supply our associates and frontline healthcare workers and other organizations in need of PPE. We flew over 100 flights to move 1.1 million cubic feet of [donated] COVID-19 supplies across the United States, including more than 100 million disposable masks. We had a number of flights in Europe as well.
Does Amazon Global Air handle all of your shipping needs? Or do you rely on other companies such as FedEx and UPS?
We still have other partners. We're just one of a few options available to transport customer shipments from point A to point B. We make sure we have what we need to satisfy that customer promise. Maybe the package will fly with us—maybe it will go via a different method.
What is the biggest spoiler to Amazon's daily flight schedules?
My response holds true across all sorts of aviation, and that's weather. And of course we're going to always keep safety first. Maybe there's a deicing event that delays the departure of an aircraft. Or maybe the winds are out of limits at a particular destination, and an aircraft needs to divert. We have a team that works through contingency operations in ways that can help prevent a customer's shipment arriving late. We always want to maintain that on-time delivery if possible.
What was the most challenging thing about studying at the U.S. Naval Academy?
The biggest challenge was ensuring that time was managed wisely. Balancing academics [as a mechanical engineering major], athletics, physical fitness, and professional development was important, because no one of those requirements could fall short.
Was the F/A-18 your first choice of an aircraft to fly?
Yeah, it was. I always had a goal—a childhood dream, really—of flying high-performance jet aircraft. But I did not have any prior [flight] experience upon entering flight training after graduation from the Naval Academy, so maybe it was a bit of luck or hard work or a combination of the two that I qualified for jet training. So that was the first step. Upon completion of advanced jet training, I was assigned to a new model of the F-18, which was the F/A-18 Super Hornet. An instructor had informed me that the aircraft was being introduced to the fleet, and a few limited slots were available for the first classes of pilots. Thanks to his encouragement, I listed the new Super Hornet as my first choice and was selected to fly in the first F/A-18 F Super Hornet squadron in the Navy's fleet, which was VFA-41, the Black Aces. Shortly after I joined the squadron, we went on deployment aboard the USS Nimitz in support of Operation Iraqi Freedom.
What was the most memorable thing about being a Super Hornet pilot?
First and foremost were the people I served with while flying the F/A-18. Second to the people, I remember the sophistication and the reliability of the aircraft—the systems that made it an incredible piece of machinery. The engineer in me remembers the rumble of the engines at max power just before a catapult launch off the front end of a nuclear-powered aircraft carrier—often at night. And the physics of catching a three-wire with the aircraft tailhook, decelerating from 135 knots to 0 within two seconds. While I may miss the sensation of breaking the sound barrier or the thrill of flying upside down or pushing forward on the control stick to feel weightlessness, I don't have any regrets. I'm grateful and content with the flying I had the opportunity to do—and the privilege of serving my country.
Has your Navy experience prepared you for your job at Amazon?
Absolutely. I would say my military experience helped me to first understand the importance of sound leadership, and having fortitude, agility, and operating at speed. All of these are core themes that are exhibited in Amazon's leadership principles that we practice every day and that we speak to and demonstrate. I'd also say that both Naval aviation and Amazon take safety very seriously. I remember after any mission I flew in the Navy, the first thing that would be discussed in the debrief was safety.
Why should employers consider hiring military veterans?
Amazon is committed to the diversity of our workforce and to the inclusivity of our teams. Military veterans—and their spouses I should add—are a valuable component. Veterans have succeeded in challenging environments; they've proven themselves in various situations and are adaptive and resilient under pressure. As a result, military veterans and their spouses bring value to any team at Amazon. A few years ago—I think in 2016 or so—Amazon pledged to hire 25,000 veterans and military spouses by 2021. Here we are in 2021, and we now have more than 40,000 veterans and military spouses working across our entire company, which is bigger than the population of the town I grew up in in Montana [Butte]. I have veterans on my team as well.
If you're having a stressful day, what is your go-to junk food?
I actually try to handle stress through activity. I suppose that's how I handled stress in the Navy as well. For me currently, downhill skiing has been a good way to relieve stress in a socially-distanced and responsible way.