Captain Dave and his Ukulele
Flying around Hawaii for tips.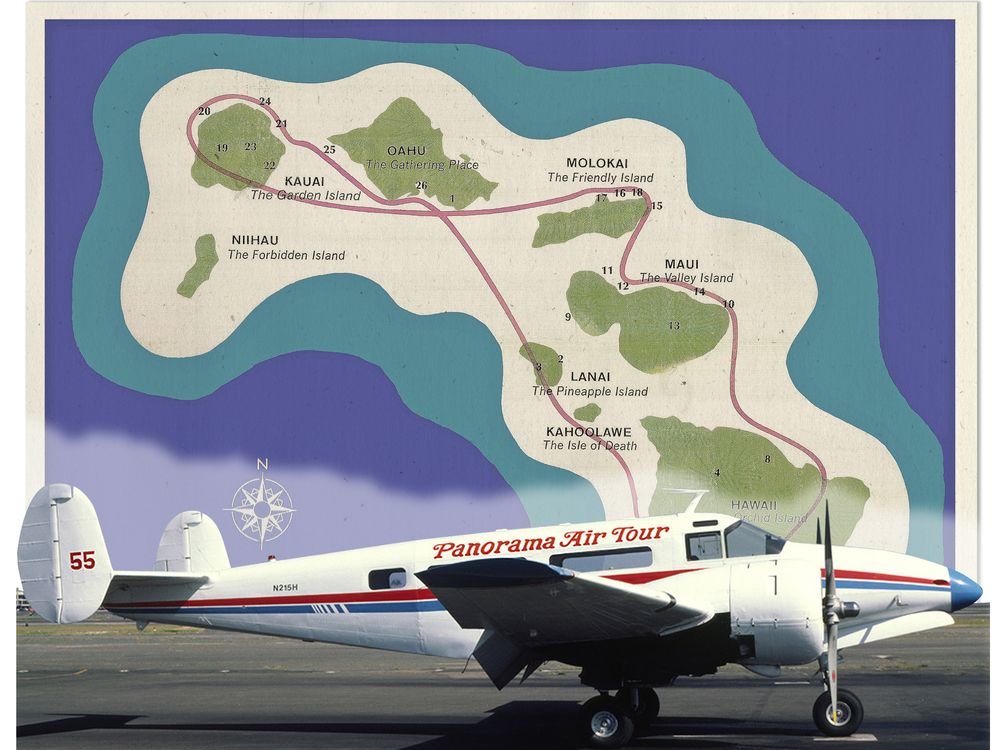 "Get to Sears and buy yourself some dark blue chinos and white shoes," the chief pilot told me over the phone. "I'll give you a shirt. Be here at 0600 tomorrow."
I'd just been hired for my first commercial flying job. My new employer, the largest air tour company in Honolulu, had a dozen nine-passenger Beech 18s, flown by a band of too-old-for-any-airline pilots. Besides the blue pants and white shoes, we wore cool-looking shirts imprinted with palm trees and Beech 18s. We looked like a Waikiki luau band.
We usually launched by 7 a.m. and rumbled around the Hawaiian islands, follow-the-leader style. Residents and tourists alike marveled at the desolate lava fields surrounding the Big Island's Kilauea volcano and at Kauai's Na Pali coast, where the movie South Pacific was filmed in 1958.
As a new guy, I accompanied various captains as a copilot. One captain, Dave, was especially attentive in teaching me the ropes. Copilots liked flying with Dave, who was related to Don Ho, the legendary Hawaiian entertainer and former Air Force pilot. A talented musician himself, Dave entertained passengers by playing classic Hawaiian melodies on his ukulele.
One morning, having just toured Lanai, the Pineapple Island, Dave slipped out of his seat, sat on the cockpit threshold facing the passengers, and began strumming his ukulele over the airplane's PA system. My task was simple: keep pointed toward Kona, on the Big Island, where we would land to get coffee and doughnuts.
Life was good. I had a window seat, and a free buffet lunch awaited on Maui. The only nagging worry was that the left engine was feeding off an auxiliary fuel tank that indicated near empty. I mentioned this to Dave before he left his seat, but he told me not to worry, he'd handle it.
What I didn't know back then: Because of the era's generally inaccurate fuel gauges, it was considered good practice by some to switch tanks only at the first indication of a fuel pressure fluctuation, ideally before the engine quit due to fuel starvation. That way, you were assured of using every drop of fuel.
Dave was happily singing away when I noticed the fuel quantity needle bouncing on E. I tapped his shoulder. "Don't worry," he said, a bit irritated. "I'll take care of it."
Just as I was thinking Maybe it's the gauge while Dave was in the midst of "My Little Grass Shack," the left engine sputtered, surged, and quit. I countered the airplane's swerve toward the faltering engine with right rudder as Dave quickly spun around and announced, "I've got it." Kneeling between our seats, his hands manipulated the engine and fuel levers necessary to restore power. He flashed me a grin that said "Oops," then calmly picked up his ukulele and resumed singing.
I chanced a look back to see how the passengers had weathered the event. Most seemed unconcerned, except for two sitting back near the tail, glaring at me.
After a stop at Kona, we touched down on Maui for lunch, then buzzed on to Kauai for another landing and passenger excursion. On our final leg, back to Honolulu, we approached Pearl Harbor at dusk as Dave positioned us for a view of the sunken battleship Arizona, still bleeding oil beneath the calm surface of the harbor.
Arriving back at our ramp, I opened the cabin door and Dave and I stepped outside. Helping passengers down, he beamed as they thrust wads of cash at him. Gratuities depended on the pilot- narrator's enthusiasm, his knowledge of local lore, and events like whale sightings. Tips were good with Captain Dave.
I didn't fare as well. Only one passenger approached me. An older woman wearing a bandana handed me a coin and walked away without a word. It was a Canadian quarter.
Dave, ever the gentleman, declared he'd share the tips. "Just keep the quarter," he said.