Canaveral Junior
Wallops Island gets ready for the big time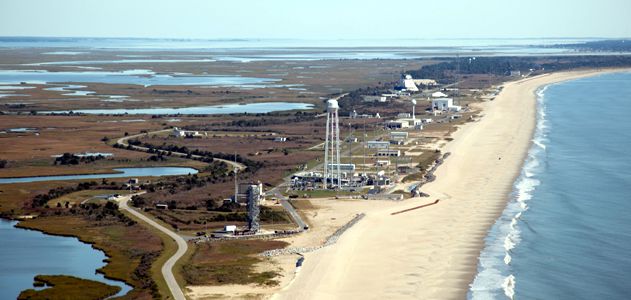 In the early 1950s, before NASA, before the Space Age even started, you could rightly have called Wallops Island the nation's leading rocket range. The former private hunting reserve off the coast of Virginia had been converted by the National Advisory Committee for Aeronautics to a launch site in 1945, when Cape Canaveral was still five years from firing its first rocket.

It wasn't long, however, before the main action moved south to Florida, and Wallops, though it continued as a NASA facility, never got the recognition that came to Canaveral or Houston. Instead, it became known as a small, remote outpost for launching suborbital sounding rockets—more than 16,000 and still counting—mainly for scientific purposes.

Recently, as new commercial launch companies have started to gear up, Wallops has become an attractive option for East Coast launches to orbit. Next month, Virginia-based Orbital Sciences Corp. is scheduled to test-launch its new Antares rocket from Wallops (officially the Mid-Atlantic Regional Spaceport). That will be followed, starting this summer, by regular launches to the International Space Station for Orbital's Cygnus cargo ship.

For Wallops it will be a step into the limelight, but hardly the first foray into space. As you can see from the gallery above, the center has been all about rockets and research for almost 70 years.

Pictured above: The Wallops beachfront is newly restored and widened in anticipation of increased launch traffic.The launch pad used by Antares is second from the near end, next to the tall water tower.
First Launch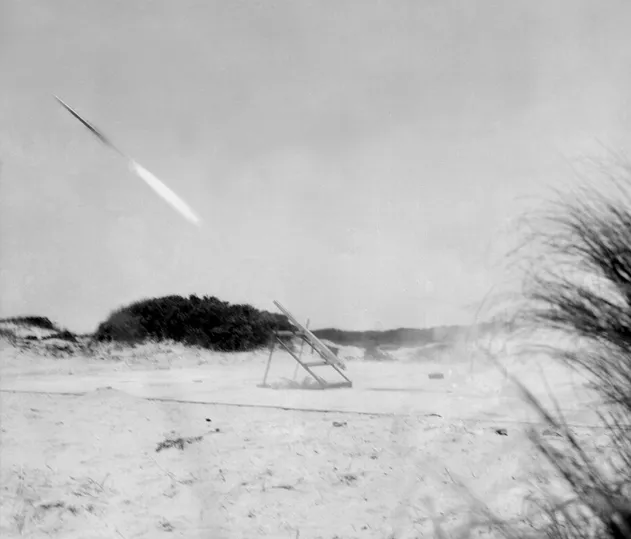 June 27, 1945: The first launch from the National Advisory Committee for Aeronautics' new Wallops Island station. These tiny (3.25-inch-diameter) rockets were fired down range to test tracking and radar, in preparation for the first launch of a Tiamat missile a week later, on July 4. World War II hadn't even ended yet.
Deacon Booster Accident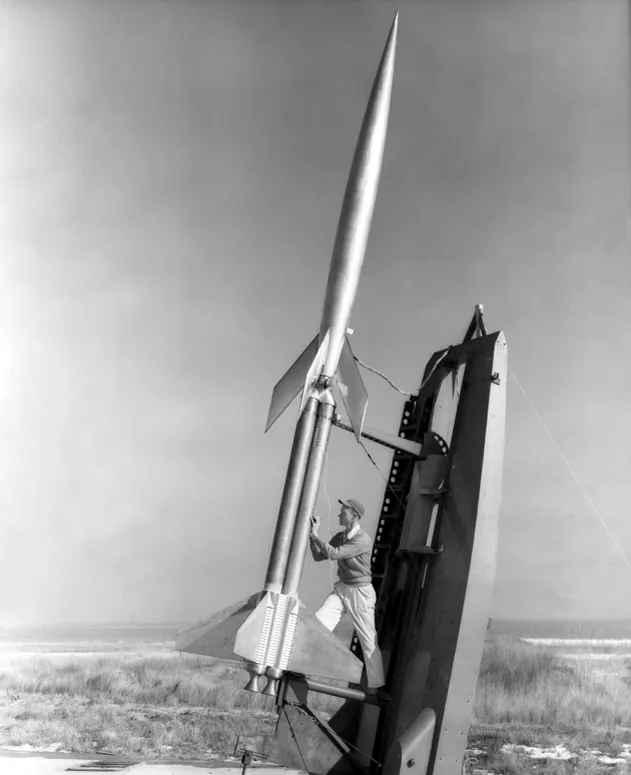 Technician Durwood Dereng works on a double Deacon booster with an aerodynamic research vehicle perched on top in February 1951. Later that year, Dereng was injured in one of the worst accidents ever at Wallops, when another Deacon fired while he was standing on a ladder at the pad. Considering that the rocket and its blast both hit him on the way up, Dereng escaped relatively easy: He lost one hand and broke a bone in the other.
1950s Who's Who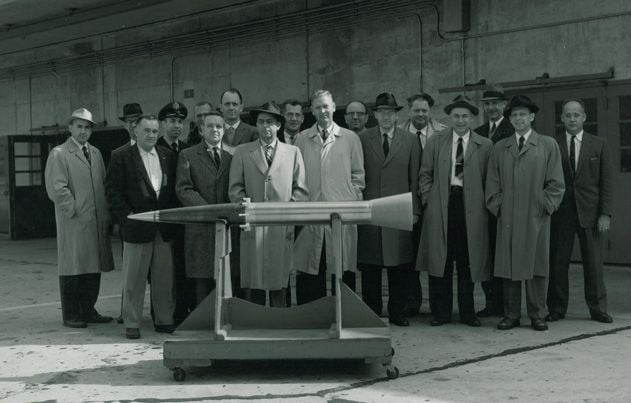 This NASA committee (posing with a hypersonic rocket vehicle at Wallops in October 1958) is like a who's who of 1950s space engineering. At far right is Wallops director Robert Krieger. Three down from him, with the unbuttoned coat, is Robert Gilruth, who would lead NASA's manned space program during the 1960s. To his right is hypersonic flight pioneer Harvey Allen, and next to him is Guyford Stever of MIT, who chaired the new agency's space technology committee.
The Mercury Project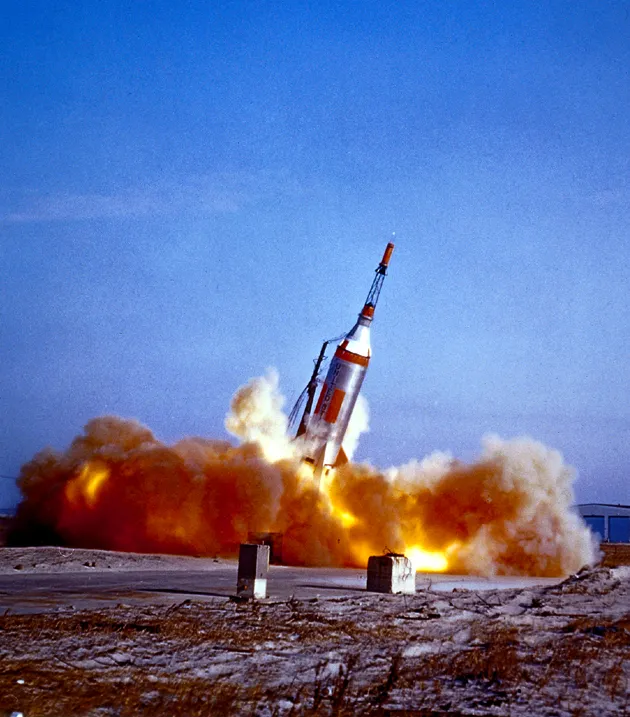 Wallops didn't play a big role in the Apollo moon program, but it did have a part in the Mercury project, which was run by the nearby Langley center. This January 21, 1960 launch of the Little Joe 1B booster was designed to test Mercury's escape system and heat shield.
Miss Sam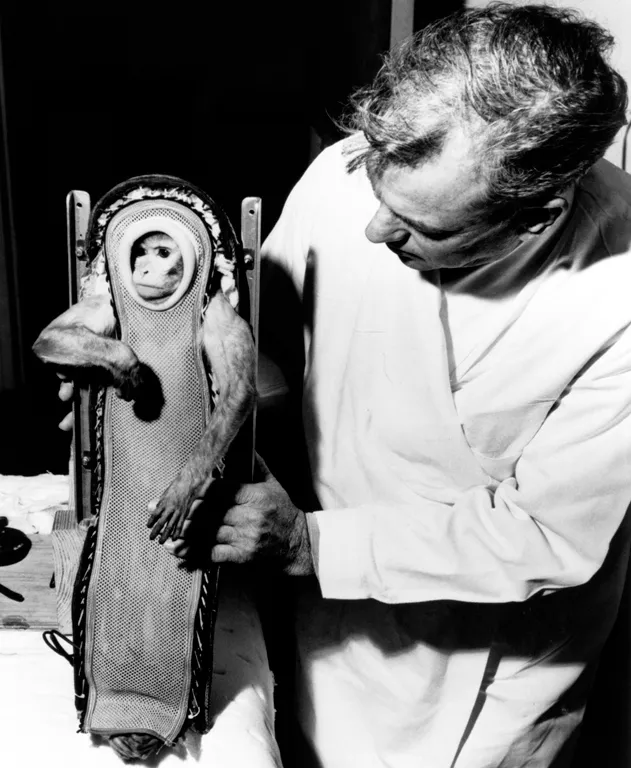 More than a year before Alan Shepard's first launch, the Little Joe 1B shot included a passenger: a rhesus monkey named Miss Sam, who was recovered safely half an hour after launch.
The Whirligig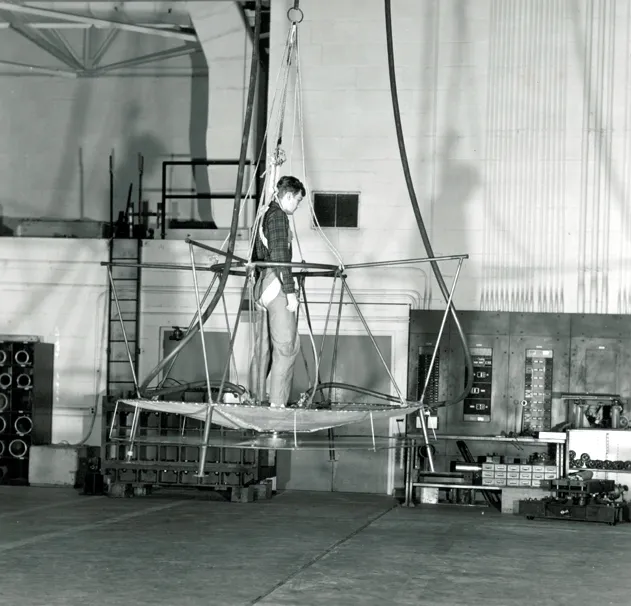 Among the research projects at Wallops in the early 1950s was the Jet Board, used to demonstrate that a person could fly while standing on a platform supported only by a jet of air. A later version, shown here in the Instrumentation Laboratory shop at Wallops in 1953, replaced the direct air jet with a two-blade rotor driven by small air jets at each blade tip. They called it the "Whirligig." It flew successfully, but never went into production.
Spectatorship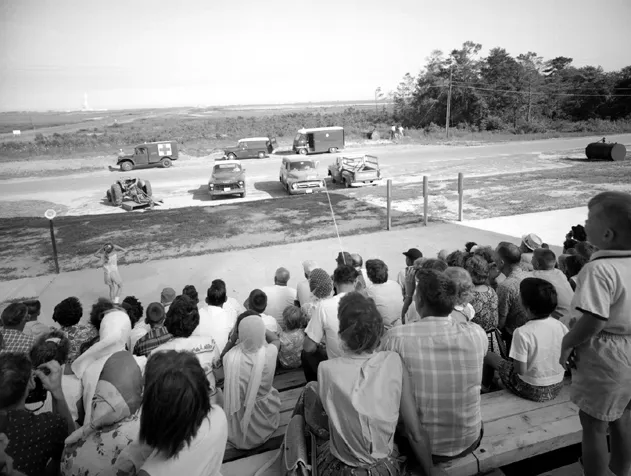 Watching launches—here of a Scout rocket on June 28, 1963—was a popular pastime for families of Wallops employees.
SCOUT Launch
Sometimes the launches didn't go so well. This light trace shows the upward flight, and subsequent crash, of another Scout in July 1963. The suborbital rocket reached an altitude of 1.2 miles and was in the air for 32 seconds. SCOUT was an acronym for Solid Controlled Orbital Utility Test.
Wake Vortex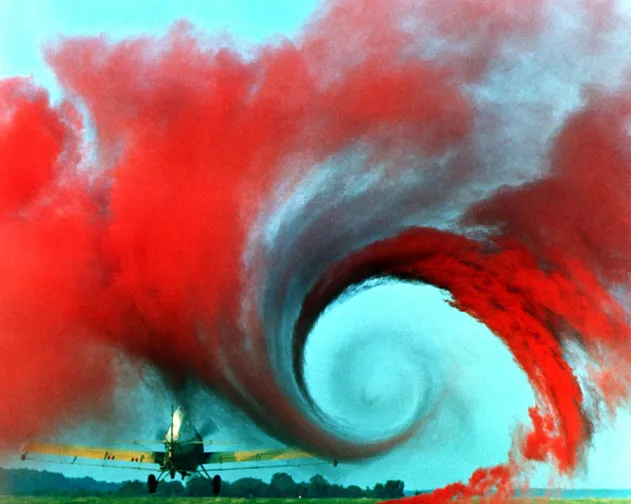 Aeronautics researchers used colored smoke to trace the vortex coming from the wing of an airplane during tests at Wallops in 1990.
Shock Waves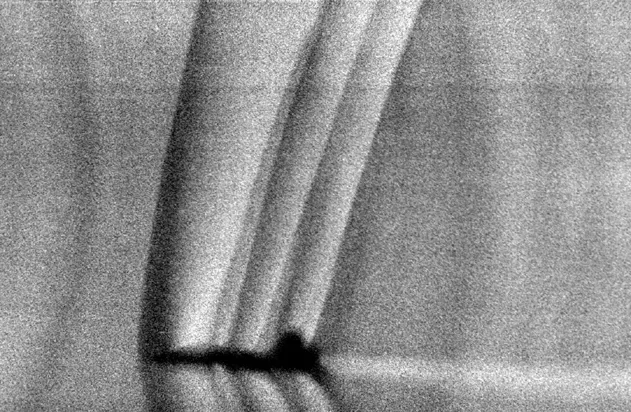 Leonard Weinstein of NASA Langley developed a camera to photograph shock waves from a full-size aircraft in flight for the first time. This photo of a T-38 flying at Mach 1.1, at an altitude of 13,700 feet, was taken at Wallops in 1993. The technique, called Schlieren photography, shows density changes, and therefore shock waves, in fluid flow.
Escape System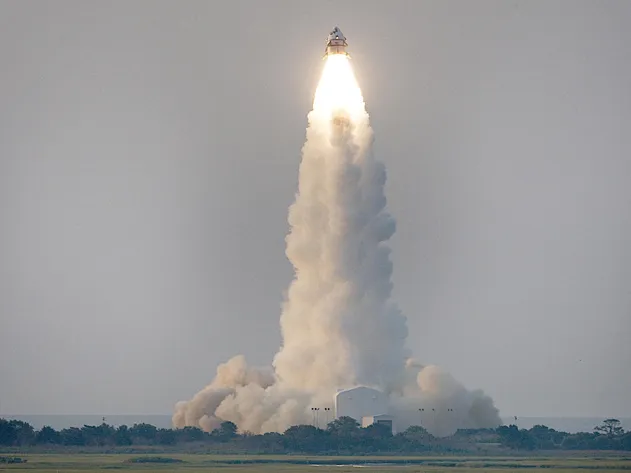 New jobs for a new era: As NASA prepares for post-shuttle trips to Earth orbit and beyond, Wallops has helped to prove out some of the hardware. Here the Max Launch Abort System (MLAS), an escape system for future astronauts, flies an unmanned test in July 2009.
Control Room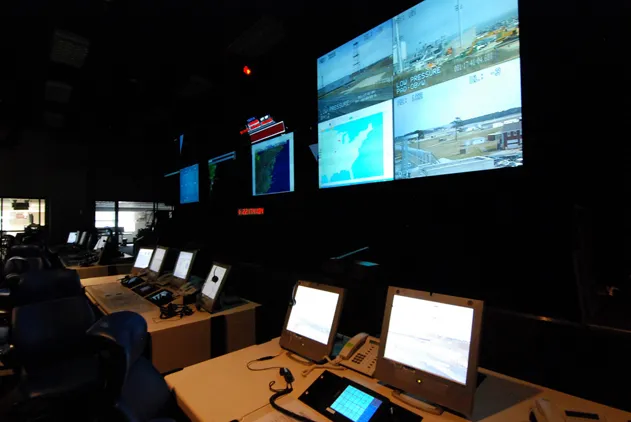 The Wallops control room is gearing up for routine orbital launches as commercial cargo flights to the International Space Station get under way.
Engine Test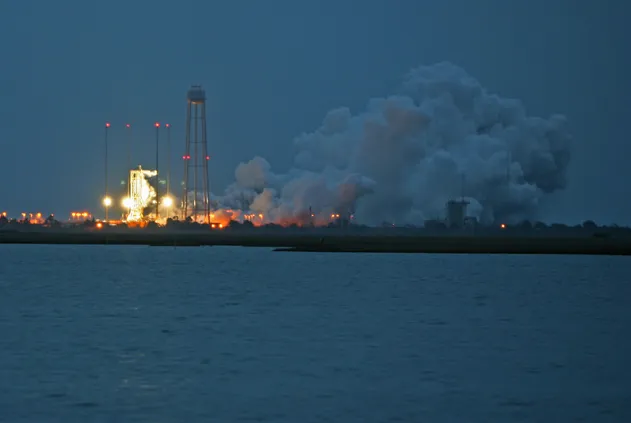 Orbital Sciences' Antares rocket passed its hot-fire engine test on Wallops Launch Pad 0A in February 2013. The first launch, with a dummy payload onboard, is targeted for April 16.