Calling All Mustangs
This September a super-size squadron of P-51s will relive the legend.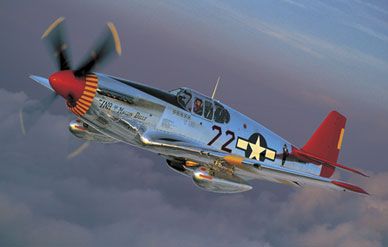 Art Teeters recalls a persistent customer showing up at his aircraft repair shop in the late 1970s. "This gentleman owned a P-51 and kept asking us to rebuild it," he says. "I kept turning him down. At the time, I just didn't see any way that Mustangs could ever be a viable business."
Teeters eventually relented, and his Salinas, California-based company, Cal Pacific Airmotive, is now one of the oldest warbird restorers in the world, and among a handful to work on North American P-51 Mustangs exclusively.
Rebuilding personal sport Mustangs like that first one, followed by a string of racers, occupied Teeters' facility for the next decade. "But that day is long gone," he says now. The finite number of surplus P-51s has shifted the company's restorations from simply making the fighters airworthy for a weekend outing toward expensive, historically correct military makeovers.
Teeters traces the transition to the ambitious owner of a particular Mustang and the random path of a hurricane: "It would have to be Kermit Weeks and Cripes A'Mighty 3rd," he says. "The popularity of that one airplane after its first restoration [in 1983] struck up an interest in historic authenticity. Kermit put a lot of effort into getting it right, and that really caught people's fascination." In 1992, however, Hurricane Andrew leveled the Weeks Air Museum in Tamiami, Florida, severely damaging Cripes and most of the other aircraft in the collection. A subsequent rebuild, this time by Cal Pacific, further raised the standard of fastidious historic restoration. Public appreciation of the greatest generation's greatest fighter grew, along with interest from wealthy warbird aficionados. After Cripes A'Mighty won an unprecedented second Experimental Aircraft Association Grand Champion award at the Oshkosh, Wisconsin fly-in in 1999, "things really took off," says Teeters.
And they show no sign of leveling. Cal Pacific stays booked years in advance, and, like most Mustang restorers, it has never had to advertise. The painstaking, total-teardown process, often requiring more than 25,000 man-hours, can't be hurried. Eager to hear the rumble of a Rolls -Royce Merlin engine, potential owners often find their enthusiasm dampened by the notably quiet three- to five-year delivery time. "A lot of people would love to own a Mustang, but that timeline really turns them off," says Teeters. But Cal Pacific says that patient dedication pays dividends in authenticity. "Our commitment is this: After we've restored your airplane, no one will be able to tell it from an original, inside or out."
Just as no quick-and-dirty P-51 restorations are to be had anymore, neither are there many economy models. A surprising number of Mustangs, for example, are still flying on original, 60-year-old wings. "But the guy who buys one of those today for just $1.2 million is probably going to end up having to put another million and a half into it three years from now," says Teeters. Cal Pacific insists upon replacing original wing spars with historically accurate but newly manufactured equivalents at the time of restoration.
Customers sometimes get sticker shock, but in the cosmos of modern Mustang ownership, buyers' remorse is rare. "I remember the first really authentic restoration we did years ago," says Teeters. "We put about $300,000 into it, and I just felt terrible about the owner having to pay out that kind of money. But then he turned around and sold it for three times that much."
When Mustang aficionados aren't busy restoring and flying the airplanes, they like nothing better than to hang out with other P-51 owners. For four days beginning on September 27, P-51 pilots will fly in to the Gathering of Mustangs & Legends: "The Final Round-Up," a follow-up to a 1999 fly-in held in Kissimmee, Florida (see "Mustang Mania," June/July 1999). This year's event, which will be held at Rickenbacker International Airport in Columbus, Ohio, will feature a 51-Mustang formation, solo flight demonstrations, and an auction. The following seven Mustangs will be among the nearly 100 airplanes expected to attend.
Six Shooter
Chuck Hall
Ramona, California

"Thirty years ago it was just guys like me," Chuck Hall says of the experience of Mustang ownership. "All you really needed was a love of aviation."
We're sitting in his office at bustling Ramona Airport, the facility he developed from an abandoned U.S. Navy strip in the desert mountains of northern San Diego County. Out on the ramp, after a night of frost alarms in the orange and avocado groves, a Russian Yak 52 is having trouble firing up in the cold.
"Now, you need a million bucks," says Hall.
He bought his first P-51 in 1965 for just $9,000: "Read the manual, jumped into the cockpit, flew it away." After racing the modified Mustang for years, Hall sold it and bought Six Shooter, a fully restored fighter that had seen service as a counterinsurgency aircraft in Bolivia. It's now one of the best known Mustangs in the west and a star of the U.S. Air Force Heritage Flight Team.
Hall's long aviation career, chronicled by the array of mementos in his office, began in his late teens when he ferried Korea-bound troops in a Douglas DC-4 for Alaska Airlines. Years later, he was flying Boeing 747s for Japan Airlines and Six Shooter in airshows. "No, you would never confuse one with the other," he laughs. "From a handling standpoint, the P-51 is really more demanding. It's actually possible to relax and fly a 747."
Hall's P-51, the representative vintage World War II airplane on the west coast Heritage Flight Team for the past decade, averages 18 airshows per year. The 65-year-old Mustang flies in a dramatic then-and-now formation with operational F-16s and A-10s—a photo-op for thousands of fans. I ask about protocol in such situations. "If I'm in the lead, I'm pulling the maximum continuous power, and the jets adjust to me," he explains. "If the jets are in the lead, well, we have to educate those guys about just how fast they can fly." Heritage Flight teams undergo intensive training annually at Arizona's Davis-Monthan Air Force Base (which often includes taking the jet pilots up in Six Shooter's second seat).
The Yak finally roars to life, and Hall and I head outside. He slides back the door of the prefab metal hangar where Six Shooter is stabled, and hands me a stepladder. I climb aboard. The height and pitch of Six Shooter's wings are striking, the depth and confines of the cockpit claustrophobic. Hall points out that Mustang pilots in World War II flew eight-hour missions in the constrictive seat; afterward, ground crews had to lift them out. Even in the quiet and cold of the hangar, with the stilled instrument faces staring back at me, the vibe of dormant power is palpable.
En route to Heritage Flight Team shows, Hall has the clearance to land at military bases; on the trip to Columbus, however, he'll be putting Six Shooter down at small civilian airports. It probably won't be necessary to announce his arrival. "The Mustang has a sound all its own," he says. "We always draw a crowd."
Petie 2nd
Tony Buechler
Waukesha, Wisconsin
Tony Buechler is always ready to learn more about the history of Petie 2nd. "One day in the operating room I was informed I had a long-distance call," says the anesthesiologist. "I was on an open-heart case so I said, 'Well, I'm kind of busy at the moment.' Then they told me, 'It's about your airplane.' I said, 'Put 'em on.' "
The caller identified himself as a long-ago owner who had bought Buechler's $1.5 million P-51 as flyaway surplus in 1957. He had paid $755. "Ouch," says Buechler. Another historic detail added.
As World War II ended, thousands of Mustangs were still Stateside, queued for deployment. These make up the majority of the world's 154 airworthy P-51s today. Buechler found out his Mustang was an exception.
Few of the Mustangs that served in overseas combat theaters ever came back. "After the government saw the captured German jets, it was obvious that the future did not belong to prop-driven fighters," says Buechler. Some were sold to friendly countries, the rest scrapped at their battle stations.
A voracious researcher, Buechler has left no document unexamined. "I've gotten copies of combat records on microfiche from the Air Force," he says. "I've combed through hundreds of daily operational records. I've spent uncounted hours at the Air Force archives in Dayton" and at the National Air and Space Museum in Washington, D.C.
Buechler eventually traced his P-51's deployment to the Mediterranean theater of operations, where it flew with one of four fighter groups of the 15th Air Force. "The curator in Dayton evaluated my research and told me, 'You've got one of only a half-dozen or so existing Mustangs that was actually shipped directly back from Europe after combat,' " says Buechler. After that, the P-51's trail disappeared into the undergrowth of history. Which for Buechler only makes it more tantalizing. One of the 15th Air Force fighter groups was a Tuskegee unit. "So there's a one-in-four chance that my plane could be the only surviving Tuskegee P-51 in existence," he says. Though he's still chasing records, posting messages, and taking calls, Buechler admits, "I've kind of given up ever finding out for sure."
While booms and bubbles define the investment sector of the vintage-aircraft world, Buechler is oblivious to it all. "I've never given any of that a thought," he says. "To me, this is an historical artifact, and I'm its custodian. If somebody wanted to chop it up and make it a racer and offered me three million bucks for it, I'd say, 'Not for sale.' "
Scat VI
Marius Maxwell
Rapid City, South Dakota
After the war, the mystique of P-51s spread far and wide, particularly in the European skies they once ruled. "Ever since I was a kid in Britain," says Marius Maxwell, "I saw Mustangs at airshows and I was mesmerized."
Now a Rapid City neurosurgeon, Maxwell owns Scat VI, a P-51 painted to honor the Mustang of the same name flown by legendary U.S. Air Force ace Robin Olds (who died last June).
Once owned by IBM president Tom Watson, the fighter was named Old Boy when Maxwell acquired it in 2002. "I started thinking of how I could change the theme of the plane," he says. "Robin Olds had always been my favorite ace." A triple ace from his tours in World War II and Vietnam, Olds named each of his fighters Scat, in memory of a fallen comrade. His favorite was Scat VI—"the sweetest and truest Mustang I ever flew," he once told Maxwell.
Maxwell researched Scat VI and had the markings and color scheme duplicated. But his airplane's connection to the living pilot of the original fighter exceeds paint depth—an association increasingly uncommon in World War II warbirds as the decades accumulate. Owner and ace struck up an acquaintance and have since collaborated in a history forum at the EAA's annual fly-in in Oshkosh, with Scat VI displayed as the ultimate show-and-tell. "He's a real historian," Maxwell says of Olds. "People ask all sorts of questions and just listen in stunned silence to his stories."
The Mustang effect appears to work both ways. Maxwell notes its impact on Olds: "You can see it in his eyes when he's around the plane," he says. "It seems to take him back to his life as a young man." Later, Olds confirmed that impression. "It's like meeting an old girlfriend you once loved with all your heart and soul," he told me on the phone. "I just loved P-51s."
The association with Olds gives his aircraft "a persona," says Maxwell. When I inquire about a contemporary photograph of Scat VI, Maxwell immediately suggests a World War II-era shot of Olds with the original Scat VI instead. "You don't want any pictures of me," says Maxwell. "I'm just the owner. Robin is the ace."
INA The Macon Belle
Kermit Weeks
Polk City, Florida
"The coolest day of my life was the first time I taxied up to a ramp in a P-51 Mustang," says Kermit Weeks. "I threw my bags out and started giving rides."
The year was 1979, and Weeks was flying his first Mustang, a P-51D named Cripes A' Mighty 3rd. Six years later, Weeks purchased a C-model that he restored and named INA the Macon Belle, representing the legendary Red Tail Mustangs of the Tuskegee airmen. The man who flew the original Macon Belle had some cool himself: Colonel Lee Archer had been one of the top pilots of the 332nd Fighter Group, which flew in the European theater.
A prominent figure in the warbird community, Weeks has spent the last 30 years assembling the largest private collection of vintage aircraft in the world, which he stores at the Fantasy of Flight museum. The Mustang that would become Macon Belle was rescued from a scrap yard by renowned Hollywood stunt pilot Paul Mantz, who fixed it up and put it to use winning the Bendix racing trophy in 1948. By the time Weeks got the P-51, it was badly corroded from years of outdoor storage.
"There was something I'd been thinking about for some time," says Weeks. "Why hasn't anybody restored a Mustang to honor the Tuskegee guys?" The airplane arrived at Cal Pacific Airmotive in installments, beginning in 1985 with the wing. The piece-by-piece rebuild spanned 15 years ("I wasn't in any hurry," says Weeks). No expense was spared to achieve authenticity, an exhaustive pursuit that occasionally turned up discrepancies. "We found out that a lot of the research out there about the Tuskegee planes was wrong," says Weeks. The art on Macon Belle's fuselage—a fedora-wearing hipster—is one example. Researchers initially based the drawing on photographs of a similar character on Tuskegee Captain Wendell Pruitt's Mustang. "Everyone just assumed that the drawing on Macon Belle must have been the same," Weeks says. An opinion from the man who actually flew her settled the matter: "Colonel Archer was consulted and set it straight," says Weeks. "He told us, 'No, it was not the same, and here's exactly how it was different.' He was absolutely involved throughout the process [of authenticating the paint scheme]." (Archer plans to attend this year's gathering.)
Weeks can envision a future without the dramatic spectacle of Mustangs in flight. "Because of the economics, most P-51s will inevitably end up in the hands of collectors," he says. "And they won't fly them [like the enthusiast pilots have done]." So when Macon Belle touches down at the former Tuskegee air base in Columbus and takes her place among the other still-flying Mustangs, Weeks expects an experience even more compelling than the 1999 event in Kissimmee. "The first Gathering was phenomenal," he says. "For [event organizer] Lee Lauderback to try to pull that off a second time really shows his love for the airplane and the Mustang community."
Sweet And Lovely
Bob Baker
Alva, Oklahoma
In today's white-hot market for big-ticket P-51s, million-dollar restorations are carried out at specialized shops while expectant owners bide their time on waiting lists.
Or not. "I really don't know why I do it like this," laughs Bob Baker. What he does is restore Mustangs—mostly by himself, mainly from a loose collection of parts, and almost entirely in his home workshop in Alva, Oklahoma. "There are definitely easier ways," he says. Not necessarily better ones, however: Baker's most recent do-it-yourself project, a P-51D named Sweet and Lovely, won the Best Fighter award at Oshkosh in 2003 and was Grand Champion in 2004; it remains one of the world's most authentic D-model restorations.
"I had a lot of P-51 parts I'd gathered over the years," Baker says of Sweet's inception. "I bought stuff. I made stuff." When a portion of that accumulation added up to a fuselage and a wing, he had them built at restoration shops, then trucked them back to Oklahoma, where he set to work fashioning a complete airplane. Baker, by day a farm implement dealer, describes the three-and-a-half-year effort as "humbling." Also all-consuming. "The first thing you learn about restoring a Mustang is there's no such thing as spare time," he says. "Every day after work I'd designate several hours a night on it, and then devote all of Saturday and most of Sunday too."
Sweet's strict observance of historic detail, however, was not a one-man effort. Baker spent a lot of time networking. "We all help each other," he says of the community of Mustang restorers. "Somebody will find an original part still in a box someplace and every detail—how it was painted, what sort of markings were on it—is shared with all the others."
Baker made his own contribution to the database for drop tanks. Concerned about dumping thousands of empty steel fuel tanks on unfriendly territory during the war—gifts from heaven to enemies suffering metal shortages—the Allies began fabricating P-51 drop tanks of rubber-coated cardboard. Today, only three 108-gallon "paper" tanks are known to survive, and two of those are locked away in museums. Through a contact in the United Kingdom, Baker acquired the last available example, and from that original he has produced a template for use in building exact replicas of the tanks.
Though Baker is now burning the midnight oil on another Mustang restoration, his workshop will be dark the last week of September, when he's in Columbus. "I'm expecting a tremendous amount of history, and a tremendous amount of fun," he says.
NACA 127
Bill Allmon
Las Vegas, Nevada
"Birds' nests. Corrosion. A basket case." Bill Allmon recites his impressions from the day he first kicked the tires on NACA 127 in 1993. He was in the market for a fixer-upper, so he bought it on sight. As the forlorn Mustang's remarkable past came to light, however, Allmon committed to a rivet-by-rivet—and eventually award-winning—professional restoration. "I realized that it was an important part of history, and that we should put it back the way it was," he says.
By 1945, research into breaking the sound barrier had hit a wall: Wind tunnels were unable to generate supersonic airflow over test models. After a number of alternatives for producing data at those velocities (including dropping concrete projectiles from 40,000 feet) were discarded, researchers at NASA's precursor, the National Advisory Committee for Aeronautics (NACA), turned to a military aircraft capable of a controlled dive at near-transonic speeds: the P-51 Mustang.
Allmon's NACA 127 is one of at least four P-51s that had been assigned to those early experiments. Only one other still flies today. At NACA's Langley, Virginia laboratory, models of airfoils under study for supersonic flight were mounted on a blister atop 127's wing. The airfoils were wired to optical balances and strain gauges installed inside wing cavities ordinarily occupied by .50-caliber machine guns. Behind the pilot, a fuel tank was replaced by a bank of telemetry recorders and transmitters. NACA Mustangs were typically flown to an altitude of 30,000 feet, then accelerated into a 30-degree dive. Though actual airspeed would max out at about 475 mph, "during the 4-G pullout at the end of the dive, airflow over the top of the wing would go supersonic," says Allmon. Data from these experiments shaped the design of sonic boomers like the Bell X-1 and the North American F-86.
Despite its historic role in the ramp-up to supersonic flight, 127 spent its retirement in obscurity as a generic Mustang displayed on a pole outside a Pennsylvania Air National Guard base. Soon after it was taken down to make way for a fiberglass replica, Allmon saw photographs of it. "I'd wanted one since I was a kid," he says.
Meticulously faithful to all NACA modifications and instrumentation, the four-year restoration of 127 was done by John Muszala at Pacific Fighters in Idaho Falls, Idaho. Muszala restored and preserved all the details, even pencil scribbles NACA technicians had made on the airframe more than 60 years ago.
"Honest to God, I'm still thrilled by it," says Allmon. "Every time I start it and hear the crack of the exhaust, I'm speechless." Though his crowded business calendar has restricted NACA 127's airshow appearances in recent years, Allmon is making room for the Gathering of Mustangs. "It's a once-in-a-lifetime thing," he says.
Sparky
Steve and Brant Seghetti
Vacaville, California
Before they were objets d'art in museums, before they cricked the necks of worshipful airshow spectators, postwar P-51s were bare-metal racers. Widely available at surplus prices in the late 1940s and '50s, the combination of a 12-cylinder Rolls-Royce engine and combat-grade maneuverability made P-51s a natural for pylon-shaving.
The competitive tradition persists today. In Vacaville, California, Steve Seghetti and his son Brant are owners/operators of Sparky, a Reno racer that took second place in its class in 2006. "Dad was bit at a really early age," Brant explains. "He decided that someday he had to have a Mustang."
The Seghettis acquired Sparky in 1984, "strictly as a VFR pleasure plane," says Brant. But 10 years later, the Mustang racing gene asserted itself in Sparky, and father and son took the aircraft to Reno. While the Nevada race includes classes for highly modified vintage airplanes, Steve and Brant opted to keep Sparky in the class reserved for standard-issue warbirds. "It's purely a stock airplane, and we're proud of that," says Brant. "We don't want to modify it. We want to race it original, finish well enough to put some money in the airplane kitty, and fly it back home Monday morning."
In a P-51, even standard-issue flight is electrifying. "It's absolutely the most fun you can have with other people watching," says the younger Seghetti, who pilots a Cessna Citation charter jet for a living. "Sparky flies every bit as good as it looks."
The P-51's boffo paint scheme was designed by the Jelly Belly candy company, which sponsors Sparky by underwriting fuel and other expenses. "This is not a poor man's airplane, not anymore," says Brant.
Despite swelling prize purses, the community of owners/racers retains a relaxed camaraderie. "That's one thing that keeps us going back to Reno every year," says Brant. "It's really like the reunion of a big, extended family."
A last-minute weather change quashed plans to fly Sparky to the 1999 Gathering of Mustangs, but the Seghetti family team is committed to the 2,400-mile trip to Columbus this fall. Brant doesn't rule out desperate measures. "Even if I have to buy a ticket on an airline to get there, there's no way I'm missing it this time," he says.
Click here to read about one Tuskegee Airman's fond memories of the Mustang.