A Pilot Rediscovers a Pearl Harbor Hero
The Heritage Flight Museum pays tribute to a civilian flight instructor who went on to serve her country.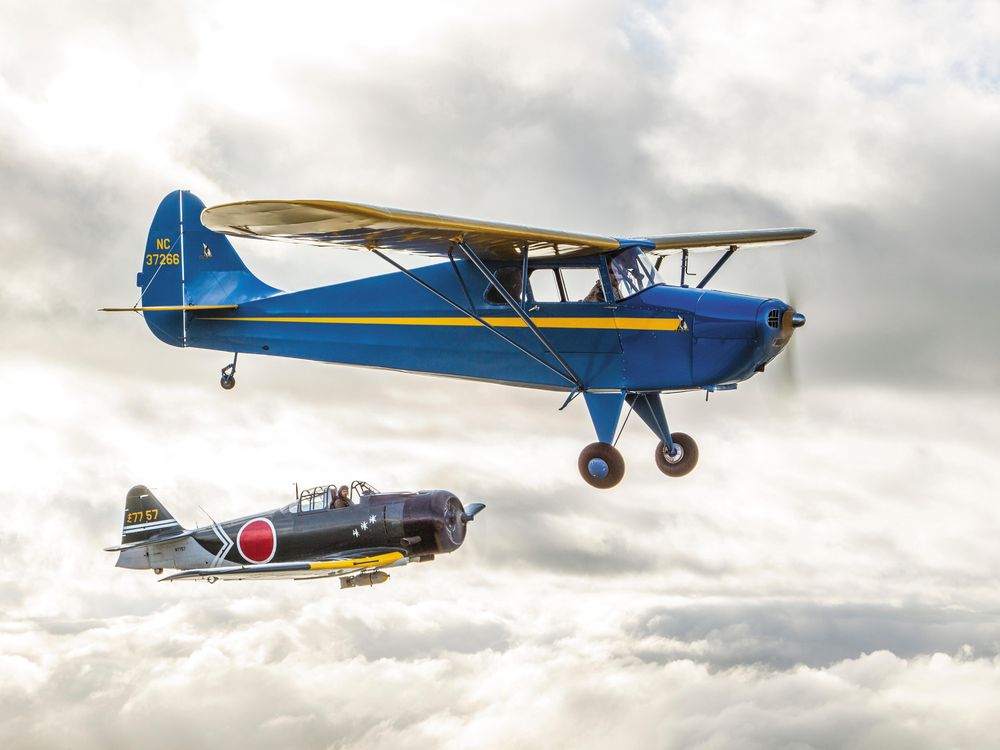 This December 7, on the 75th anniversary of the Japanese attack on Pearl Harbor, a trainer-blue Interstate Cadet will take off from Skagit Regional Airport in Burlington, Washington, to reenact an event that made a young flight instructor famous after that world-changing day. The Cadet is believed to be the one flown by flight instructor Cornelia Fort, who was in the air when the Japanese attackers arrived and who barely escaped with her life. 
Retired Air Force fighter pilot Greg Anders, executive director of the Heritage Flight Museum at the Skagit airport, knows that his Interstate Cadet, registration NC37266, was at Pearl Harbor at the time of the attack; government records prove that the aircraft was owned by a flying club at the airport where Cornelia Fort's employer used it for flight training. But the number 37266 is not the number recorded by Fort in her logbook, in which she wrote, "Flight interrupted by Japanese attack on Pearl Harbor. An enemy plane shot at my plane and missed & proceeded to strafe John Rodgers, a civilian airport."
The number Fort recorded in her logbook is NC37345. Problem is, Cadet number 37345 had not even been built when Fort started logging flights in it. According to the Federal Aviation Administration, 37345 didn't leave the factory until two weeks later.
Through months of research, Anders has developed a theory about why Fort's logbook shows an obviously wrong number. He believes her original logbook was destroyed in a fire that consumed part of the Fort family's Nashville mansion. The logbook now held with other Cornelia Fort records in the Texas Woman's University Libraries in Denton is, Anders says, a reconstruction. Fort created it, he believes, because, hoping for a career with the airlines after the war, she needed proof of her flight hours. And in the course of reconstructing the original logbook, she got the number of her Pearl Harbor Cadet wrong.
Anders bought the Interstate Cadet in 2013 from airshow performer Kent Pietsch, who acquired it two years earlier from an owner who had also been told that it was Cornelia Fort's airplane but hadn't looked into the claim. Anders concedes that there is a chance that his lovingly restored Cadet is not the one Fort piloted that day, but he says, "The whole historical research issue comes down to this: Which is more valid? This verbal legend from Hawaii that followed this particular airplane for [40] years, or this flawed primary source?" 
After Pearl Harbor, Fort joined the Women's Auxiliary Ferrying Squadron, a civilian group created by the Army Air Forces to fly military aircraft from factories to bases. In March 1943 her Vultee BT-13 trainer and another aircraft collided over Texas, and she became the first female pilot to die in active service. 
For more about the Pearl Harbor reenactment, visit Heritage Flight Museum. The full story of Fort and the Cadet is recounted in an Air&Space/Smithsonian collector's edition, Pearl Harbor 75: Honor, Remembrance, and the War in the Pacific.