The Latest in Airport Jobs: Beekeeper
Beehives create green spaces where you'd least expect them.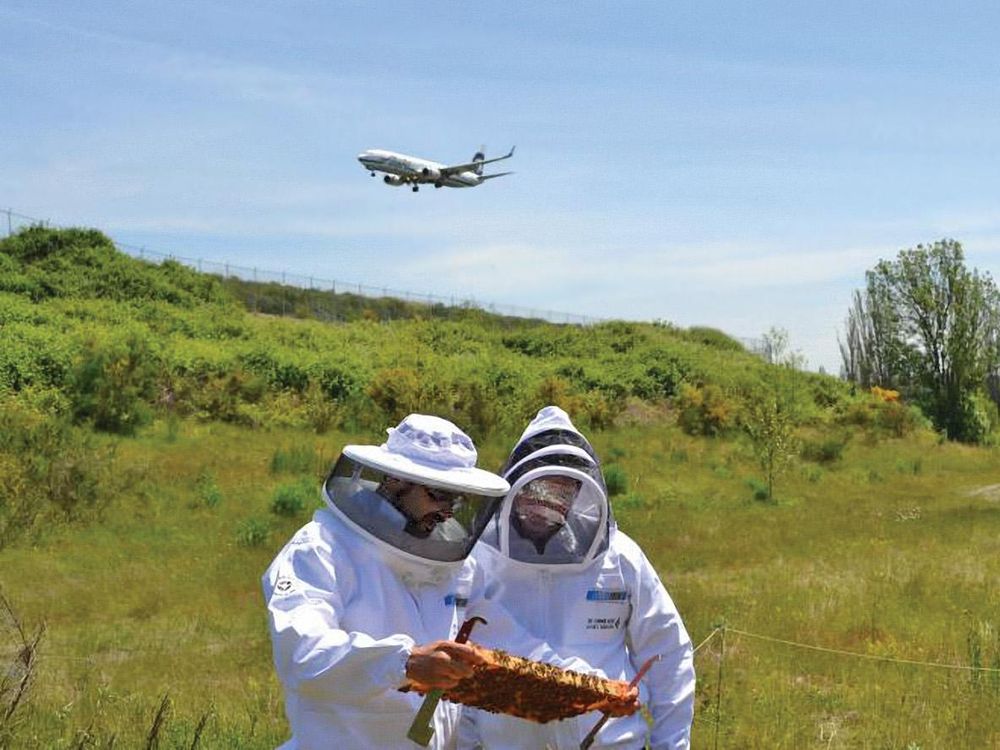 Ben Shertzer, wildlife administrator at Pittsburgh International Airport, has hustled deer off the airfield, removed ducks from the airport's retention basin, and escorted wayward raccoons from various terminal buildings. But in August 2012, when thousands of honeybees landed on the winglets of a Delta aircraft headed to New York, interrupting refueling and baggage loading, he turned to master beekeeper Steve Repasky and said, "This one's all you. I'll stay in the truck."
It was the fourth swarm Shertzer had confronted in the last few months. In May, roughly 15,000 bees had obscured a light on Taxiway-C, delaying a flight. At that point, Shertzer began Googling nearby beekeepers. He found Repasky, of Meadow Sweet Apiaries, and hired him as a contractor.
Shertzer also began reading up on honeybees. He learned that while some crops can be pollinated by the wind, most need the help of bees; in the United States alone, honeybees pollinate more than $15 billion in crops annually. (An oft-repeated statistic is that Americans owe one in three bites of food to bee pollination.) But honeybee numbers, as many press reports have noted, have drastically declined in recent years. Perhaps, thought Shertzer, the airport could host some hives.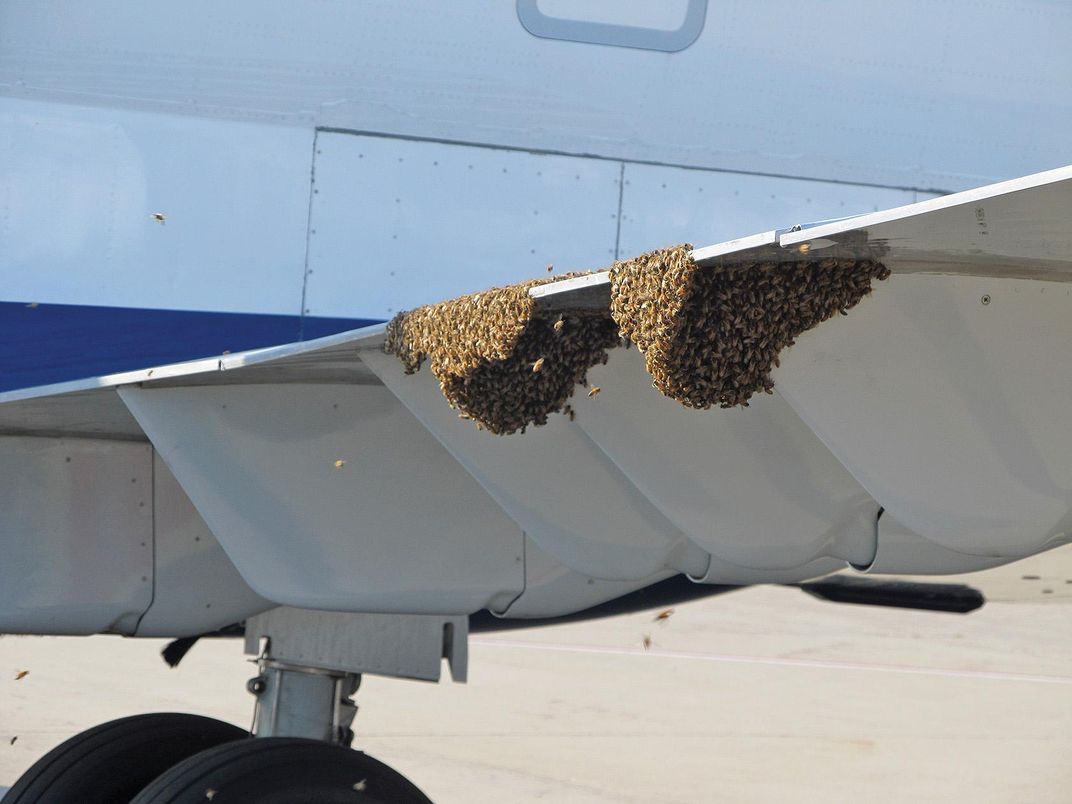 Colony Collapse Disorder was first reported in 2006 by Pennsylvania beekeeper David Hackenberg. Hackenberg transports his hives across the country to pollinate crops: They might travel from Pennsylvania to California to pollinate almond orchards, and then, a few months later, those same hives might be moved to Maine for the blueberry crop, and then to Massachusetts for cranberries. In 2006, Hackenberg had left 400 hives in a field to pollinate Brazilian pepper trees; when he returned to the hives a month later, all but 36 hives had been abandoned. The bees had just disappeared. The phenomenon was happening globally: Beekeepers in China reported losses of 10 percent, and in Italy, almost 50 percent. In each case, the majority of the bees had abandoned the hive, leaving behind the queen and a few infants.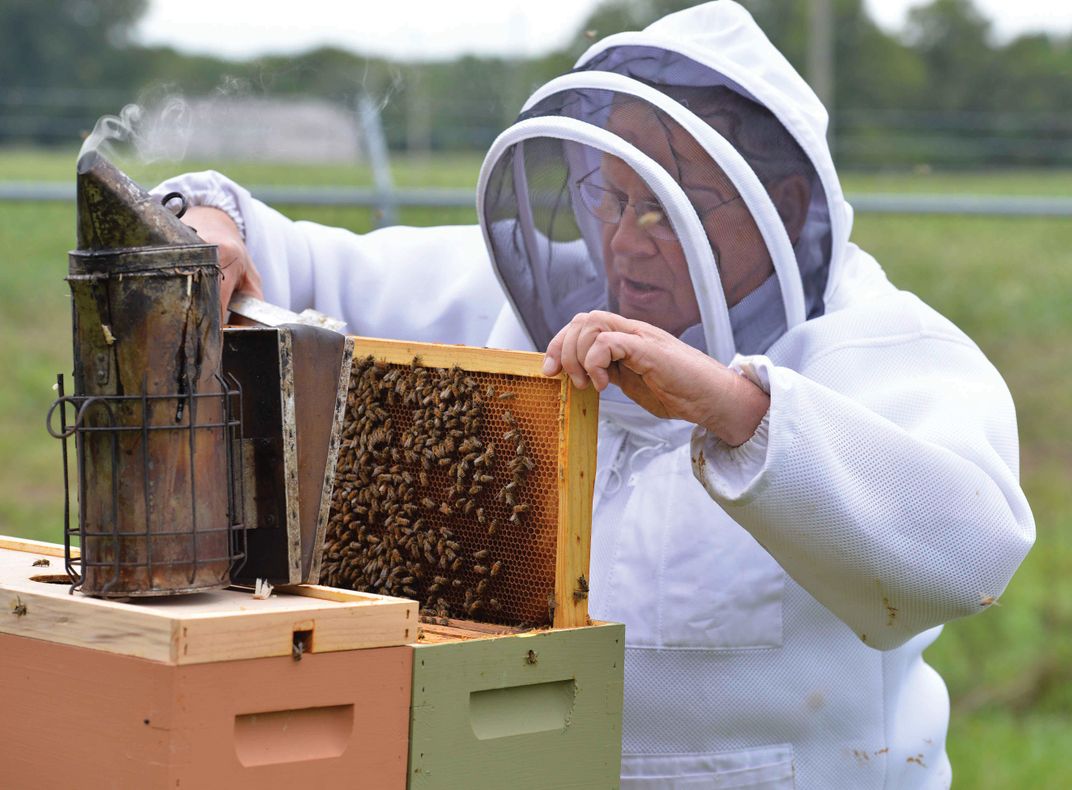 What causes the disorder is still unknown, but it is thought to be brought on by a combination of pesticides, mites, the use of antibiotics, and malnutrition. By 2013, more than 10 million bee colonies had been lost worldwide. At one point, the situation was so dire that the U.S. Department of Agriculture airfreighted Australian honeybees in a 747 to California's Central Valley, where they were released to pollinate almond groves.
Colony collapse hasn't been seen in the United States the last five years, says Repasky. "But that doesn't mean the threat is gone," he says. "The bees are still dealing with what we call the Four Ps: pests, pathogens, poor nutrition, and pesticides." And this is what makes the Pittsburgh airport ideal for honeybees: The air operations area is surrounded by woods and unmowed, overgrown fields. Creeks provide moisture for an abundance of wildflowers for forage; and most important, the airport doesn't use pesticides.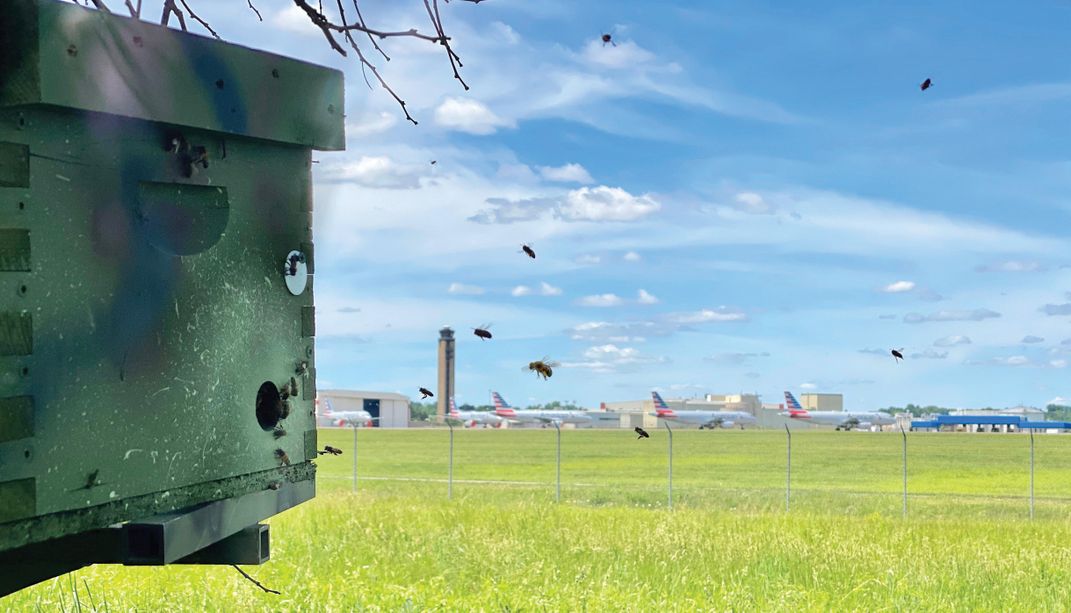 Shertzer and Repasky approached airport management about placing hives on the property in 2013, but were told the project didn't fit the airport's vision. It wasn't until Christina Cassotis came on board as CEO in 2015 that things turned around. Turns out, Cassotis' grandfather was a beekeeper. The airport currently has 110 colonies—almost four million honeybees—spread out over 8,000 acres.
The program benefits the airport as well as the honeybees. "Swarming is reproductive behavior," says Repasky. "In the spring, a healthy colony will split in half, and will take off in a swarm to locate a new home, traveling upwards of a mile or more. While they're searching, they'll stop to rest on the first solid object they can find, whether it's the wing of an aircraft, a runway taxi light, or a luggage cart." To combat this behavior, Shertzer and Repasky have placed 15 "swarm traps" around the perimeter of the airfield offering the bees alternative landing spots. It's worked: Whereas the airport used to have 15 or more swarms a year interrupting air operations, in the past year they've had just three.
The bees also help airports gather information. One of the oldest programs is a consortium of eight German airports that has used honeybees as "bio-detectives" for 20-plus years. By analyzing the honey from airport hives, scientists can determine whether toxins—including certain hydrocarbons and heavy metals—from aircraft and other airport vehicles fall within regulated air pollution levels. The collected honey—bottled and given away free at the airport—is comparable to honey produced by bees in areas without heavy industry.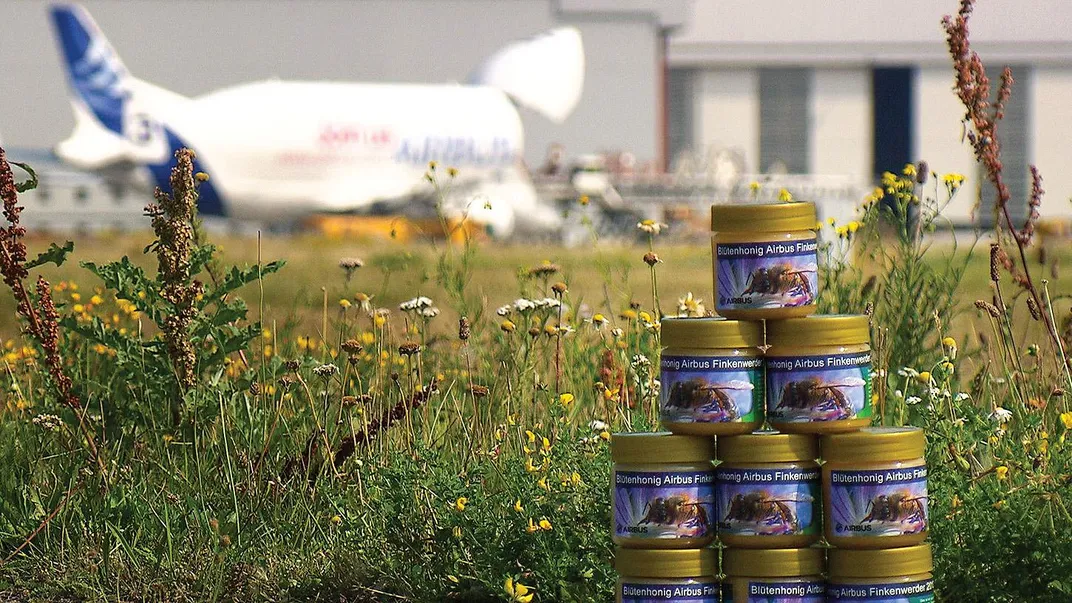 A growing number of U.S. airports—including Chicago's O'Hare, Seattle-Tacoma, St. Louis Lambert, Austin-Bergstrom, and Minneapolis-St. Paul—have partnered with local beekeepers to set up apiaries on airport property. It's a win-win situation: Airports typically have unused land surrounding the operations area to help suppress aircraft noise. And the type of forage preferred by bees isn't as appealing to large mammals (think deer) or geese and seagulls, two species that are frequently involved in bird strikes.
Even the military has gotten involved. Ohio's Wright-Patterson Air Force Base installed beehives in 2015, and now has 12 hives, says Danielle Trevino, a biological scientist at the base. "The base has a good amount of land adjacent to Huffman Prairie State Natural Landmark," says Trevino. "The base is unique in that we have one of the largest tall-grass prairie remnants in the region. We're the first military base to be designated 'Bee City USA,' and we do a lot of outreach in terms of educating the base populace and the general public about pollinators, and why they are important."
Over the years, Pittsburgh airport's Shertzer has grown a lot more comfortable with bees, taking care of any problems if Repasky isn't on site. Shertzer has even used Google Earth to track the bees' movements at the airport. "The swarms were following a consistent line across the airfield," he says. "I looked at the data we'd collected over several years and thought 'Is this really something they're doing, or is it dumb luck?' "
The two men believe the bees are following the original hills and ravines that crossed the land that became the airfield. "Pittsburgh is a bunch of hills and valleys, right?" says Repasky. "To make the airfield, they cut off the tops of the hills, and flattened the area. Using past maps, we can see the bees are following old topography, the historic ridges and valleys. Their preferred homes are old, hollow trees. So even though to us humans these ridges dead-end visually at the airport, the bees are following a historic travel path. There's a lot about them that we don't understand yet." Identifying the bees' preferred path helped them place the swarm traps where they'd be most useful.
The airport's beekeeping program recently won the 2020 Pennsylvania Governor's Award for Environmental Excellence. Eventually, Shertzer hopes to place signs within the terminal educating passengers about their efforts. The program is so important to the airport that the bees are even considered in the airport's planning process for new construction. Pittsburgh is building a 9,000-solar panel micro-grid so that the airport can generate its own power. They hope to incorporate a pollinator-friendly bee habitat around the grid when it's done. "Right now we have to make sure that what we plant isn't palatable to other wildlife like deer, turkey, or geese," says communications manager Matt Neistein.
At the moment, Shertzer and Repasky are producing a manual for other airports that would like to establish beekeeping programs. "All of this recognition is great for our airport," says Shertzer. "But in the end, it's all about the bees."