Bush Pilot Hall of Fame
Meet the pilots who created the Alaska bush pilot legend.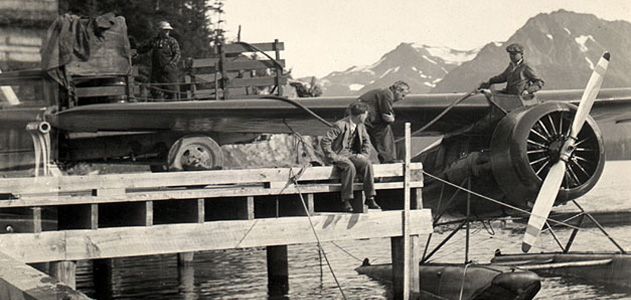 Alaskans loved them for their resourcefulness. By memorizing rivers, lakes, mountain peaks, and the relationships among them, the state's pilots managed to deliver everything and everybody to places in an uncharted wilderness. One of their most famous, Noel Wien, said that when all else failed, he learned to fly downriver and hope that little rivers would lead to larger rivers, along which he might find a cabin.

Not surprisingly, bush pilots were frequently lost. Nearly every one of them could tell a tale of landing on the sandbar of some river or on a patch of ground way out beyond anything, then hiking 50 miles through grizzly country to find a town where fuel and a dog team could be had.

The world loved them for their daring. In the 1920s and '30s, newspapers tracked the many searches for lost aviators—some rash, others heroic—who had challenged the elements and lost. Though their numbers are small, no history of aviation is complete without the chapter written by Alaska's bush pilots.

Pictured above: Ground crew for Pacific Alaska Airways refuel a Lockheed Vega floatplane in southeast Alaska. By the 1930s, commercial pilots in Alaska had the luxury of enclosed cockpits, radios, and a route structure. The pioneers of the 1920s had none of those.
Robert Campbell Reeve
The noted mountaineer and cartographer Bradford Washburn said that Bob Reeve was "without a doubt the finest ski pilot and rough country flier I've ever seen." Reeve arrived in Alaska in 1932, after several years of flying mail for Pan American–Grace Airways (Panagra) in South America. Supplying the mines in the mountains near Valdez, he became a local attraction by flying his skiplane from the slick tidal flats near Valdez Bay. "If I could have charged admission," he told his biographer, "I would have had it made."

In 1937, when Reeve set a world record for highest skiplane landing (8,750 feet), the snow was too soft for his Fairchild 51 to take off from. After waiting five days for the glacier to freeze, he managed to get airborne, but then had to dive for hundreds of feet before he could gain enough airspeed to level and climb. He became known as "the glacier pilot" for making more than 2,000 glacier landings. In 1949, he founded Reeve Aleutian Airlines, which his family ran until 2000.

Reeve was also a mechanic. In this photograph, he's at center working on his Fairchild 51.
Joe Crosson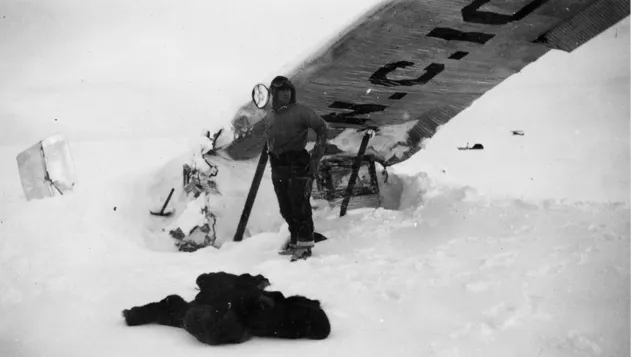 The first pilot to land on Mount McKinley, Crosson became known for flying humanitarian and rescue missions, among them the delivery of medicine to villages on the Arctic coast where doctors were battling a diphtheria epidemic. He had come to Alaska in 1926 as a 23-year-old, recruited by the Fairbanks Airplane Corporation. By 1932, his common sense and flying skills had won him the position of chief pilot for Alaskan Airways, which he helped integrate into the Pan Am system that year.

In 1928 Crosson joined Carl Ben Eielson and Hubert Wilkins on Antarctic surveys, and the following year, he was the first in the air to search when his friend Eielson went missing. (In the photo, he is standing by Eielson's crashed airplane.) In 1935, Crosson was tasked with a sad mission of the type many bush pilots undertook, though with less famous cargo: He flew to the lagoon outside Barrow to recover the bodies of Wiley Post and Will Rogers; Post's airplane crashed as he flew north into the Arctic to survey a route to the Soviet Union. Crosson had advised Post to postpone the flight so that mechanics could do further work on his modified Lockheed Orion, but Post was impatient to get under way.
Harold Gillam
For such a vast territory, the Alaskan bush was a small world. Ben Eielson passed along his love for adventure to Joe Crosson, and Crosson influenced Harold Gillam, who had come to Alaska at age 24 to work construction for the Alaska Road Commission. Gillam met Crosson while working near Weeks Field, the first airport in Fairbanks, and, following Crosson's advice, learned to fly in San Diego—at a flying school just opened by T. Claude Ryan (whose company had built Lindbergh's Spirit of St. Louis).

Of that first generation, Gillam may be more responsible than any of his contemporaries for the bush pilot's reputation for fearlessness. He flew in any weather. In 1938, he took over Pan Am's mail run from Fairbanks to Bethel, and he kept to a schedule of deliveries that Pan Am's pilots had been unwilling to risk. Thereafter, among Alaska's pilots, fair weather became known as "Pan Am weather"; foul weather became known as "Gillam weather."

Gillam ran a successful flying business for almost 10 years. In January 1943, flying five passengers from Seattle to Anchorage, Gillam crash-landed his Lockheed Electra on a mountainside near Ketchikan. He and four of the five passengers survived, but the rescue search, initiated immediately, failed to find the wreckage. After six days, Gillam hiked toward the coast to get help. A month later, the four survivors were located alive. Gillam's body was found several miles from the crash site; he had frozen to death.
Carl Ben Eielson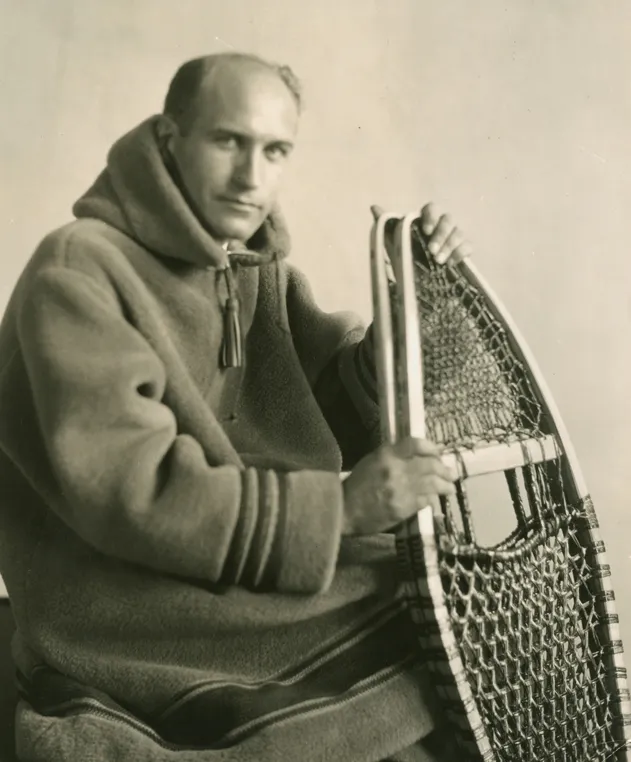 Eielson Air Force Base, near Fairbanks, gets its name from this polar explorer, although, like many of the pilots who received Army flight training during World War I, Eielson enlisted too late to see combat. Eielson became world-famous in 1928 for two pioneering flights with explorer Hubert Wilkins: the first, across the Arctic, from Point Barrow, Alaska, to Spitsbergen, the Norwegian island north of Scandinavia; the second, charting islands around Antarctica. For these achievements, he was awarded the Harmon Trophy.

Eielson was one of the first to see the airplane's potential in Alaska. Juan Trippe, who saw the same potential some years later, put it this way: "A territory where people pay four hundred dollars for the privilege of walking behind a dogsled for ninety days is a good prospect for an airline." In 1923, with backing from a group of Fairbanks businessmen, Eielson bought a surplus open-cockpit Curtiss JN-4 Jenny and, calling his service Farthest-North Airplane Company, flew passengers and supplies to mines. (Eielson wasn't the first to operate a commercial air service; that distinction appears to fall to C.O. Hammondtree of Anchorage, who, several months before Eielson started his company, took tourists on sightseeing trips in a Boeing Model C floatplane, dubbed the Mud Hen.) The following year, in an open-cockpit de Havilland DH-4, Eielson flew Alaska's first official airmail delivery.

A year after receiving the Harmon Trophy, Eielson was killed in an airplane crash while, under contract to the Swenson Fur and Trading Company, he was attempting to retrieve furs and passengers from a ship caught in the ice of Cape North, Siberia. In a widely publicized search, Joe Crosson and Harold Gillam located the crash site. Weeks later, a Soviet search party found Eielson's body beneath several feet of hardened snow.
Russel Merrill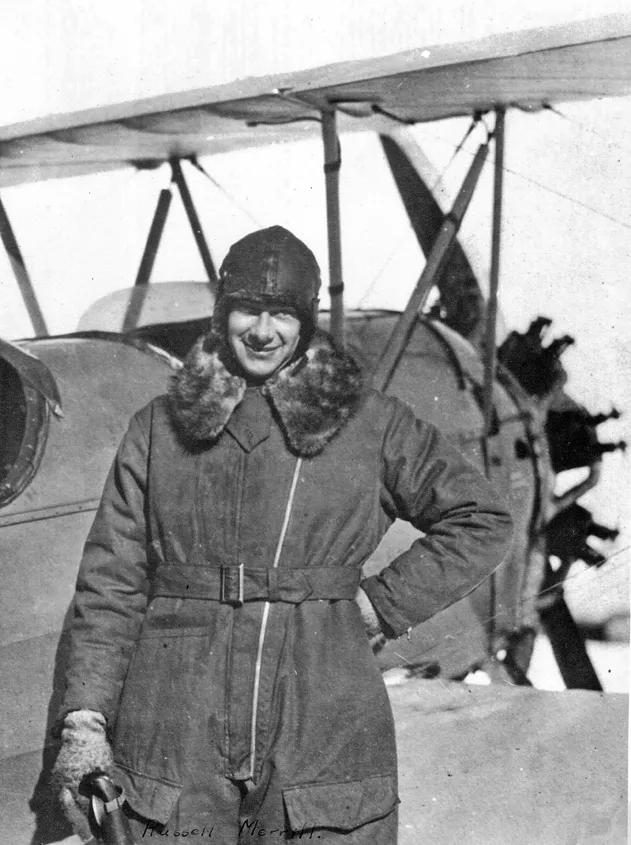 Of the several pilots who pioneered flying in Alaska, perhaps the one who led the most romantic life is the one whose death at an early age remains mysterious. Iowa native Russ Merrill earned his wings on March 12, 1918, from the U.S. Navy, then worked as an engineer in San Diego and found a business partner, Roy Davis, who owned a Curtiss Model F Seagull flying boat. The two young men went to Seward, Alaska, to begin a flying service, and in August 1925 made the first flight across the Gulf of Alaska and the first into Anchorage. A couple of airplane crashes later, they parted company, and Merrill got a break: Newly formed Anchorage Air Transport was ready to hire. For a young man who had come west for adventure, ATA was the answer to a prayer. Working for the company, Merrill was the first to see from an airplane a vast area of Alaska. He was the first to fly to Kodiak Island; the first into Seldovia, a fishing village on the Kenai peninsula; and the first pilot to work as a fish spotter. Merrill found the shortest route through the Alaska Range, the mountains between Fairbanks and Anchorage; today the route is called Merrill Pass.

Four years later, after several small regional airlines, including Anchorage Air Transport, had consolidated into Alaskan Airways, Merrill took off from Anchorage on his third flight of the day to deliver supplies to a mine in Bethel. He was never seen again. Weeks later, in Cook Inlet, which forms the Anchorage coastline, someone found a piece of fabric from the Travel Air he was flying.In 1930, the airport in Anchorage was named Merrill Field.
Noel Wien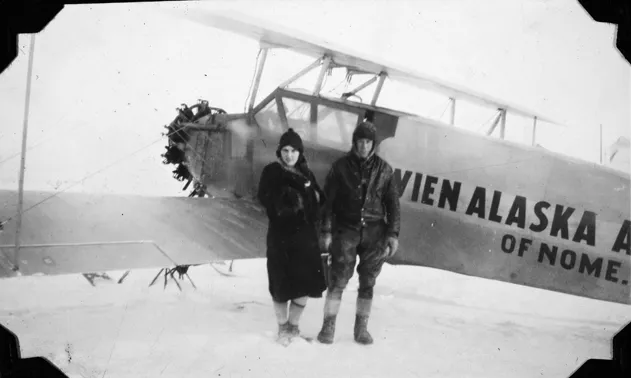 Probably the best known of Alaska's first bush pilots, Noel Wien had something most of the others didn't: a long life. Wien died at 78, after seeing the airline he founded 50 years earlier expand, under his brother's management, to provide flights from Alaska to as far away as Denver, Colorado. By 1985, when Wien Air ceased operations, it was the second oldest airline in the United States. It had come a long way from its 1927 beginning as the first scheduled air service in Alaska, with a single biplane flying one weekly round trip between Fairbanks and Nome. (In the photo Wien is standing with his wife Ada next to the airline's Stinson Detroiter.)

Wien was a cautious and highly skilled pilot. When he first arrived in Alaska, he refused to fly in winter, regardless of the conditions. But as he gained experience in the country, he too had plenty of adventures, including making the first landing north of the Arctic Circle.