To Build in Space
I love my job, and here's how I got it.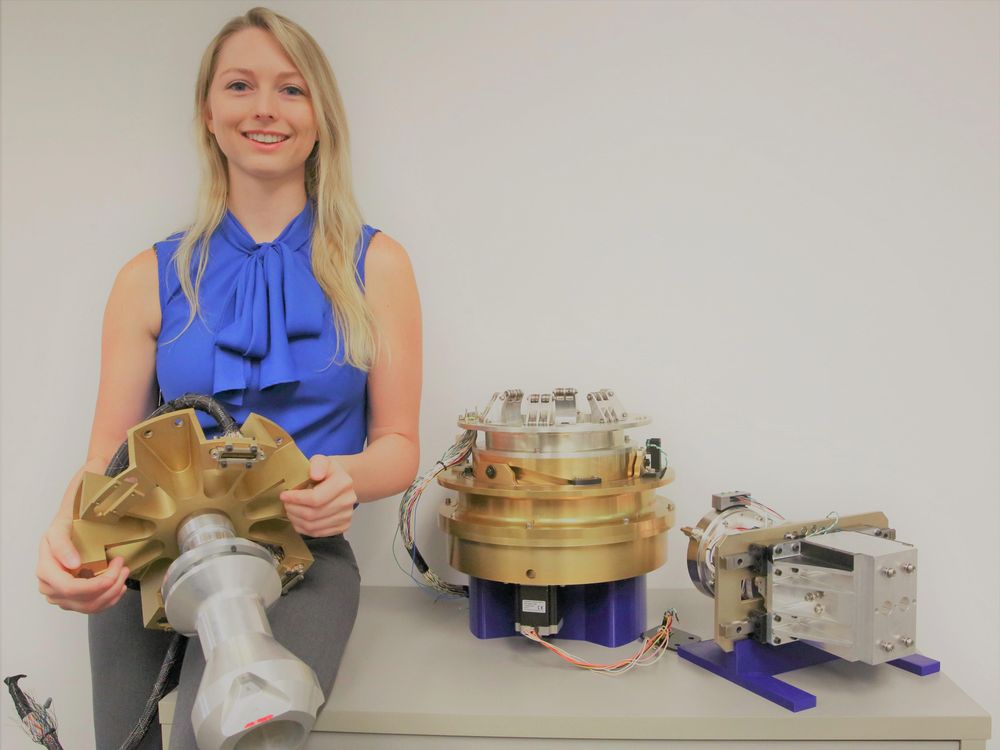 Megan Smith works on the Commercial Infrastructure for Robotic Assembly and Services (CIRAS) program, a partnership between Northrop Grumman and NASA's Space Technology Mission Directorate to develop technology for assembling large structures in orbit. She spoke with Senior Associate Editor Rebecca Maksel.
The job: Smith helps design, build, and test robotic tools for use in space on structures such as next-generation telescopes or the Mission Extension Vehicle, a satellite-refueling spacecraft.
Typical day: "When I first started working on CIRAS, I spent a lot of time on computer-aided design software," says Smith. "We printed the designs on a 3D printer, which is a cost-effective way of checking that the assembly functions before ordering the metal parts. Now I design or build proto-type hardware and test it in the lab. Sometimes modifications need to be made, so I often interact with the machine shop to tweak parts. After the mechanisms are checked out in the lab, they are integrated with the hardware at the NASA Langley Research Center and operated for a ground demonstration."
The path: "In 2015, when I was a junior at Purdue, I heard about SpaceX's hyperloop transport pod competition. I met with some colleagues, and we decided that Purdue needed to have a good team [to enter the competition] since we have a large aerospace community. I co-founded and led the hyperloop transport pod design team. We went to the design competition at Texas A&M, and we made it into the top ten, and were selected to build a hyperloop pod to race on SpaceX's track in California. I got a job offer from Orbital ATK—now Northrop Grumman—the first semester of my senior year."
How did you become interested in space and engineering? "I didn't have any engineers in my family, but I did have a Neil Armstrong action figure, and I absolutely loved that toy. I also had a favorite planet—Saturn—and glow-in-the-dark stars and planets on my ceiling. I visited the National Air and Space Museum a couple of times as a kid, and thought it was the coolest thing. At the time, I thought that only the really fortunate got to work on aerospace projects."
Why is your work important? "We are limited by the amount of room there is in a rocket fairing," says Smith. Large structures for space exploration can't be built on the ground then launched into orbit; parts must be sent up on separate launch vehicles and assembled once they're in space. "CIRAS will fly on a host spacecraft," says Smith, "and it will be used [for jobs] such as the placement of solar arrays on a truss."
Best thing about the job: "Every day there's a new challenge, and something new that needs to be done. It's such a fast-paced project that I never feel bored."
You do have a cool job. But you didn't start out there. What did you learn from some of the other jobs you've had? "Work hard! It's important to give opportunities a chance. I figured out what I didn't want to do long before I found out what I did want to do. If something doesn't work out, it's not the end of the world. There will always be other opportunities."
What does the future hold for you? "I definitely want to keep working in the aerospace industry, and I want to get more involved in human spaceflight in the future. I'm interested in NextSTEP, which is a public-private aerospace venture planning to put a habitat around the moon, similar to the International Space Station. One of the biggest [obstacles] that we have in human spaceflight is radiation. The astronauts who will be able to orbit the moon will be able to do research that could help us make it farther out in the solar system—like Mars.
"I also really enjoy the robotic assembly side of things, because I know that whenever we try to go farther out in our solar system we will have limitations on how much we can send up on a rocket. Instead of making bigger and bigger rockets to lift larger payloads, we can send up multiple payloads and assemble them in space—using robotics—whenever we try to go farther out."
Is your house still decorated with space-themed stuff? "I have a space-themed rug in my living room, a Saturn V Lego model, and a large moon painting that lights up in my kitchen. It's almost embarrassing, but I'm not afraid to admit that because I'm so passionate about space exploration."