Branson and Bezos May Reach Space First, But Billionaire Jared Isaacman (Who?) Has Booked a Better Trip
The all-rookie Inspiration4 crew will spend days in orbit, instead of a few minutes above the atmosphere.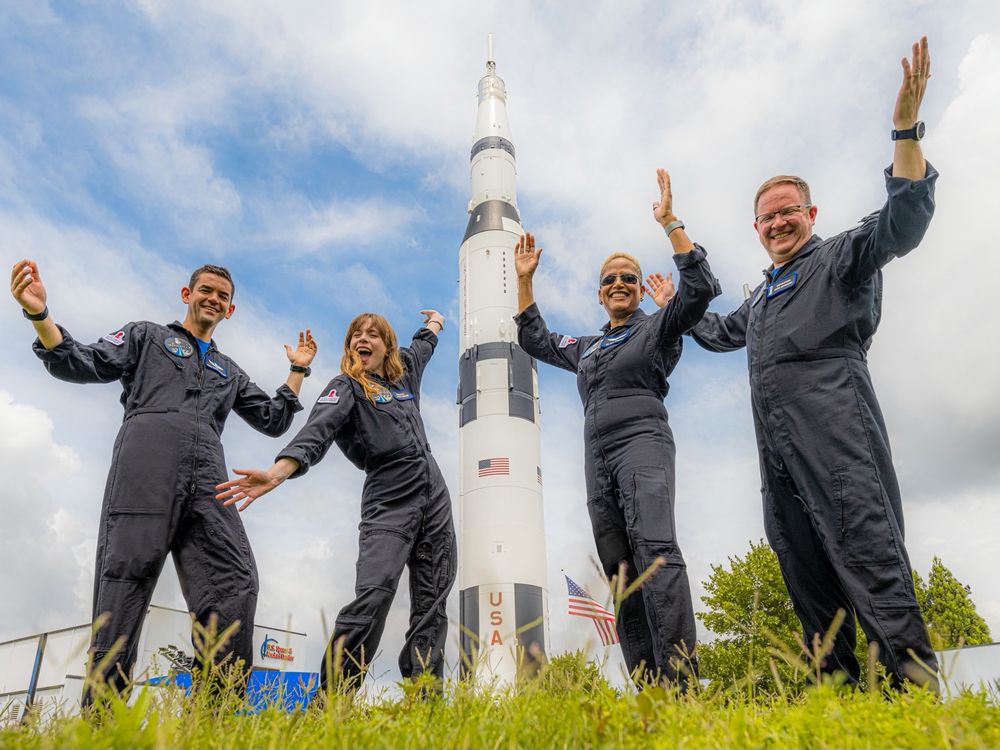 The age of space tourism is finally upon us, at least for the super-rich.
Actually, it's the second age, considering that seven super-rich people flew to the International Space Station in the 2000s, when a surplus of seats was available on Russian space vehicles. Twenty years later, what's changed is that there are now more vehicles flying to space, including privately owned spacecraft from SpaceX, Blue Origin, and Virgin Galactic, which means there are more seats for sale.
Jeff Bezos, the founder of Blue Origin, was to have been the first of the new crop of space-crazy plutocrats to fly, on his company's New Shepard suborbital rocket. The Amazon billionaire has invited along his brother Mark and (in a classy move) 82-year-old Wally Funk, who was deprived of the chance to become a NASA astronaut in the early 1960s because she wasn't a man. Rather than give away the fourth seat, the world's richest person decided to auction it off, with proceeds going to his STEM-supporting Club for the Future. Some as-yet-undisclosed person won the auction with a $28 million bid. The foursome will launch on July 20, the anniversary of Apollo 11's moon landing.
Announcing the launch date in advance—not always standard practice for "new space" companies—may have been a tactical error on Bezos' part. A few weeks later, Richard Branson's Virgin Galactic company, which has been working to develop an air-launched suborbital vehicle for 17 years, announced that Sir Richard will fly on the next test flight, along with two veteran Virgin Galactic test pilots and three other company employees. The flight is set for this Sunday, July 11.
Branson has insisted in interviews that his late addition to the crew had nothing to do with the timing of Bezos' flight. Okay. But in case anyone wonders whose ego comes first, Branson is designated as Astronaut 001 for the flight (even though three of his crewmates have already ridden VSS Unity to the edge of space). And he gets by far the most heroic, slo-mo treatment in Virgin Galactic's promotional video.
More paying customers are in line to reach space in the coming year, including a Russian film director and actress, who will shoot scenes for a feature film onboard the International Space Station, and Japanese billionaire Yusaku Maezawa and his cameraman. But the tourist trip immediately following this month's Jeff and Richard Show may be the most interesting of all.
That flight, scheduled for September 15 on a SpaceX Crew Dragon vehicle, was bought (for an undisclosed amount) by Jared Isaacman, who comes in today at #1164 on Forbes' Real-Time Billionaire list. The 38-year-old founder of Shift4 Payments lags far behind Bezos (#1) and Branson (#479) on that list, but he has booked far and away the best trip to space.
Suborbital hops of the New Shepard/Virgin Galactic variety—which last only minutes, and reach altitudes of 60 miles or so—are theme park rides compared to what NASA astronauts experience. Isaacman's Inspiration4 mission will be more like the final Gemini spaceflights of the mid-1960s, which orbited Earth at relatively high altitudes for two to three days.
Isaacman himself will be the spaceflight commander. Although the Crew Dragon is a highly automated vehicle, his background as an experienced pilot (call sign "Rook") with multiple ratings in high-performance military jets (he's performed at airshows with his own Black Diamond Jet Team) will certainly come in handy.
No doubt, this will be a personal thrill ride. But Inspiration4 has a philanthropic side as well. Isaacman set a goal to raise $200 million for St. Jude's Children's Research Hospital (far more than the cost of the flight, he says) from a sweepstakes contest to win one of the seats, plus donations, including his own of $100 million.
Chris Sembroski of Everett, Washington, won the contest (actually a friend did, but he turned over his ticket to Sembroski, a lifelong space fan). The other two Inspiration4 crew members will be Hayley Arceneaux, a physician assistant at St. Jude's who was a patient there as a child, and Sian Proctor, a scientist and science communicator (and former applicant to NASA's astronaut program) who has participated in Mars simulation missions. All-rookie space crews are rare enough, but this will be the first in spaceflight history with no professional astronaut or test pilot onboard.
Likely out of respect for the dangers of spaceflight, Isaacman has arranged a months-long training program for his crew that looks like an abbreviated version of what NASA astronauts go through, complete with simulators and test chambers, and even a team bonding exercise on Mt. Rainier.
Unlike the space tourists of the 2000s, they won't dock with the space station. They'll just circle the Earth for more than three days at an altitude of 335 miles (considerably higher than the space station), in an orbit that takes them over 90 percent of the world's populated areas. SpaceX has even installed a large, bubble-like dome window for better sightseeing, so they'll have a wider view of the planet than most astronauts have had in the 60-year history of spaceflight. Sir Richard may find himself a bit jealous.