Fabulist of the Air
The first American woman to fly achieved many distinctions…but not as many as she said.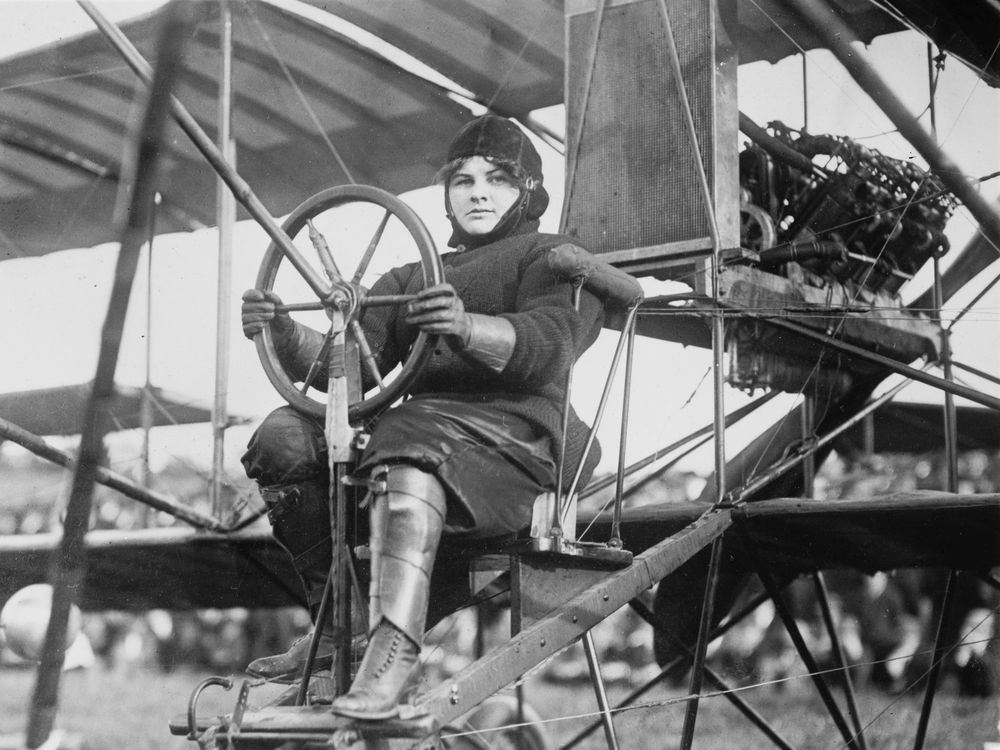 Times Square was lined with cheering spectators on May 16, 1910, as Blanche Stuart Scott set out in her modified Willys-Overland Model 38 automobile on a transcontinental drive from New York to California. Scott, accompanied by reporters, dignitaries, and 40 other cars, was at the start of a 68-day publicity tour for the car company. She had no way of knowing that her life would be transformed during a stop in Dayton, Ohio, when she would see an airplane for the first time. As she watched two airplanes flying above a field, "I looked at them and thought how perfectly idiotic they were," she later recalled. "Anybody who'd do that was crazy as a loon."
After she reached the West Coast, an Associated Press reporter told her that the pilot of a Farman biplane was waiting to take her aloft. Scott accepted the offer despite being petrified, and much to her relief, the Farman crashed before she could make the flight. (The pilot was uninjured.) But the reporter had already filed a story saying Scott had flown: "Flight Winds Up Auto Trip; Vassar Girl Motors Across Continent and Then Goes Up in an Aeroplane," blared the New York Times on August 7, 1910. To save his job, the reporter and Scott made a pact to keep quiet about the crash and the ride that never happened. Scott's first flight was a fabrication. This would become a pattern.
The report of her flight was noticed by Jerome Fanciulli, the manager of the Curtiss Exhibition Team, who offered Scott flying lessons from none other than Glenn Curtiss. She was eager to get back in the spotlight: "The idea of being a nobody and a nothing in New York's millions had irritated me. Here was a chance for the brass ring."
According to Scott, Curtiss was hesitant: The Curtiss Pusher had just one seat, so the student flew alone. Curtiss had taught only a handful of students, and the thought of a mishap with a female pupil and the resulting negative publicity gave him pause. "This was an interesting clash of wills," Scott wrote in an unpublished autobiography, held in the National Air and Space Museum archives. "Mr. Curtiss was stubborn, I was determinedly willful. The result was that I had a reluctant instructor."
Curtiss placed a limiter on the foot throttle so that Scott would not have enough power to fly—an early use of the "grass cutting" technique of solo flight instruction—and Scott progressed quickly through the taxi phase, learning to steer the machine from one end of the field to the other. Then, in late August or early September, during one of her runs down the field, a "vagrant puff of wind" (or a temporary absence or failure of the limiter) lifted the aircraft off the ground. She made an extended hop and landed safely.
The timing of the hop creates one of those endless "Who was first?" debates. Did the hop make her the first American woman to fly an airplane? Bessica Raiche made a solo flight in her homebuilt Curtiss-type at Mineola, New York, on September 16, 1910. The Aero Club of America accredited the flight. But Scott claimed to have made two solo turns around the field 10 days earlier, on September 6, a claim supported by a Curtiss mechanic named George Dunlap, who signed an affidavit to that effect.
Scott soon made genuine history. She debuted as an exhibition pilot on October 23, 1910 flying at Fort Wayne, Indiana. It was the first public flight by an American woman—and 10,000 people saw her fly.
Harry Tuttle, the publicist from her cross-country road trip, proposed marriage soon after the Fort Wayne flight. They wed in Detroit and settled in Dayton. It didn't last long. "I discovered I was totally unsuited for the life of bridge, telephoning, socials, and social visiting," Scott recalled in her autobiography. "The great big world was out there and there were things to be done that were a damn sight more important than who trumped Charlie's ace or who fell into the punch bowl at the country club." The couple soon separated, and in spring 1911 Scott moved to Mineola to continue flying. She joined the group surrounding "Captain" Thomas Baldwin, who, while still rather new himself to airplanes, was the most seasoned veteran in the exhibition business. His career dated back to the 1880s with parachute jumps from balloons. He had since moved on to aircraft, creating his own design patterned after the Curtiss Pusher—called The Red Devil. Scott took to it immediately and resumed exhibition flying.
Once again, Scott's stories of her flying are dramatic. Did she really perform a half-loop into a roll to avoid a collision with Dr. Henry Walden's monoplane? She says she did—and that the maneuver became known as the Immelmann turn in World War I. Walden certainly was there, but he never mentioned it. Nor did it make the news. (The true origin of the Immelmann turn remains unknown.)
Did she really fly a 50-mile flight to cool off after getting into a blind rage arguing with Baldwin—unintentionally setting a new distance record for women? The Associated Press reported that she made a 12-mile flight, and received great congratulations for it.
The truth is Scott was flying as much as she could—on par with or better than those around her. As Aeronautics magazine condescendingly reported, "Blanche Scott has been flying every day for the past month, and now 'flies like a man.' "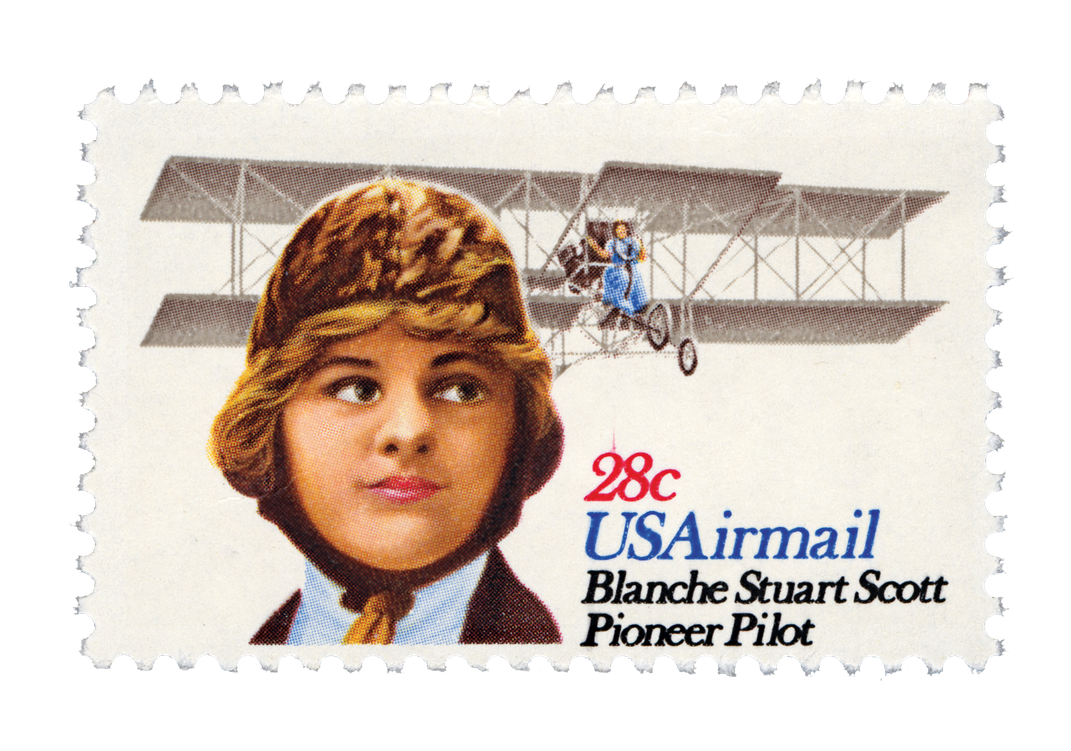 Scott soon moved to the more upscale neighboring airfield at Nassau, New York, but there was a new element for her to contend with: other female aviators. The Moisant family had set up their school there, and Mathilde Moisant herself learned to fly in early 1911. Joining them was a willowy writer for Leslie's Weekly named Harriet Quimby, who came to fly Blériots.
Shortly after Scott's alleged 50-mile flight, both Quimby and Moisant received their licenses. Scott never got hers. She would later claim that Curtiss told her it wasn't worth the paper it was printed on. Baldwin may have influenced Scott's decision as well—and not to her liking. In November, Aero magazine reported that the "indefatigable" Scott had been ready to take the test for the license, but Baldwin "… suddenly came to the conclusion that he did not approve of women flying, anyway. Miss Scott was very indignant with the captain and expressed her determination to become an aviatress." Perhaps this was the argument that inspired Scott's flight.
Scott went her own way. She placed an ad in Aero, seeking funding. "I have 10 positive engagements booked for exhibition flights, with good respects for more. I want financial backing to carry out these flights and to purchase my own biplane; $7,500 required."
As licensed pilots, Quimby and Moisant were allowed to fly in events in the east sanctioned by the Aero Club of New York, which barred unlicensed pilots like Scott. For the first time, Scott had a rival in the air and in the press. Quimby quickly became the most famous American female pilot, and seemed to be everywhere: flying at night over Staten Island, in a Mexico City air meet, and then across the English Channel—the first woman to do so. Independent as always, Scott headed west.
She decided to return to California, where she connected with Glenn L. Martin. Scott appeared at the third Los Angeles Air Meet at Dominguez Field, and found herself in excellent company—flying with Lincoln Beachey, the premier pilot of the pre-World War I era; Tom Gunn, the first Chinese-American pilot; and Martin himself. Martin was designing new aircraft, and Scott often acted as test pilot. In this case, her memoir seems reliable.
Glenn Martin formed a flying circus, engaging former Wright exhibition team manager Roy Knabenshue. The Martin team headed east in late June 1912 to participate in the third Boston-Harvard meet, held at Squantum field. The Aero Club did not sanction the meet, so Scott could participate. Scott's rival Harriet Quimby was among the pilots, arriving with a brand-new, two-seat Blériot. On July 1, Quimby took the manager of the meet, William Willard (father of Curtiss pilot Charles Willard) out for a flight over Dorchester Bay. Scott was in the air at the same time. As Quimby came in to land, 5,000 spectators watched in horror as the Blériot suddenly pitched forward, throwing Willard and then Quimby from the airplane. They plunged to their deaths in the shallow water.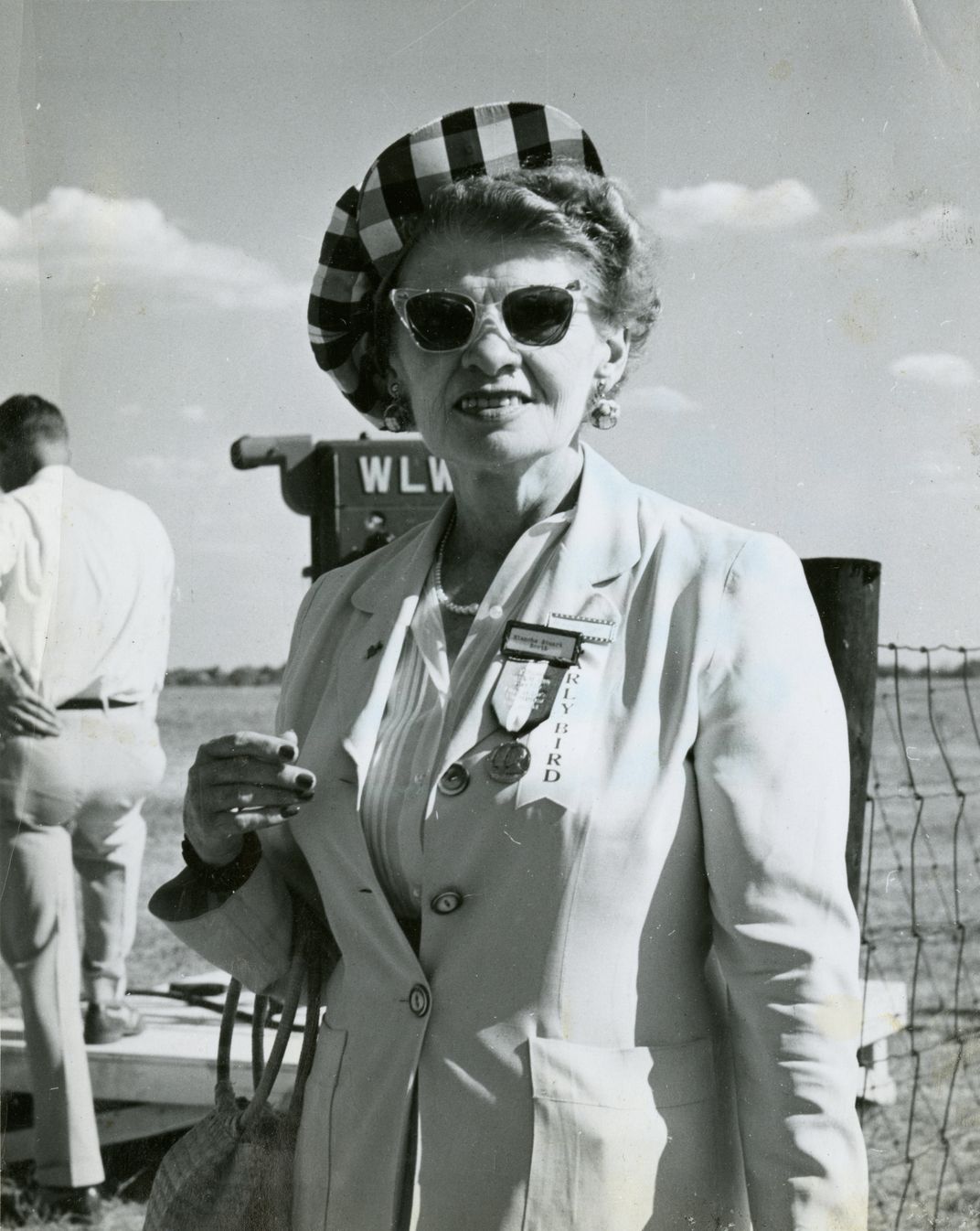 Scott had to circle the field as the crowd swarmed, but hadn't seen the accident happen. According to newspaper reports, simply seeing the crowd alerted her to Quimby and Willard's deaths; when she finally landed, she collapsed in her seat. Scott briefly stopped flying after the incident, and later that month, Aero magazine reported that Scott had taken over the management of two theaters in Framingham, Massachusetts.
Despite her foray into theater management, Scott continued her flying career. She contracted to fly with the Ward Aviation Company in Chicago to make appearances in the Midwest in 1913. On a Memorial Day flight, the throttle wire broke on her Red Devil, and Scott crashed. She wasn't badly injured, but her flying days were essentially over.
In her later life, Scott was a genuine aviation luminary: In 1948, she was invited to take a ride with Chuck Yeager in a TF-80C—which she and the media trumpeted as the first flight in a jet by an American woman. (As far as she knew, it was—but in 1944, 21-year-old WASP Ann Baumgartner had flown the top-secret YP-59.) Her life story would have been impressive without embellishment, but in writing it down, she appeared not as impressed as she would like to have been.
Scott died in 1970 at age 85, and is buried in Rochester. In one final irony, her headstone lists the wrong date of birth­—adding five years.