Bird or Superman: What's the Best Way to Fly in Virtual Reality?
Like so many things, it depends.
With the first Oculus Rift headsets now shipping to customers, and a new Superman movie opening in theaters this weekend, it seems timely to ask: What's the most satisfying way to experience flying—and by that I mean flying, not sitting in an airplane—in virtual reality? Is it better to soar like a bird with both arms out-stretched at your side, or point just one arm (preferably with fist closed) heroically out in front of you, like Superman?
You hadn't thought about it, had you?
Fortunately, researchers at the University of Hamburg are on it. A team of undergraduates there put together a rig that allows test subjects to hang suspended from the ceiling, using body positioning (as tracked by a Microsoft Kinect sensor) to "fly" through the virtual scenery appearing in their Oculus headset. Speed is controlled with simple gestures—closed hands to accelerate, open hands to slow down.
In their quest to understand the psychology of immersive experiences, researchers put 13 subjects through the simulation, all of whom flew in both modes, bird-style and Superman. Preferences were about evenly divided between the two. Seven subjects gave higher ratings for "immersion" (a kind of subjective sense of realism) to the bird mode, while six rated the Superman mode higher. Flying like Superman was a bit more demanding mentally, but birdflight, which involves the whole upper body, was a little more taxing physically. And birdflight was slightly faster.  In the end, it came down to personal preference which was better. The video above shows you what the test rig looked like, and what the subjects saw in their headsets.
With virtual reality about to make its first real inroads into mainstream culture, it's no surprise that flight is one of the first "supernatural" experiences VR developers have chosen to simulate. A contraption called Birdly made a splash at art and technology shows a couple of years ago by combining VR visuals with a machine that lets you flap your "wings," gently, to control your motion. As you can see in this video, there's even a fan to blow wind in your face as you fly.
A German company called ICAROS GmbH is taking a somewhat similar approach to VR flight simulation, but is marketing their device as a fun and novel way to exercise. ICAROS co-inventor Johannes Scholl sees this as the first in a line of "Active VR" machines. Users wear a Samsung Gear VR headset, which is cheaper and generally easier to use than Oculus, even if the visual fidelity is not as good. Part fitness trainer and part flight simulator, ICAROS will start shipping next month, at a cost of 7,500 Euros, or about $8,400. The first customers will be gyms, event agencies, hotels, and other public venues, says Scholl, and the initial production run of 50 has sold out. The company also hopes to make a personal version.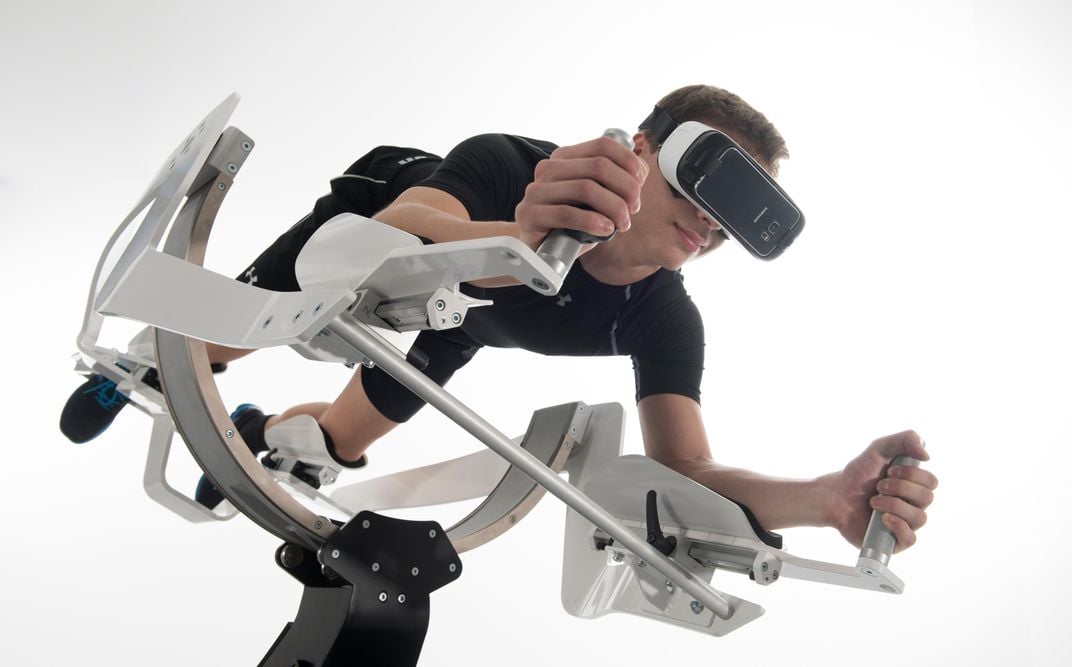 As companies like ICAROS vie to become the Wright brothers of virtual flight, let's not forget the pioneers who came before them. Back in 2010, long before Palmer Luckey gave the world the Oculus Rift, Rafael Mizrahi built the Iron Man Flight Simulator, which took advantage of the already existing, free Google Earth Flight Simulator. Clever stuff. But then, what do you expect from the inventor of the Chris Cornell alarm clock?