Best Children's Books of 2013
This year's best aviation- and space-themed books for young readers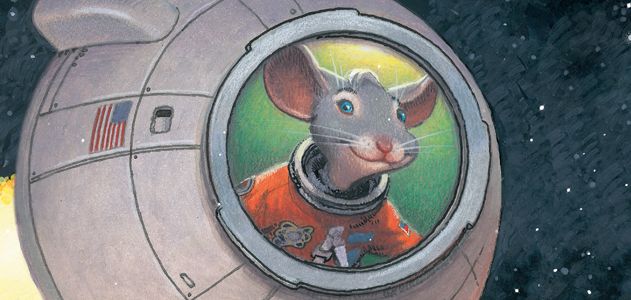 Young readers (ages 3 to 14) will find a selection of engaging books about flight and space exploration this holiday season. The subjects range from a mouse astronaut to the first black paratroopers to the man who remotely operates rovers on Mars. While the age categories are suggested by the publishers, the reading level of the individual child should be taken into account. 

Above: Mousetronaut Goes to Mars 
By Astronaut Mark Kelly, illustrated by C.F. Payne. Simon & Schuster, $16.99 (34 p.) 
What's next for Meteor, the mouse astronaut? In this installment (after 2012's Mousetronaut), Meteor is headed 35 million miles away—to Mars. Could an unexpected glitch in the mission turn the furry stowaway into a hero? As usual, C.F. Payne's mixed-media illustrations are a knockout. Older readers will discover the complexities and challenges of a manned mission to Mars from astronaut Mark Kelly's afterword. Ages 4-8.
A Long Way Away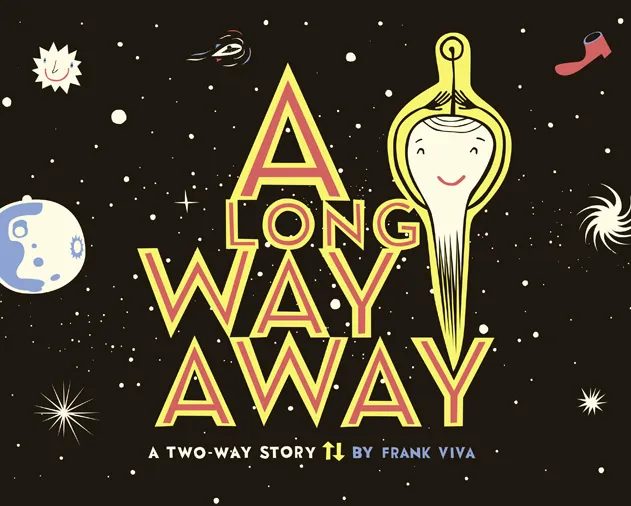 By Frank Viva. Little, Brown, $16.99 (40 p.)
Viva's second children's book after Along a Long Road is read vertically, either from top to bottom or the reverse. Read from the top, a baby space alien from a distant planet tumbles to earth, dodging satellites, spaceships, and passenger jets, gently falling to the bottom of the ocean. Read in reverse, the space alien heads back to its home and loving family ("A home / a hug"). Strong graphics and hand-drawn type make this book a standout. Ages 3 to 6.
Elecopter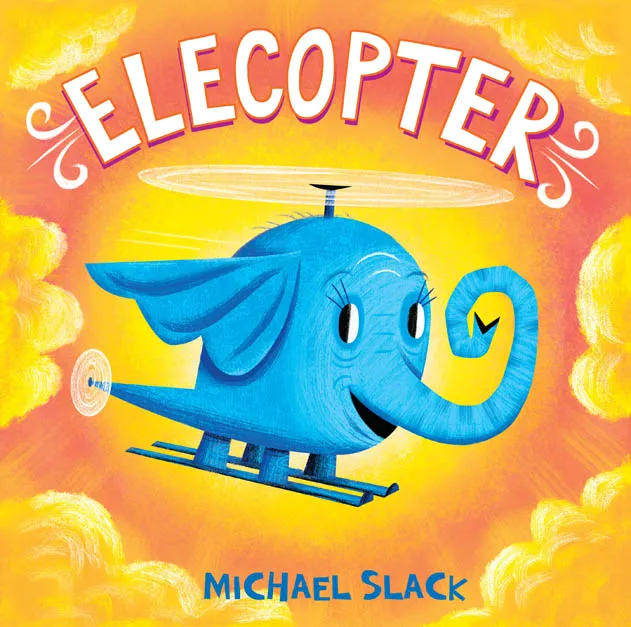 By Michael Slack. Holt/Ottaviano, $15.99 (32 p.)
Not since Dumbo has there been such an appealing elephant. Elecopter—a hybrid elephant/helicopter—soars above the African savannah, patrolling the skies with her fire-hose nose at the ready. When a wildfire breaks out, Elecopter saves a rhino, cheetah, some baboons, and a giraffe—until all are aboard, nothing will stop her. / Rev those rotors! Go, Elecopter! Slack's colorful collages are a knockout. Ages 2-5.
Flying Henry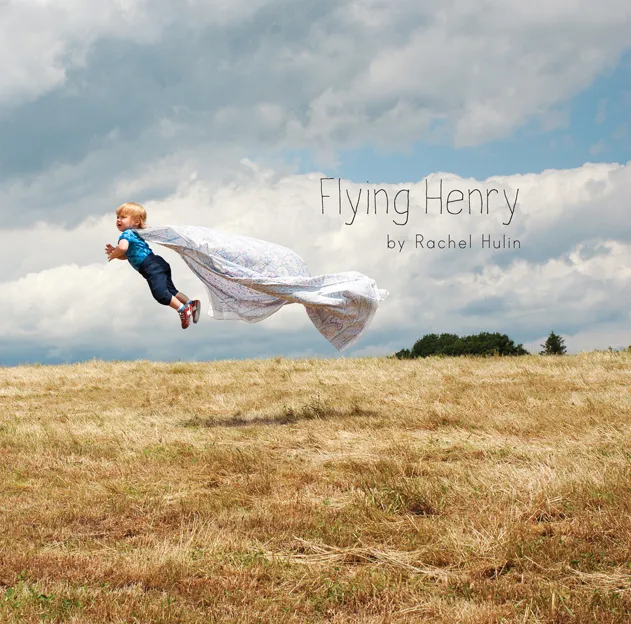 By Rachel Hulin, powerHouse Books, $12.95 (36 p.)
Baby Henry is quite surprised when he learns he can fly, and floats from room to room testing his new ability. After heading out into the world, Henry learns that while flying solo is fun, it's more enjoyable with friends. The photoshopped images of Hulin's infant son flitting and hovering above a garden, near a Ferris wheel, and over a pumpkin patch are an absolute delight. Ages 2-5.
Penguins Can't Fly!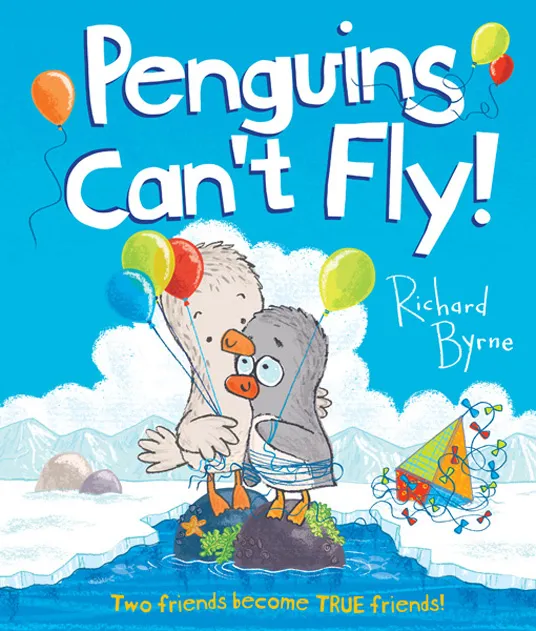 Written and illustrated by Richard Byrne. Barron's, $6.99 (32 p.)
A gull named Gregory and a penguin called Hudson discover the meaning of friendship in this charming tale. The two hatch at the same time and become fast friends, but when Gregory sees a flock of gulls, he flies off to join them. The land-bound Hudson attempts to join them in the sky, using balloons, a kite, and a trampoline. (None of these attempts work, and "the gulls just laughed unkindly.") But when Gregory nearly drowns, the water-loving Hudson proves his worth, saving his little friend—leading the other gulls reevaluate their harsh assessment of the young penguin. Byrne's bright and cheerful drawings add to this sweet story of friendship.
Flight 1-2-3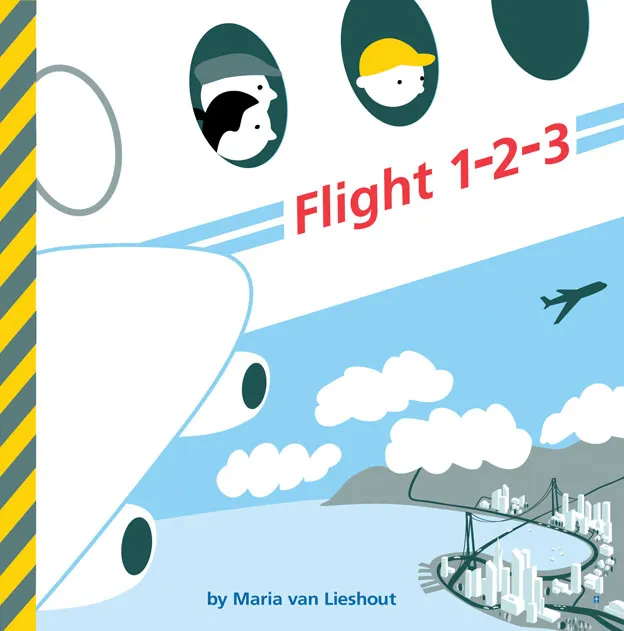 By Maria van Lieshout. Chronicle, $14.99 (40 p.)
This unusual counting book takes the youngest readers on a tour of iconic airport signs. Upon reaching the airport, a family of three grabs a luggage cart, approaches the check-in desk, and proceeds through the security line to their aircraft. Readers familiar with van Lieshout's Backseat A-B-See (which uses road signs to teach a child the alphabet) will eagerly adopt this picture book for kids on the go. Ages 3 to 6.
Dusty's Great Race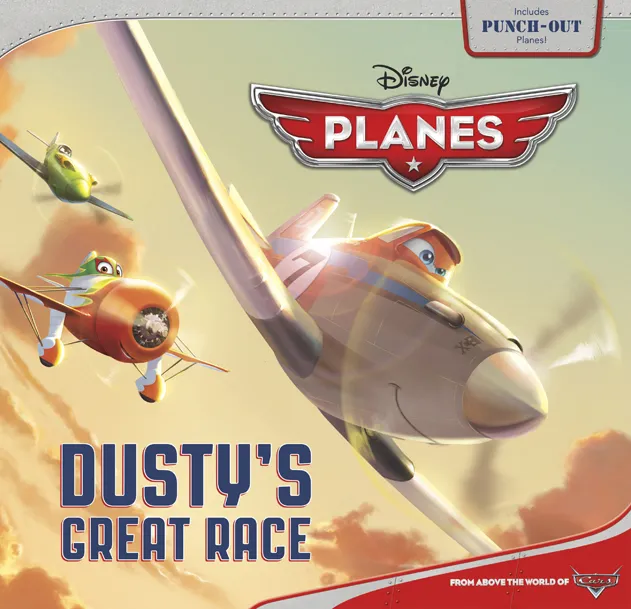 By Disney Book Group, Calliope Glass. Disney Press, $9.35 (32 p.)
There are many book tie-ins to the Disney movie Planes, but this is our favorite. The book retells Dusty's tale—a small-town plane with dreams of competing as a high-flying air racer—but sprinkled throughout are facts about Dusty's life in Propwash Junction and lore from the Wings Around the Globe Rally. (Who knew El Chupacabra wrote Romance Novels?) Disney's fantastic art and four cardboard punch-out planes are sure to make this title a hit. For ages 3 to 5.
Look Up! Henrietta Leavitt, Pioneering Woman Astronomer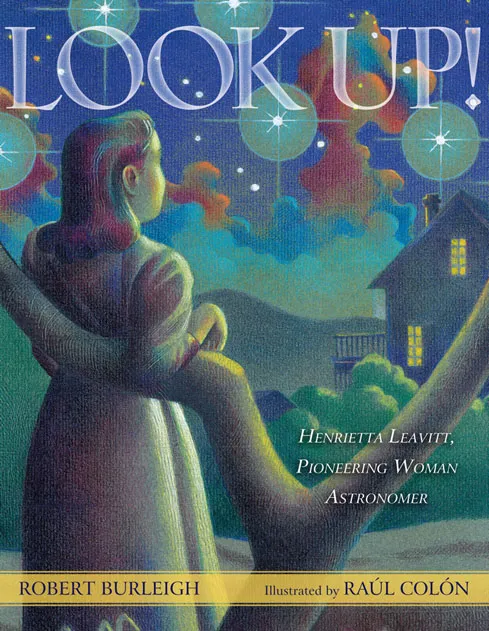 By Robert Burleigh, illustrated by Raúl Colón, S&S/Wiseman, $16.99 (32 p.)
Burleigh explores the life of Henrietta Leavitt, a little known astronomer from the early 1900s, whose discovery of variable stars enabled astronomers to measure the solar system. The underappreciated Leavitt worked for years at the Harvard College Observatory as a human "computer," recording and measuring data alongside other women. She published her discovery in a magazine, "proving that the smallest observation, the tiniest discovery, often leads to something very important." Colón's muted watercolors make the most of the book's dreamy, night scenes. An appendix of Leavitt's discoveries and importance to the field round out the biography. Ages 4 to 8.
Pluto's Secret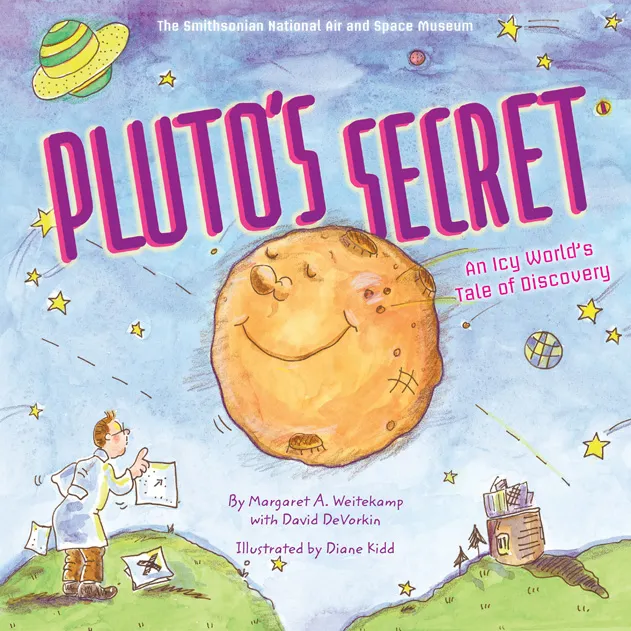 By Margaret A. Weitekamp with David DeVorkin. Illustrated by Diane Kidd. Abrams Books for Young Readers, $16.95 (39 p.)
The ninth planet in our Solar System wasn't discovered until 1930—and was demoted from planet-status in 2006. Who decided that Pluto is no longer a planet, and what led to the verdict? Two National Air and Space Museum curators introduce young readers to the icy world, and explain how scientists classify our solar system. Kidd's whimsical art and a thorough appendix make this title a standout. Ages 5-9.
Beyond the Solar System: Exploring Galaxies, Black Holes, Alien Plants, and More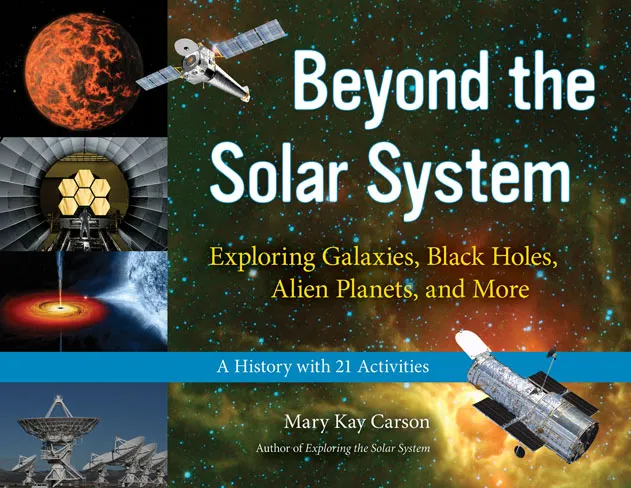 By Mary Kay Carson. Chicago Review (IPG, dist.), $18.95 (144 pp.)
"How did we learn what we know about the universe?" asks Carson in this workbook crammed with 21 hands-on activities. Budding space nerds can locate the North Star, make an astrolabe, and even build a reflecting telescope using a makeup mirror. Biographies of astronomers and guides to sky watching and star chart websites round out this entry. Ages 9-up.
How to Bicycle to the Moon to Plant Sunflowers: A Simple But Brilliant Plan in 24 Easy Steps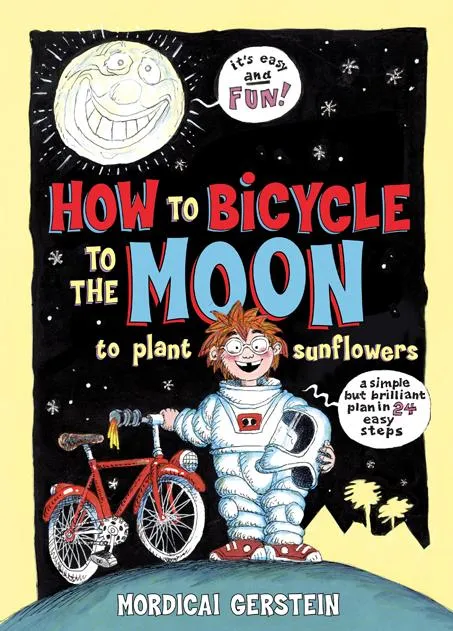 Written and illustrated by Mordicai Gerstein. Roaring Brook, $16.99 (38 p.)
How do you cheer up the moon? Well, if you have enough imagination—and a detailed plan—you can pedal your bike to the moon and plant some sunflowers to make the lunar surface a happier place. You'll need a few things: a ship's anchor, 238,900 miles of garden hoses, 2,000 inner tubes, and a spacesuit on loan from NASA. The rest is easy. ("If a cloud drifts into your path, PEDAL RIGHT INTO IT.") Gerstein's (winner of the 2004 Caldecott Medal) cheerful, gap-toothed narrator teaches readers the value of determination—and whimsey. Ages 6-8.
Courage Has No Color: The True Story of the Triple Nickles, America's First Black Paratroopers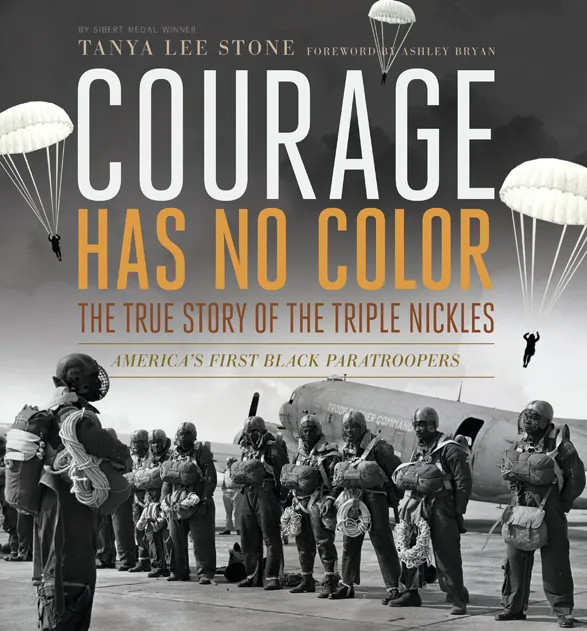 By Tanya Lee Stone, Candlewick Press, $24.99 (147 p.)
Stone asks: What did it take to be a paratrooper in World War II? The answer: Specialized training, extreme physical fitness, courage, and—until the 555th Parachute Infantry Battalion was formed—white skin. But while white soldiers were sent overseas to fight the enemy, the 555th was assigned to fight forest fires within the United States, in part a response to Japan's bomb-laden balloons, found as far east as Michigan. Stone's interviews with surviving 555th members and many period photographs make this title a standout. Ages 10-up.
Maggot Moon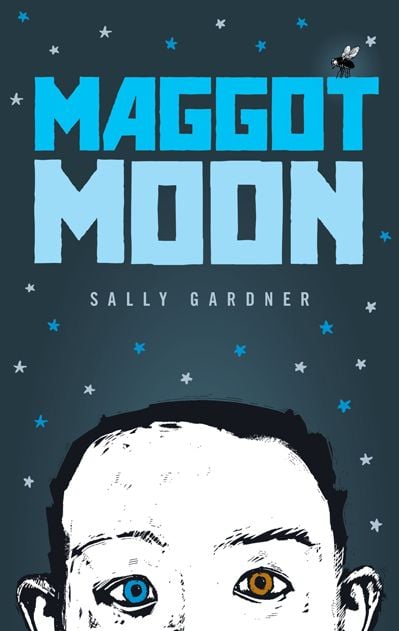 By Sally Gardner, with illustrations by Julian Crouch. Candlewick Press, $16.99 (288 p.)
A dystopian novel told in 100 short chapters, each representing the thoughts of dyslexic 15-year-old Standish Treadwell, an inhabitant of a totalitarian society. The Motherland is determined to be first on the moon no matter the cost to its impoverished citizens; when Treadwell uncovers a secret, his life may be in danger. Ages 12-up.
Rose Under Fire
By Elizabeth Wein. Hyperion, $17.99 (368 p.)
In this companion piece to last year's Code Name Verity, we meet Rose Justice, an Air Transport Auxiliary pilot ferrying everything from Tempests to Spitfires to Avro Ansons during World War II. While flying a Spitfire back to England from France, she's intercepted by two Messerschmitt Me 262s, and taken to Ravensbruck, a women's concentration camp in northern Germany. There she meets the "Rabbits" (Polish political prisoners) and a female Russian pilot, and the women vow to survive their horrific ordeal and bear witness to the world. Ages 14-up.
The Coolest Jobs on the Planet: Mars Rover Driver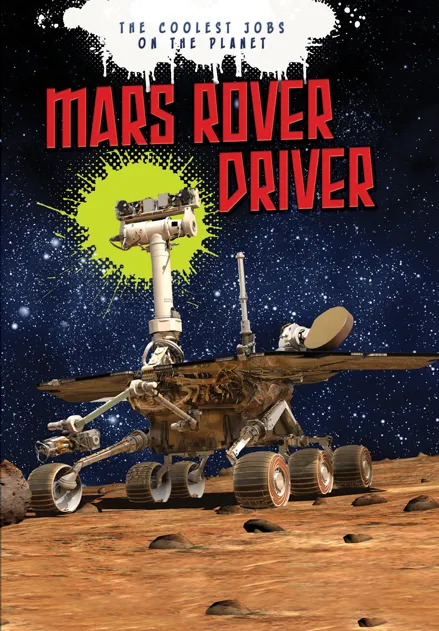 By Scott Maxwell with Catherine Chambers. Raintree, $25 (48 p.)
Scott Maxwell, of NASA's Jet Propulsion Laboratory, has remotely operated the rovers Spirit, Opportunity, and Curiosity on the surface of Mars. The book's first pages are devoted to Maxwell's background (he studied computer science), but quickly focuses on his (and the rover team's) day-to-day work directing the rovers to collect information on Martian geology, topography, and meteorology. (All very cool.) Readers also learn about past missions to Mars, from the Mariner spacecraft through the Pathfinder mission. Ages 10-13.
The Planet Thieves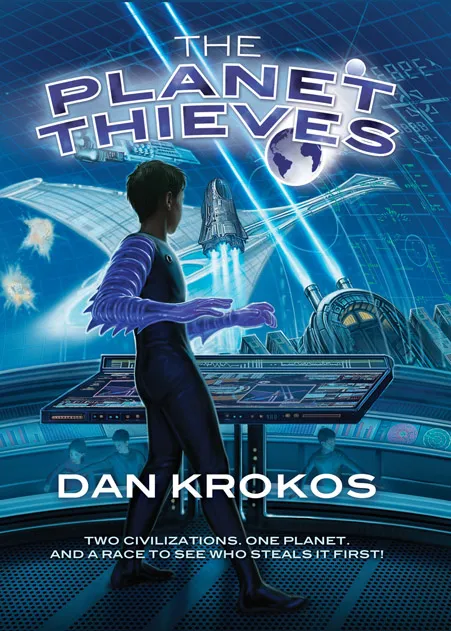 By Dan Krokos. Tom Doherty Associates, $15.99 (253 p.)
Thirteen-year-old Mason Stark serves aboard the SS Egypt along with its assigned crew and 19 other cadets from the Academy for Earth Space Command. Just two weeks into a routine voyage, the ship is attacked by the Tremist, an alien race at war with humanity. When the crew is captured, it's up to Mason and the other cadets to launch a rescue. Ages 8-12.
Women Aviators: 26 Stories of Pioneer Flights, Daring Missions, and Record-Setting Journeys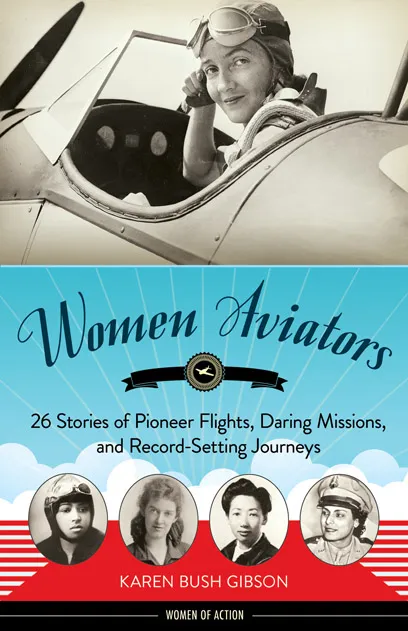 By Karen Bush Gibson. Chicago Review Press, $19.95. (208 p.)
Women Aviators features short biographies of a nice mix of female pilots—from Bessie Coleman in 1921 to Jacqueline Cochran during World War II to contemporary pilot Patty Wagstaff. Notes, glossary, and a bibliography add to this reference work for young readers. Ages 12-up.
The Saturday Boy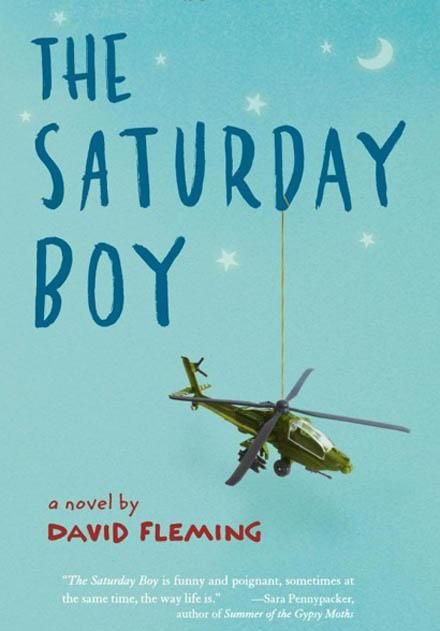 By David Fleming. Viking, $16.99 (261 p.)
It's been eight months, one week, and four days since 11-year-old Derek Lamb has seen his father, an Apache pilot serving in Afghanistan. Derek attempts to navigate his last year of elementary school, puzzling over a former friendship that has gone awry, and considering a new friendship with—gasp!—a girl. Whenever he needs advice or comfort, he turns to his father's weekly letters, more than 90 of them, stored under his bed in his father's old Knight Rider lunchbox. Ages 10-up.