Berry's Leap
In March 1912, Capt. Albert Berry made the first parachute jump from an airplane.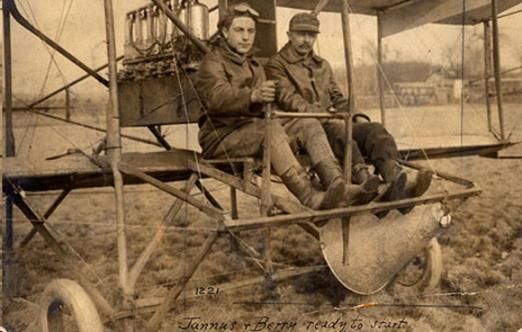 Tomorrow afternoon at the Jefferson Barracks military post near St. Louis, they're having a little celebration, and you're invited. The occasion: the 100th anniversary of what is generally considered the first parachute jump from an airplane.
On March 1, 1912, U.S. Army Captain Albert Berry climbed into a Benoist pusher-type airplane piloted by Tony Jannus, who two years later would achieve fame as the first airline pilot. At their feet was an odd, cone-shaped contraption with a parachute packed inside. They took off from Kinloch Field, and Jannus climbed to 1,500 feet. According to author Gene Eric Salecker, "As the plane neared Jefferson Barracks Army Base…Berry looked down and spotted an insane asylum. 'That's where we both belong,' he told Jannus."
The parachutist climbed out of his seat, situated himself on a kind of trapeze bar dangling from the front of the airplane, and attached the parachute to a harness he was wearing.
Then, according to a newspaper account:
Berry gave a quick jerk of a rope and with the parachute shot downward, while the aeroplane, first bouncing up like a cork, suddenly poised and steadied itself.

Hundreds of watchers held their breath as Berry shot toward the earth, the parachute tailing after him in a long, snaky line. Suddenly the parachute opened, the rapidity of the descent was checked, and amid cheers, the first aviator to make such an attempt lightly reached the ground.
"When the aeronaut landed," the paper reported, "the solders cheered and, lifting Captain Berry in their arms, half carried him to the office of Colonel Wood, the commanding officer, who congratulated him.
The conical container turned out not to be very practical, according to Salecker, and airplane parachutists soon found other methods of packing their chutes. As for Berry — who had gone into the jump with lots of experience parachuting from balloons — he was happy to be on the ground safely, having dropped 500 feet before his parachute opened. Asked if he would do it again, he replied, "Never again! I believe I turned five somersaults on my way down…My course downward…was like a crazy arrow. I was not prepared for the violent sensation that I felt when I broke away from the aeroplane."
Still, according to an article published a month later in Aircraft, Berry repeated his feat on March 10.