Racing's Fastest Biplane Is About to Face New Challengers
At the National Championship Air Races, the Biplane Class pits cutting edge against classic.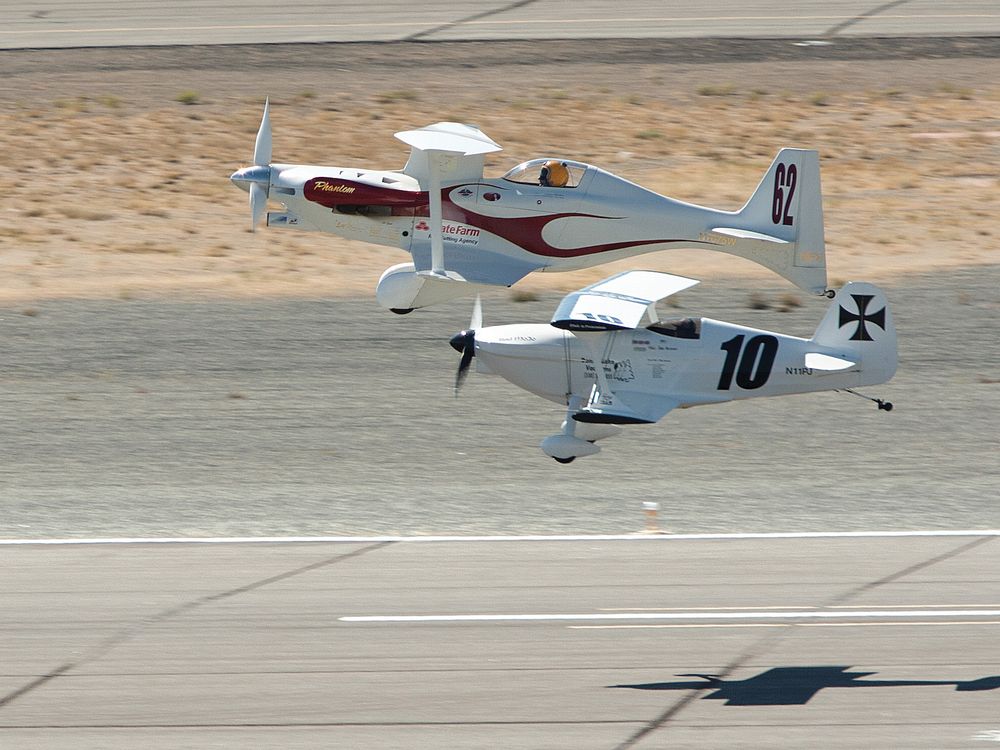 By the 10 a.m. opening ceremonies welcoming fans to the National Championship Air Races, one class of racers is already done for the day. The biplanes fly in the calm air of morning. They are kite-like—with a large wing area and relatively small mass—and have a more intimate relationship with the wind than airplanes racing in other classes.
Every September—except for this strange, COVID-canceled year—the air races, held just up the highway from the casinos in Reno, Nevada, create a brightly lit carnival town, populated by intense pilots, rowdy fans, inventive designers, and devoted ground crews. Beyond the brawny 500-mph warbirds of the Unlimited Class, the biplanes share a hangar with the sleek Formula Ones. "I like to call it the Anonymous Class," says 2016 biplane national champion Jeff Rose. "If we did it for the crowd approval, we'd have quit long ago."
The biplane races may not draw a crowd, but they do attract aggressive fliers in high-performance airplanes. Of the 18 racers entered in the 2019 Biplane Class, 15 were Pitts Specials—twitchy, single-seat sportsters that appeared in the 1940s and revolutionized aerobatic competition in the 1970s. The Pitts has dominated race entries since the late 1980s. "It became the one that most people bought," says outgoing Biplane Class president Mike Stubbs, "because it had super-strong structural integrity. They built 900 or 1,000 of them, and it got a name, not unlike the Chevy Corvette."
Last year, seven Pitts were fast enough to qualify for the gold race—the contest each class holds on the event's last day to determine who's fastest—posting speeds between 189 and 211 mph. But the only non-Pitts in the race was the one to beat. Phantom, a Mong Sport modified beyond recognition, had won 14 of the last 18 contests, taken the gold the previous year with a speed of 221 mph, and qualified last year at 245 mph. (Both the Biplane and Sport Class gold races were canceled in 2019 because of high winds.)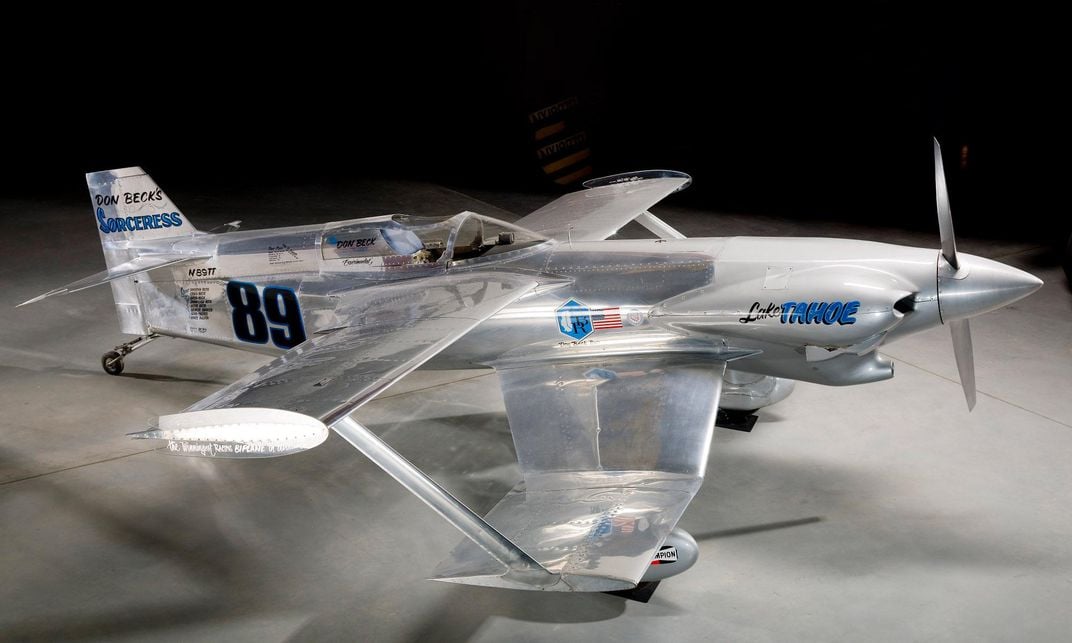 Phantom's creator, the late brilliant engineer Tom Aberle, has become another of Reno's many legends. He was as unbeatable in Biplanes as the phenomenal Darryl Greenamyer had been in the early years of the Unlimiteds, and, like Greenamyer, he challenged other pilots to push harder. "You always wanted to do more because [Aberle] raised the bar," says Rose, "but he never talked about it."
"He was a real gentleman, a real flier, a wonderful airplane builder, and my friend," says Stubbs. "But when he built Phantom, he just blew everybody away." Phantom's presence—Aberle's racing partner Andrew Buehler now pilots the beast around the pylons—puts the biplane class in a difficult situation. "It's really a tough one for me," says Stubbs, because the outcome has become so predictable. "Everybody else is racing for second place."
The Biplane Class has been in this tough spot before. One of the three original classes at Reno—along with Unlimited and Formula One—this category traditionally welcomed competitors who couldn't afford the care and feeding of a warbird but had an itch to go like hell across the desert. Pilots could buy, or, cheaper yet, build, any one of a fleet of popular midget biplanes—Smith Miniplane, Mong Sport, Baby Great Lakes, the ubiquitous Pitts—and go air racing.
"All these single-seat biplanes caught the eye of homebuilders all over the globe," says Ed Fisher, a pilot and certified Airframe and Powerplant mechanic who has built five Mongs, restored two, and knew Harold Mong back in the 1950s, when the little airplane Mong scratch-built to fit his 5'4" frame became so sought after that he enlisted a friend to draw plans he could sell. (More than 400 were sold.) "The Mong really stood out because it performed incredibly well on a small Continental engine, and it was the cheapest of all of them to build," says Fisher. "It was champagne performance on a beer budget."
In the first year of racing, the Mong faced faster biplanes—Knight Twisters, which, with their fully cantilevered wings, had no need for drag-inducing wire bracing. Moreover, they had superior airfoil design, and the three Knight Twisters entered in 1964 took the top three spots. In fourth place, was a Mong Sport piloted by Bill Boland.
The Twisters posed a threat to the 1950s generation of simple sport biplanes—and thus the ethos of the class. As a result, when the Reno Air Races moved to Stead Field in 1966, the Biplane Class got its first full set of formal rules, among which were provisions like minimum wing area that eliminated the original Twister design.
In 1965, a Mong piloted by Bill Boland, flying at 148.6 mph, grabbed first place in the gold race, starting one of the most remarkable runs by a single airframe in any class at Reno. By the end of the '60s it was apparent that the only practical answer to the highly-tuned Mongs was a clean sheet of paper and careful reading of the rule book.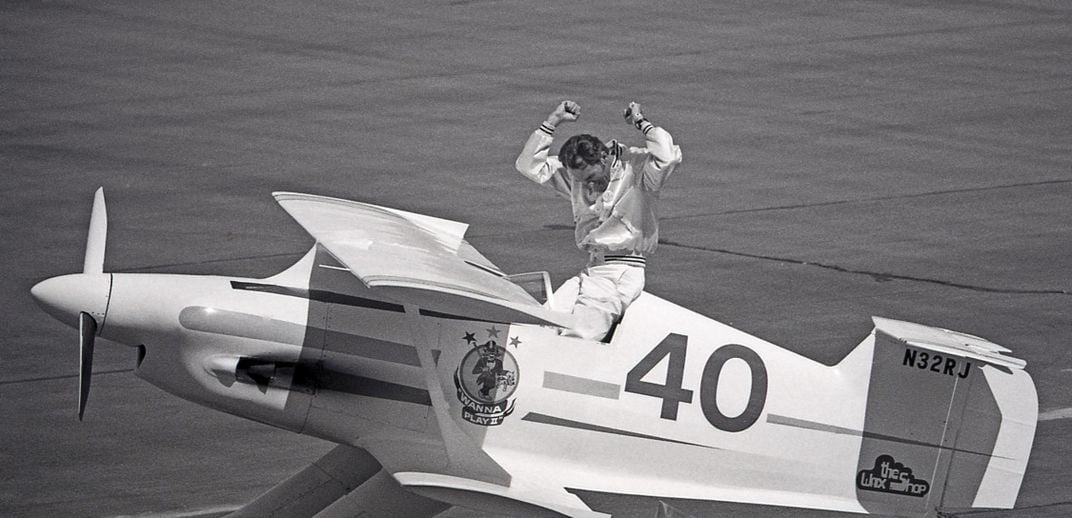 "Making a biplane go fast is like trying to make your barn go fast," says Earl Allen, a two-time champion who has flown more than 100 races since he began in 1974. Although biplane aerodynamics became a pretty much settled science in 1923, when Max M. Munk published a technical report for the National Advisory Committee for Aeronautics, in 1970, custom-designed racers began showing up without the forest of struts traditionally used to attach the upper wing to the fuselage and transmit its loads. Lee Mahoney's exotic, all-metal Sorceress, with a top wing that emerged from the fuselage, challenged Boland's Mong in 1970. Bill Warwick used the same construction that year on Hot Canary, which, according to a fan who runs the aviation website AirPigz, "did a better job [than Sorceress] of mixing edgy racer with cartoon whimsy." The most elegant solution appeared three years later, on Sundancer. Its top wing was a gull, bent at the root to meet the fuselage at an optimum angle; its bottom wing was an inverted gull. All three racers are in aviation museums today; Sorceress, at the National Air and Space Museum, is the first sport biplane to have exceeded 200 mph.
In 1981, Burt Rutan—at the behest of Danny Mortensen—joined the fray. The Amsoil/Rutan racer's two wings were staggered so far apart (to reduce interference drag) that the airplane could almost be considered a tandem-wing design. The lower wing also housed the landing gear.
Along with Boland's Mong, which had been purchased, relentlessly modified, and raced as Two Bits by Tom Aberle, these new custom biplanes were going so fast that in 1982, the class created a new subdivision: Racing Biplane. It produced one of the closest finishes in air racing history. In the 1982 championship heat, Pat Hines, flying Sundancer, nosed out Danny Mortensen in the Amsoil/Rutan racer. Mortensen finished with a speed of 209.2 mph; Hines was going 209.4.
"That dozen-year span between 1971 and 1983, which featured planes like Sundancer, Sorceress, Cobra and others, pushed the limits of imagination in air racing every bit as much as the Unlimited Class," says self proclaimed pit-lizard and Reno racing historian Bradley Haskin. "That class mattered. If you weren't there to see it, you'll never understand how amazing that era was."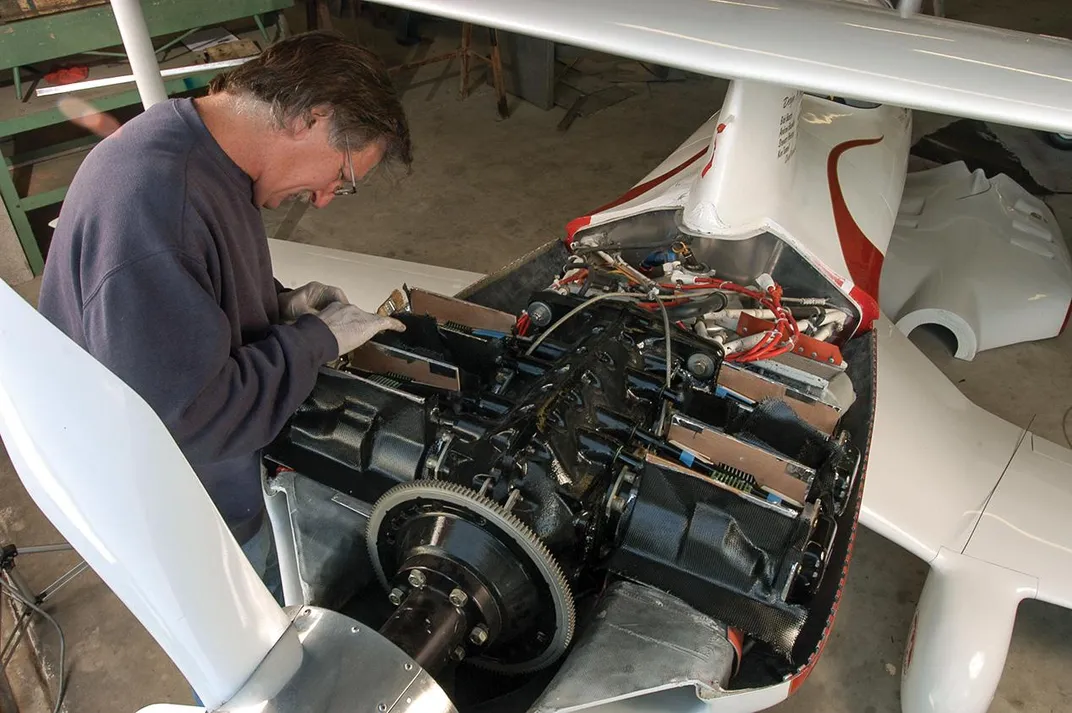 Mike Stubbs remembers a year when there weren't enough Racing Biplanes to fill a heat. He says, "Stan Brown was the class president at the time, and he said to Dennis [Brown] and me, 'You guys get out there and fill that gold class.' So these guys are going over 200 mph, and Dennis and I were running about 150. Plus they ran inverted starts—the slow planes took off first.
"You launch—you've got aerobatic props, so you get a good start—and you make maybe one lap, and you start hunkering down in your seat because you know what's coming. And here comes Sundancer, and they go around you like you're going backward."
The situation could not last. There were too few pure racers to form a separate class, and the majority of the Biplanes Class became frustrated by not having a chance at first place. In 1983, only three aircraft competed in the championship heat of the Racing Biplane sub-class: Sundancer, Sorceress, and Cobra, finishing in that order with a winning speed of 217.6 mph. (It would have been four, but Mortensen had demolished the lovely Amsoil/Rutan racer in a prior heat when he dodged an impending mid-air with Sorceress. His raceplane hit the ground at more than 200 mph. Because Rutan had designed the cockpit to withstand a 22-G impact, Mortensen miraculously walked away with only minor injuries.)
After 1983, biplane pilots approved new rules that included requirements for external bracing and a detached top wing, secured to the fuselage by struts or a pylon, which none of the custom aircraft had. Just like that, the era of the pure racing biplane was over.
"We lost some really good members who did not want to re-engineer their airplanes," says Dennis Brown, vice president of the Biplane Class. He believes those custom designs were attracting more talent and participation. "There would have been more people, eventually, and we'd have faster airplanes now," he says. Still, even though the rules change may have been detrimental in the long-term, it saved the class in the short-term because without it, Brown says, "Everyone else would have stayed home and let those four airplanes race."
The one exception was Tom Aberle, who earned a reputation for coming back every year with a sufficiently revised airplane that both met the rules and went a little faster.
In 1976, Aberle bought the first Mong that won at Reno, Bill Boland's airplane (then racing as Gone Mong), and placed fifth at 168.82 mph. Each off-season, Aberle worked to improve the aerodynamics, and the airplane steadily morphed until 1988, when, racing as Long Gone Mong, it bagged the fastest qualifying speed, 207.72 mph, and took second on Sunday at 203.98 mph.
Thirteen years later, Aberle arranged the sale of the modified Mong to newcomer Patti Johnson, who piloted the airplane to the meaningful end of a remarkable career (see "She Flew Full Tilt"). From 1964 through its retirement in 1994, the Boland/Aberle/Johnson Mong raced with five different race numbers and seven names, winning its second race at 148 mph and its last race at 212.81.
Tom Aberle's second act began with a partnership deal on another Mong—this one owned by Andrew Buehler. Aberle applied all he had learned in nearly two decades of racing, including his signature updraft cooling. Dumping the cooling air into the natural low-pressure area on the top of the engine cowling reduces drag, cools the engine better, and increases speed. Phantom emerged as a purebred raceplane so fast it simply flies around everyone else, leaving the pack behind. Is the Biplane Class due for another rules change to eliminate an airplane that nobody else can catch?
"I don't see Mike and Dennis changing things to exclude a phenomenally successful airplane," says Patrick McGarry, an airline pilot with a fat logbook of varied experience, a U.S. national aerobatics championship title, and an FAA Airworthiness Inspector certificate. "They built that airplane to the rules, and they did a great job. They had an incredible pool of talent. Of course Tom Aberle was an amazing, talented guy." McGarry met him in 2007, when Phantom posted the division's top qualifying speed—251.5 mph—but engine trouble forced it from the gold race. Jeff Lo's custom airplane, Miss Gianna, flown by Cris Ferguson, won. "But Tom Aberle was there at the awards banquet," says McGarry. "His airplane's torn apart on a trailer ready to go home, but Tom dressed up in his signature white tux and stuck around to support the guy who won. To me that says a lot."
McGarry's Pitts Racer X is the fastest Pitts without clipped wings in the class (shaving inches off the end of a wing is a racer's trick to gain speed). He finished sixth in the gold race last year and says he's racing against the previous year's speed as much as against the other airplanes circling the pylons. "Also my friend had this airplane, and he did pretty well with it," he says, "so I've got to make it go faster than he went."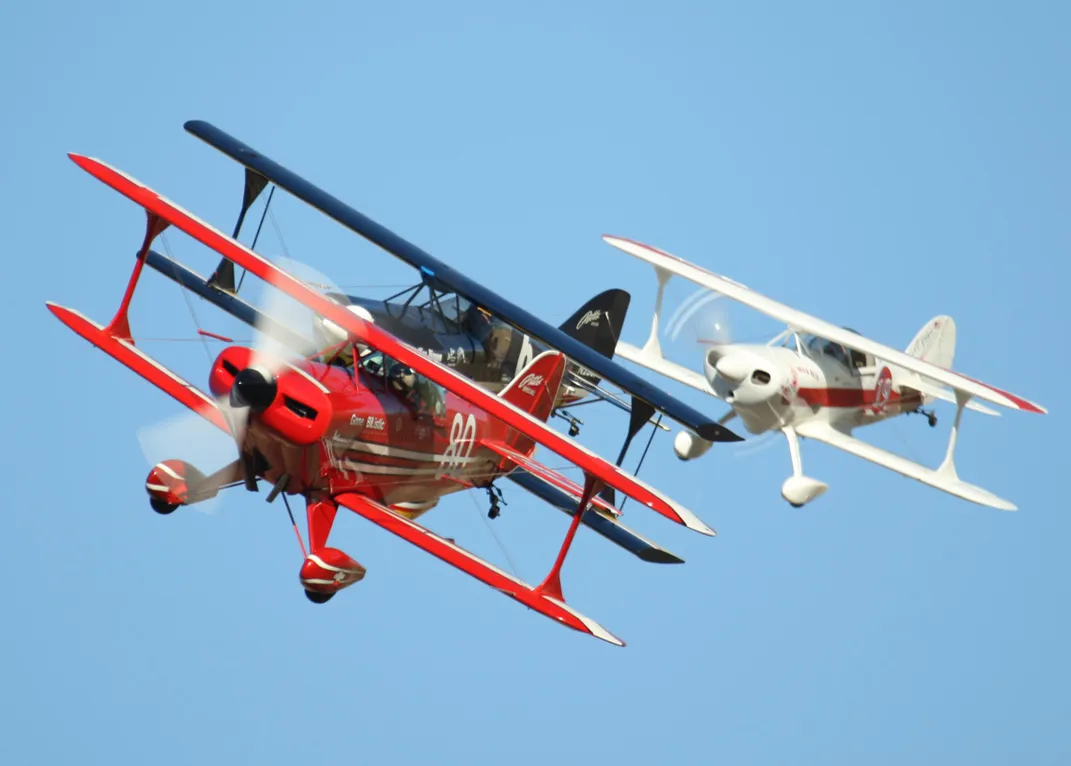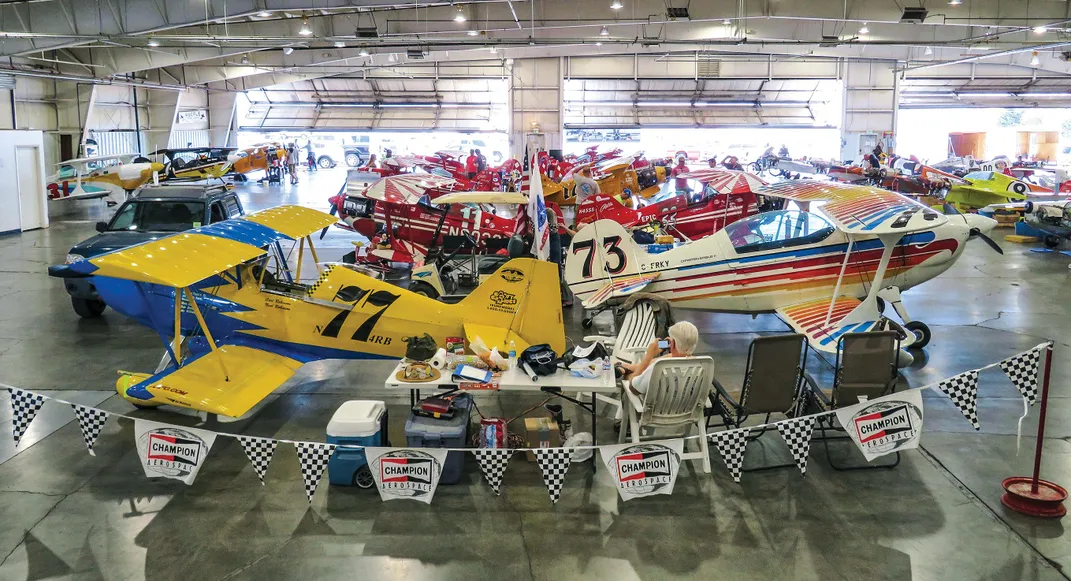 Among the modified Pitts Specials chasing Phantom is Miss Gianna, the racer that won when Phantom pulled up and out of the race in 2007. Owner Jeffrey Lo enjoys racing his other airplane, the stock Pitts Miss Dianne, in the silver race. He says the silver, which he has won fairly steadily in recent years, offers the best competition. "In any grouping," he explains, "there is a bell curve, and the middle of the pack has the most amount of data points with the least separation." Miss Dianne, with its Falcon wings enhanced for aerobatics, is at the front of the middle of the pack. Lo has other hopes for the purpose-built Miss Gianna.
Self-taught engineer and 2007 class champion Cris Ferguson designed Miss Gianna, which features a foam core and carbon-fiber skin. Ferguson is working on modifications to make the airplane even faster. Miss Gianna 2.0 is expected to race in 2021.
A year further out, Jeff Rose intends to field his Element 6 project. Rose has revised a Stevens Acro tube fuselage with a carbon fiber skin. To that he has added a pair of state-of-the-art aerobatic wings.
And even further in the future lies the shimmering mirage of the Boomerang. In 2012, biplane racers Karl Grove and Dennis Vest began talking about a dream machine with aerodynamicist Paulo Iscold (see "The Next World Speed Record," August 2015). Their dream is a biplane configuration which features a severely forward swept top wing. Iscold, an aerospace professor at CalPoly in San Luis Obispo, calls it "probably the most optimized biplane design ever made within the current biplane class rules."
Currently existing only as CAD files on Iscold's hard drive, Boomerang is the high-tech future of biplane racing. In the mind's eye, one can see a 2022 field including Phantom, Miss Gianna, Element 6, and Boomerang fighting it out for the Sunday gold championship. "That," says Iscold, "would be a very interesting race."
And it would take place in one of Reno's most vibrant classes. The Biplane Class has set records, put airframes in museums, blazed a trail for gender equality, suffered runway collisions and fatalities, and raced to photo finishes. These new designs suggest the best years may lie ahead.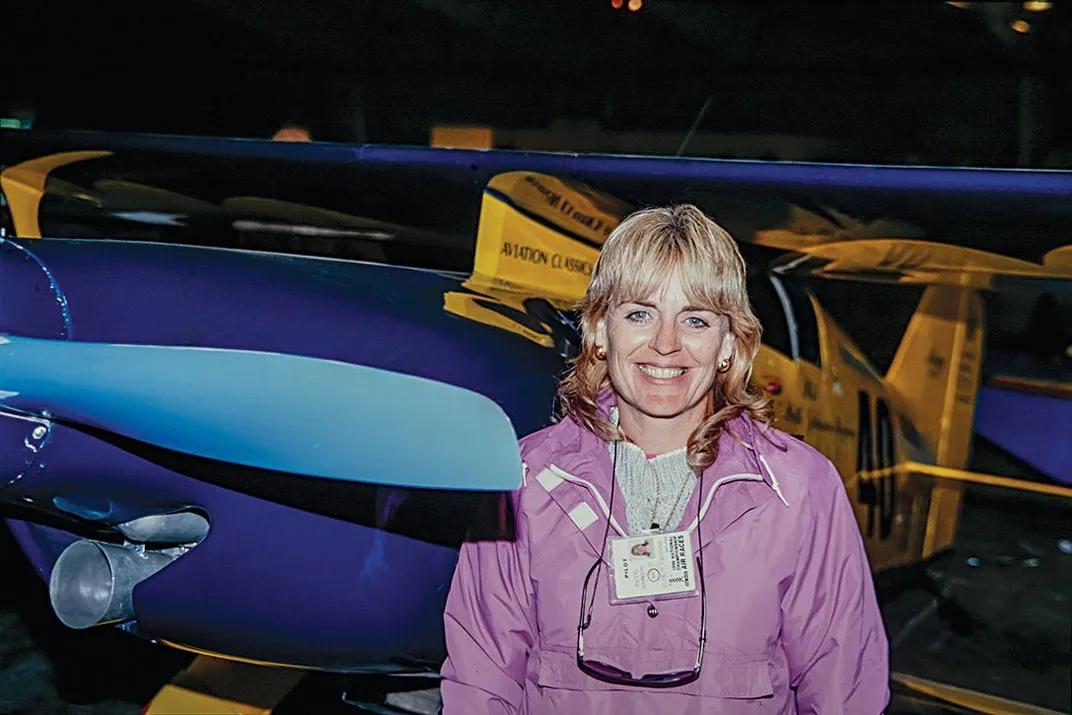 She Flew Full Tilt
Patti Johnson didn't set out to fly through anyone's glass ceiling, but she and her sister grew up loving airplanes after their pilot dad took them to the airport as children.
On her first trip to Reno in the 1970s, she was impressed by Formula One racer Judy Wagner and U.S. Aerobatic Team member Carolyn Salsbury. "You know how a seed gets planted," she says. Johnson set out to master both racing and aerobatics.
She earned a place on the U.S. aerobatic team in 1980 and '82 and started racing biplanes in 1992. "Aerobatics helps with racing," she says. "It's a confidence thing. You have to know that no matter what happens, you'll be able to handle it." In 1993, she became the first woman to win a Reno class championship and the first in the world to win a mixed-gender, closed-course race. "I didn't have any doubt at all that I could," she says. "That was the whole point of getting a capable airplane, and working and improving it till I was happy with it."
The other racers, she says, took her seriously. "They cared about me. They were all very helpful," she says."I got a standing ovation from those guys at the awards ceremony."
When she won a third time, in 1996, flying Full Tilt Boogie at 212.8 mph, she knew it was time to stop. "It's a very difficult airplane to fly," she says, and racing is dangerous."I felt my number was up."