Barefoot Pilots of the Maldives
A remote island nation becomes a finishing school for floatplane pilots.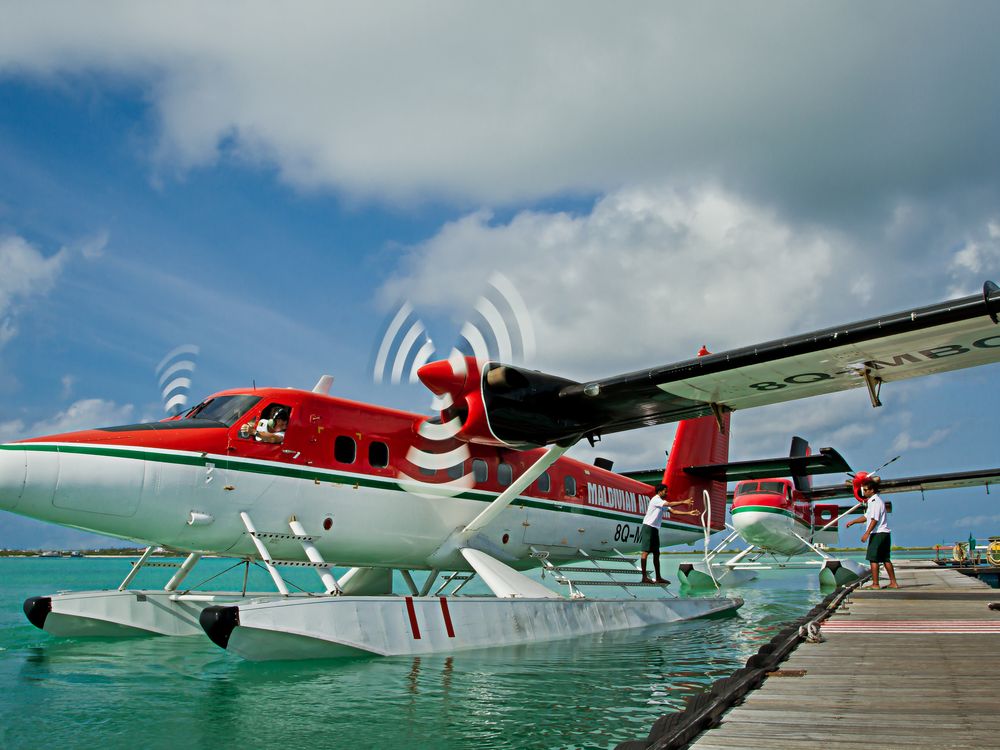 Only traces of the monsoon could be seen from the cockpit. At 4,500 feet, Captain Ulrik Nielsen shielded his eyes against the setting sun, then pointed to a stack of cumulus clouds hovering over the aquamarine Indian Ocean. Rather than slicing through the five-knot wind, the floatplane rocked gently with it like a kite on a blustery day. Nielsen's cargo of tourists noticed only the doughnut-shaped array of coral islands that stretched below.
"Just a bit of local showers. You can go around them if you like," Nielsen told Neil Travers, a trainee copilot who, like Nielsen, wore green cargo shorts and aviator sunglasses. Both men work for TMA, an island airline formed by joining Trans Maldivian Airways with another carrier, Maldivian Air Taxi. And both had jettisoned their flip-flops after boarding the floatplane and were flying with bare feet. "Looks kind of picturesque though," Nielsen said.
That was an understatement. A remote island nation about 250 miles southwest of India in the Laccadive Sea, the Republic of the Maldives comprises nearly 1,200 islands, around 200 of which are inhabited. Many of the rest, which make up 26 atolls spread out over 35,000 square miles, are nothing more than rings of sand surrounding Tiffany-blue lagoons or bottle-green mini-jungles. The beauty of the Maldives—along with their remoteness—has made the islands a vacation spot for the affluent—and TMA a successful business. The reefs are among the most diverse marine habitats in the world, home to manta rays and giant turtles. And the skies are abuzz with Twin Otters, the floatplanes in the TMA fleet.
***
In India, there's a lot of talk about Twin Otters: They are proposed for an air service that will link the beaches of the country's west coast; they provide transportation around Sri Lanka or India's Andaman Islands, and to the north, the Chinese knockoffs known as Twin Pandas ply the mountains of Nepal. The Maldivian service, however, has the biggest Twin Otter fleet in the world. Run by Trans Maldivian Airways, the 44-aircraft service links resorts spread across the atolls and supports the Maldives' most profitable industry: tourism. As the service has grown, it has become the template for other seaplane operators worldwide, and among a globe-trotting breed of Twin Otter pilots, landing a flying job in the Maldives is a point of pride. Many pilots who want to try open-ocean flying come to the Maldives, and some stay for years.
I was listening through a headset as the crew made a late loop, flying tourists to three luxury resorts—the vast majority of the Maldives' resorts are high-end—in Alifu Atoll, about 50 miles southwest of the Ibrahim Nasir International Airport, which is little more than a runway on an island made of reclaimed sand adjacent to the capital island city of Malé. With me were 13 passengers from Russia, China, and Europe, who sat with faces or cameras pressed against the Otter's windows.
Unlike western Canada and Alaska, where many of the Maldives' floatplane pilots (and airplanes) got their start, the Maldives has no thick fog clinging to glassy water surfaces or mountains to navigate around—its highest elevation is only 26 feet. Seaplane pilots fly according to Visual Flight Rules. But open-ocean flying in a tourism-dependent resort nation has another set of challenges.When the monsoon is robust, pilots may have to land in heavy crosswinds with the floats straddling swells that can reach three feet. Were a pilot to land into the wind, on the crest of a wave, the airplane, if unable to stop fast enough, could be pitched back into the air by the next wave, which could cause it to stall at a very low altitude.
Nielsen advised Travers to keep clear of a jet-skier who is straying near the landing zone and to radio Dispatch to request a dhoni, the traditional Maldivian wooden boat that meets passengers at the floating platform where the airplane will dock. Travers made a steep, nose-first descent and set the airplane down just outside the coral reef that rings the resort island, the boundary of which he judges from the change in the water's color.
***
In the Maldives I met Ken Simkins, who has been training Twin Otter pilots since 1983 and became the chief pilot for Maldivian Air Taxi shortly after the airline began in 1993. At that time, says Simkins, most of the airplanes, pilots, and engineers were supplied by the Calgary-based charter Kenn Borek Air, which leases aircraft for polar scientific expeditions, U.N. missions, and oil exploration support.
The Portuguese and Dutch had settlements in the Maldives before it became a British protectorate, in 1887. In 1965 it gained independence from the United Kingdom, which retained use of the base at Gan in the southernmost Seenu Atoll. Simkins, who served in the Royal Air Force and the Canadian Air Force from 1970 until he joined KBA in 1993, had visited Gan in the mid-1970s. Recently, its airstrip was developed as another base for tourist flights, including flights in seaplanes.
Simkins first met Maldivian Air Taxi owner Lars Erik Nielsen in the summer of 1993, when Nielsen was in Vancouver looking to rent or buy a seaplane to bring to the Maldives. "Nielsen had come out here as a diver, and his thinking was: 'People want to go to these islands, but after they've been traveling for 16, 18 hours, they don't want to do another three and a half hours [in a boat] in the open ocean, getting seasick.' He thought seaplanes might be the answer. When we started, there were maybe half a dozen resorts served by seaplanes; now there are a hundred or so."
Flight operations manager Ulrik Nielsen (no relation to Lars Erik) is also one of the airline's longest-serving employees, having joined in 1997. The Maldives first appeared on Nielsen's radar when his brother moved there in the late 1980s to work as a diving instructor after seeing the stunning landscape through the window of a Thai Airways 747 on a refueling stop. On a visit, Nielsen, who was floatplane-certified, met some of the seaplane pilots. Six months later, when he was in his native Denmark flying corporate charters in Beechcraft King Air turboprops, Nielsen received a call from a Maldivian Air Taxi recruiter, who asked if he could be in Malé the next day. "I could literally leave my job at the time and just go, so I did," Nielsen tells me during a visit to the air taxi's dockside terminal, set in a man-made lagoon.
Floatplane pilots, says Nielsen, are a small, itinerant community. Many in the Maldives hail from other floatplane environments, where there are few roads but lakes and rivers abound. Other Twin Otter pilots flew with wheels in Australia, and some have flown with skis in Antarctica. "Everybody knows everybody," Nielsen says. "It's a very international group [because] floatplane flying is seasonal work. In the northern hemisphere, when it is winter and there are no jobs, they come here. Then they go back home during the [summer] low season here. Some are doing firefighting in North America, and they come here in the winter when there are no fires. It is a very natural rotation."
***
de Havilland Canada discontinued production of the Twin Otter in 1988 after having exported them to 74 countries, but the DHC-6 Otter is still the ideal airplane for an environment like the Maldives.
Servicing more than 60 resorts, the new TMA flies about 500,000 return-trip passengers each year. Inaugurated in 1989, the original Trans Maldivian began as a helicopter service, but besides being safer and cheaper, "Twin Otters are more robust and very maneuverable," says former managing director Edward Alsford. "They're a good workhorse, and they chuck up less noise and sand than helicopters. Plus seaplanes are far more romantic."
TMA has only legacy airplanes, 20 of which are Twin Otter DHC-6-300s. The other is a rare Twin Otter Vistaliner, which was retrofitted with extra large windows by Twin Otter International, a company that converts them for sightseeing in the Grand Canyon. They are all more than 30 years old, says maintenance manager Gareth Rees, who is from Wales. When they're acquired, modifications are made, including installing new avionics and cutting weight by removing the wingtip fuel tanks and the internal heating systems so crucial in the northern hemisphere. Each aircraft is given a complete overhaul every nine years. "When it goes back on line, in my view, it is back to being a new aircraft," says Rees, who worked on 747s and Concordes in Wales before a 13-year stint in Jeddah, Saudi Arabia.
In the hangar during my visit was an aircraft acquired from a seller in Greenland, which after a tour in the Maldives was being checked for saltwater corrosion, the air service's "biggest problem," says Rees. "All of our preventive maintenance and inspections are looking towards it," he adds.
The airline tries to maintain two captains and two copilots for each airplane; more than half the pilots, and all of the cabin and terminal staff, are Maldivian.
For the pilots, days begin at 4:30 a.m. and usually involve four to six hours in the air. Expatriate pilots typically fly for three months, then rotate out for a month-long leave.
The challenge, says Fredrik Groth, former head of Maldivian Air Taxi, has always been finding—and keeping—experienced Twin Otter pilots. "In terms of the expats, you have a small group that are very loyal," he says. "They love it here and they always come. But there's another group that's just floating around the world, going wherever the best opportunity happens to be." The goal, he says, is to have Maldivian pilots make up the year-round workforce and let the ranks swell with expats during the winter high season. To that end, the air taxi has an active training program for Maldivian pilots. "The locals typically come in with a very basic two to three hundred hours [in the air]," says Groth. "They've gone and taken a license somewhere and we train them from the beginning."
Captain Hassan Shareef was the first Maldivian employee with Maldivian Air Taxi, having joined in 1993, before the company acquired its first airplane. "We just had a small apartment office in Malé," he says. "There were just eight of us, and everyone worked together getting paperwork and government permits together." Their first office at the terminal was in a shipping container.
Shareef remembers his father taking him to the airport when he was 10 to see the first charter Condor Air jumbo jet land in the Maldives. "It was the biggest aircraft that had come here up till that point," Shareef says. "A lot of people from Malé came [by] dhoni and waited by the runway to see that flight land. From then, I wanted to be a pilot."
Eight years ago, Shareef went to Florida to get his seaplane rating after Maldivian Air Taxi agreed to match the $20,000 his father-in-law gave him for flight training. When he returned to the Maldives, Ken Simkins trained him in Twin Otters.
Groth and Alsford say they see some Maldivian pilots starting to shift to land-based airlines, especially with the launch in 2012 of Mega Maldives, an airline with a fleet of 767s serving the Maldives from China. "Some more experienced guys are starting to say 'Hey, are we going to fly these floats the rest of our lives, or are we going to do something else?' "
***
For foreign pilots who don't scuba dive, fish, or surf, the Maldives might seem like an aquatic prison. Local food is tasty but often too spicy for the average Canadian palate, and good Western food can be found only at resorts, which are geared more toward honeymooning couples than weary pilots.
The island of Malé is one of the most densely populated places in the world, with more than 100,000 people living on two square miles. The tug between the conservatism of Maldivian society and the permissiveness of the resorts is evident to expat pilots more than to tourists, who see little local culture. In Malé many women wear headscarves along with skin-tight jeans, and young men with shaggy hair ride scooters past the gold-domed mosque. At the same time, Malé is a conservative Muslim city: Life disappears from the streets on Fridays. Accordingly, Thursday evenings see the dhonis from Malé freighted with would-be revelers headed for the Hulhule Island Hotel, which has the capital's only bar. The HIH is like an aviation-industry purgatory, its halls and buffets stalked by airport employees, floatplane pilots, flight crews on layover, and foreign contractors.
Ken Simkins, who recruits for the airline, says honesty is the best policy. "I don't want [prospective pilots] to think it's all wonderful here," says Simkins, who spends his downtime on the Internet, remotely planning the building of his next log house back in Canada. "After they have been here a couple of months, the other side starts coming out, [like] your lack of freedoms, or the fact that you can't get in your car and go out and have a steak and a beer. The last thing I need is for a pilot to come here from New Zealand and think it's wonderful and after three months say 'I can't handle this.' So we tell them about everything, from local customs and culture to flying in the heat. We want them prepared because we don't want them to make a mistake when they are here, because some of our customs in Western countries do not go down very well here."
In the nearly 25 years that the air taxi has been flying, Malé has changed significantly. When Ulrik Nielsen arrived in the 1990s, the buildings were low-rise and the roads unpaved. "At that time it was around 60,000 people living there," he says. Since then, the population has increased to more than 103,000, and more land has been reclaimed to make room for more pastel-colored, 10-story-plus buildings. The migration was abetted by the 2004 Indian Ocean tsunami, which caused extensive damage on many of the local islands, causing an exodus. (The Maldives were spared worse damage by the barrier reefs. The air service was lucky that most of its airplanes were in the air when the tsunami struck, but several airplanes in the hangar were damaged.)
Malé is easily walkable, but its streets are choked with traffic, and cars and motorbikes whiz around streets as narrow and twisted as those in an ancient Italian hill town. In February 2012 there was a change of leadership that the deposed party describes as a coup d'etat; after Buddhist artifacts in the National Museum were smashed by a mob, many expat pilots worried that religious extremism was on the rise. There are more frequent demonstrations, but so far, the change in government hasn't had a profound effect on tourism.
***
Still, flying in the Maldives is something most Twin Otter devotees want on their résumés. "I've never met a seaplane pilot that hasn't heard of the Maldives, even if they don't know where it is," says Rob McIntyre, a former captain with Maldivian Air Taxi. "It's a legendary job, and I'm really proud that I'm part of that exclusive club. There's no better feeling than putting an airplane down in water that you wouldn't even want to be in a boat in, and the passengers don't even notice until the plane has stopped and is bobbing up and down in the water."
"And," says McIntyre, "the whole concept of barefoot flying is just too cool." Neither is it a pose. McIntyre says it's much easier to get traction on slippery floats in bare feet. Floatplane pilots in Canada would go barefoot too, he says, if the water there weren't frigid.
After two years in the Maldives, McIntyre flew charters in wheel-equipped Twin Otters in Angola, which offered him longer home leave and was closer to his Canadian home—and his family, who tired of life in the Maldives. He's now a production test pilot on the new DHC6 Series 400 Twin Otter. McIntyre says his Maldives experience helped him in Angola, where he might take off on a paved runway but land on a soccer field or in six inches of mud.
Experience, says Ulrik Nielsen, is one of the Maldivian service's strengths. "Because this is the world's largest seaplane operation, we set a lot of standards," says Nielsen, who is often visited by foreign officials interested in setting up seaplane services. "They are looking to us to see what's possible, what kind of volume you can do with a daily float operation." When Nielsen helped set up a floatplane service in the Greek islands, "I basically took everything from here and set it up there: platforms, water runways, takeoff lanes, emergency equipment, boats, transfers, and how the crewing is done."
As I was leaving the Maldives, I decided to lay over in Colombo and fly with Sri Lankan Air Taxi (SLAT), a fledgling service set up with the help of Ken Simkins and originally run by Sri Lanka's national carrier using aircraft and crews from Emirates Airlines. At a dock rented from a Buddhist temple on a bend in Colombo's Kelani River, I boarded a Twin Otter painted in the technicolor tropical motifs of SLAT. The captain that day was another Canadian, Bruce Gordon, who described himself as "a classic bush pilot." Both Gordon and his copilot had flown in the Maldives, as had SLAT's fleet of Twin Otters.
Sri Lanka is a more traditional Twin Otter environment—bad roads, natural hazards, variations in elevation, and short hops generally unsuited for jets. On mornings like this one, when my nearly empty flight to Lake Gregory in the Nuwara Eliya hill station was delayed more than three hours because the Sri Lankan president was using the airspace, Gordon felt nostalgic for his Maldivian days, where schedules are made and adhered to and the airplanes flew at capacity with passengers who never complained. After ferrying a few businessmen to and from Nuwara Eliya, Gordon sat in a shipping container on the river's bank filling out paperwork and spoke fondly of his tour in the Maldives, where he says he might one day fly again. "Everyone should do a tour in the Maldives, with those extreme conditions, flying for weeks at a time in 30 knots of wind and heavy swells," he says. "It's like a finishing school for floatplane pilots."