Aviation Art: The Lighter Side
In wartime, a customized Zippo was part of an airman's identity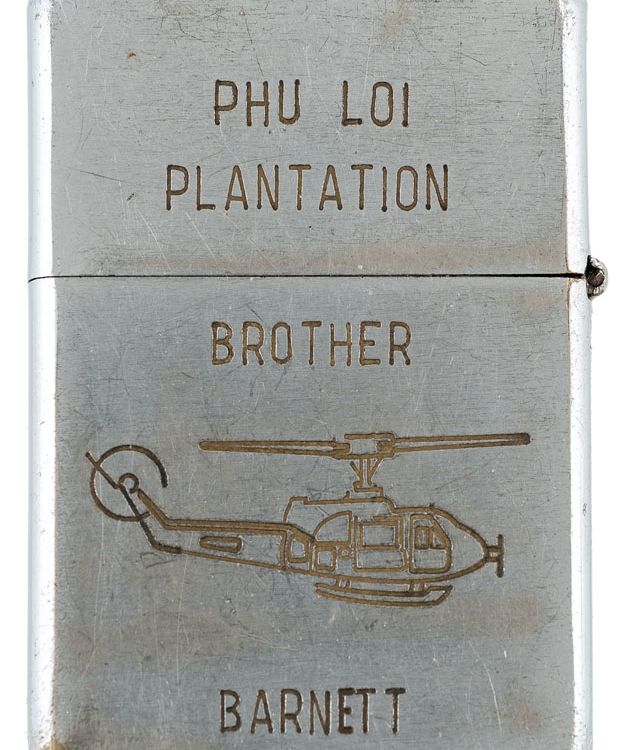 The Vietnam War-era Zippo lighter—part pop art and part military artifact, according to author Sherry Buchanan—was sold in PX stores in-country, and engraved with personalized messages and drawings at Vietnamese village stalls.

This form of military art, says Zippo's Web site, actually began during World War II. "From 1943 until the end of World War II," notes the site, "Zippo's entire production was shipped to Army Exchanges and Naval ship stores for the soldiers in combat around the world.... Many soldiers customized their Zippo lighters, scratching in names, places, images, and messages of all kinds that suggest their hopes, dreams, fears and longings."

The lighter above features the iconic Bell UH-1 "Huey" helicopter. Phu Loi, the former French artillery training center, was located about 30 kilometers northwest of Saigon. It became (among other things) the base camp of the 128th Assault Helicopter Company.

Steve Dillman, a member of the 128th Assault Helicopter Company from 1967 to 1968, recalls: "In the gun platoon it was a common thing to have a Zippo cigarette lighter that had been engraved in downtown Phu Loi with your name, call sign, 128th AHC and an armed B Model UH-1. My engraved lighter is one of my most prized souvenirs from Viet Nam. I completed my active duty time with the Army in 1969, and searched for work as a helicopter pilot [in my hometown of Etna, California]. While at home, I participated in the recreational basketball program. At one of the games my Zippo was stolen from the locker room. In 1985 I was serving as an umpire for a ladies softball game [and] I was approached by a lady spectator. She asked if I was Steve Dillman and I told her I was. She then handed me the Zippo that I had not seen in 15 years. I asked her how she had come to have it. She explained that she had gone to a church-sponsored yard sale. It was at this sale that she picked up my lighter. I thanked her and told her how much that little Zippo meant to me."

See more engraved lighters in the gallery below.
335th Assault Helicopter Company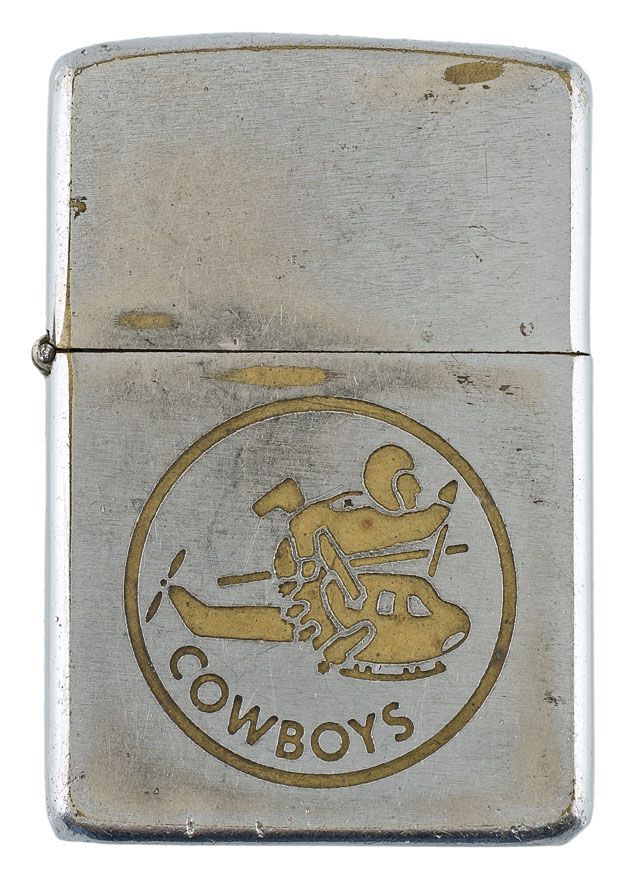 "This looks like the Zippo lighters that were given to us when our tour was up and we went home," says Jim McLaughlin, who was with the 335th Assault Helicopter Company in Vietnam from 1967-1968. "The emblem is taken from the original Cowboy patch that was changed in late 1967 or early 1968. Early in the war the Dallas Cowboys football team gave the unit permission to use their name and logo, and the patch and emblem were worked up from some of their stuff."

The design was based on the logos that pilots with the 335th stuck on the doors of their Hueys. McLaughlin has a pristine version of the lighter in his collection.

"This [Cowboys lighter] was a special order," confirms Zippo historian Linda Meabon. "They were ordered through the division, or the battalion in Vietnam, so we don't actually have records. The company couldn't keep records for the hundreds of thousands that they did through the years. The minimum to even do the engraving was 50 lighters, and they could order 500 or up to 1,000. Even though I have worked at Zippo for over 44 years, I have not seen this one."
Sidewalk Kiosks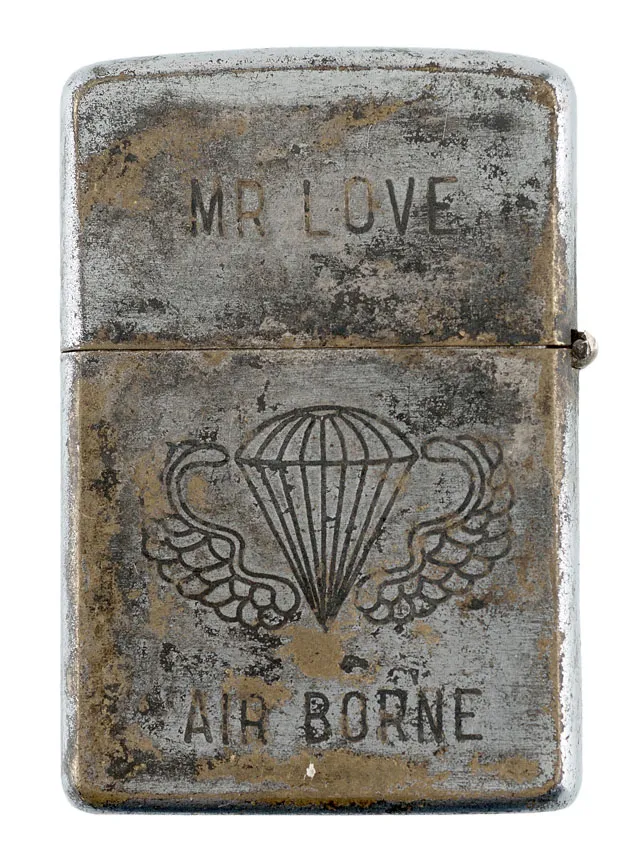 "Over 3 million individuals spent time in Vietnam over the course of the war," writes Sherry Buchanan, "and most of them had at least one Zippo. They were all imported through the base PX [Post Exchange store for U.S. goods] and were available for $1.80. Zippos were personalized at sidewalk kiosks by special machines that could do metal engraving. They had a wide selection of designs and templates—the customer could choose one or have their own made, just like a tattoo parlor. A number of them were acid-etched at the Zippo factory in the U.S. with official military emblems and crests. Others were crudely hand etched with hand tools, drills and metal-stamping rods by the GIs themselves."

This lighter, featuring a basic parachutist's badge, was etched in Vietnam, or by the owner. The emblem of an open parachute over a pair of stylized wings indicates that the owner passed proficiency tests while assigned or attached to an airborne unit, and that he had made at least one combat parachute jump.
Snoopy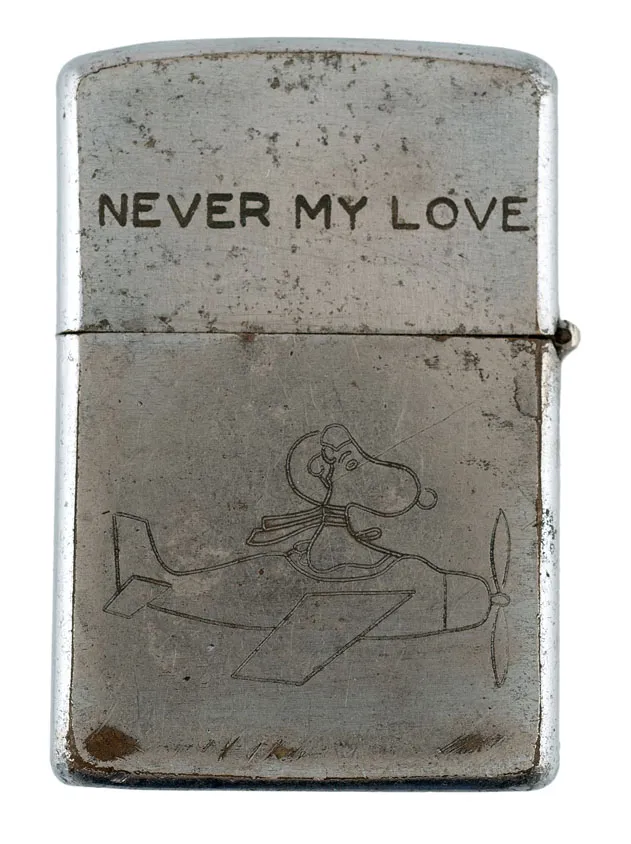 "Snoopy the Flying Ace replaced Bugs Bunny of World War II nose art fame as the most popular cartoon character of the conflict," writes Buchanan. "The beloved delusional beagle first crawled on top of his doghouse and cursed his imaginary enemy the Red Baron in October 1965, just as President Lyndon B. Johnson increased U.S. combat troops from 3,500 Marines in March to close to 200,000 by December. "Snoopy vs. the Red Baron," by the Royal Guardsmen, climbed to the top of the American Forces Vietnam Network charts in 1968 as GIs sought comfort in the wake of the Tet Offensive in the beagle's ability to defeat his nemesis, the Red Baron—read the Viet Cong—in the song's final chorus: Snoopy fired once / And he fired twice / And that Bloody Red Baron went spinning out of sight."
Zippo Songs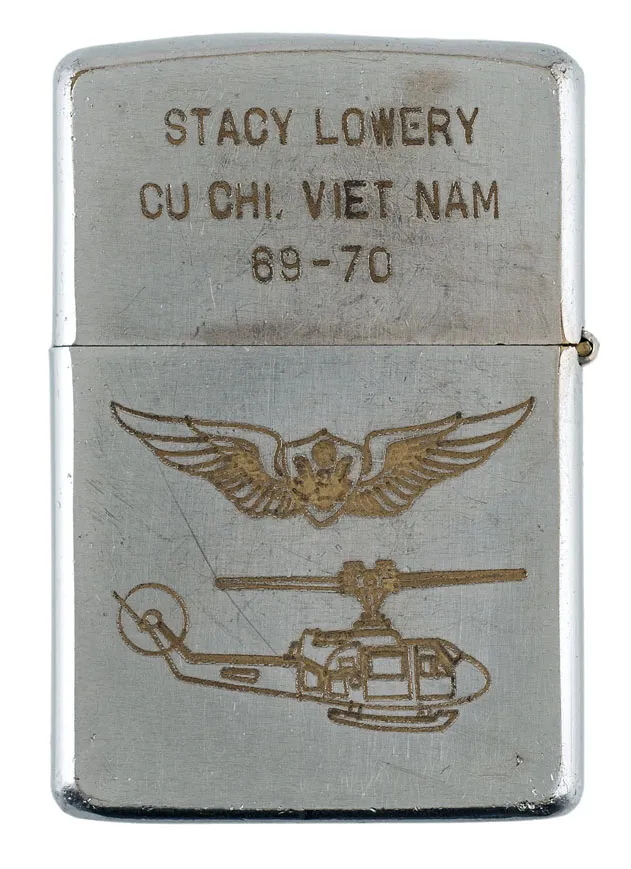 The lighter has even inspired a song cycle, composed by Phil Kline. In "Zippo Songs," Kline includes 26 sayings engraved on Vietnam War-era lighters. The New Yorker reviewed the composition in 2004, calling it "one of the most brutally frank song cycles ever penned. The texts range from the caustic ('If you got this off my dead ass, I hope it brings you all the luck it brought me') to the mystic ('You've never lived until you've nearly died.')"

Cu Chi was the base camp for the U.S. Army's 116th Assault Helicopter Company.
Lindbergh Collection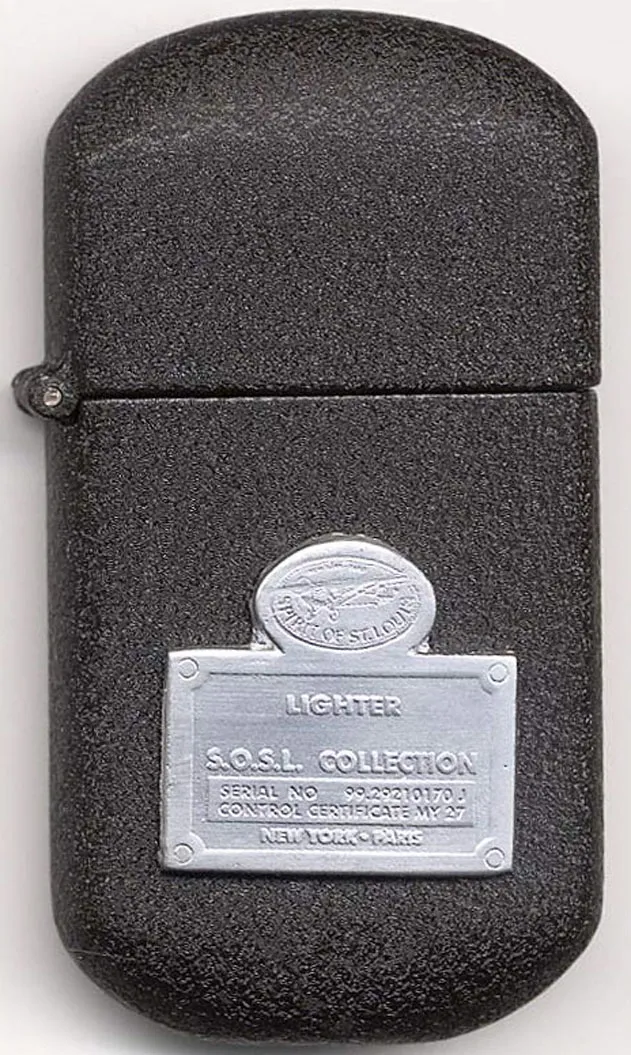 The National Air and Space Museum has roughly 20 lighters, mostly from before the Vietnam War. The majority are from the Lindbergh collection, says curator Alex Spencer. The Museum's popular culture items depicting Lindbergh's record flight include everything from ashtrays, underwear, and wristwatches, to purses and board games.
Lapel Pins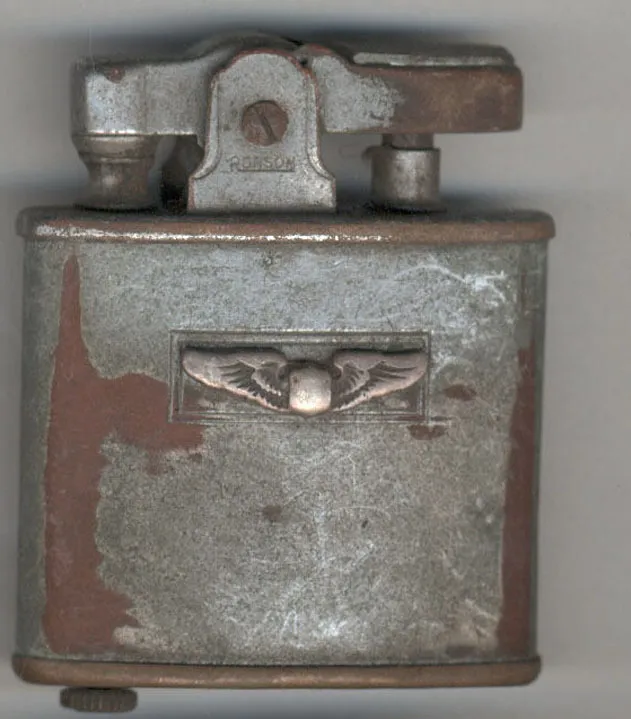 This WWII-era, United States Army Air Forces-issued lighter in the Museum's collection has been modified, possibly by the owner, who likely welded his pilot's badge to the lighter case. "The [pilots] used to have lapel pins," says Spencer, "and it looks like the pin-back was taken off, and the wings were affixed to the lighter."
Record Flight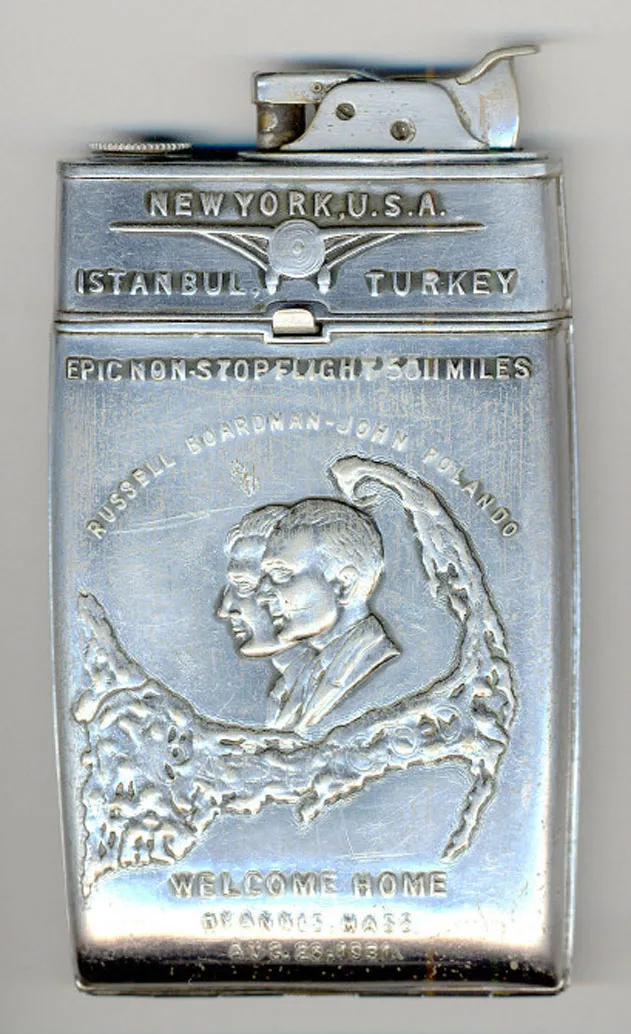 A 1931 New York to Istanbul non-stop flight is commemorated with this combination cigarette case and lighter. Russell Boardman and John Polando, two car mechanics from Massachusetts, flew their Bellanca, named the Cape Cod, from New York to Istanbul and earned a world record.

To get to Istanbul, the pilots had to carry some 728 gallons of fuel; their first takeoff attempt was abandoned when their tail-wheel-less aircraft proved too unwieldy and they had to ditch most of their fuel over New York City and return to the airport. Boardman and Polando's flight was the 14th successful crossing of the Atlantic; when they landed in Istanbul, they had 15 minutes of fuel remaining. The 5,011.8-mile flight took 49 hours and 8 minutes.