Au Revoir, Concorde
The supersonic jet's last trip across the Atlantic.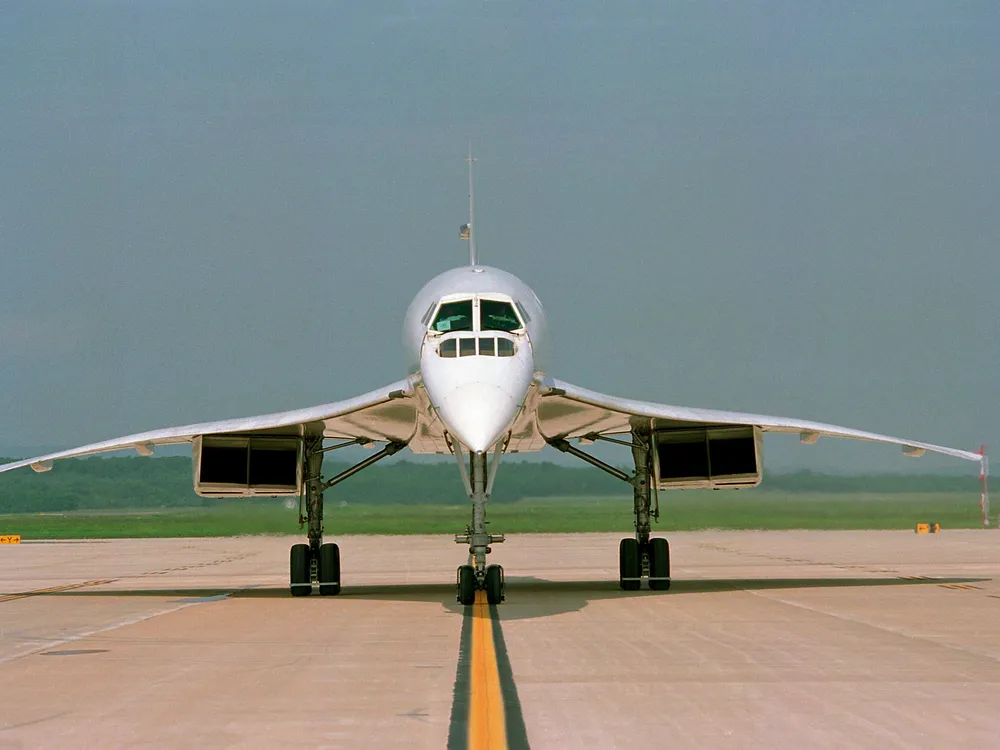 To mark the 50th anniversary of the Concorde's March 1969 first flight, we are reprinting this account of its last transatlantic journey. This essay first appeared in Feb/Mar 2004.
As curator of Air Transportation at the National Air and Space Museum, I oversee the Museum's collection of 16 transports, which includes one of the most beautiful and impractical aircraft ever built: the Aérospatiale/BAC Concorde.
Before Air France and British Airways ended their Concorde service in 2003, the technological marvel had ferried their elite clientele across the Atlantic in a style the rest of us could only dream about. Created jointly by British and French engineers, the Concorde began service in 1976, flying passengers at twice the speed of sound. It guzzled jet fuel at the rate of one ton per seat, pushing the average round-trip fare to a staggering $12,000. That was more than the market would bear, and Air France and British Airways would eventually scale back their already limited service. Routes from London and Paris to Washington, D.C., Rio de Janeiro, Caracas, Miami, Singapore, and other locations were cut, leaving only transatlantic service to New York. Even then, Concordes often flew half full, with many of the passengers flying as guests of the airlines or as upgrades.
By 1989 airline executives realized their wonder jet could never pay for itself, so Air France promised eventually to give one of its Concordes to the Smithsonian Institution. Fourteen years later, Air France president Jean Cyril Spinetta told the museum we could expect our Concorde—F-BVFA, the first Concorde in service, and the one with the most flight time (17,824 hours)—in mid-2003. By remarkable coincidence, I was already scheduled to be in France, and thus would be available to represent the Smithsonian on the Concorde's retirement flight.
The journey from Paris to the Museum's Steven F. Udvar-Hazy Center at Washington Dulles International Airport in Virginia was set for June 12. But Air France treated the 60 passengers aboard Flight 4386—among them the cellist Mstislav Rostropovich, who I learned always flew the Concorde with his cello in an adjacent seat—to the same magnificent amenities that accompanied all Concorde flights.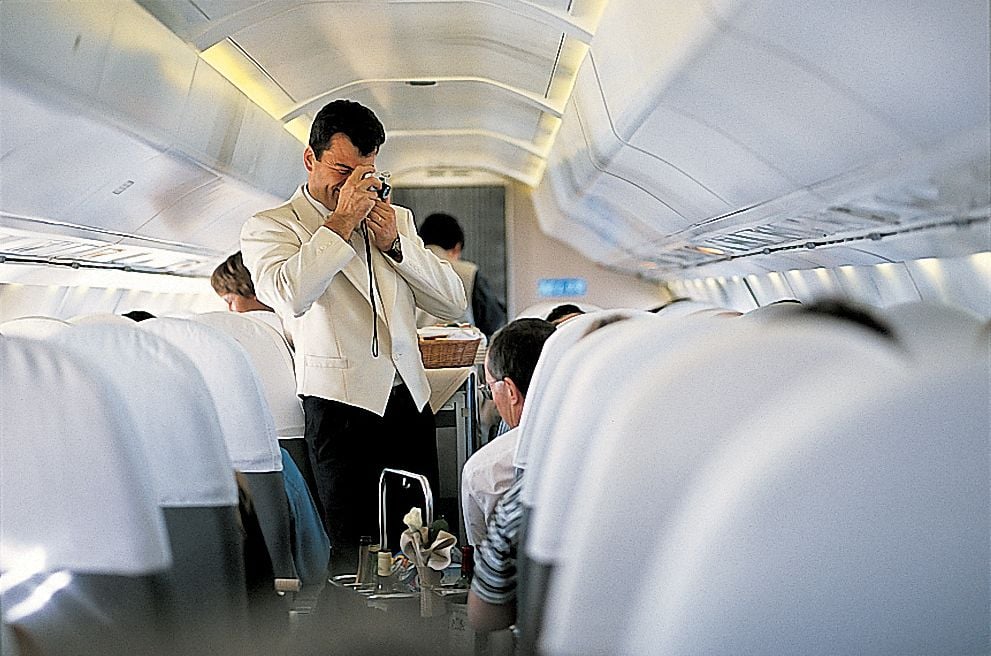 I was instructed to arrive at the Concorde desk at Charles de Gaulle airport at 10 a.m., but I got there an hour early. My first hint that this was to be a special experience came as I was led to the front of the Customs line and whisked through while dozens of coach passengers stared and wondered who that person was who had just sailed past the authorities...
...and into the Concorde lounge: Air France had created a beautiful waiting area, separate from the airline's first-class lounge. Champagne flowed freely. Several French passengers stressed to me how honored they felt that the Smithsonian was accepting one of their Concordes. The aircraft had occupied a place in the hearts of the French people, and they felt both pride and sadness over its retirement. I was happy to tell them that everyone I knew appreciated the technological brilliance and beauty of the aircraft.
At 11:30 a.m. the party moved down a jetway to the waiting airliner, which had been parked outside the window of the lounge for all to admire. Despite the festive atmosphere inside, the day was gloomy, with rain pouring down on the wings and fuselage. Before we boarded, the cabin crew politely warned us to duck as we walked through the tiny doorway. I was given a seat in the forward cabin, where the elite of the elite had insisted on sitting. I heard several tales of temper tantrums by rock stars who'd been given seats in the back.
At noon the doors were closed, the four Olympus engines fired up, and the aircraft pushed back from the gate. Captain Jean-François Michel, head of Air France's Concorde division, First Officer Gérard Duval, and Flight Engineer Jean-Yves Dronne were in the cockpit. As we taxied by the terminal, I looked out my tiny window and saw hundreds of airport workers waving and filming our departure.
After getting takeoff clearance, Michel lit the afterburners for 30 seconds, and the Concorde accelerated down the runway to 225 miles per hour; after less than 5,000 feet, we were airborne. As we climbed, the Concorde continued to accelerate, reaching the French coast in 19 minutes. We were at 25,500 feet, traveling at Mach .75, when the fuel transfer process began. Because the Concorde's aerodynamic center shifts as it transitions to supersonic speeds, fuel pumps redistribute its supply to compensate. Once the fuel was shifted, Michel again ignited the afterburners and we quickly left the English Channel behind.
With my eyes glued to the Mach meter on the forward cabin bulkhead, I watched as our speed increased, anticipating some kind of bump that would signify we had gone supersonic. I was pleasantly disappointed.
Thirty-five minutes after takeoff, we were 272 miles from Paris. At this point, the afterburners were shut down and cabin service begun. Seven flight attendants were on duty to cater to the 60 of us; of course the service was superb. Catherine Pellerin, a Concorde cabin crew instructor, was responsible for my section. I was sitting next to P. Girandet, a delightful elderly gentleman who I later discovered was the president of Air France when the Concorde entered service in 1976. He was polite but demanding of Pellerin, who responded with great attention and a caring smile for her former boss.
While dinner was prepared, Pellerin brought caviar and champagne. Girandet explained that it was just unthinkable to serve champagne with caviar. To a middle-class civil servant from the suburbs, this was news. Caviar should only be accompanied by vodka, he told me. I'll remember that for my next dinner party, I thought.
Next came an hors d'oeuvre, a choice between medallions of rock lobster with crab sauce or fois gras with chutney and carrot jelly. I chose lobster, accompanied by a white wine.
Between courses I looked up and saw that we had reached Mach 2—1,350 mph, faster than Earth rotates. Our altitude varied between 52,000 and 59,000 feet, far above the rest of the air traffic. My window was quite warm, and I could feel heat radiating from the fuselage, whose aluminum skin had heated to over 248 degrees. The sky was a stunning dark purple. I squinted to see the curvature of Earth, but the entire Atlantic was clouded over.
My disappointment was soon forgotten as I tucked into a course of pan-seared veal medallions, Maxime potatoes, and a rich Bordeaux. My place setting consisted of fine china, engraved glassware, and silverware—except for the knife, which, for security reasons, was plastic.
With the arrival of dessert—seasonal fruit timbale, petits fours, and a selection of fine cheeses—we began our descent. We had flown supersonically for 177 minutes; in the time it had taken to have a luxurious dinner, we had crossed the Atlantic. With the aircraft pitched high and its nose visor lowered for a better view, we made a straight-in approach to Dulles, landing smoothly at 170 mph. The flight had lasted just 229 minutes.
Though I was exhilarated with my supersonic trip, I was saddened more people couldn't have the same experience. The Concorde was clearly superior to conventional airliners—if you could afford the ticket. Few could, and that is why we are unlikely ever to see an airliner like the Concorde again.
We'll always have that flight from Paris. I will, anyway. And F-BVFA is preserved for all to see.