Ask a Veteran
These Museum staffers and volunteers once served their country in the armed forces. Now they serve in a different way.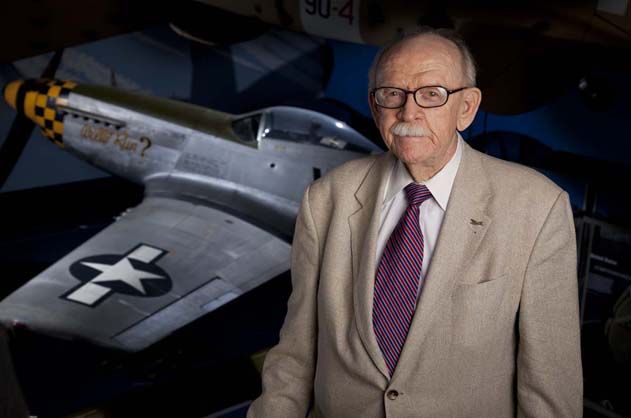 Most of them no longer wear a uniform, so you don't always know who among the people you work with have served in the armed forces. National Air and Space Museum photographer Eric Long decided to ask. He suggested making portraits of the veterans in the museum community so we'd know who they are. "It would be a nice way to show our appreciation," he said. We agreed. We found their experiences—during war and peace—to be an interesting collection of stories, and think you will too. Click on the images above to meet just a few of the veterans who make up Museum's staff, volunteers and docents. And when you've finished perusing our photo essay, ask a veteran you know to tell you a story. You may be surprised by how much a memory will mean to both of you.

Paul Cochran (above) has done the kind of flying you read about in adventure novels. He became a member of the Caterpillar Club when his P-47's engine blew and he had to bail out at 3,000 feet (he was blinded by engine oil and thought he was at a higher altitude). He saw a V-2 rocket on a mission over Germany, and caught a .40-mm cannon shot while returning from a mission on November 1944. "I was over Holland letting down before crossing the English Channel and landing at my home base," he says. "I didn't realize at the time I was also receiving small arms fire."

Cochran was 19 years old in 1942 when he was drafted into the U.S. Army Air Forces. After attending radio operator school, he was accepted into the Aviation Cadet Program. "I became a fighter pilot," he says, "which was what I had always wanted." He took all of his training in the Republic P-47 Thunderbolt, and flew his first combat missions in that aircraft, before the 356th Fighter Group switched to the P-51 Mustang. "I liked the P-51," Cochran recalled, "but the P-47 would always bring you home."

A recent profile of Cochran in The Journal (West Virginia) explains that he arrived at Martlesham Heath, a Royal Air Force field, in 1944, and flew the P-47 on about 10 combat missions across the English Channel. Cochran would eventually fly 38 missions. "How the bomber guys ever got to 25 missions is a mystery to me," Cochran told staff writer Edward Marshall. "I would've never had the nerve or the guts to do the things they had to do."

After the war, Cochran remained in the reserves. When the Korean War began he was recalled to active duty, and was assigned to the newly formed Air Defense Command, helping to open one of the first radar sites in northern Minnesota, almost on the Canadian border.

Cochran has been a docent at the National Air and Space Museum for 13 years. He decided to volunteer after visiting his niece, Barbara Brennan, an exhibits designer at the Museum. "To me," he says, "the most enjoyable part of being a docent is getting to talk to the public. I try to make each tour educational, pleasant, and funny—I still love it."

Paul Cochran is pictured above with the Museum's North American P-51D-30-NA, which is on display in the World War II Aviation exhibition at the National Mall Building.