Road Trip: On the Trail of a Tornado
Purdue students are among those trying to determine why tornadoes in the southeast are so deadly.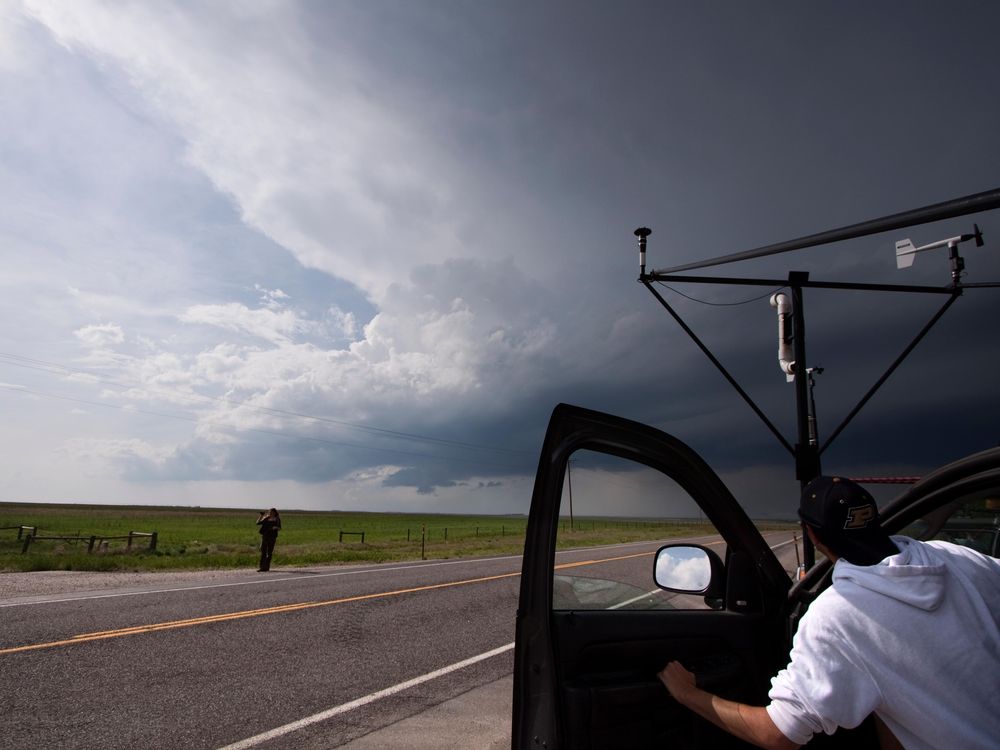 Jessica Bozell recalls spending five or six hours on a freeway overpass in Alabama, wishing for bad weather. Bozell, 23, is one of a half-dozen students at Indiana's Purdue University studying tornadoes through an observation program: the Verification of the Origins of Rotation in Tornadoes EXperiment-Southeast (VORTEX-SE). Through it, she has had first-hand exposure to one of the inescapable principles of scientific fieldwork: As she says, "Hurry up and wait."
Since 2015, the National Severe Storms Laboratory has collaborated with Purdue and other universities to answer, among other questions, why the U.S. southeast experiences deadlier tornadoes than other regions of the country. The storms in the southeast are not necessarily more frequent but are more difficult to predict and generally claim a greater number of lives.
An Indiana native, Bozell grew up hearing tornado sirens go off all the time. "I was terrified of tornadoes," she says. When she was in the third grade, her father persuaded her to sign up for a weather-observing group in the youth service organization 4-H. The first year, she made colorful posters warning of dangerous weather conditions. She remained a 4-H volunteer throughout high school, taking part in weather-watching projects of escalating ambition. When the time came to choose a college major, meteorology felt like home. Today she is working on her master's thesis at Purdue and applying for jobs with the National Weather Service and a private weather data firm. Having done fieldwork between 2015 and 2017, Bozell is now focused on extracting the most meaningful information from the data collected in the field. And those posters? "They're all still under my mom's bed," she says.
Robin L. Tanamachi, an assistant professor in Purdue's Earth, Atmospheric and Planetary Sciences Department, is in charge of mobile radar observations for Purdue's VORTEX-SE. The program, she says, grew from a Congressionally funded push to figure out why violent storms are disproportionately lethal in the southeast. The experiment is based out of Huntsville, Alabama, an area that sees a lot of violent storm activity.
Tornadoes here are not like their cousins to the west. They're more likely to come at night, for one thing. At night, approaching funnel clouds are difficult to spot—a challenge even in daylight, because Alabama is much hillier and more thickly forested than, say, Oklahoma—and people who are at home asleep are less likely to receive and act upon a message to seek shelter, even if a dangerous storm is detected in advance. In the first two years, investigators in the collaborating institutions monitored weather and determined observing periods. Once triggering conditions appeared, the team would scramble to make the 700-mile road trip from Purdue to Huntsville before the storms began. The observing periods generally last only about eight to 12 hours—a narrow window.
The Purdue investigators collected data using three primary instruments: a radar truck built by (and rented from) the University of Massachusetts Microwave Remote Sensing Laboratory, weather balloons, and disdrometers—instruments to record the size, velocity, and spacing of raindrops in 10-second bytes. The students are trained to operate each instrument "from startup to shutdown," with little or no professorial supervision. Each instrument will provided different data complementing information from the other two.
Tanamachi says the fieldwork imparts skills that labwork can't, like where to deploy instruments to collect the best data. "They have to make a lot of decisions on the fly," she says. "We have to do a lot of improvisation and problem-solving, sometimes in the middle of the night. We're dealing with flat tires and muddy roads; that might not be part of the glamorous image that storm-chasing has in the public consciousness."

Allison LaFleur, a Purdue student who has decided to remain and earn her Ph.D. after she finishes her master's this spring, helped operate the radar truck in 2016 and '17, but her thesis is based on an observation from an earlier year. "There was one particular day when it rained in the morning, so the air was completely stable," she says. "But enough instability built up that there were tornadoes later in the day. I'm looking to see if the instability was the result of solar heating, or if there was enough moisture that moved into the air from another source."
While Bozell, LaFleur, and others comb numbers for clues, the experiment has already shown that if four conditions are present—moisture, instability, wind shear, and a triggering mechanism like a cold front—outbreaks can be predicted. If one or more of those ingredients is missing, it is impossible to anticipate which storm (if any) will generate a tornado. "In more marginal events," says Tanamachi, "ingredients may only be present together in small patches not resolved by our current meteorological observing systems."
To put it more succinctly, a red spot on the radar would signal would-be tornado-chasers to hurry up—and wait.