Artist Aline Rhonie Tried to Capture All of Early Aviation in a Single Painting
The pilot/painter's 126-foot mural includes 600 pilots and 268 types of aircraft.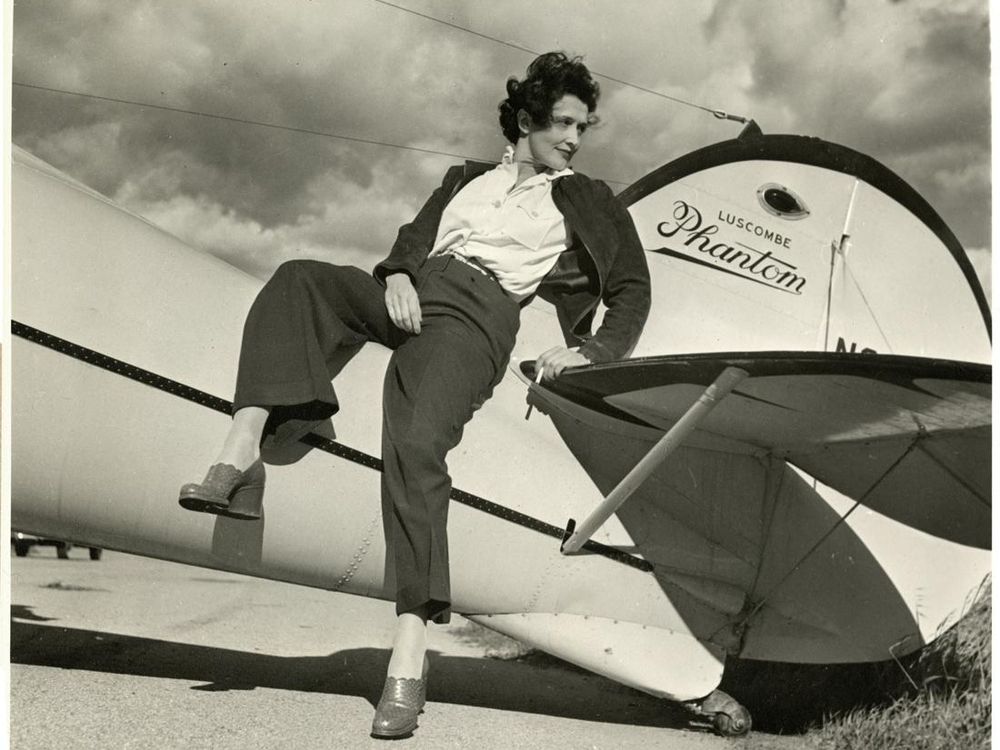 It was a huge project. In 1934, artist Aline Rhonie began applying four coats of cement, goat's hair, and coarse marble dust, all mixed with slaked lime, to the wall—1,400 square feet—of Hangar F at Roosevelt Field in Long Island, New York. She wanted to paint a mural depicting aviation's early history. Rhonie was serious about several things, including flying and art, and had flown to Mexico in her Lambert MonoCoupe to study with muralist Diego Rivera. On that trip she set some world records, becoming the first person to fly a 90-horsepower aircraft from New York to Mexico City, and also the first woman to fly solo from New York to Mexico and back.
Four years later, she finished her fresco mural titled The Pre-Lindbergh Era of Flying on Long Island; included were more than 600 aviators and 268 types of aircraft covering the years 1909 through 1927. Here's Glenn Curtiss, sitting in the cockpit of the Albany Flyer, right before completing a 150-mile flight along the Hudson River from Albany, New York, to Manhattan. He's flanked by Thomas Baldwin (the first person to fly over the Mississippi River) at the wheel of the Red Devil, and Alfred LeBlanc in his Blériot (who won the 1910 Circuit de l'Est, racing against seven other competitors and 47 carrier pigeons).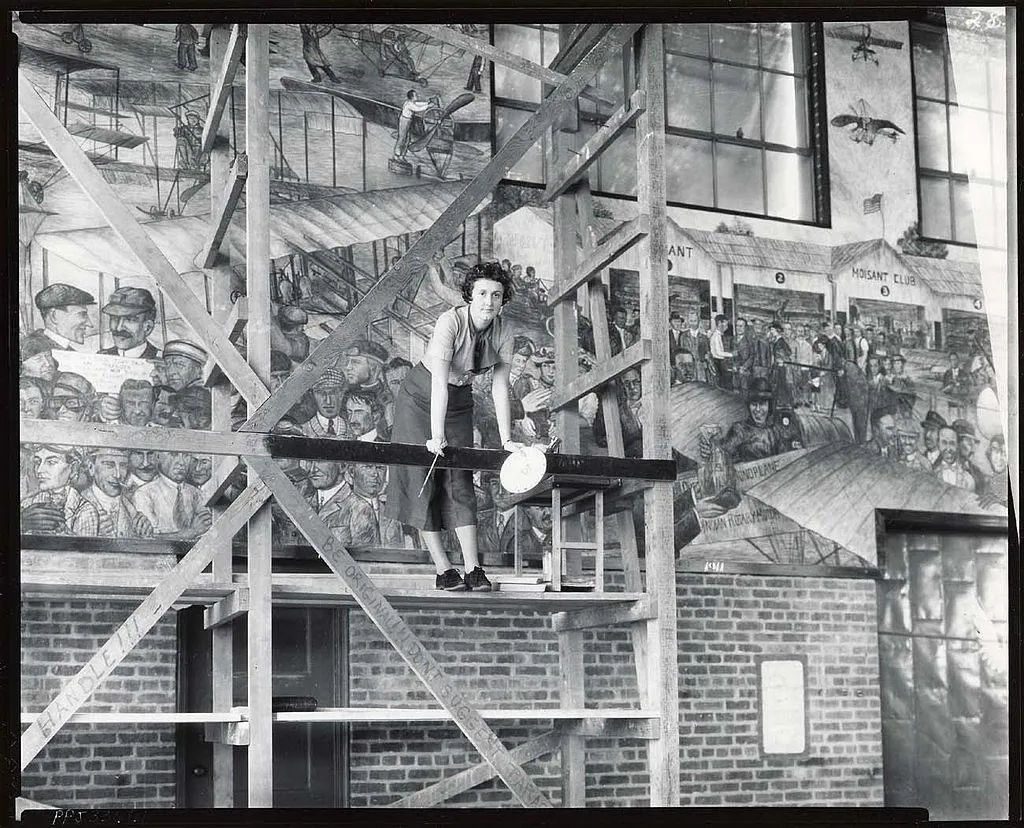 Edmond Audemars gestures wildly to Jacques de Lesseps, while Hélène Dutrieu (the "girl hawk" of aviation) smiles at a grimacing Hubert Latham. Shakir Jerwan is painted with his pipe-smoking dog, Monoplane. World War I aircraft get a panel: an Avero and Aeromarine float over a static display of Spads, S.E.5s, and Leoning monoplanes. Crowded onto the walls are doctors who contributed to flight safety; airmail pilots; barnstormers and record-holders. The list goes on and on. (A booklet identifying the figures in the mural is online here.)
Rhonie learned to fly in 1930 in Reno, Nevada, and earned a transport license in 1931; her mural portfolio and log books are now in the National Air and Space Museum's collections. Rhonie was an enthusiastic flier and her log book is filled with detailed notes and multiple exclamation points. "1/18/31: 1st solo in my own ship!!" (A 300-hp Wasp Jr Stearman Model 41.) In August she flew her Stearman to Marietta and noted conditions: "weather: lousy. rain: plenty of it." In September she made a deadstick landing; a year later, her log book reports her passenger was none other than Jimmy Doolittle. The log book ends in 1940; she had earned her English pilot's license in 1938, and after flying for the Women's Auxiliary Ferry Squadron she went to Europe and flew for the British War Relief Society, in addition to driving an ambulance for the French Army Automobile Service. After returning to the United States, Rhonie flew her own airplane around the country, raising funds to build canteens for Allied aviators in France.  
In 1960 she learned that Hangar F at Roosevelt Field was scheduled to be razed and that her mural would be destroyed. Rhonie immediately obtained the rights to her mural from the building owners, and placed a frantic call to Italian conservator Leonetto Tintori, a fresco expert. He agreed to come to the United States and help her move the enormous artwork. A team applied heated glues and cloth to the walls of the hangar, and divided the mural into panels. The stiffened cloths were then pulled from the walls, removing the thinnest possible layer of paint, and the fragile panels were fixed to laminated masonite to preserve them. Rhonie spent months restoring the mural panels in a storefront window at the Roosevelt Field Mall, which occupied the old airfield space, and added an additional 25 portraits, extending the mural's length to 126 feet. She died in 1963 at age 53. (See additional photographs of Rhonie and a color postcard of her mural, here.) 
At some point the mural was stored in an old barn on the Sands Point Preserve in Long Island, where it made its way to the Long Island Early Flyers Club. In 2006, the club donated the mural to Vaughn College of Aeronautics & Technology in Queens, near LaGuardia Airport. It is not currently on display, as the college is undergoing a three-year campus renovation.