Apollo's Army
It took 400,000 people, working under extreme pressure, to reach the moon in 1969. Like any army, they suffered casualties.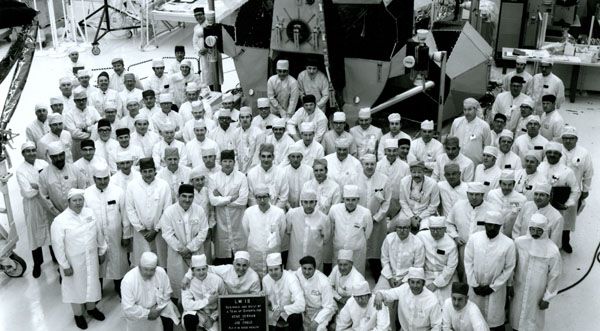 In their highly regarded 1989 history, Apollo: A Race to the Moon, authors Charles Murray and Catherine Bly Cox told the story of the lunar program's other heroes: the flight directors, engineers, technicians, and back-room wizards who rarely shared in the astronauts' public acclaim, but who were just as vital to their success. The book's dedication reads: "For all the people who gave their best to Apollo—and for their families, who did too."
That last point is rarely considered in the histories of NASA's moon race, but was all too real to the 400,000 workers who made Apollo happen. Stories of broken marriages, absent fathers (back then it was mostly fathers), lost sleep, and crushing stress were common. More than one doctor in the Cape Canaveral area reported high incidences of ulcers, even among children. Kennedy Space Center director Kurt Debus told Parade magazine in 1969, "There is so much tension, so much anxiety in putting men into space…We live with it constantly. In fact, it is so much with us that we are studying it—how it is affecting our hearts, our nerves, our functions, our aging processes. We don't know yet."
In order to land on the moon "before this decade is out," overtime was mandatory. George Skurla, who directed the Grumman Corporation's lunar module work at Cape Canaveral and went on to become the company's president, once estimated that NASA paid for no more than about 70 percent of the true human effort that went into Apollo. "A lot of people worked day and night," he said. In the course of researching a documentary about the Apollo lunar lander, New York filmmaker Mike Marcucci heard similar tales from Grumman workers.
We'd like to hear from other Apollo veterans about the sacrifices they made to achieve this nation's proudest moment in space (use the comments form below). The main reason is to honor their service. But 40 years later, we also should understand what was required to land on the moon, and what might be required to go back.