An Airplane in Every Barn
A once-thriving organization of rural pilots is struggling to survive.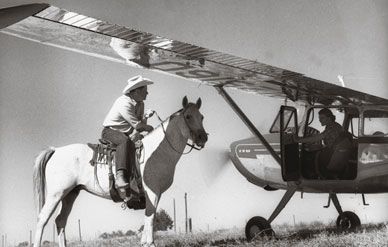 "Did you see me land…both times?" said Eugene Shore, grinning sheepishly. The 70-year-old farmer had lightly bounced his Cessna 206 as it touched down on the Kansas grass airstrip of longtime friend Jack Jenkinson. Wearing jeans and a jacket and carrying a cooler, Shore climbed from the airplane and ambled to an open hangar where chairs and tables were set for 75.
Over the next hour or so, 20 more single-engine aircraft followed. Directed to the east-west runway by a bulging windsock, the aircraft swept in one after another and rolled to a stop on blue grama-buffalo grass. Each pilot carried a dish for the upcoming lunch.
Jenkinson's farm is 12 miles from the town of Meade and just beyond the reach of gravel roads. From the air, the farmstead's crosshatch of runways is clear, a target for pilots headed for this International Flying Farmers Kansas Chapter fly-in.
The fly-in is a Flying Farmers tradition that dates back decades, and one of the few activities that the organization is still able to sustain. Today, the Flying Farmers is a modest operation, but at its peak, the group offered not just member services and perks but lobbying on national issues affecting rural pilots.
Jenkinson and his wife Della are first-generation Flying Farmers, and the family also has a love of machinery in general, which seems to be characteristic of Flying Farmers. At the fly-in, just about every type of motorized vehicle could be found between the cedar and Austree windbreaks that protect the Jenkinson farmstead from plains winds.
Before his first guest arrived, Jenkinson towed his Cessna 172 and 170 from the hangar. Grandson Dusty Giessel zipped around on a Suzuki 50 motorbike near his grandparents' Honda Goldwing motorcycle. At one point Jenkinson scooped up dirt with a Ford tractor and dumped it in a cart hooked to a Honda ATV. Then, with a cap clamped on his head of white hair and an orange insulated vest zipped against a morning breeze that had tumbleweeds rolling, he raced down the runway. Standing on the three-wheeler's footrests, Jenkinson scanned the runway for badger holes to fill.
"Some people grow up," he said good-naturedly about his menagerie of machines, "and some people just grow old."
Growing old is the Flying Farmers' urgent problem. The average age of a member in 1947 was 37; today it is approaching twice that. Twenty-six years ago, then-president DeLane Fry warned against complacency about recruiting younger members. "Continued membership is the lifeblood of any organization," the Oregon dairyman wrote in 1981, "and certainly International Flying Farmers will eventually perish unless we each do our part."
Four years earlier, International Flying Farmer membership had reached its peak: 11,000. Today it is 1,400, and no members are in the growth sector of "corporate farming," according to Kathy Marsh of the Flying Farmers headquarters in Wichita, Kansas. Some attribute the membership decline to the crisis in general aviation liability insurance that in the late 1980s forced Cessna to discontinue production of small aircraft for several years. Others blame the dwindling of the farm population. Simply put, farms today are fewer and bigger than they used to be, and they are more often run as industries than as family businesses. Flying Farmers was conceived in an era that was very different for both farmers and pilots.
The group began in 1944, on the campus of Oklahoma A&M University, as a state organization; it went national the next year. (The addition of Canadian chapters made the organization "International" in 1961.) A survey conducted in 1948 estimated that 20,000 U.S. farmers and ranchers were flying.
The headquarters building was erected in 1953, near the control tower at Wichita's Mid-Continent Airport. A second story was added in 1969, when the organization was still expanding. But in the 20 years she has worked there, Marsh mostly has known cutbacks. Though a couple of aviation-related firms have offices in the building, Marsh is now the sole staff member in the Flying Farmers office suite.
Across adjacent taxiways from Marsh's office is a maintenance facility for Cessna Citations; on the edge of the airport sits a Cessna manufacturing plant. Yingling Aviation sells Cessnas next door. The working relationship of Cessna and Flying Farmers is similarly close: Cessna regional sales manager Bruce Keller, an irrepressible booster of the organization, crowns the International Flying Farmers Queen each year in the name of company founder Clyde Cessna, "the first flying farmer."
In the late 1920s, Wichita was already home to Cessna and 28 other young airplane companies. By the 1940s, the city had attracted such general aviation companies as Beech and Mooney and had begun to bill itself as the Air Capital of the World. These and other Kansas manufacturers—plus airplane-makers farther east, including Piper in Pennsylvania and Aeronca in Ohio—focused on the farm market. A Saturday Evening Post writer noted that in 1947, nearly three-quarters of the single-engine airplanes built that year had been snapped up by farmers.
In the 1940s and '50s, the organization's National Flying Farmer magazine had full-page advertisements by aircraft manufacturers touting the relationship of farming and flying. Luscombe called its Silvaire Sedan "the plane designed by farmers for farmers." Stinson bragged that its Flying Station Wagon was "a personal plane specially built to meet the thousand-and-one needs of farmers and ranchers." The Ryan Navion was introduced as "the plane you said you wanted." Classified pages were stuffed with deals on Ercoupes and Fairchilds, Swifts and Taylorcrafts.
Airplanes rolled easily into farmers' implement sheds. Chicago's 1948 National Farm Show dedicated a full quarter of its floor space to a display of single-engine aircraft. In April 1949, Senator Elmer Thomas of Oklahoma noted in the Congressional Record that the farmer was accepting the airplane faster than he had the tractor "as a new farm implement necessary to his operations."
In the early years of rural aviation, farmers used airplanes to hunt coyotes, disperse crows, spray sheep for pests, even keep air moving across orchards to fight off frost. They also developed uses for the airplane that are still valued today, such as the sort of look-down flights that favor high-wing aircraft—checking irrigation systems, photographing crops, and monitoring herds. Bill Valburg of South Dakota, for example, flies a Skylane around his 5,600-acre ranch to watch over his Black Angus cattle. He also short-hops his Piper Super Cub to the mailbox, four miles from his house.
Over the years, farmers have found all sorts of ways to merge aviation with farm life. When dairy farmer Curtis Phillips of Beaver Crossing, Nebraska, became a pilot at 45, he turned a 600-gallon stainless steel milk container into a tank for aviation fuel and used his Cessna Skyhawk "just like a pickup." Lebanon, New Jersey dairyman Ryman Herr, 80, kept his Cessna 172 tied down in the open next to a 2,600-foot-long runway that gently rolls across the top of a hill on his 206-acre dairy farm. "When you're in Humpty Dumpty terrain," he says, "you have to make do with what you have."
(Fortunately for farmers, sturdier landing gear struts are not required for single-engine aircraft touching down on unpaved runways, "Humpty Dumpty" or otherwise. Standard gear is fine for grass or paved surfaces, Cessna's Bruce Keller says, with the exception of truly primitive landing sites, which require oversized wheels and tires. Nor does parking an airplane in the open automatically render it less airworthy, though Keller cringes when he sees airplanes parked outside and cautions that avionics can degrade more quickly when unsheltered.)
In New Jersey, truck farmers, dairy operators, poultry farmers, and cattlemen formed the first East Coast chapter of Flying Farmers in 1946. When West first met East at Flying Farmer conventions, George Conard of Flemington, New Jersey, recalls that prairie farmers would "look at us funny as if to say, 'Well, are you real farmers?' "
The learning went both ways. Conard's wife Judy enjoyed meeting people at conventions who had less "liberal" views than typical of the East Coast. "When you're with people from the Midwest," she says, "their whole attitude about life, about family, is totally different. It is really good to have that experience; it is very broadening. You learn you don't have the answers for everything. Maybe you don't have the answers for anything."
Because many farm wives had been operating machinery alongside their husbands, sharing cockpit controls was a natural extension of the partnership. A pioneering early president of Flying Farmers, Forrest Watson, argued in a 1948 magazine editorial, "[I]n this association, women have their greatest chance to become an important segment of American aviation…. They need only make up their minds to become the equal of men in this game called flying." While it would be another 50 years before a woman presided, female members familiar with agriculture and aviation issues were crowned queens and sent around the country to serve as ambassadors for the organization.
From the start, the organization focused on family. A "Landit" program encouraged both spouses to become familiar with cockpit controls in case the pilot was incapacitated. A teenage auxiliary formed. Scholarship programs enticed boys and girls to earn pilot licenses. No wonder airplane salesmen flocked to family farms.
In addition to addressing family issues, the organization energetically lobbied for cheaper airplane insurance, lower aviation fuel taxes, more local airports, better pilot training, and increased flying education. Today, public advocacy is only an incidental benefit Flying Farmer members get for their $70 annual dues.
George Conard, who served a one-year term as the organization's president, cites the Experimental Aircraft Association, formed in 1953, as a smarter organization: "We let them take the ideas that we started," Conard says of the EAA. That organization took up the causes of insurance, taxes, airports, and education, aggressively broadened its appeal beyond owners of homebuilt aircraft and never looked back. Today, EAA membership is 170,000.
Perhaps the most striking example of a pilot with memberships in both the EAA and Flying Farmers is Brian Strizki, who flies two distinctly different airplanes: an Aeronca Chief and a Van's RV8, an experimental two-seat kitplane. Strizki is a New Jersey State Transportation Department engineer who first flew from a strip on his father's tree farm. He eventually became New Jersey chapter president and then secretary of the international organization. But he resigned after his appeal for new vision went nowhere. He says he wanted to reinvigorate the organization without sacrificing Flying Farmers' emphasis on family. "I think Flying Farmers needs stuff to attract more young people," Striszki says. "More flying and less royalty."
Such change is not apt to occur, Conard suggests: "The organization has come to the point that it accepts the decline as inevitable."
In 1994, Flying Farmers finally changed its bylaws and began to admit non-farmers. The change has not slowed the membership decline.
"The romance of flying is gone," says former Flying Farmers president Willis Wollmann. Wollmann still flies his Cessna Skylane to check the harvests on his farmland near Moundridge, Kansas, but he sees an era fading: "Most flying farmers no longer fly," he says. "A lot of them have traded their airplane for a recreational vehicle."
Back in Kansas, Jack Jenkinson—who this year is treasurer of International Flying Farmers—says he believes improvement in economic conditions is the key to the organization's survival. He has seen too many struggling farmers sell their airplanes to pay off a bank note and never return to flying. Slouched in the driver's seat of a 16-passenger bus he sometimes uses to shuttle pilots at fly-ins, Jenkinson sounded almost wistful. "I hope I don't have to sell my airplane," he said. "I told my wife I would rather sell the farm, but when it comes right down to it…"
He sat up straight to make a point. "Our biggest problem is that we don't get the word out that we have so much fun!"
Flying Farmers fun has included flights to Mexico, convention gatherings at locations across North America, tours of military installations and national parks, and, of course, fly-ins. Retired Kinsley, Kansas farmer Charles Schmitt and his wife Clara have loved every minute of it. "Those were the best years of our lives," Schmitt said as the luncheon in Jenkinson's hangar ended. "I said as a kid that if I could fly an airplane—or farm—I'd be happy, and I got to do both."