An Aerial View of Geology
Photographer Michael Collier and his Cessna 180 bring North America's coastal landscapes into focus.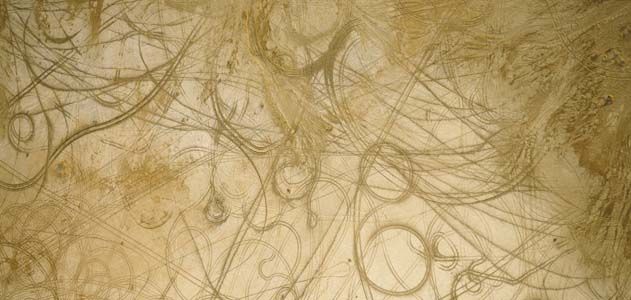 It looks almost like a celestial map from another century, swirls and loops gracing a page of parchment. But in reality, those lines and whirls are tracks from all-terrain vehicles marking the shoreline of California's Salton Sea. "Any animals that might once have nested on these sands have long ago been driven away," writes Michael Collier in his new book Over the Coasts: An Aerial View of Geology (Mikaya Press, 2009).

In this book, third in a five-part series, Collier once again combines geology and aerial photography, hoping to give the layman "at least a passing acquaintance with the essence of geology, and how to see the stories that are in landscapes."

Collier's first attempt at flying would have discouraged almost anyone else. Using a secondhand hang glider—and having no hang-gliding instruction—Collier decided to jump off a 200-foot cliff near Point Arguello, California. "The first and final sortie," he writes, "involved multiple crashes at 40-foot intervals on my way down the cliff."

Click on the images below to see more of Collier's photographs, and to read excerpts from our interview. To learn about National Geography Awareness Week, and events held at the National Air and Space Museum to promote interest in geography, click here.

All photographs by Michael Collier; used with permission from "Over the Coasts: An Aerial View of Geology," by Michael Collier, Mikaya Press 2009.
Bear Glacier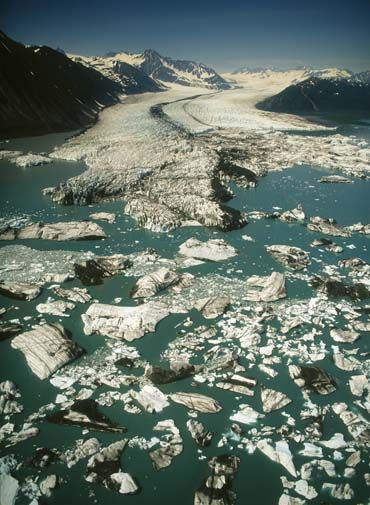 Collier has spent the last two years completing a book on climate change in Alaska, commuting from Arizona in his Cessna 180. "I bought it 23 years ago, and I've taken it to Honduras, Alaska, and Maine," says Collier. "It's a bush plane, a tail-wheel plane made for flying into silly places. The 180s are meant to be beat up. They're pickup trucks." He's spent more than 3,500 hours in the Cessna; his wife is convinced its tail wags when it sees him coming.

"Bear Glacier in Kenai Fjords National Park, Alaska, is a tidewater glacier," writes Collier of this photograph, "that is, one that disgorges ice directly into the sea. The ice at the glacier's terminus is breaking up faster than it can be delivered down from the mountains, which means that Bear Glacier is retreating."
Cobb Bay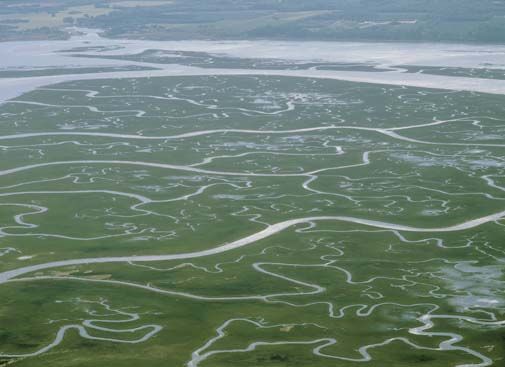 Collier studied what he calls "gee whiz geology" as an undergraduate at Northern Arizona University. "All we wanted to do was go running around the canyons," he says. "It was a wonderful, tangible sense of the earth. And what drove us, back in those good old days, was a sense of wanting to understand what we were already seeing. I suppose some more practical people applied it and got jobs in oil fields, but I didn't."

A commercial photographer since 1970, Collier was asked by an editor in 1975 to photograph an article about the Colorado Plateau. He and a pilot friend spent three days photographing the plateau from the air. An avid kayaker, Collier had an epiphany: "I realized that flying is simply another version of three-dimensional movement in a fluid medium—air instead of kayaking in water—and I took to it. I've been flying since then."

Of this image, Collier writes: "Tidewater channels run like capillaries across the saltwater marshes of Cobb Bay near Oyster, Virginia."
Petit Bois Island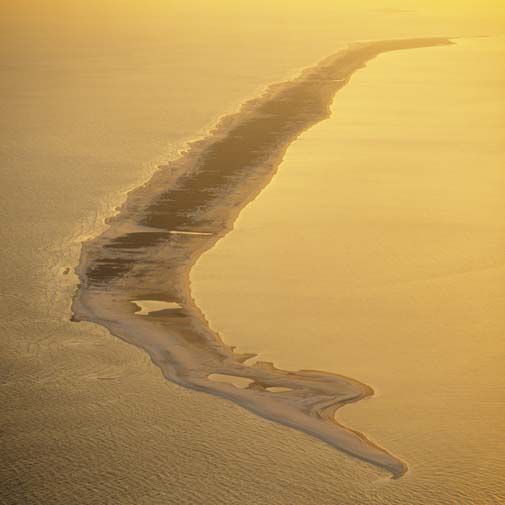 Collier went on to study structural geology at Stanford University, eventually taking a job writing layman-oriented materials for the U.S. Geological Survey. "I had great fun," he recalls. "Apparently I had an office in Tucson, but I would just send the secretary news that I needed to go to Honduras, or Antarctica, or Alaska, and she would just roll her eyes and send me plane tickets."

Of this image, Collier writes: "Hurricanes have repeatedly swept over Petit Bois Island, Mississippi, one of the many barrier islands and spits that lie a few miles off the Gulf Coast between Texas and Florida. The island, home to laughing gulls and snowy plovers, has sand dunes that face left toward the open water of the Gulf. A thin veneer of tenacious vegetation struggles to survive the onslaught of storm waves during hurricane season."
Grays Harbor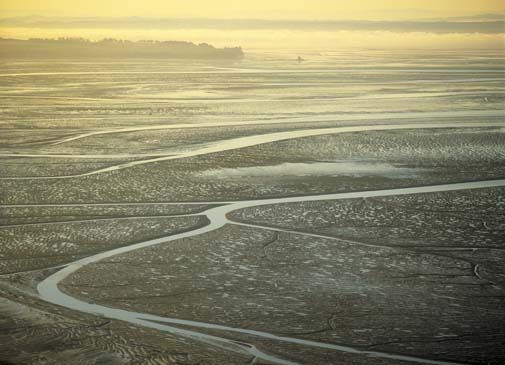 Now a family physician based in Williams, Arizona, Collier works as both a doctor and a photographer, spending one week at a time at each profession. He considers his Cessna 180 "the world's most expensive tripod," and shoots film through handheld, gyrostabilized Pentax 645 cameras.

Of this image of Grays Harbor, Collier notes: "Tides vary by as much as fourteen feet over the ninety square miles of Grays Harbor near Hoquiam, Washington, seen here at low tide. A rising tide brings sand into the bottom of the harbor, while low tide exposes mudflats that dominate the harbor's North Bay."
Sand Dunes at Bahia Ballenas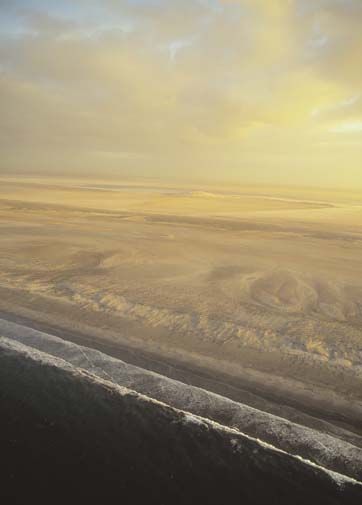 Collier occasionally flies to Baja California, where he volunteers at a small clinic. "My flying techniques have grown more sophisticated since those early days dangling beneath a hang glider," he writes. "I have radios and usually an engine."

This photograph is of sand dunes near Bahia de Ballenas in Baja California, Mexico.
Lake Michigan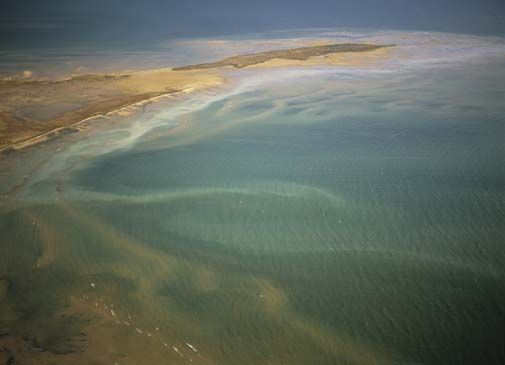 When asked if he has modified his Cessna for aerial photography in any way, Collier jokes, "Yes—I used to have really tiny numbers on it so people couldn't catch me because I'd be flying too close to things. But now it's got bigger numbers."

Of this image, Collier notes: "Currents east of Escanaba, Michigan, weave underwater sand dunes around a point that projects out into Lake Michigan."
La Sal Vieja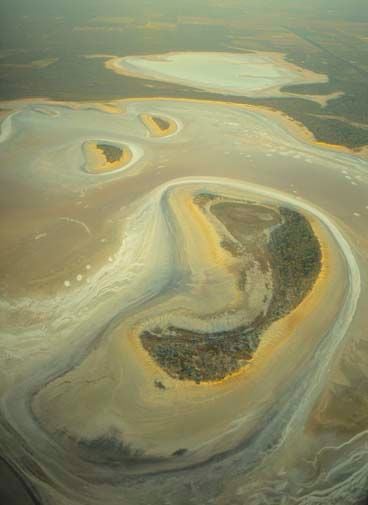 To experience geology in perpetual motion, says Collier, visit a beach. "Coasts are among the most dynamic landscapes on earth," he writes. "Nowhere else on earth is so much going on at once."

Collier notes: "La Sal Vieja has provided salt to Texans and their predecessors for hundreds of years. Rainwater that occasionally fills this lake becomes saturated from an underlying salt dome; high evaporation rates in this hot, dry climate leave the lakebed coated with powdery white salt."