Amelia's Astronaut Connection
The grandson of Amelia Earhart's photographer will carry her scarf higher than she ever did—into orbit.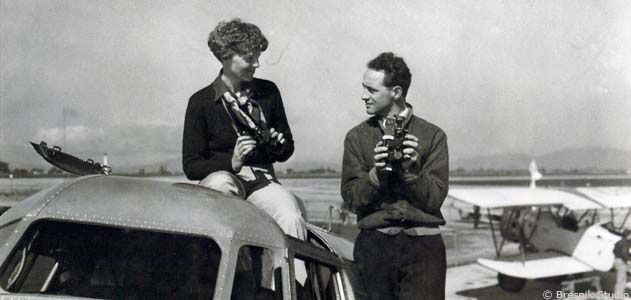 When space shuttle Atlantis launches next month on a mission to the International Space Station, a multicolored scarf worn by Amelia Earhart will be on board.
The neckpiece has played a poignant cameo role in the family history of first-time astronaut Randy Bresnik. His grandfather, Albert Louis Bresnik, was the personal photographer for Earhart from 1932 until July 2, 1937—the date of her disappearance near Howland Island in the Pacific Ocean.
The Hollywood publicity photographer met Earhart early in his nearly 40-year career. Her husband, publisher George P. Putnam, hired Albert away from CBS to serve as her personal photographer. "She liked him because it was not about him as a photographer," says Randy Bresnik. "He was very young at the time, so she looked upon him as a little brother."
During their five-year professional relationship, Albert took numerous images of Earhart, many uncredited (see the gallery above for a sample). "If you see a photo of Amelia Earhart wearing her lucky scarf, that photo was taken by my grandfather," says Randy. Several months prior to her disappearance, Albert began shooting photos for World Flight, a book that Earhart wanted to write about her planned circumnavigation of the equator. Earhart even asked Albert to accompany her and her navigator inside her Purdue-funded Lockheed Electra 10E to photo-document the historic journey. But including another person, photo equipment and food would have added too much weight. "Fortunately for me," Randy says, "he didn't go with her on what became her final flight."
Earhart and Fred Noonan completed 22,000 miles of their flight before they went missing. Albert packed away all his Earhart negatives and photographs to ease the painful memories. Although his farewell images of her were published in her planned book, renamed Last Flight, the photos themselves lay hidden inside his home in Pacific Palisades, Calif., until the 50th anniversary of her disappearance in 1987. "He found all these pictures," says Randy, "including early ones of Lucille Ball, before she became a major star. But his favorite photos were those of one shy female pilot who befriended him." Albert L. Bresnik died in 1993, but his negatives are still owned by the family.
The fashion-conscious Earhart always wore her lucky scarf and bracelet on long-distance flights. For some reason, though, the aviatrix left the accessories with her mother, Amy, before embarking on that ill-fated flight. According to Randy, his wife Rebecca came up with the idea to fly Earhart's scarf on his first shuttle flight. Earlier this year, the astronaut picked up the memento from the Ninety-Nines Museum of Women Pilots in Oklahoma City, Okla., where it has been on display alongside Earhart's pilot license ever since her mother donated it to the museum. "Please treat this with the respect it deserves," Randy told NASA employees as he delivered the scarf for stowage on the shuttle.
A photographer himself, the 42-year-old astronaut and former F/A-18 test pilot is looking forward to "taking the time to enjoy the view" during his own around-the-world flight, targeted for launch on November 16. "Wherever Amelia's final resting place is right now, we will be flying only 220 miles from her as we orbit the Earth," he says. "It shows what a small world it is."
Jill Michaels is a freelancer and screenwriter in Seabrook, Texas.