Fitness Secrets of the Airshow Stars
Pilots share their diet tips (and guilty pleasures).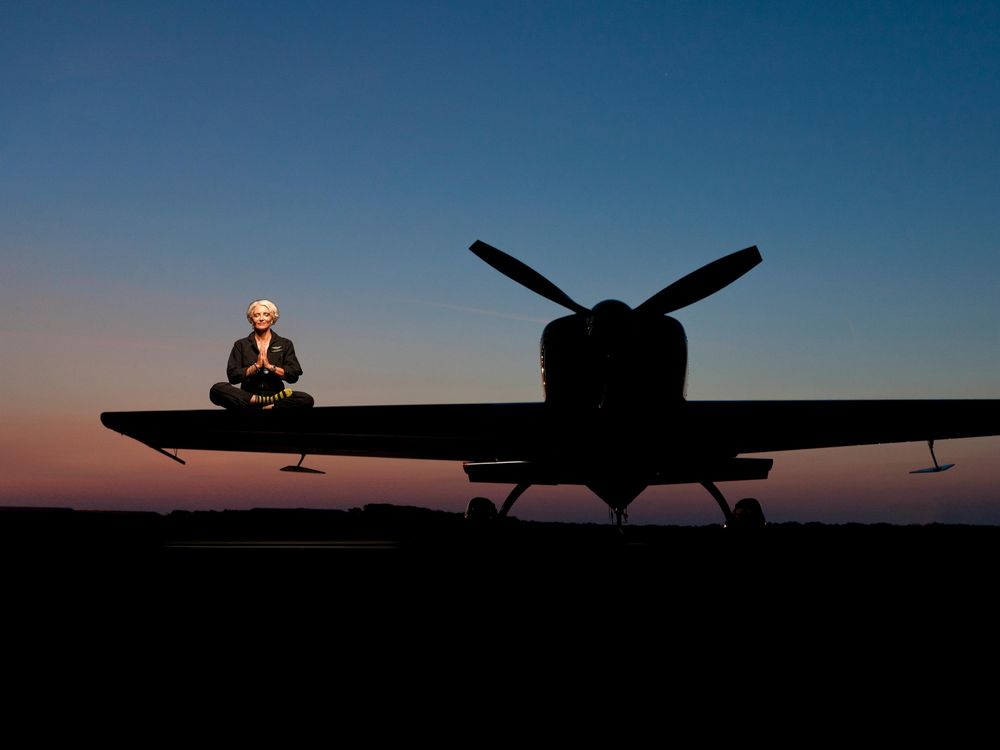 Flying aerobatics is hard work. If you doubt it, watch Sean D. Tucker flying his famous Centrifuge maneuver in his Pitts-based Challenger III. Diving for the ground, he pitches up hard and starts a series of gyroscopic, sustained nose-over-tail tumbles in an arc past show center. As he continues flipping his biplane past the audience, the blood in his body alternates rapidly between being sucked toward his feet and being jammed back into his brain. "It's the toughest 20 seconds of my act," says Tucker. "If you are not in shape, that's when you can black out."
Good rule of thumb for an airshow performer: Don't lose consciousness. That's one reason to stay fit. Here's another: Pilots have to fit in their airplanes. "The cockpit of the L-39 is very skinny," says Patrick Marchand, who performs with the precision-aerobatic Breitling Jet Team. The Czech-built military trainer he flies, rated for more than 8 Gs, has no hydraulic assistance on the controls. "Our muscles are directly linked to the control surfaces," says Marchand. "The faster we go, the heavier it is."
Still, Marchand is no gym rat. He's careful not to overdo exercise. He also rests between performances to let his body recover. Like Tucker and other airshow pros at the top of their game, Marchand stays fit by following a few simple rules and routines. Here's how they do it.
Kyle Franklin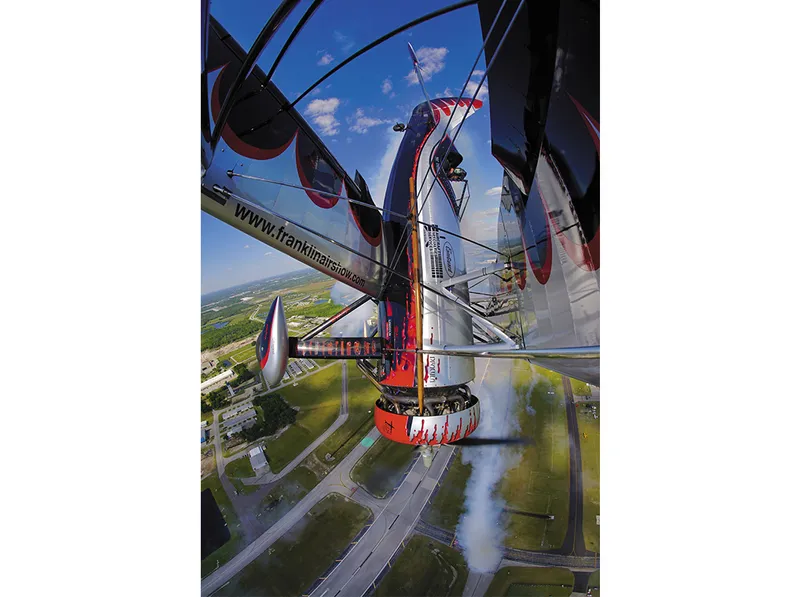 The Act: In the Waco-based Franklin Demon-1 Dracula, Franklin flies a smoke-on rip around the show box, plus a show-stealing comedy routine in the PA-18A Super Cub Franklinstein.
The Pace: 35 to 45 performances at 15 to 20 airshows, plus testing and rehearsal flights.
The Workout: Because Franklin trucks his airplanes from show to show, continual tear down and rebuilding keep him in shape during the show season. His comedy routine also includes "stealing" an airplane and an ensuing foot race, as "security" tries to chase him down.
Off Season: Rides a stationary bike and lifts weights. Plays video and arcade games to keep his motor skills, reaction time, hand-eye coordination, and reflexes sharp.
The Diet: On show days, chugs water before and after his performances, to replenish what he sweats out. Pounds carbs. Has a standing reservation every Monday at a Thai restaurant in his small town because the food is fresh and healthy, and he loves supporting a local business.
Must Haves: Nature Valley's Oats 'n Honey Granola Bars because they remind him of his mother's bran muffins and another family tradition: plenty of unsweetened tea.
Guilty Pleasures: Mixed Berry Skittles (always on hand), Cookies 'n Cream Hershey bars, his girlfriend's pineapple upside-down cake.
Mental Health: When there's nothing on the tube, he builds creations with Legos. Makes sure to get plenty of sleep the night before a performance.
Getting in the Zone: Right before launch, goes over the routine and emergency procedures in his head and takes a moment to "chat" with his father Jimmy and late wife Amanda, who both died in airshow accidents.
Philosophy: "Franklins have been entertainers for nearly 50 years now, and we've celebrated many successes. With success can come devastating hardships, and this too is an experience my family has endured. Continue moving forward when the headwind is unbearably strong."
Patty Wagstaff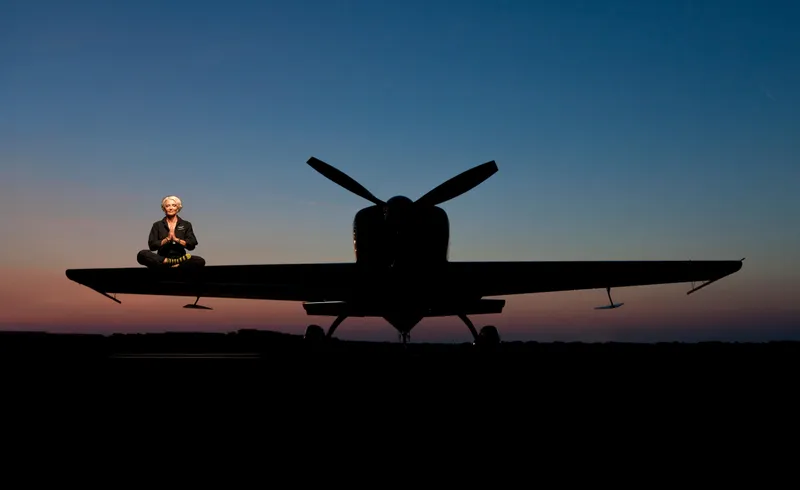 The Act: Precisely flown choreography marked by mind-jarring rolls and graceful transitions in an Extra 300S.
Pace: In between aerial firefighting and running her aerobatic school, flies about 12 shows a year. During the season, she flies a minimum of three times a week to keep her G tolerance up.
The Workout: Yoga. Hits the gym when possible, always uses the stairs.
Off Season: Rides horses, weight training to maintain upper body strength, rides bicycles, and walks her dogs.
The Diet: Breakfast! On show days, loads carbs with foods she would never, ever eat at home, like waffles with maple syrup. Keeps granola bars and bananas around. No red meat ever; instead, free-range chicken and non-farm-raised fish, especially Alaskan king salmon. Steady diet of brown rice, broccoli, and other steamed vegetables.
Must Haves: Juice from Creative Natural Juices in St. Augustine, Florida. On the road, hummus with multi-grain pita chips and Gummy vitamins.
Guilty pleasures: Cake.
Mental health: Spends time at the farm where she keeps her horse; loves a good massage. For a "total zone out," plays online backgammon.
Getting in the zone: An hour before her show, gets away from people, except for her crew. Often sits in her car watching other performers fly, keeping an eye on the winds.
Philosophy: "Everything in moderation. It's okay to push the edge and swing the pendulum from time to time, but make sure to always come back to the middle way."
Patrick Marchand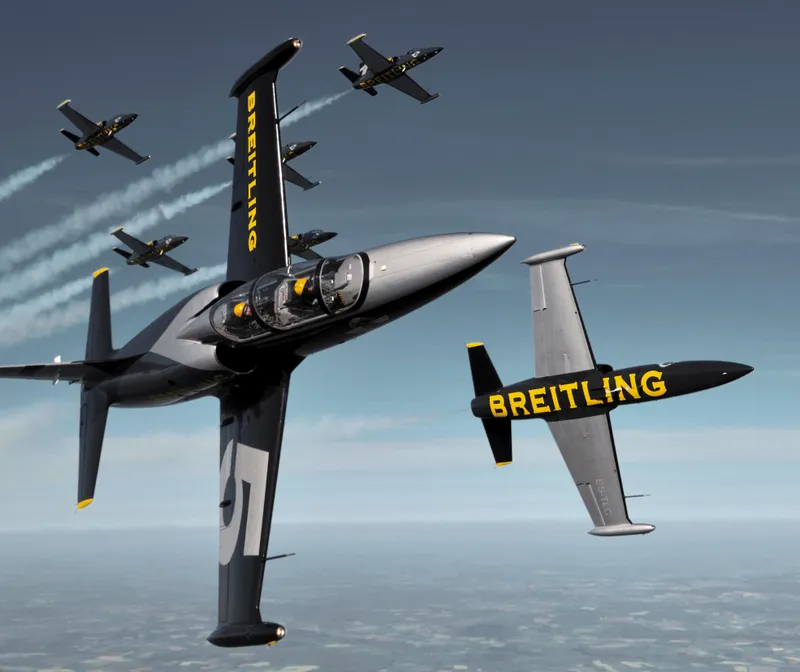 The Act: Precision formation aerobatics with a seven-member team flying Aero Vodochodny L-39 jet trainers.
The Pace: Approximately 50 performances in 20 shows a year.
The Workout: Off season, uses a rowing machine for 15 or 20 minutes, then goes for a 20-minute run or bike ride. In close formation work, the efforts in flying are asymmetrical. "I am on the left side of the team, so my head is always turned to the right when we sustain Gs," says Marchand. He used to visit a chiropractor at the end of the season to get his body symmetrical again; now he finds the rowing machine a good way to get a symmetrical workout.
The Diet: The most important thing is not to be hungry, so if he has no choice, he'll eat airshow food. For breakfast, he'd prefer two tomatoes, an egg (sunny side up), and yogurt.
Because he has to eat at so many restaurants during the season, he avoids them when the season is over. Often for dinner, very simple fish fillet with a little wedge of lemon; fresh, organic ingredients he can have ready in 20 minutes. "French cuisine is just good, natural products prepared simply."
Guilty Pleasures: "There are thousands!" Chief among them, pastry.
Mental Health: Spends time on the road being a tourist. Renting a bicycle or walking, visiting museums, getting in a different frame of mind.
Getting in the Zone: The team meets an hour and a half or two hours before takeoff time and cuts off contact with the outside world—phone, friends, fans, everything.
Philosophy: "The key point for quality and safety is to feel good in mind and body."
Manfred Radius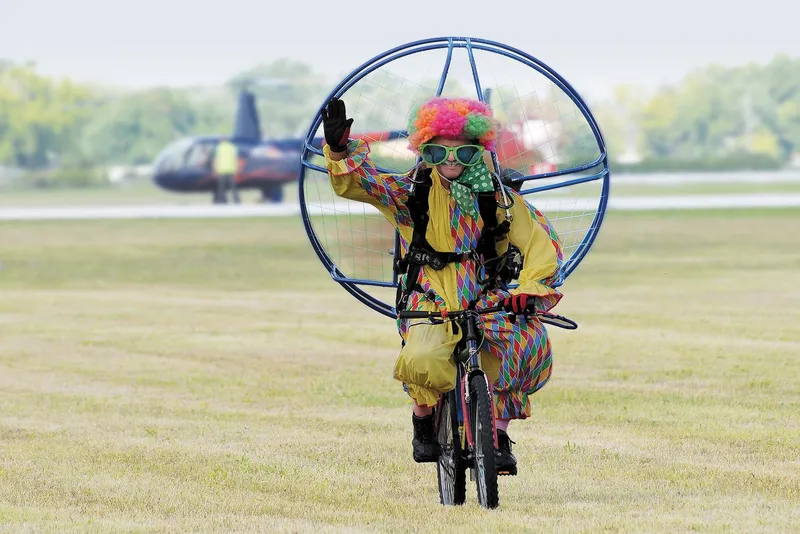 The Act: An elegant aerial routine, accompanied by classical music, in an H 101 Salto sailplane.
The Pace: Around 10 performances each season.
The Workout: Makes walking a priority during the season.
Off Season: More walking every day, often stopping to buy groceries on the way home.
The Diet: Eats enough food before performances to keep his blood sugar sufficiently high for proper brain function and G tolerance. Drinks enough water for the same purpose. Keeps trail mix around because it stays fresh and delivers a lot of energy when he needs it.
Takes in only the amount of calories he burns (a tough goal during the season). Regularly eats rye bread with cheese for lunch, with coffee.
Guilty Pleasures: The occasional piece of apple pie, a bun with marmalade, and pizza on the weekends.
Mental Health: Concentration on the job.
Getting in the Zone: As the towplane pulls his glider aloft, he mentally goes through the bailout procedure and performance several times.
Philosophy: "I enjoy the beauty of nature on my daily walks, the trees and their colorful leaves in fall, the flowers, the birds. I've performed at airshows for 30 years now, yet am still amazed that it's possible for a human, born without wings, to use the sky as the stage for an aerial ballet."
Julie Clark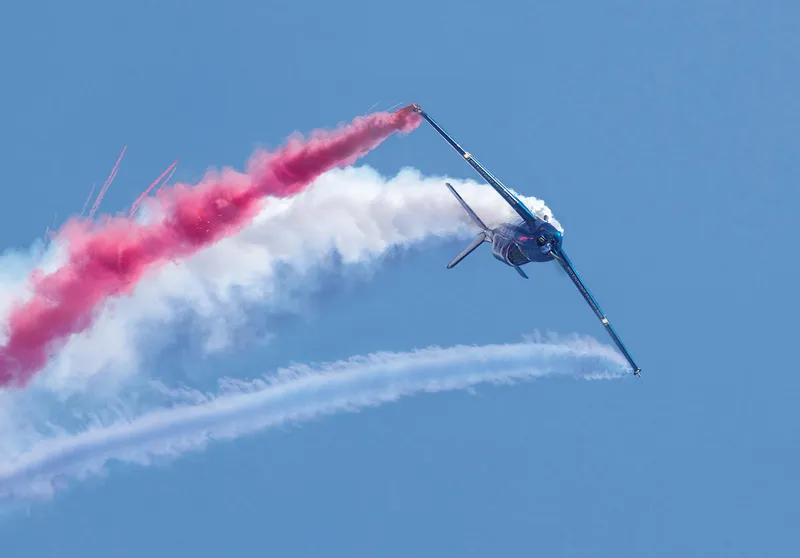 The Act: A "serenade in red, white, and blue," complete with fireworks and tri-color smoke trailing pretty figures behind her Beechcraft T-34A Mentor.
The Pace: Now in her 37th season, with more than 10,000 hours in the same airplane, Clark will fly up to 40 times at 12 to 15 shows.
The Workout: Every show day, 30 minutes on a recumbent bike or treadmill. (First thing she asks when checking into a hotel: "Where is the fitness room?")
Off season: Rides a stationary bike 12 miles every morning in home gym, followed by machine workouts and weight training at a local fitness club.
The Diet: Starts each day with egg whites. Always sets up her blender in show trailer or hotel rooms to mix up Juice Plus+ Complete protein shakes. Keeps Clif Bars around for a boost, because she has never drunk carbonated drinks or coffee.
"At pilot briefings they always have doughnuts, and I make a low pass over the doughnut table but never take one." Enjoys a good meal of sushi and shrimp tempura on occasion.
Guilty Pleasures: Dark chocolate anything, red wine.
Mental Health: Flying the T-34 forces concentration.
Getting in the Zone: Makes sure to be in her show trailer 30 to 45 minutes before launch to cool off and to visualize the routine.
Philosophy: "Nothing tastes as good as thin feels."
Sean D. Tucker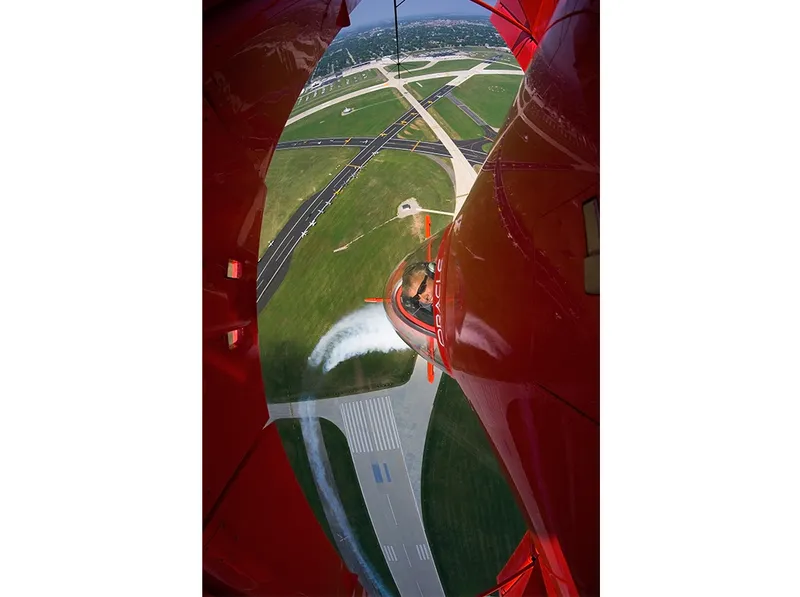 The Act: Crazy aggressive, high-G assault on the sky with custom-built Oracle Challenger III biplane.
The Pace: Every season flies 65 performances; including practice, up to 500 flights.
The Workout: 10 to 12 hours of exercise weekly, including two hours on a stair climber (with a 35-pound pack) three times a week to work at 80 percent of his maximum heart rate, burning about 600 calories an hour. Three times a week does weight training to maintain a strong core, as well as high-intensity interval training, sometimes on stationary bike: get heart rate to maximum for 30 seconds, bring it back down for a minute and a half, and repeat.
Off Season: Bike rides, weightlifting, squats. Climbs mountains, maintaining a heart rate of 126. The goal: Go to bed every night exhausted.
The Diet: No airshow food. On the road, gets hotel rooms with kitchens to cook his own meals. Avoids "glycemic plunge" by eating blueberries, oranges, bananas, and apples all day long. Drinks three liters of water a day.
For dinner, likes 100 percent farm-raised beef, free of hormones and antibiotics, or a nice salad. Eats Chocolate Peanut Crunch Isagenix bars or apples with peanut butter for energy.
Guilty Pleasures: Fine red wine, which he considers a food group.
Mental Health: Enjoys sharing the magic of flight and "creating joy" for audiences; lives life for "the right reasons," which takes the stress level down.
Getting in the Zone: Starts "getting his head in the game" in the morning. Thirty minutes prior to his show, he's 100 percent focused, concentrating on every G pull and wind correction.
Philosophy: "You should push your boundaries, and passion should be your fuel, because life shouldn't be a breeze, it should be hard."
Lee Lauderback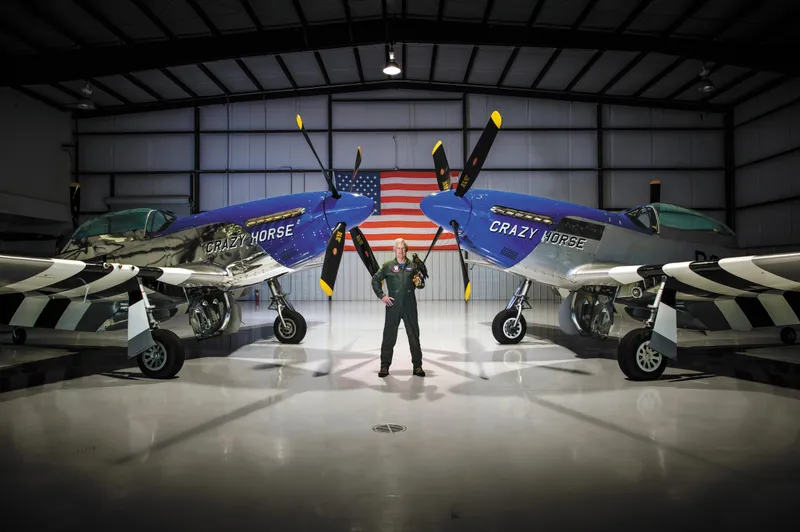 The Act: Demonstrations and training flights in the +8G, dual-cockpit TF-51 Mustang.
The Pace: Before retiring last year from the U.S. Air Force Heritage Flight program, flew 16 shows a year. Now flies about five, in addition to flying twice a day as an instructor in a five-day Mustang training course.
The Workout: Very regimented routine, three times a week, always at about 5 a.m.: one hour of stretching, calisthenics, walking and running, then stretching again. And falconry, which requires strenuous hiking through brush for up to four miles and chasing the bird. "In the falconry world, the bird is the hunter, and I'm like the bird dog."
The Diet: Fish, chicken, lots of salad and fresh fruit. Credits partner Angela with a change in lifestyle: She doesn't eat red meat, so he quit, and for the last 20 years he's been able to maintain his weight.
Believes hydration is important for G tolerance and depth perception. Tells his customers to eat light before flights, but eat something.
Guilty Pleasures: Klondike bars. Especially loves them with raspberries.
Mental Health: "Falconry gets me outside a lot."
Getting in the Zone: No discussions of controversial topics for 24 hours before he flies. "Distractions are the biggest cause of accidents." Added benefit: After 24 hours, nobody remembers what the controversy was.
Philosophy: "People would be surprised how much dedication it takes to do this kind of flying long-term. Take Sean Tucker for example. Sean trains harder than anybody I know. He's focused. He's intent. He's practicing all the time. Some might say, 'I could do that,' Well yeah, they can—but could they do it year after year? The exercise, diet, focus, work to de-conflict: It takes a whole lot of dedication to do it long-term."