Airplanes of the Eighth
Where to see B-17s and Mustangs for yourself.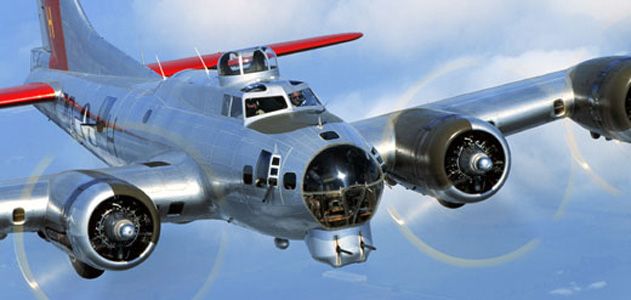 When writer John Fleischman visited the England, for his story U.S. air museums. Here, a select list of places to view or fly aboard the aircraft, and brief backgrounds on each:
Places
Oshkosh, Wisconsin
The Experimental Aircraft Association's B-17 Aluminum Overcast tours U.S. cities from spring to fall, and at other times resides at the AirVenture Museum. Also on display are a North American P-51D Mustang (now designated F-51D) and a Lockheed P-38 Lightning. Tour schedule and more details at www.b17.org.
Belleville, Michigan
The Yankee Air Force sells rides on the B-17 Yankee Lady, a B-17G that flew in the 1970 movie about the attack on Pearl Harbor, Tora! Tora! Tora!
The Collings Foundation, Stow, Massachusetts
The Collings Foundation flies its B-17 Nine O Nine and its B-24 Witchcraft to dozens of airshows around the country.
Smithsonian National Air and Space Museum, Washington, D.C.
On display: P-51
Steven F. Udvar-Hazy Center, Washington, D.C.
On display: P-51, P-47
International B-24 Memorial Museum, Pueblo, Colorado
No B-24 on display, but lots of memorabilia.
California
On display: B-17 Miss Angela (available for tours daily), P-47 Thunderbolt, P-51 Mustang
Mighty Eighth Air Force Museum, Pooler, Georgia
Features include B-17 interactive gunner exhibit.
Ohio
On display: B-17, B-24, P-38, P-51, and two P-47s; the B-17 Memphis Belle is being restored for display some time after 2010.
Air & Space reader Govind Menon kindly suggested another addition to this list: The New Delhi, where visitors can see a rare Consolidated B-24 Liberator.
Airplanes
Boeing B-17 "Flying Fortress"
Entered service: First Y1B-17s in the U.S. Army Air Corps in August 1937; B-17Cs in the No. 90 Squadron of the Royal Air Force in May 1941; first bombing by the Eighth Air Force with 12 B-17Fs of 97th Bomber Group on August 17, 1942 in Rouen, France.
Known for: continuous service throughout WWII, first American bomber in European Theater of Operations, more B-17Gs built than any other type of bomber (8,680) during last two years of war (12,731 total).
Missions flown: 6,945 of the 10,802 (64.29 percent) missions flown by the Eighth Air Force.
The B-17 "Flying Fortress" earned a great deal of aviation fame with its durability and consistent service throughout World War II. It went on its first bombing mission with the Eighth Air Force—a flight of 12 B-17s from the 97th BG over Rouen, France—on August 17, 1942. The "Flying Fortress" was mainly responsible for Eighth Air Force successes from then on. Of the Eighth Air Force's 47 Bombardment groups, 29 flew B-17s in some capacity.
Consolidated B-24 "Liberator"
Entered service: to RAF in mid-1941; USAAF first delivery in June 1941; first mission with Eighth: October 9, 1942, Lille, France.
Known for: greater flight endurance and bomb-carrying capacity than B-17; longer range than Fortress; 21 groups in Eighth equipped completely or partly with B-24s; 19,000 built.
Missions flown: 3,706 of 10,802 missions (34.31 percent) flown by the Eighth Air Force.
Often outshone by its predecessor, the B-17, the Consolidated B-24 "Liberator" was in fact capable of longer flight ranges and had a greater bomb-carrying capacity. Some 19,000 "Liberators" were built in total, and 21 groups were outfitted with B-24s in the Eighth Air Force alone.
Republic P-47 "Thunderbolt"
Entered service: Eighth: December 1942 (4th, 56th, 78th Fighter Groups); first operational sweep by 4th Fighter Group with 14 P-47s on March 10, 1943.
Known for: ground strafing, dive bombing, escorting bombers, and drinking fuel quickly (the first models had big R-2800 Pratt & Whitney engines). The Thunderbolt could take damage and continue to fly (unlike the Mustang with its liquid-cooled engine). A total of 15,683 were made between May 1941 and December 1945, the largest production run ever for an American-built fighter aircraft. Early prototypes of what would later become the infamous "Bazooka" gun began as launching tubes under the wings of P-47 planes.
North American P-51 Mustang
Entered service: First Mustang to a Royal Air Force squadron in January 1942; First sortie around Berck-sur-Mer (French Coast) on May 10, 1942; Eighth: November 11, 1943; Eighth first operational: December 1, 1943; First escort: Dec 5, 1943.
Known for: glamour and range. The Allison and later Rolls-Royce Merlin in-line engines gave the P-51 a sleeker look than the radial-powered fighters in WWII; Mustangs accompanied Eighth Air Force bombers all the way to Berlin.
The P-51 Mustang first took the aviation world by storm when it proved able to handle longer flights than its predecessor, the P-47 Thunderbolt. Later model Mustangs were equipped with the Rolls-Royce Merlin engine, increasing escort distance. The P-51 was a popular choice among contractors because it was relatively cheap (around $50,000) to build. The P-47 cost about $83,000 a plane, while each B-17 "Flying Fortress" cost roughly $187,742. The Eighth Air Force had P-51s in its possession beginning on November 11, 1943, and conducted its first operational mission with Mustangs on December 1 of that same year.