Former Japanese Airline Pilot Fulfills Dream to Fly in Space
Astronaut Takuya Onishi scores a first.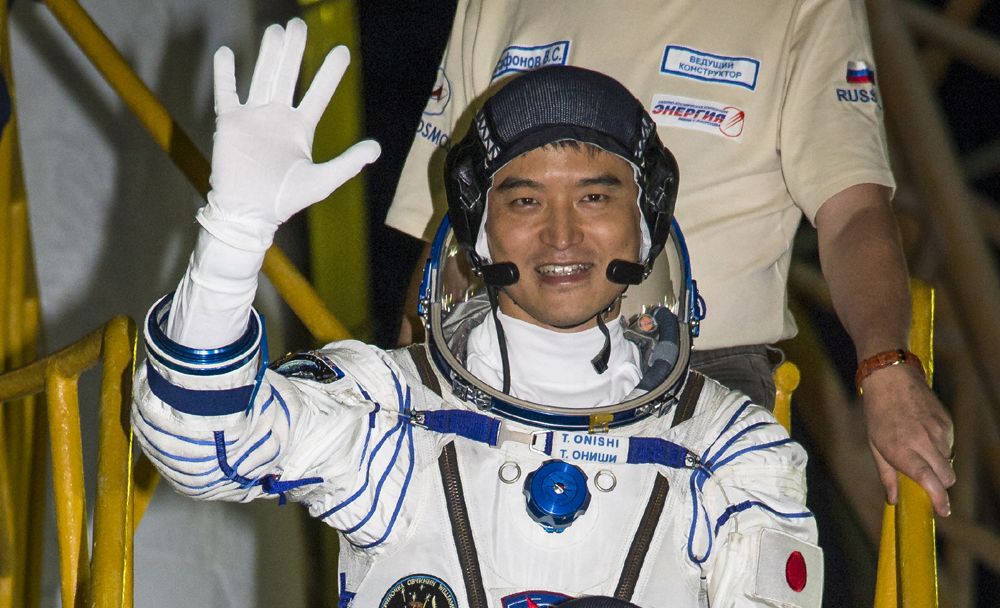 For all the regional pilots out there hauling passengers on short routes, day after day, night after night, for low pay and little glory—this one's for you. Takuya Onishi may not be the first airline pilot to entertain the Walter Mittyish dream of becoming an astronaut, but last night (early Thursday morning in Kazakhstan) the dream turned real when he blasted off on a Soyuz rocket bound for the space station, where he'll live and work for four months as a member of the six-person crew.
Many astronauts have backgrounds as military pilots, and a few, like veteran space shuttle commander Hoot Gibson, go on to fly commercial airliners after leaving NASA. But Onishi, at the age of 40, may be the first to go straight from civilian airline pilot to astronaut. He began his career at All Nippon Airlines (ANA) in 1998, working behind the check-in counter at Tokyo's Haneda airport, where he also helped disabled passengers in boarding. After flight training in the United States and Japan, he became a pilot for ANA, eventually flying Boeing 767s on both domestic and international routes. He was selected as a Japanese Space Agency (JAXA) astronaut in 2009, from a pool of nearly 1,000 applicants.
In an interview with Yomiuri Shimbun, Onishi said he was inspired to become an astronaut after watching Apollo 13 when he was an aeronautics and astronautics major at the University of Tokyo. Onishi has been asked many times about the differences between airline pilots and astronauts;  he generally stresses the similarities, including the need for teamwork and attention to detail.
His former airline is clearly proud of its pilot-turned-astronaut, releasing photos of Onishi in his ANA uniform, as well as organizing public viewings of yesterday's Soyuz liftoff. 
From sky to #space, our former pilot Takuya Onishi starts his journey to #ISS this morning! ⇒https://t.co/gkcnr5LeAD pic.twitter.com/XhKbFLge3n

— All Nippon Airways (@FlyANA_official) July 7, 2016
Along with Soyuz MS-01 crewmates Anatoly Ivanishin and Kate Rubins of NASA, Onishi is scheduled to dock at the station just after midnight (12:12 a.m., U.S. Eastern time) on Friday night/Saturday morning. Normally their trip from the launch pad to the station would take only six hours, but this is the first flight for the new MS-01 variant of the Soyuz, and program managers wanted additional time to check out the vehicle's new computers and other upgrades before docking.
If Onishi is the first former airline pilot to reach space, he won't be the last. French astronaut Thomas Pesquet, who's scheduled to ride a Soyuz to the station in November, used to fly Airbus A320's for Air France, although he had a background in space engineering before getting his commercial pilot's license.