Air Rangers
The wild flights of Park Service pilots.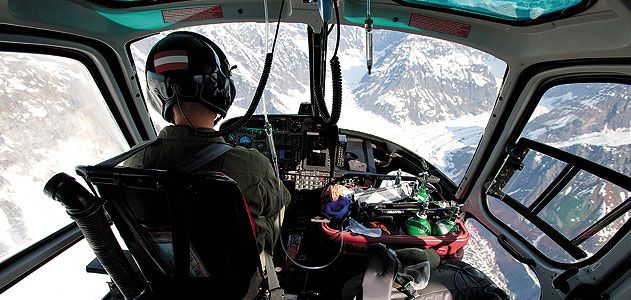 The chance to see from the air some of Earth's most beautiful places is the most obvious reward of flying for the U.S. National Park Service. But the job also has unique risks, as Weino "Tug" Kangus, the most experienced airman in park service history, can attest. Now 72 with 39 years as a pilot, Kangus still flies five days a week over Lake Powell's breathtaking 185-mile-long expanse of rock and deep water in the Glen Canyon National Recreation Area in Utah and Arizona.
I ask him about a particularly memorable moment in his career. "Some Navajo bad guys shot two officers and burned their bodies on the San Juan River," he says of a 1987 incident. "We spent time flying with the FBI looking for those guys, and we found out about two years later that one of them was hiding out in a hogan [adobe dwelling] on the reservation. We dropped down low enough where we could look right in the door of that hogan, and there he was, standing in the doorway with a high-powered rifle with a 'scope, pointed right at us. I've been in on scores of those things—that's what we do."
Law-enforcement missions, Kangus says, require precision flying. "You're not going to arrest anybody from the air, though I have pulled them over and have them spread-eagle on the ground. The thing is, if you can't control your aircraft in a 30-degree [bank], low enough that you can read a license plate or follow footprints in the desert, you should be in a different business."
The park service began using pilots to patrol its ever-expanding domain in the 1930s. Today, of more than 400 national parks, monuments, recreation areas, and wildlife refuges, only a few dozen—many of them in Alaska—enjoy the prestige and protection of fixed- or rotary-wing aircraft and ranger pilots. Even some of the larger parks, like Yellowstone (in Montana and Wyoming) and the Everglades (in Florida), call on outside equipment or lease a fixed number of hours of aircraft use each year.
The current roster of law enforcement ranger pilots numbers seven in Alaska and 15 (plus one biologist pilot) in the Lower 48. An additional 60 fly for the U.S. Fish and Wildlife Service as law enforcement refuge officers, and a few others fly helicopters for the U.S. National Park Police as law enforcement pilots in the Washington, D.C. region.
Though isolation in scenic wilderness areas is an attraction of the job, it is also one of its biggest hazards.
"The potential for danger is real high," says ranger pilot Richard "Shad" Dusseau, who spent a decade patrolling some of Alaska's most rugged country. "You're all alone, there's no backup that can come if you need it, and basically the best you can hope for [if things go badly] is that they will find your body. One of the big issues of being national park rangers is that we are some of the most assaulted officers in the federal system. We work alone, usually in the middle of nowhere, and people think they can get away with [assault]. But it's still safer than being a city cop."
Dusseau, 59, is now a ranger at Georgia's Cumberland Island National Seashore, operating from both land and water. In Alaska, he flew three specialized aircraft: a two-seat Piper Super Cub bushplane, a Cessna 185 on tundra tires or wheeled skis, depending on the season, and a Cessna 206 on floats.
"In a typical week, I'd go out one day in the Super Cub to drive off a grizzly that was bothering a camp of archeologists," he recalls. "Then there were these small lakes in the Upper Noatak, where one time, I went in to investigate a moose kill, and it scared the hell out of me. There was a guy who'd gone in on a hunt, and he killed his moose five miles from camp. You're supposed to move the meat first, but he just took the antlers and the bears got into the carcass. He was supposed to be cited for it.
"The approach was over a little creek that was down six or seven feet below level land, so you had to touch down almost exactly at the end of the gravel and roll out in the willows," he says. "Coming out, you had your wheels pretty much on the runway until you fell off the cliff; you were just barely flying. At that point, it's all about experience and judgment. When you get down to the extreme edge of flying, a little mistake can make a big disaster.... And after all that, I never found the guy."
For ranger pilot Richard Kemp, who flew in Alaska for 19 years, some of the biggest problems were caused by bears. He recalls going into an isolated camp on the Noatak River and waking up the next morning to find that a bear had eaten one side of his fabric-skinned Scout. "I got some wood and a duffel bag and two rolls of duct tape [for repairs] and made it out of there," Kemp says.
ON DECEMBER 19, 2002, Tom O'Hara, a 41-year-old National Park Service pilot, high school wrestling coach, and father of three, took off from King Salmon, Alaska, on a moose-tracking survey with a young biologist in the right seat. O'Hara had a lot of backcountry experience, with much of his 11,000 flying hours spent patrolling the remotest corners of the state's Katmai and Lake Clark national parks, Alagnak Wild River, and Aniakchak National Monument.
"Then," reads the official report of what happened that day, "when they failed to return in accordance with their flight plan, the Rescue Coordination Center dispatched an Alaska Air National Guard C-130 and a Coast Guard UH-60 helicopter to search for them. At first light on Friday [the next day], 14 single-engine aircraft and a helicopter flew out of King Salmon in search efforts coordinated by the NPS, Fish and Wildlife Service, and Alaska State Troopers…. The crash site was found late in the afternoon."
O'Hara had been killed in what appeared to be a stall/spin accident. The biologist was injured, but survived. And the National Park Service flying corps was rocked—not for the first or the last time—by the loss of one of its own. (In October 2010, two ranger pilots from Glen Canyon National Recreation Area were killed when their Cessna 172 crashed in southern Utah.)
"A crew member is dead, the aircraft is destroyed, new regulations and training and policy changes have to be implemented—just what did we accomplish today?" asks Jim Traub. He's the national fleet manager for the park service and a former tail gunner in U.S. Air Force B-52s over Hanoi, amassing 1,700 flight hours on 70 bombing missions.
At 59, he has served multi-year assignments as a ranger pilot nearly everywhere the NPS maintains its own airplanes: Big Bend, the Grand Canyon, Death Valley, and Glen Canyon. (Such mobility is not unusual for park rangers.) He also flew out of Kodiak, Alaska, for a year counting brown bears for the U.S. Fish and Wildlife Service. Now he has a desk job in Boise, Idaho, coordinating the training—and re-training—of park service and Fish and Wildlife Service pilots.
Traub rattles off some of the things these pilots need to know: "How do you land on a gravel bar on a river? How do you evaluate a tundra surface from the air, or a grassy meadow? You're going in someplace where there's no windsock, no runway lights, maybe no runway at all.... There are no facilities, no fuel, no spare parts in the hangar, and nobody to help you if something breaks.
"This is what all aviation used to be. But more and more of the pilots we see coming out of universities and the military don't have this kind of training. You have to know the subtle techniques to slip down to low altitude quickly. You have to know what to do with the airplane when you get there to avoid the stall/spin situation."
To expand his pilots' expertise, Traub puts them through a regimen that includes stall/spin awareness and paramedic courses, then adds "off-airport unprepared surface" training, float and wheeled-ski clinics, and low-level resource protection and resource survey refreshers. At some point, they'll all need to see the Doctor.
That would be Idaho flight instructor Rich Stowell—the Spin Doctor, whose course was added to the NPS pilot curriculum after the O'Hara crash (Fish and Wildlife Service pilots have been using him since the 1990s). "The big killer of general aviation pilots and government pilots is maneuver in flight, and NPS pilots are maneuvering all the time," Stowell tells me at his one-man academy. "It's a heavy workload with a high potential for distraction at a critical time."
We're at little Cascade Airport in the valley of the Payette River in Idaho, an hour and a half drive from Boise, flanked by peaks where the last snows of winter linger into August, and where, as dawn breaks on this summer morning, the air hangs thick. Stowell is fueling his red, white, and blue Super Decathlon for a typical day's work: teaching stalls, spins, and inverted emergencies so if any of these occur on the job, a ranger pilot-student will have the tools to survive.
Stowell's credentials include certification by the International Aerobatic Club as an official spin doctor, being named the Federal Aviation Administration's National Flight Instructor of 2006, and possibly holding the record for the most controlled spins: more than 32,000 in everything from a Canadian Chipmunk to a Bavarian Grob. (No one has kept an official score.)
"The first thousand spins were the hardest," the doctor says, grinning. Climbing into the front seat of the dual-control Super Decathlon with him today is Steve Mazur, 45, a former waiter at Yellowstone's Old Faithful Inn and now a ranger pilot posted at Voyageurs National Park in northern Minnesota. "A lot of people equate hours with safety," Mazur says. "But even guys with lots of hours get complacent, and that's what messes things up."
There are some parallels between emergency maneuver techniques and law enforcement, Stowell says: "You're going from a low level of stress into [an] environment that has the potential of killing you. It sure would have been nice as a private pilot to have learned some of the things we learned in aerobatics."
A CONTINENT EAST of Cascade, Idaho, on the Outer Banks of North Carolina—the very birthplace of powered flight—ranger pilot John Kimmel invites me along on a typical assignment in his gleaming, nearly new Cessna 206. It's a low-altitude population survey of re-introduced red wolves with Fish and Wildlife Service biologist Art Beyer: three hours of grid geometry flying, 500 feet or less above the marshy, sandy ground.
"We've had about 200 complaints of damage caused by wolves," Beyer says. "Five of them turned out to actually be a wolf. Seventy-five percent of the time, it was the neighbor's dog."
Kimmel is a Texan and a former helicopter pilot for the U.S. Border Patrol who saw some friends' aircraft brought down by rocks thrown by desert desperados. At Cape Hatteras, he divides his time between biological survey work and patrolling the long, thin strip of beach.
In Kimmel's flight path, hazards include cell phone towers, telephone poles, windmills, and powerlines. When he served at Organ Pipe Cactus National Monument in Arizona, chasing border jumpers and drug runners, he had to watch out for the pin-cushion arms of the giant saguaro.
"People think that high-altitude, high-speed jets are the coolest, toughest things to fly, but, to me, low-level is one of the most difficult flight regimes there is," Kimmel says. "If you can do that every day and come home at the end of the day, that's prima facie a great pilot.
"If you lose your engine at 700 feet, it's a piece of cake: You can land on a farm road or in a field. But below 300 or 400, your options are very limited. It's not a conscious 'Okay, I can land there or there' in your mind at all times. You have to recall your training before it happens and prevent it from happening because if it does happen, it's all over."
Despite the challenges, Traub says that there are several "pilots-in-waiting" who already are serving as park rangers, building their flight hours to the 500 needed to qualify for ranger pilot status. The most recent vacancy announcement drew almost 300 responses.
Washington, D.C.-based newspaper journalist Allen Abel served as a National Park Ranger (Interpretation) in Arizona and Utah's Glen Canyon National Recreation Area in 2002-2003.