Neil Armstrong's Other World Records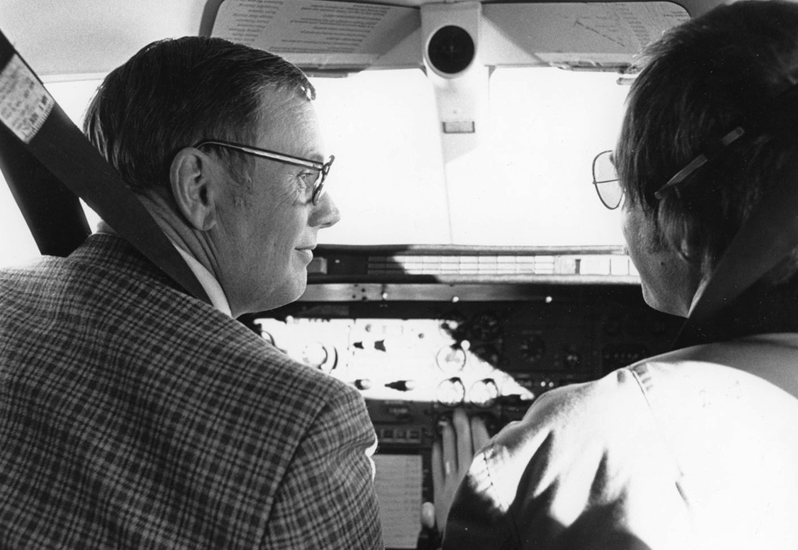 You're the first man to set foot on the Moon. You're also a Korean War veteran, and a former test pilot who has flown more than 200 types of aircraft. What do you do for fun?
Well, we don't know what he does for fun
nowadays
, but for two days in February 1979, Neil Armstrong set five world records for business jets, flying a Gates Learjet Longhorn 28.
Armstrong served on Learjet's Board of Directors, so maybe that's why he got the gig. On February 19, 1979, he set three records in the 28: (1) altitude in horizontal flight (15,584.6 meters, or 51,130 feet); (2) altitude; and (3) time to climb to a height of 15,000 meters (12 minutes, 27 seconds). The next day he broke his just-set altitude records, climbing to 51,131 feet (15,585 meters).
"The record time," notes a Gates Learjet press release dated February 21, 1979, "would not have been possible without the refined high aspect ratio wing and winglets incorporated on the model 28."
Besides Armstrong, crewmembers included Peter Reynolds (copilot and project test pilot during development of the Learjet 28/29) and Don Berliner (an official observer of the National Aeronautic Association).
The records stood for several years; William Benton set a new altitude record of 16,637 meters in 1988 —also with a Learjet 28 —which stood until Michael Melvill's 2000 flight in Scaled Composites' Model 281 Proteus (altitude: 19,277 meters).
Armstrong has had four other records registered with the Federation Aeronautique Internationale, all set during the July 1969 Apollo 11 mission, including "Extravehicular duration in space," "Duration of stay on the surface of the celestial body," "Extravehicular duration on the surface of the celestial body by an astronaut," and "Greatest mass landed on the celestial body."
(See who holds the current records, here.)