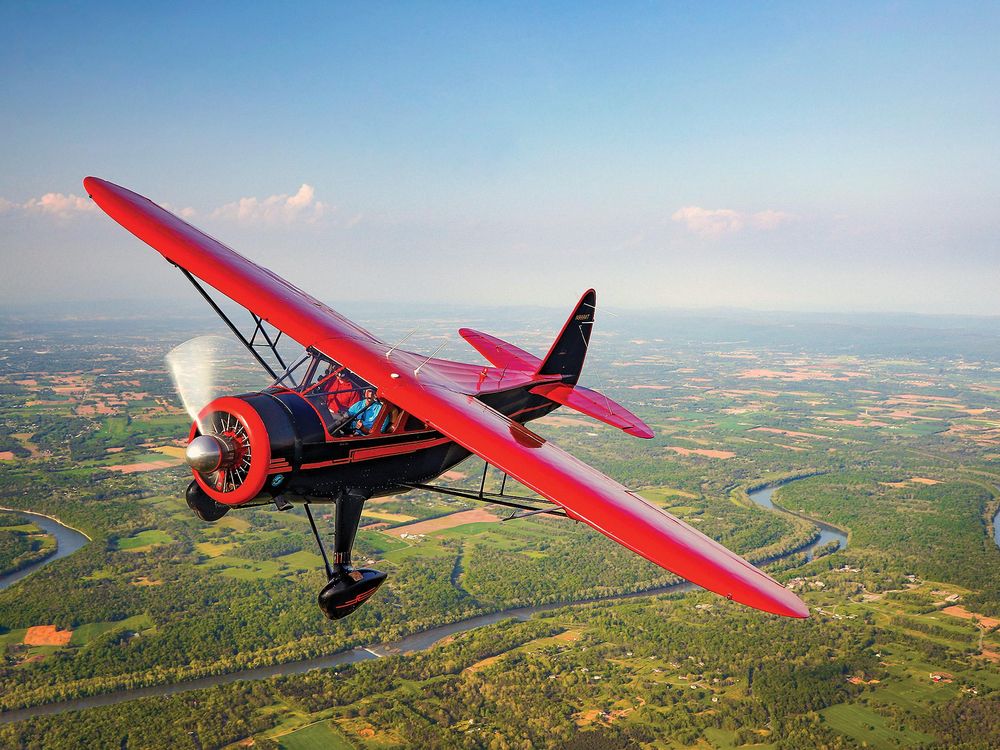 A first flight can lead to a life in aviation. These stories show that flight can also initiate us into realms and experiences other than an aerial one—including the use of ear protectors.
What is an Engine Run-up?
In 1944, at the age of six, I experienced my first flight. We lived in Costa Rica, where my dad worked for the U.S. Public Roads Administration Aircraft Division. They had two aircraft: a Ford Trimotor and a Junkers Ju 52. These airplanes were used to supply the construction of the Pan American highway in the southern part of Costa Rica, flying supplies including tools, dynamite, food, and personnel.
When not in school, I would go to the airport with dad and spend the day climbing into the aircraft and playing with old discarded parts. One day my dad told me to come with him to the hangar next to his to see Tito, who was one of dad's best friends (and also my godfather). Tito was the corporate pilot for the United Fruit Company in Costa Rica. The airplane he flew was a Howard DGA, which was sitting on the tarmac. We approached the plane, and dad said that we were just going to run up the engine to check it out. I was a bit apprehensive, but got in. The engine started, and we taxied to the run-up area. Then we lined up on the runway with dad telling me we were going for "just a loop around the airport, not to worry." Once in the air, my apprehension went away and I really enjoyed the flight. This started my love for aviation.
Many years later, shortly after I got my pilot's license, I took dad for a "loop around the airport." —Ron Ross, Chattanooga, TN
Scotch on the Rocks
Thanksgiving is tomorrow. I'm a freshman in college, and I'm going to fly home from Milwaukee to Saginaw, Michigan using my brand-new United Airlines Youth Standby Fare ID card. This being my first airline flight, I am oblivious to these facts: This is one of the busiest travel days of the year, standby means space available, and making a connecting flight at Chicago O'Hare airport is often a tricky exercise. All made more interesting by one other fact: I didn't know that I could buy a single ticket and check my bag all the way to Saginaw.
I present my ID card to the United ticket agent at General Mitchell Field: "One ticket to Chicago, please." I give the agent $5 and my suitcase. United Flight 746 departs on time. Forty minutes later, I'm in the terminal at O'Hare with 45 minutes to claim my bag and buy another ticket for United Flight 672 to Saginaw.
No sweat. I recover the luggage and hand over another $5. A few minutes later, I'm sitting in the aft lounge of another DC-6B. The stewardess asks if I'd care for a cocktail before dinner. "Scotch on the rocks, please." I'm now an 18-year-old man of the world traveling by air—coat and tie, cocktail, and a steak dinner. Saginaw is an hour and a half away. It's going to be a great Thanksgiving. —Gary Frey, Bartlett, TN
"Break an Airplane!"
First time I ever left the ground was in an SNJ-5. I was 15 years old. It was at Ontario, California, at the air museum here, Planes of Fame. I went with a museum pilot, Roscoe Diehl. Roscoe was an Air Force fighter pilot and an Air National Guard pilot; he flew Lockheed F-104s.
I was pretty excited about it. I'd worked on airplanes all my life, but I had never even left the ground. He let me grab the stick and said: "Try to break the airplane." His point was you can't break it so don't be too ginger with it. It was like 45 minutes. My best recollection is we took off and circled over Ontario and went over Corona, south of Ontario, and cruised around and did some loops and rolls, some aerobatics.
The same airplane—we still have it at the museum here today. I fly it every once in a while. —Steve Hinton, Chino, CA. From "My First Time," interviews by Phil Scott, Air & Space/Smithsonian (June/July 2002).
Barnstorming on the Fourth
The year was 1933, and I was five years old. My family was at a Fourth of July celebration situated in a cow pasture not far from town. A barnstormer was there offering rides in his little two-seat Taylorcraft. Totally fascinated, I spent most of the afternoon watching the little monoplane take off and land. I remember well the pilot's method of landing. Flying just a few feet above the ground until he reached the end of the runway, he zoomed into a vertical climb until the airplane stalled. It would then fall back on its left wing and swoop to a landing in the opposite direction. He must have been hitting the bottle doing a stunt like that while carrying passengers.
After much pleading, Father agreed to take me for a ride. As the plane was a two-seater, I had to sit on Dad's lap. I remember the empty feeling in my stomach when the Taylorcraft stalled. It was a great flight. I was hooked for life. —Charles Narramore, Diana, TX
Rough Ride in a Dive Bomber
During the Korean conflict, in 1952, I was a 20-year-old aviation electronics technician 3rd Class in the U.S. Navy. I was stationed at Barbers Point Naval Air Station on the Island of Oahu, Hawaii.
I was a student in the Combat Aircrew School. The school was part of Fleet All Weather Training Unit Pacific. Students in the Combat Aircrew School were being trained to be radar observers and electronic countermeasure operators in Grumman TBM Avengers and Douglas AD Skyraiders.
My first dive-bombing flight in an AD-1Q was quite an experience. Nobody, instructors or fellow students, said a word about what takes place during a dive-bombing, close-air-support run. We flew—in the dark—to the windward side of Oahu to a target range called Makua Valley, where Marines were executing a shore landing. We were called in for close air support. We were flying at 15,000 feet. While dive-bombing, the combat aircrewman's responsibility was to call out the descending altitudes to the pilot in 1,000-foot increments.
The pilot rolled over to commence the run, deploying the dive brakes. I was sure our aircraft was breaking up and coming apart. Next the pilot fired two unguided rockets, and I saw fire on both sides of my compartment—scared the hell out of me.
The pilot stowed the dive brakes, leveled off just above the Marines, and climbed out for another run. The evening progressed: We made several more runs and landed intact at Barbers Point about an hour later.
I was met in the briefing room by fellow students wanting to know how I liked my first dive-bombing flight—lots of giggles and a flight I will never forget. —R. Tracy Myers, Fargo, ND
A First Time for Everything
I was an E-2 Hawkeye pilot stationed aboard the USS Midway in the early 1980s. Flying a visual approach to the ship one beautiful morning in the Indian Ocean—not expecting anything out of order and about two seconds from touchdown—I was suddenly ordered by flashing lights and the landing signal officer screaming at me on the radio to execute a wave-off.
Throttles were rapidly advanced to full power, which caused the Hawkeye to pitch upward at a sharp angle. To keep it from over-rotating, the copilot and I applied full nose down on the yoke even though we were only a few feet above the deck. The aircraft was still nose high and climbing hard. Seeing nothing but blue sky, we suddenly felt the tailhook grab the arresting cable, an "inflight engagement"—a pretty dire situation. With its hook engaged, our Hawkeye started to arc to a flat pitch, then quickly nose down toward the deck.
With no other options, we left the power up and eased the yoke back to regain a flat pitch. Somehow, the bird managed to regain a flat angle of attack: It settled back to the deck with a three-point thump, rolled about 30 feet, and came to a stop. The whole sequence couldn't have lasted more than five seconds. Lesson learned? An airplane can't pull a ship out of the water. —Dennis Ferrell, Stillwater, OK
"It was in January 1942, and I had never been in any airplane in my life. I was a PFC [private first class], a crew chief on an AT-11 bomber trainer, and I had to change the engines. The engineering officer said, 'You want to test the airplane?' I said, 'I've never been in the air.' He said, 'You're really going to enjoy it.' Me being raised in West Virginia, it was like me looking over a cliff. He flew some touch-and-gos, and I got really sick. After puking all over myself, I said, 'Yeager, you made a big mistake.' "
—Chuck Yeager, From "My First Time," interviews by Phil Scott, Air & Space/Smithsonian (June/July 2002).
Rocking and Rolling Over Old Rhinebeck
In 1988, at age 20, I took a flight in an airplane for the first time. Not a normal flight, though. It was in a 1929 open-cockpit New Standard D-25 sesquiplane at Old Rhinebeck Aerodrome in New York. We watched the sightseeing flights go up all morning. When our turn came, we were ready! Two of my brothers and another person all put on leather helmets and climbed into the passenger space. The four of us shared two seatbelts.
As we took off, we noticed that our pilot turned a direction opposite from the one flown by the sightseeing flights before us. Evidently, he figured he had a bunch of young guys, so he could have some fun. We flew to a highway (in case of emergency) and he started to perform some aerobatics. At one point, I was looking down the wing straight at the ground—my brother plastered against me. Then he pointed the plane straight up and pulled the throttle back to where we could count the revolutions of the prop. He nosed it over, and then we buzzed someone's house on the way home. As he slowed down for landing, we couldn't see anything but trees. Finally, the runway appeared and we landed—my awesome first flight was over. We stayed for the airshow, and I've had a love of antique airplanes ever since. —Dan Yaeger, Tonawanda, NY
Red-Faced Aboard a C-130
When I was a young second lieutenant in the U.S. Air Force and about to take my first ride in a very noisy C-130 cargo airplane, the loadmaster handed all the passengers little pink—what I thought were—pieces of bubblegum to chew to relieve ear pressure. I started chewing and immediately knew they weren't bubblegum. Then the crusty old sergeant said—in an unfortunately loud voice—"Lieutenant, those go in your ears, not your mouth." —William N. Davis, Corsicana, TX
Following Interstate 40 in a Piper Cub
When I was eight or nine years old, my best friend's father took me up with his son for my first airplane ride—flying a Piper Cub over New Mexico.
Crammed shoulder to shoulder on the tiny bench behind Dr. Ogden as we made our way out to the runway, I felt for all the world like an astronaut on the launchpad awaiting a flight to the moon.
The machine was noisy and rough riding as we rolled along, bouncing over the concrete seams of the taxiway as though we were sitting on a giant spring. The little fold-down windows up front were open, and the smell of exhaust fumes wafted through the tiny cabin. The mellow "putterty-put" of the unmuffled engine filled my ears.
At last, we taxied out onto the runway as the good doctor closed the windows and opened the throttle. The propeller came to life, ripping through the thin desert air with a kind of "hum-whine" and slowly, ever so slowly, we began to pick up speed. First the tail lifted up, and I felt like someone had pulled a chair out from under me. Then, without warning, we rose into the air and everything changed. No more rattling and bouncing. We simply floated upward as the buildings around the airport began to shrink.
We followed Interstate 40 west out of Gallup for a time, and I remember how the vehicles below reminded me of my toy Matchbox cars…and they were traveling faster than we were!
Back on the ground, I felt heavy as I climbed into Dr. Ogden's Travelall. As we drove away, the view out the window seemed suddenly uninteresting and dull. I remember looking down at the pavement flashing past and wishing I was still in the air. —Ron Springer, Decatur, AR