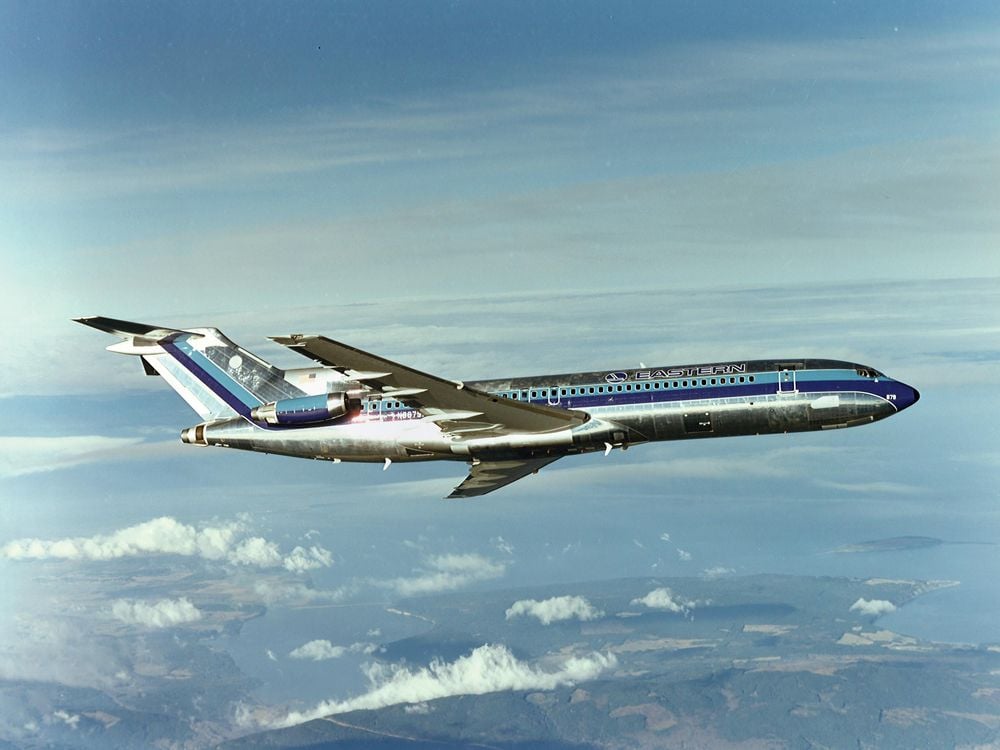 Part of the miracle of flight is that it has become so commonplace that gripes about delays or lousy meals or bad weather have become sturdy travel lore. But for many passengers, the wonder endures.
To Florida in a Whisperjet
It was Easter week of 1967. Our greatest generation parents announced to my brother and I, still single-digit baby boomers, that we were going to Florida to visit our grandparents. And we were going to FLY! Quite the feat for a middle-class family of four in 1967.
The day dawned snowing, cold, and windy. This was before jetways, so when the time came to board the Eastern Whisperjet, we trudged onto the tarmac at Philadelphia International. In the blowing snow, you could hear jets and turboprops and smell the exhaust. Awesome. The roaring and whirring seemed to accompany us up the stairs into the tail of the 727. Eastern's advertising of the era called the Whisperjet "the most relaxing plane there is," but my nine-year-old mind boggled.
I had a window seat next to my Dad. As we taxied out, I watched the wing flex gracefully as we rolled along. I've never felt a push into a seat like what I felt when we accelerated down the runway. The sounds, the motion! Wow! After a few minutes of climbing, we broke into bright sunlight with the fluffy white clouds of the storm below us that made the day on the ground so dark and stormy. We were served beverages, then an actual lunch (with cake no less), then more beverages later. Half the cabin smoked on the other side of those little signs on the headrests.
As we made our approach into sunny Miami International Airport, the wing seemed to unfold as I watched it through the window, nearly doubling in size. Watching the ground draw closer was like looking down at my train set but so much better. I would learn later that what felt like a bouncing and bucking of the aircraft was called turbulence, but to my young mind it was the best ride ever. Half the plane was sorry they ate that nice lunch. So that's what those little bags are for.
As the tires touched down the engines roared again, as they did when we were taking off but we slowed abruptly. We taxied in, the door opened, and the cabin was flooded with warm, humid air. The exact opposite of what we left in Philly. What a great use of two and a half hours! On our way out, the Captain asked my parents if we wanted to see the cockpit. Wow! Yes, please! So cool. Levers, gauges, switches and dials with a great view out the windows on the pointy end. Holy cow! I was smitten. This is where I want to spend my life. In, on, and around airplanes.
Of course life goes in many other directions. I never had a career in aviation. I've been blessed to fly frequently in my life, just never in the pointy end with the windows. In college, I saved enough money for about 40 hours of dual instruction and two solo flights. But that still didn't compare to my first airline flight from PHL to MIA. —Bruce F. Billig, Pawleys Island, SC
Valium and Sunglasses
My 20-year-old son and I had just spent a dusty week working at White Sands Missile Range and were leaving El Paso for Dallas. The gear came up with a thump as we cleared the runway. Suddenly both engines throttled back, we pitched down, and were mushing left and right, barely holding altitude. My stomach said, "Oh, this can't be good."
My son leaned over."The cabin is filling with smoke! Don't you see it?"
"What smoke?" I said.
"Take off your sunglasses!" I removed the blue-block sunglasses that I always wear in the desert. Holy cow! The cabin was full of smoke! After all, drivers and pilots wear blue-block sunglasses so they can see through smog, smoke, and glare. Somehow I hadn't noticed the smell of burning plastic either until I took my glasses off.
We made a 180-degree turn and as we landed, fire and crash trucks raced alongside. It was my second emergency landing in 14 months. So now I say, "No worries, mate! I've got my Valium and sunglasses." —F. Clark Boles, Huntsville, AL
We've Come a Long Way
My first flight occurred on August 15, 1959, my 14th birthday. I was the only one in my family who had never flown anywhere. That deficiency was frustrating, especially for someone whose great aunt (a couple times removed) was none other than Amelia Earhart. Understandably, I was excited when my parents gave me the gift of a ticket on a Trans Texas Airways flight in a DC-3 from Houston to Galveston, covering 50 miles in about 20 minutes. The trip was over way too soon.
Jump forward exactly 20 years and a day to another "hop" involving an island—from Hawaii to the mainland. I was gazing out the window from seat 2A on a PanAm 747 when a flight attendant invited me to join a seated dinner in the upper-deck dining room. I enjoyed prime rib and other indulgences, creating another indelible memory.
I wonder whether anyone could conjure a greater contrast than what I experienced between those two flights! They illustrate perfectly the quantum advances in technology (and service) that exploded over the intervening two decades. I still keep a PanAm frequent-flier bag tag attached to my travel briefcase. It is, of course, commercially worthless but totally priceless. —Dr. Paul Miller, Colorado Springs, CO
Prepare the Cabin for Scolding
My TWA flight from London to Los Angeles was overbooked, and the flight attendants were dealing with a lot of grumpy passengers, but they finally got the cabin in order so we could depart. After a particularly long and busy journey, we arrived in L.A. Despite warnings from the cabin crew and cockpit, while we were still taxiing, people stood and opened overhead compartments. The crew were at their wits' end. When we reached the gate, one of them announced: "All right, ladies and gentlemen. You can now exit the aircraft the same way you got on, PUSHING and SHOVING [click]." That was over 40 years ago, and I still think about it and smile every time I fly. —Greg Erickson, Dallas, OR
Captain Cool
Sometime in the mid-70s I was returning home through Chicago from Florida via an Atlanta transfer. During that second leg, I was seated next to a deadheading captain from the airline, so I was a little excited to spark a conversation. As we departed Hartsfield, we flew into turbulent rain, lightning, and a very threatening sky of dark clouds. The plane began bouncing; people were agitated and beginning to vocally react.
I glanced over at the captain who was coolly reading his paper. Suddenly the plane dropped and began shaking violently; many passengers who'd not heeded the seat belt sign rose up out of their seats, some touching the bulkhead above. That brought out the terrified screams.
The captain continued to read his paper while bedlam was breaking out in a big way. I turned to him and he said, "I'd say about 4 or 5,000 feet," never even looking at me.
It all happened quickly and the pilot restored trim and resumed his climb.
"How'd you stay so calm?" I asked him.
"Two tours in 'Nam," he said.
This was my first real brush with the "Right Stuff," so I thanked him for his service and we had a quiet flight to O'Hare. —Allen Taylor, Orlando, FL
(Cabin) Pressure Drop
I was returning to Denver from Los Angeles aboard a DC-10 in the early 1990s. Just as we reached cruise altitude, the passengers heard a loud bang and felt a rapid cooling of the cabin air with a simultaneous, ear-popping shift in cabin pressure. The yellow masks dropped from the ceiling. We had just experienced a rapid decompression.
As an aviation aficionado, I was pretty sure what was to come next: an immediate reduction in engine power as the aircraft pitched over into the steepest descent I've ever experienced. We were headed down to breathable altitude.
After several minutes, a pilot announced we had indeed experienced an unexpected decompression, and we were diverting to Las Vegas. One thing I hadn't expected was minor smoke in the cabin caused by the accumulated dust on the overheating oxygen canisters. The pilots made the smoothest of landings in Las Vegas, where we had a welcoming committee of all kinds of fire and rescue equipment, ready to assist. After a visual inspection of the aircraft, we taxied to the gate.
About 18 months later, while flying Seattle to Denver I struck up a conversation with a deadheading pilot and mentioned the flight when he said: "You must have been on the LAX - DEN flight when the pack which combines engine bleed and outside air burst."
Apparently, cabin decompressions happen so infrequently that my memorable flight might have been the only one the airline had experienced in several years. —Greg Hine, Boulder, CO
No Food for a Company Man
Back in the 1960s on my way to Hartford, Connecticut, I left Baltimore on a Convair 990 jet for New York City. When we got there, the pilot told us that all the New York airports were fogged in. Our alternative, Philadelphia, was also fogged in, and Baltimore, where we had just left, was now closed. Hence, we would be flying to Dulles Airport, 30 miles west of Washington, D.C.
At Dulles, we were given train tickets to New York City and bus tickets from Dulles to Union Station. We also got a food chit to use at Dulles, but there was no time to use it and still catch the bus to the train station. Our train didn't depart for New York until nearly midnight, and so the cafe car was closed for the night.
As we were bumping along the train tracks, I overheard someone talking about the time he was inconvenienced, wrote the president of the airline, and received a letter with a check for $100, suggesting that he take his wife to dinner, compliments of the airline. I spent all night sitting up on the New York train, holding my useless five-dollar meal ticket, changed trains for Hartford, and then caught another bus to the Hartford airport to fetch my car. Its battery had died. Later, I wrote a nice note about my 18-hour ordeal and sent it to the president of the airline. Lo and behold, a few weeks later I received a check...made out to the company for which I work. So I forwarded the check to my company's travel department, but I never got my meal! —Robert J. Lytle, Ormond Beach, FL