The Ghost of FAU 571
Any Uruguayan of my generation would recognize the tail number of the passenger jet that crashed in the Andes in 1972.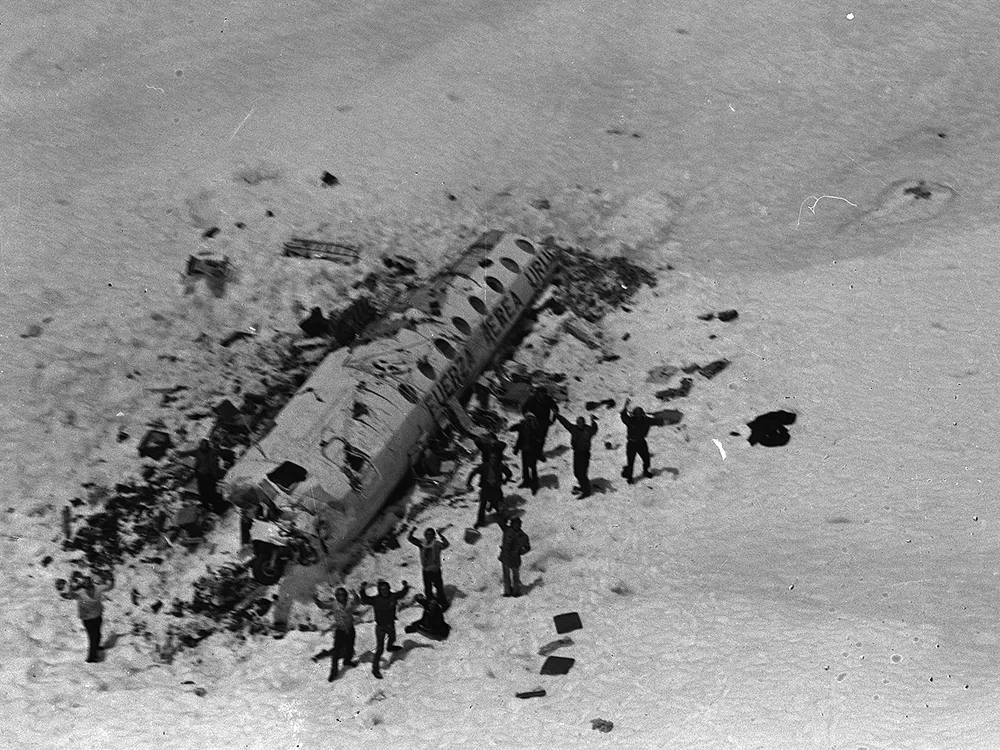 One glorious autumn morning in September 1992, with Mount Rainier's snow-capped peaks rising up against a deep blue sky, I packed my flight bag, going through the checklist in my mind: License. Medical certificate. Logbook. The night before, I'd arrived in Seattle from London as a cabin crew member on a 747-436, and I'd called a flying school based at Boeing Field to book a check ride.
Once the bus from my hotel reached Boeing Field, I kept my puffy eyes glued to the window, attempting to identify all the aircraft on the tarmac: jetliners, light airplanes, and military AWACS aircraft.
The driver said, "This is your stop, sir." I thanked him but kept my gaze out the window. I'd just spotted something exotic: a Fairchild-Hiller 227 with FUERZA AEREA URUGUAYA (Uruguayan air force) written in big capital letters underneath the main passenger windows.
What is that doing here? I thought. They wouldn't do any maintenance here. As a former engineer with the Uruguayan air force, I knew that most repairs on this type of aircraft were conducted at home in Montevideo. And when an aircraft got a civilian registration and started operating for the Uruguayan state carrier PLUNA, the FAU markings were typically removed. Adding to my confusion was the 227's military color scheme: It was slightly out of date. But this 227 was definitely one of ours. On the rudder fin was the Artigas flag—the emblem of the Uruguayan military, named for national hero José Gervasio Artigas.
I have fond memories of the FH 227. It was the first airplane that ever flew me out of my home country. My family had immigrated to Brazil in 1973. In those distant, turbulent years, many compatriots left Uruguay, often for Argentina, the United States, Canada, or even Australia. Our father had moved to our neighboring giant, seeking new professional opportunities. He would find them in Rio de Janeiro, where our family made a new start in a welcoming land, just as our Italian-Spanish ancestors had a century earlier when they'd come to Uruguay.
I remember the cold winter morning of our departure. My stepmother Teresa was rushing my eldest brother Fidel and me to get ready. As the two oldest we were expected to help care for our infant brothers, 18-month-old Ariel and three-month-old Paulo. "It's zero degrees this morning," our cab driver said as we climbed into his car. None of us were in the mood for his small talk. At Carrasco International Airport we waved farewell to our relatives, tears flowing.
But sadness turned to excitement as I walked across the tarmac to our airplane. Taking in the silhouette of that FH 227, my 11-year-old eyes widened. I thought it looked like a poorly lit Christmas tree. In later years I would recognize all those glowing points on the aircraft for what they were: cabin lights, position lights, anti-collision beacons. I recalled the smell of that 227's cabin all those years ago, then my mind returned to the present, 1992 Seattle…
...where I couldn't believe what I was seeing. The military registration number of the FH 227 was 571. I blinked and looked again: still 571. Impossible, I thought.
Any Uruguayan of my generation would have recognized that tail number. In October 1972, a Uruguayan FH 227 took off from Montevideo and headed, via Mendoza in Argentina, to Santiago, Chile. It was part of the Uruguayan Military Air Transport fleet that linked many Latin American cities, carrying both military personnel and fare-paying civilians. On this flight, most of the 40 passengers were teenage students from Stella Maris College—a Catholic school for boys nine to 16—on their way to compete in a rugby match.
Captain Julio César Ferradas was in charge, joined by copilot Dante Hector Lagurara and a flight mechanic doubling as a cabin crew member. Ferradas was an experienced air force pilot who had 5,117 flying hours and 29 flights across the Andes Mountains under his belt. Following takeoff from Mendoza, the aircraft climbed to 15,000 feet and followed the G17 airway over the Andes. While the 227 was flying at 15,000 feet, its right wingtip struck a mountain and broke off. The right wing then folded over the fuselage and cut off part of the tail. Next, the left wing separated, and the fuselage dropped onto a mountain slope, skidding through the snow.
The causes of the tragedy would remain unknown. FAU 571 was only four years old, and had only 792 airframe hours.
A total of 29 people lost their lives in the horrific episode. Many survived the crash, only to perish from exposure or starvation or in an avalanche in the long weeks that followed. Sixteen students endured more than two months in the mountains with little food or water and no cold-weather gear before they were finally rescued, in three separate groups, on December 20, 21, and 22, 1972. [Shortly after their rescue, the survivors confirmed that they had been forced to eat the remains of some perished passengers and crew to survive.] Their salvation was due mainly to the heroic efforts of two passengers, Roberto Canessa and Nando Parrado, who trekked through the Andes for 10 arduous days before finally encountering a man on horseback who summoned help.
I shook off my amazement and got through my check ride on the Cessna 172 Skyhawk, practicing my response to stalls, my touch-and-gos, and other maneuvers. I asked my instructor what this FAU 571 version was doing so far from its resting place. (The 571 in the Andes had been burned by rescuers, with a cross and remembrance plaque left in its place.) He did not know.
On completion of the flight I approached the FAU 571 with curiosity and respect, intending to take photographs. I knew this model well. These trustworthy airplanes had shuttled FAU staff between Montevideo, where I lived, and Durazno, where I'd been stationed as a technician. I had more hours as a passenger on 227s than I care to remember.
Seeing me eagerly snapping pictures of the aircraft, a ground crew member approached me. "It was used on a film or something earlier this year," he said. "Now it's for sale."
Two months later, in January 1993, Walt Disney Studios Motion Pictures released the film Alive, an account of the 1972 Andes crash and the journey of its survivors. Some of the spectacular flying scenes had been shot north of Seattle, over the Canadian Rocky Mountains.
I explained to my puzzled companion what this aircraft represented to my country, its air force, its people, and me. The words probably fell on deaf ears. Surely this gringo could not appreciate the wave of emotions I felt. The aircraft before us was not some assembly of alloy, wires, grease, and rubber; it was a time machine taking me back to October 1972, when three million Uruguayans saw a black-and-white TV news bulletin informing us that one of our aircraft was missing in a distant, hostile region of our continent—the worst aviation disaster in our history.
That lump of metal took away some fine countrymen, military and civilian alike. The former would become my colleagues in spirit when I joined their ranks at the FAU. Above the entrance to the non-commissioned officers' dormitories of Grupo de Aviación No. 4 hung a photograph of FAU 571's inflight technician. The civilians, meanwhile, and the survivors were beacons of hope to my generation, showing us what can be overcome with persistence and determination, even in the face of unfathomable odds.
But FAU 571 was also a 227, the aircraft type that had made me aspire to a career in aviation after that first flight, at age 11, from Uruguay to Brazil. It was responsible for my return home to Uruguay, against my father's will, to enroll in the FAU in 1978 as a cadet for the Escuela Técnica de Aeronautica, from which I would graduate as a jet engine engineer. That hunger for aviation carried me through the arduous academic and physical training, the cold, long duty nights, the time away from my dear family and my sweetheart. Later, it would give me the satisfaction of knowing I'd served my country. And once I'd shed my naive adolescent smile—a source of frequent trouble for me in the no-nonsense culture of the military—it would drive my final transformation from child to man.