Above & Beyond: Tully's Astronarium
A high-schooler champions science in America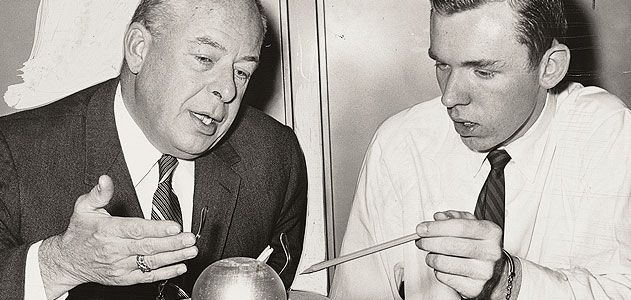 In 2006, I purchased on eBay a set of original architectural drawings of a building called an Astronarium, dated January 1961. It was inscribed on the front page "Best Regards to Bruce, From the Mercury Astronauts." I bought the set because it combined two of my passions: spaceflight (I have been an engineer in the U.S. space program for the last 20 years) and the 1964-65 New York World's Fair. It appeared to have been a proposal for a large space-themed exhibit for the fair, featuring a large planetarium dome surrounded by exhibits and lecture rooms. The drawings were signed by five of the seven astronauts; only Wally Schirra and Scott Carpenter were missing. The eBay seller had no idea who Bruce was. All he knew was that the set of drawings was purchased from the estate of a butler who lived in a New Jersey mansion.
Who was Bruce, and why did the Mercury astronauts sign his drawings?
An Internet search on "astronarium" pulled up only a few hits; the most useful, a newspaper archive with a 1961 article about a high school senior, Bruce Tully, who had come up with the idea. Now I had a full name. But that alone was not enough, so my search was relegated to the back burner.
Five years later I did another Internet search on "astronarium." Up came the University of Texas library, which had obtained the photo morgue of the long-defunct New York Journal American newspaper. There was one photograph listed of an "Astronarium proposed for New York World's Fair." The library had scanned the photo, which depicted one of the drawings from the set that I had; on the back, a caption named the designer, Bruce A. Tully. A search on the full name found Dr. Bruce A. Tully's biography on the Web site for his company, the Trapezium Consulting Group. I e-mailed him, and he promptly replied: Yes, he was the same Bruce Tully, now 67. For the past 40 years, he had worked in environmental consulting, urban planning, and civil engineering. And, he told me, there was so much more to the Astronarium story.
In 1959, 15-year-old Bruce A. Tully of Madison, New Jersey High School sat in the viewing gallery of the United Nations General Assembly with his civics class, listening through his earpiece to an interpreter as Soviet Premier Nikita Khrushchev chastised the United States for its imperialism and the underachievement of its youth. Tully was driven to showcase American ingenuity and engineering expertise. In a few years, New York would be hosting a World's Fair; Tully envisioned as the fair's centerpiece an Astronarium, comprising a planetarium and exhibits on astronautics and space travel. He wrote a thesis on the Astronarium and built a scale model in his shop class.
In the summer of 1960, Tully took his model to the head of every large corporation in Manhattan. At Shell Oil, he noticed that the president took a private elevator to his office, bypassing the lobby. Tully, model in hand, confronted the executive at the elevator and explained the rationale behind the Astronarium.
The Shell man offered to call Theodore J. Kauffeld, whose civil engineering firm, Devenco, designed chemical refineries for Shell. Tully was whisked in a limousine to 150 Broadway, where Kauffeld offered the services of his engineers and architects.
Since much of Tully's time was spent in Manhattan, his parents enrolled him in Rhodes Preparatory School, designed for child actors and other young professionals (alumni include James Caan and Robert DeNiro). For a year, Tully spent afternoons working at Devenco, where he was paid $65 a week. The company produced a set of drawings and an architectural model of an Astronarium, which would tower 345 feet and house a planetarium projector from the firm Carl Zeiss.
Tully's project caught the attention of the science editor for the New York World-Telegram and Sun, who wrote a series on the Astronarium's progress, which was read by U.S. Congressman Victor Anfuso of New York, a member of the House Committee on Science and Astronautics. In January 1961, Anfuso introduced a bill, H.R. 1, calling for the establishment of a National Science Academy to "help meet our pressing national problems in science and engineering education." Anfuso endorsed Tully's Astronarium, which could serve as a showcase at the World's Fair and remain as a permanent home of the academy. Anfuso arranged a meeting in Washington with the Secretary of Commerce and the presidential committee tasked to plan the U.S. government's presence at the fair. On January 16, Tully appeared on NBC's "Today" show with host Dave Garroway, drawing national attention to the Astronarium.
Tully's Washington visit occurred in the first weeks of President John F. Kennedy's administration. Tully, his parents, and Theodore Kauffeld were invited to lunch at the White House. Kennedy joined Tully at the table for a hamburger, told him he was a credit to the nation, and asked, "What would you like me to do?"
"How about a trip to the Cape to see our first man launch in space?"
"I can do that," Kennedy replied.
On a Saturday morning in March, while Tully was cutting the grass, a military staff car pulled into the driveway to take him to the Newark airport. A military transport flew him to Patrick Air Force Base, Florida, at Cape Canaveral, where John "Shorty" Powers, a NASA public affairs officer who became known as "the voice of Mercury Control," was waiting for him. At Hangar S, the seven Mercury astronauts were lined up to greet him. To Alan Shepard, the last in line, Tully said, "Mr. Shepard, it is an honor to meet you," to which Shepard replied, "No, Bruce, it is an honor to meet you. I watched you on the 'Today' show and was very impressed."
Tully accompanied the Mercury Seven on scuba trips and simulations, and stayed with them at the Holiday Inn in Cocoa Beach. There he deduced which of the final three—Gus Grissom, John Glenn, and Alan Shepard—would be the first American in space: He saw a Mercury capsule instrument panel simulator in Shepard's hotel room.
One day, while he was in Shepard's room for ice cream and pie, the phone rang and Tully heard Shepard say, "Yes sir, thank you for allowing her to do this. Thank you, Mr. President." To Tully he said, "You never heard that phone call." Kennedy had told Shepard that Shepard's wife, Louise, would be in the blockhouse during the Freedom 7 launch, where Shepard would say his final goodbye to her from the capsule. (Due to postponements, Louise was not in the blockhouse on launch day.)
On May 5, 1961, Tully awoke before sunrise and watched Shepard enter the astronaut transit van, which took off for the Mercury-Redstone launch site. He then watched the launch from the press area.
Three weeks later, on May 25, Kennedy announced the nation's goal of landing a man on the moon and returning him to Earth "before this decade is out." Earlier that afternoon, 17-year-old Bruce Tully testified on Capitol Hill in support of Anfuso's National Science Academy bill, armed with letters of support from Edward Teller, Gerard Kuiper, and Donald Douglas.
In the end, the United States chose a different theme structure for the World's Fair, and despite Anfuso's efforts, the National Science Academy facility was never constructed.
So why were the Astronarium drawings in a New Jersey mansion for almost 50 years? That was Kauffeld's house. Tully says he and Kauffeld brought the drawings to Cape Canaveral during the 1961 visit, where the astronauts signed them. He recalls seeing Scott Carpenter and Wally Schirra only briefly, which explains why their signatures are missing. Kauffeld never gave the signed set to Tully, leaving it as a mystery for me to solve, and then relay the whole story 50 years later.