Above & Beyond: The Iditarod Air Force
Not all the action in dogsled racing is on the ground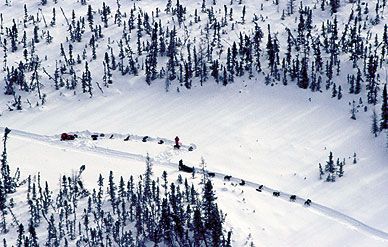 "Hey, land this thing right now," I told the veteran Alaska bush pilot at the controls of a Cessna Skywagon that was boring into a headwind 300 feet above the frozen Yukon River.
"Yeah, well, the thing is," the pilot replied, "it's the skis, see? 'Cause I dunno how chunky it is down there."
I didn't know from chunky. My real frustration was that I'd been assigned to cover the 1999 Iditarod sled-dog race—1,131 miles, 26 checkpoints, 60 entrants, each towed by up to 16 Alaskan huskies—and I hadn't talked to a musher in three days. And now, directly beneath us, was the race leader.
"Just land a half mile in front of him," I said. "Then I'll jump out and grab a two-minute interview."
What happened next—or so the pilot later explained—was that, upon landing, the skis burst through a foot of "sugar snow," then encountered a chunk of ice canted at a ramp-like angle that would have delighted Evel Knievel, given the distance it catapulted the Cessna. During that brief thrill ride, sunglasses, three-ring notebook, and roast beef sandwich broke free of gravity, climbing from the bottom of the windshield to the top.
When the musher caught up to us, he said only "Wow." Meanwhile, I'd forgotten all the questions I'd intended to ask. "Well, take care," I offered.
"Me take care?" he replied.
The pilot's name was—well, let's call him Mark. A member of the 30-aircraft Iditarod Air Force, he knew a lot of things. For instance: A musher's ash sled costs $1,500, and his 16 dogs can be worth several thousand apiece. "Meaning what?" I asked.
"Meaning that, say, the team below us right now is worth more than a 1976 Cessna 180 Skywagon."
On that 11-day March odyssey, I recall other highlights.
Day Five: Mark pointed to an airplane and said, "Look at that guy stuck in the snow. He'll give it full power, then he'll nose that thing prop-first into the ice, then onto its back."
"Shouldn't we try to help?" I asked.
"Nah," Mark replied. "I like watching guys wreck equipment. Kinda like an object lesson for professionals, like farmers who stick their arms into giant threshing machines." Disappointing us both, the pilot unstuck himself.
Right after our own takeoff from a checkpoint in Takotna, the Cessna briefly shuddered, then we heard some banging.
"Left ski," Mark said. "Dislodged, flappin' around down there."
"Can we land?"
"Planes always land," he said. "It's their nature to land. Course, you got some leeway in how they land."
It was our softest-ever touchdown. Mark glided in with the right wing dipped so that the left ski bore little of the initial impact. When it eventually struck the snow, however, the ski nearly ripped off, smacking the fuselage as it randomly pinwheeled astern. Still, I was impressed. "Nice job," I said. "My Limping Nancy landing," he replied.
"Limping what?"
"Kerrigan," he said. "Nancy Kerrigan. I got a Tonya Harding version too, but you probably don't want to see that."
Day Six: When we landed, it was my duty to cover the wings, tail, and engine cowling with canvas. The wind would often catch the canvas and transform it into the sort of spinnakers deployed on America's Cup yachts. Because I was usually treading on a frozen surface, the wind had little trouble dragging me significant distances. On one occasion, I fell face-first into a wing cover and began rolling in an attempt to flatten it. I could hear Mark braying. Then I realized I was a lot warmer than he was, and I remained happily inert, hoping he'd worry I'd been injured. He did not.
It was also my job to pre-heat the engine by setting ablaze a puddle of liquid Heet antifreeze in a sheet-metal pan attached to a dented flue. The process filled me with fear: There were always damp, dark, dripping streaks on the cowling, whose potential volatility was unknown. Eventually, I simply embraced Mark's fatalistic adoration of colorful aircraft mishaps and began speculating whether a Cessna conflagration would have the energy to melt the ice beneath the craft itself.
Day Seven: At the checkpoint in Grayling, a veterinarian told me the temperature was minus 38—centigrade or Fahrenheit, he wasn't sure. When I grabbed the Cessna's door handle, it snapped like a candy cane and disappeared into deep snow. "There goes $100," Mark said. I think he meant I should pay for it. But I noticed he wasn't searching for the handle. So I didn't offer.
Day Eight: Approaching Unalakleet, on the Bering Sea, we encountered a 32-mph headwind, and Mark aborted our first landing attempt at an altitude of maybe seven feet. We touched down instead on a frozen lagoon and were approached by two women on an immense Arctic Cat that was rocketing toward us as if establishing a land speed record. Both riders leapt to safety 100 feet away, but the momentum kept the snowmobile hurtling at us. It sputtered to rest a dozen feet shy of the left strut.
We remained grounded in Unalakleet for two days. "The wind here doesn't blow, it sucks," Mark said. "Seriously, it flows east to west, from the Alaskan interior out to the Bering Sea." The town was large enough to possess a store, where I purchased a three-pack of fresh Jockeys. "I'll alert the media," Mark said.
Day Ten: We spent a day in the checkpoint at White Mountain, interviewing mushers. Late in the day, we agreed to take a passenger—a three-year-old, 45-pound husky named Echo, who had been K.O.'d by a sprained ankle. She sat alertly in my lap and stared out the windshield as we flew toward Nome, crossing the Bering Sea's Norton Sound. There were small patches of black open water below, interspersed with towering daggers of ice. I averted my eyes and stared at what was left of the horizon: The windshield looked like someone was applying Wite-Out.
"Well, it's rime, actually," Mark explained. "Plus there's some on the wings. And maybe some induction icing." The windshield turned opaque.
"This isn't a major problem," he said, as if trying to persuade himself. "The Nome airport is huge, and I can land anywhere on the property with the skis." Then he flipped into my lap what looked like a thick novel and said, "Look up the frequencies for Nome. I'd do it, but I forgot my glasses."
I recall a powerful urge to urinate. Instead, I riffled through the book. Just as I found a list of Nome frequencies, Echo shifted to a new position in my lap, inadvertently thrusting a foreleg through every Nome listing.
We eventually located the airport, although Mark was displeased that the runway had been scrupulously plowed. At the last second, he jinked to the right to land on snow. In the process, one ski beheaded a runway light. A corrective interview with airport officials ensued, but I missed the spirited exchange because Echo and I rode into town in a veterinarian's minivan.
I won't say I kissed the ground when I reached my hotel. But I did kiss Echo.