Above & Beyond: "Aw, Hell, Television Is Here"
Above & Beyond: "Aw, Hell, Television Is Here"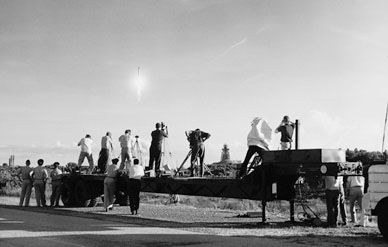 On August 17, 1958, there had been a 76-second opportunity for euphoria to build and for Americans glued to their TV sets to cheer. At 77 seconds, that excitement ended in a massive fire-laced cloud of white smoke. A first-stage failure at 50,000 feet sent the remains of a Thor-Able rocket and its lunar probe into the waters off Florida.
The occasion was the first "live camera" coverage of a space launch from Cape Canaveral. With no direct-transmission lines available, the film was sent to the West Coast, taped, and replayed back to New York for NBC's "Today Show." The first truly live telecast, that of another Thor-Able's successful launch of the Pioneer I lunar probe, would take place on October 11. My colleagues at the Jacksonville, Florida television station WFGA-TV were responsible for both.
The video and audio for each had been the responsibility of station manager Jess Cripe, complicated by technical limitations of the era and an Air Force edict outlining stopwatch-precise restraints. Foremost, not until "after fire in the rocket's tail," it read, could any video be transmitted to the public. The rationale, the Air Force conceded, was to avoid the embarrassment of broadcasting mishaps or scrubs.
There had been multiple rules and restrictions complicating 1957 and early '58 coverage of the U.S. space program. Those of us at WFGA-TV had generally managed to cope with most of these, so WFGA was designated the "pool feed"—the sole engineering and production facility servicing all the national television networks. Our transition into that role had begun in late 1957, after Russia had launched an intercontinental ballistic missile in August and put Sputnik I in orbit in October. What had been sporadic news coverage of U.S. missile and rocket programs by the networks suddenly assumed competitive priority.
Quickly, Jim Kitchell of NBC Television had sought a permanent network presence at the Cape through one of its affiliates, our own WFGA. Despite our having been on the air only a few weeks, Kitchell had liked our style. Cripe was enthusiastic. He thought pioneering TV coverage of the space program would be fun.
Further, WFGA reporters and cameramen had been at Canaveral covering all types of rocketry, from captured German V-2s to more sophisticated space probe forerunners. The station had set up a full-time TV news bureau, and every launch and briefing, no matter how insignificant, was being covered. Cape officials were well aware that WFGA was there.
So did the NBC assignment desk in New York. It had interest in the black-and-white film we had shot from dunes south of the launch sites, which later would include a spectacular failure of a Vanguard launch vehicle on December 6, 1957, a copy of which was requested by Cape scientists. As a result, our news teams were among the first allowed at the launch sites in January 1958.
Cripe and Kitchell were beginning to forge a working relationship that would span three decades. They also started nagging a reluctant telephone company to provide TV relay facilities in the Canaveral area. In the interim, they used motorcycle couriers, a light aircraft from nearby Merritt Island, a police escort in Jacksonville, and fast processing to get film on national television in less than 90 minutes. The first example was the January 31, 1958 launch of Explorer I, the first U.S. satellite, by a Jupiter C.
Our peers may have been impressed, but apparently not so the Air Force or, later, NASA. When it came to providing facilities for the pictorial media, television was number two on their list. Our film crews worked at ground level, and they and their cameras were inevitably caught in the swirl of sand and dust created by military helicopters making last-minute security sweeps. Looking down on them, literally, were cameramen who filmed for the newsreel companies; they had choice spots atop a nearby building.
Such favoritism survived only until the first use of live TV cameras on that August day in 1958. The Air Force had simultaneously authorized direct feeds and construction of a temporary relay tower. Kitchell had contacted CBS and ABC, worked out details for pooled coverage of the launch, and told Cripe, "You've got 36 hours; get down here!"
Cripe had doffed his suit and tie and resumed his pre-WFGA status as a hands-on engineering supervisor. Most equipment for that first televised launch ranged from makeshift to barely state of the art. The spindly-legged 30-foot relay tower had but a four-foot-square reflector on its top and a microwave dish on the ground angled upward. The control center, by default, was WFGA's none-too-commodious remote van where Kitchell, elbow to elbow with operating engineers, would make his switching decisions between two cameras, one that tracked the rocket and one on the ground for crowd reaction. As WFGA's camera was hoisted to the roof, its arrival elicited an almost prophetic goodbye from one of the newsreelers. "Aw, hell," he said, "television is here."
For 40 seconds after liftoff, the Thor-Able blazed straight up. Working with a tripod-mounted heavy unit, Bob Knott had cleanly paced his camera lens with the rocket's early acceleration. But as it continued to ascend, he had to tilt the camera back to its vertical limits and, as he slid down on his back, Cripe and others tilted back the mount by its front leg and strained to hold the combined weight steady. Others propped up Knott.
Viewers saw the rocket rise squarely in the middle of their screens for those 76 seconds and then the aftermath. Newspaper readers would see a United Press photo of Knott and his support system, the caption likening it to the photo of the flag raising on Iwo Jima.
The camera mount was revised, and in October, early tracking of Pioneer I's record-setting 71,000-mile flight had been almost perfect—though the moonshot ultimately fell far short of its target. For months, an Air Force colonel had shared space in front of wooden bleachers with our news cameramen, animatedly keeping his superiors in Washington apprised by phone about each launch. As Pioneer lifted off, he cradled the phone and turned to me. "Looks like I'm out of a job," he said. "They're seeing it on TV."
Such success did not ensure WFGA's eventual role in the space program. Upon petition by CBS, one of its own affiliates was granted the pool feed rights for the next telecast, the third lunar probe, on November 8. The third stage of the Thor-Able failed to ignite. In turn, the cameraman lost the rocket shortly after liftoff, and the TV audience saw mainly only contrails. Weeks later, on December 6, WFGA was back for Pioneer III, the fourth lunar probe, which reached 65,000 miles before its Juno II launch vehicle malfunctioned.
The next two years were to be a transitional period for the U.S. space program and for our coverage. NASA was preparing for manned spaceflight. WFGA was outfitting two house trailers for itself and NBC with studio space and the latest camera, recording, and transmittal equipment.
Those forerunners to today's vast Cape media complex were an instant attraction for military brass and civilian scientists who, to our amusement, beat paths through the dune grass to view a technology they coveted. For more than a year, they had sought lighted buttons for their multi-line telephones, but had been thwarted by a contract service that, among other excuses, had cited the questionable quality of local lines. Our trailers had them, though, and they worked on those lines. Within weeks, phone buttons were lighting up all around the Cape.
Herb Gold, our film director, began a lengthy relationship with NBC that in time would make him co-recipient of an Emmy. He had close ties to NASA's manned spaceflight program and got to know most of the early astronauts. In turn, anyone who made significant contributions to any phase of the pool coverage would be recognized at the Cape by our red hard hats with WFGA and NBC lettering and an array of exotically named rockets and launch dates across the back.
That included astronauts. John Glenn acquired his hard hat in July of 1962 when, with Gold as operator and Glenn describing their surroundings, a camera was allowed into mission control for the first live beaming of a U.S. civilian signal to Europe via the Telstar I satellite.
We nurtured our relationships with astronauts. When Glenn became the first American to orbit Earth and went into isolation for medical attention and evaluation after splashdown off Grand Turk Island, NBC and our crew sent him bagels, cream cheese, and lox. Such interaction was crucial. NASA could be most secretive about reasons for launch delays and often would not alert the media. NBC would have beach parties the night before each scheduled launch of note. If the astronauts showed up, we would know the launch was off. No-shows by them and key NASA personnel would indicate all was on schedule.
Only once did that system fail. In May 1962, Scott Carpenter came, ate, drank—and orbited Earth aboard Aurora 7 the next day.
—Harold Baker